Recent Falun Gong Activities in Oregon, California, and Missouri
June 10, 2017
|
By practitioners from U.S.A.
(Minghui.org) Last weekend, Falun Gong practitioners from Oregon, California, and Missouri participated in three community events, introducing this ancient Chinese cultivation practice to the public.
In Portland, Oregon, practitioners performed in the Starlight Parade at the 41st Rose Festival City Fair, and won the highest award, the Sweepstakes Award for Best Illumination.
More than 300,000 people watched the performances of nearly 100 groups in the parade, which has over 100 years of history. The parade was broadcast live on TV.
Falun Gong entry.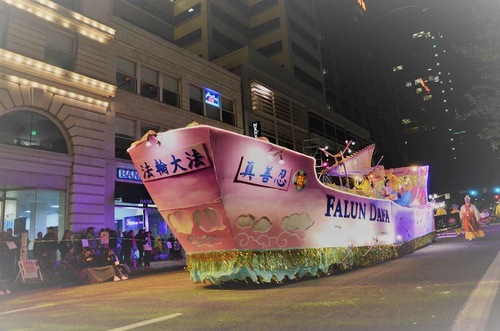 Falun Gong float.
The local audience in Portland is familiar with Falun Gong's impressive float, which has been showcased on the homepage of the official Starlight Parade website since 2015. Many people agreed that the world needs "Truthfulness-Compassion-Forbearance," which are the guiding principles of Falun Gong. Some of the spectators have expressed interest in joining the local exercise site.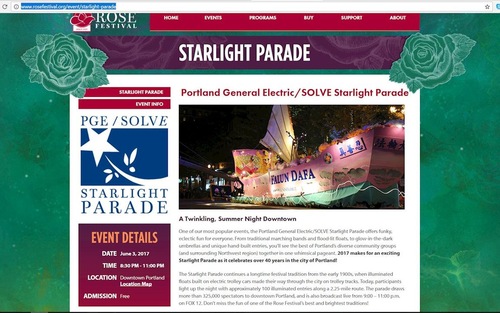 Falun Gong's float is on the homepage of the Starlight Parade website.
In San Leandro, a city in northern California, practitioners set up a booth at the Cherry Festival, and collected signatures on a petition that condemns the persecution of Falun Gong in China.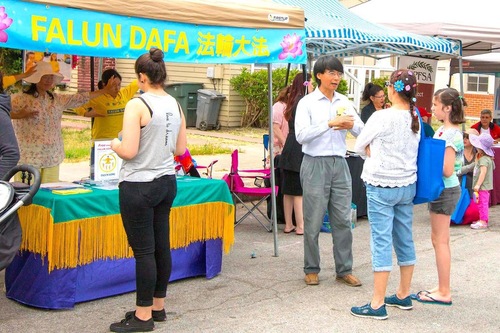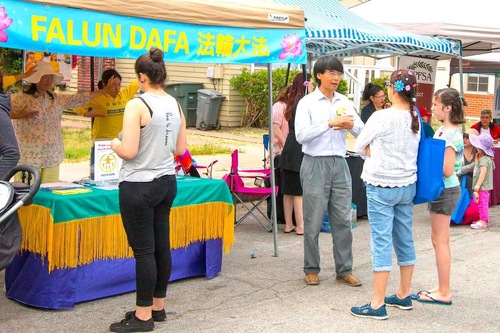 Telling people about the persecution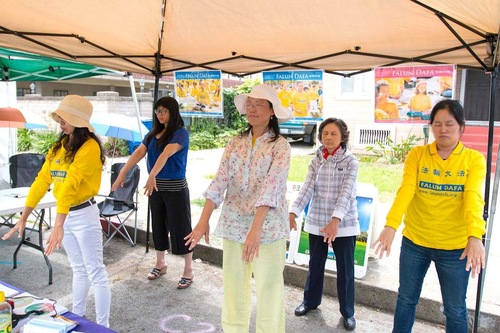 Demonstrating the exercises
Practitioners have participated in this 108-year-old local event every year since the early 2000s.
Besides supporting Falun Gong's peaceful resistance against the persecution, many attendees also signed up for the free workshop that teaches the exercises.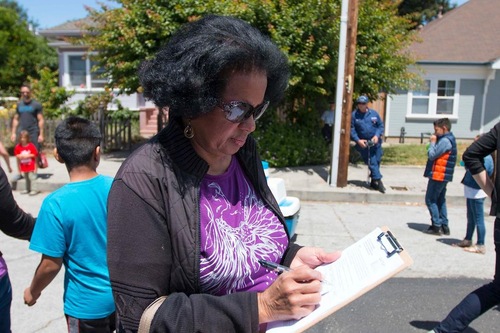 Jeanie Villela has been concerned about the persecution in China. "It is wrong to put people in jail because of their belief. The forced organ harvesting is absolutely evil," she said, "One day the Communist Party will be brought to justice."
Practitioners in Missouri participated in the Strawberry Festival in Kimmswick. This was the second time Falun Gong practitioners have participated at this 100-plus year-old town founded by German migrants.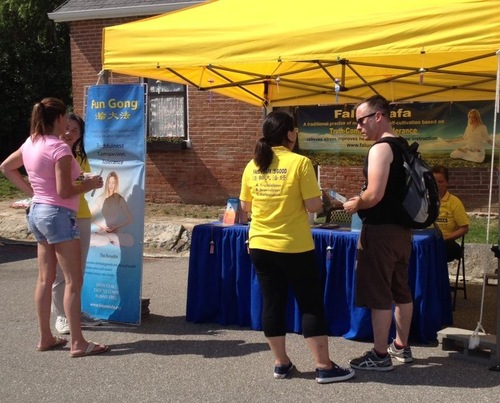 Telling people about Falun Gong and the persecution.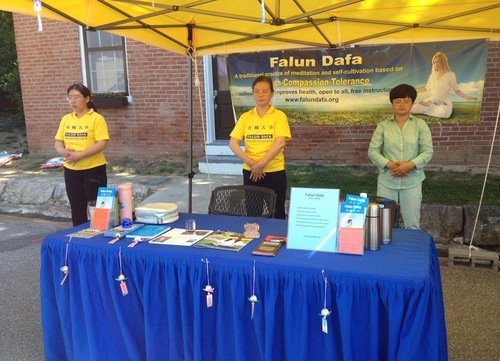 Demonstrating the exercises.
Many local residents expressed interest in learning the peaceful meditation practice.
Ann, a local nurse, said she believes that people's minds nowadays are increasingly occupied by high-tech. While working in a hospital emergency room, she has seen many people who were injured due to being distracted by their cellphones when walking on streets. Ann believes it is important to restore traditions and also feels that meditation can help energize her.
Ann took a stack of Falun Gong materials and thanked practitioners for bringing this ancient practice to this small town.
Related articles in Chinese:http://www.minghui.org/mh/articles/2017/6/4/北加州樱桃节-民众谴责中共活摘器官暴行(图)-349162.htmlhttp://www.minghui.org/mh/articles/2017/6/9/法轮功花车获玫瑰节星光游行最高奖(图)-349371.html