(Minghui.org) Local media outlets covered the peaceful appeal of Falun Gong practitioners during the Trump-Xi summit in Palm Beach, Florida on April 6 and 7, 2017. They called for an end to the persecution of Falun Gong in China and for bringing to justice former Chinese leader Jiang Zemin, who initiated the persecution of Falun Gong and personally directed the campaign.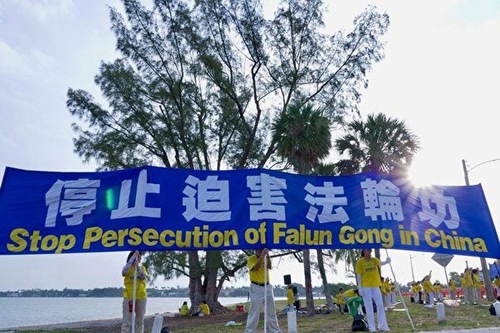 Falun Gong practitioners call for an end of the persecution.
Palm Beach Daily News carried a report titled "Falun Gong protesters hope to make statement at Bingham Island today" by Eleanor Roy on April 6, 2017.
The article reported that Falun Gong practitioner Yuanqing (Iris) Lu, a resident of Tampa, participated in the appeal and called for the release of her mother, Deng Cuiping, who was arrested for distributing Falun Gong information materials in China.
The report stated, "Lu, 28, is one of about 100 protesters expected to hold a demonstration from 10 a.m. to 6 p.m. today and Friday on Bingham Island. The group will be holding signs to encourage Chinese President Xi Jinping to end the persecution of followers of Falun Gong, or Falun Dafa, and to formally charge former Communist Party chief Jiang Zemin, who originally outlawed the religious practice."
Lu said that she was 10 years old when Falun Gong was initially outlawed in China. Her mother has been separated from the family for years at a time since then.
"I grew up in fear – fear that my mom would be taken away from me at any time," Lu wrote in an email. "I remember feeling powerless as I watched my mom lose everything in her life: first her friends, then her career and finally her freedom."
Lu said her mother was arrested again in July last year and her family is unable to contact her.
Dennis Wilder, a professor of Chinese national security issues at Georgetown University, said Falun Gong followers could have totaled about 100 million people in China and that many Communist Party members' family members were among them.
"What followed was widespread 'brutal' imprisonment of Falun Gong followers, and 'a lot of tortures and beatings,' Wilder said."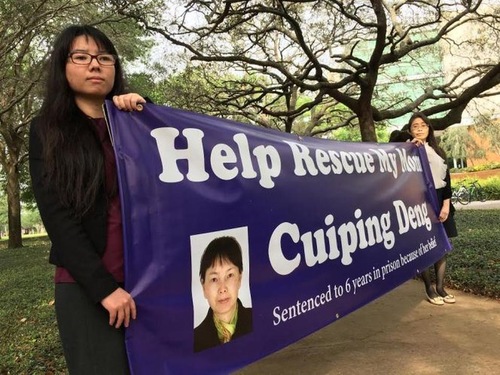 Practitioner Yuanqing calls on Xi to release her mother Deng Cuiping
Tampa Bay carried a report titled "Temple Terrace woman plans roadside plea to Chinese president over imprisoned mother" by Tony Marrero on April 6.
The report stated, "Cuiping Deng, a primary school teacher, had been hauled away to a detention center, her second trip to prison for practicing a Chinese spiritual discipline called Falun Gong. Deng would be subjected to psychological and physical torture by a Communist regime determined to make her recant her beliefs, according to Lu."
"Last summer, Deng was arrested a third time and is now serving a six year sentence."
Lu, an accountant for South Florida University, went to Palm Beach to appeal for her mother. She hoped that Xi could see her banner calling for her mother's release.
"I just want to present my story to him and let him know there are ordinary families suffering in China," Lu said. "And I hope he can do something to help me."
The report went on describing Lu's mother, who started practicing Falun Gong in 1997 to relieve stress and heal insomnia. Her illnesses were gone after practicing Falun Gong. She had better relations with friends and family members.
Jiang Zemin, then-head of the Chinese Communist Party, initiated the persecution out of paranoia of losing control. Falun Gong practitioners were arrested and incarcerated in forced labor camps. Many were tortured to death.
Deng Cuiping was dismissed from her work unit and sent to a brainwashing session.
Her sister, a practitioner, went missing in the fall of 2000. She went to Beijing to appeal to the central government but was arrested in a railway station. She learned later that her sister had been sentenced to one year of imprisonment for appealing for Falun Gong.
Deng Cuiping was released after one month in detention. She was again arrested in 2006 and imprisoned for three years, where she was tortured and her legs were injured.
Another practitioner, Shen Yueping, was held in the same prison as Deng. Shen suffered more cruel torture, including electric shocks and injection of unknown drugs. She died in July 2009.
The report stated, "Lu moved to America in 2012 and earned her master's degree in accounting from the University of Tampa."
She kept contact with her parents. She learned from her father that her mother has been imprisoned for six years for distributing Falun Gong information materials.
Her mother's health is deteriorating, and there is a painful lump in her left leg.
The report also described that Lu sought help from U.S. Rep. Dennis Ross, a Lakeland Republican who represents eastern Hillsborough County. Ross and other three representatives sent letters to Xi to request the release of Deng.
"We in the Congress should assert ourselves in the name of human rights and say this is unacceptable," Ross said. "These oppression should cease, especially in the name of Iris's mother."