Harbin Woman Sentenced to 15 Years for Purchasing Ornaments with Falun Gong Message
February 12, 2017
|
By a Minghui correspondent in Heilongjiang Province, China
(Minghui.org) Ms. Cui Fenglan, a Falun Gong practitioner from Harbin City, was illegally sentenced to 15 years in prison on December 26, 2016.
She was arrested on May 6, 2016, by officers from the Xiangfang District Domestic Security Division, for purchasing ornaments with the words Truthfulness-Compassion-Forbearance (the principles of Falun Gong) written on them.
The Xiangfang District Court held a secret trial on November 18, 2016, without notifying the family or lawyer. Ms. Cui had to defend herself and pleaded not guilty.
She requested that the court conduct an investigation on the officers who confiscated her cash and bank deposit books valued at 130,000 yuan when they ransacked her home. The judge, however, ignored her request.
Her lawyer had to personally deliver her appeal to the judge at Xiangfang District Court on January 6, 2017.
Ms. Cui has been held at the Harbin No. 2 Detention Center since her arrest. A court staff member has been trying since the trial concluded to get her to sign the verdict paperwork. She told the person, "I will not sign it. I'm not guilty!"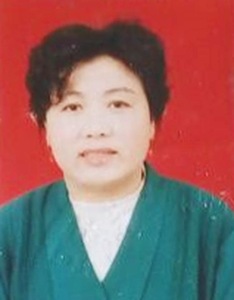 Ms. Cui Fenglan
History of Persecution
Ms. Cui has been practicing Falun Gong for 20 years. After the persecution began in July 1999, she was subjected to arrests, torture, and detainment at forced labor camps and brainwashing centers. She was also fired from her job and her family has been torn apart.
She previously worked as a librarian at the Harbin Armed Police School. In April 2000, she was locked in an office at work for more than 20 days by officials at her school. The administration then called her family and friends to help in persuading her to renounce Falun Gong. When she still refused, the school fired her on May 18, 2000.
She was first arrested in June 2001 when she went to Beijing to appeal for the right to practice Falun Gong.
She was taken to the Harbin No. 2 Detention Center and held for more than 20 days. She was deprived of sleep and not allowed to use the restroom if she did not recite the detention center rules. She was also forced to stand or squat for long periods of time.
She was arrested again in July 2001 by officers from the Songhuajiang Police Station, for speaking to people about Falun Gong. She was then taken to the Harbin No. 2 Detention Center.
There, she went on a hunger strike for more than 20 days to protest the illegal detention. She was summarily force-fed.
She was later sentenced to one year of forced labor and transferred to the Wanjia Forced Labor Camp on August 14, 2001. The labor camp is known for using various torture methods in trying to force Falun Gong practitioners to renounce their beliefs.
The inmates taped Ms. Cui's mouth and beat her on August 21, 2001, for refusing to recite the forced labor camp regulations. Guard Wang Min also hit her in the face with a bench, which caused a cut 1.5 cm long on the left corner of her mouth.
She became dizzy after the assault, her vision was blurred, and there were several big bumps on her head. The cut on her mouth continued to bleed, so she could not eat or drink anything. There is now a scar where the cut was.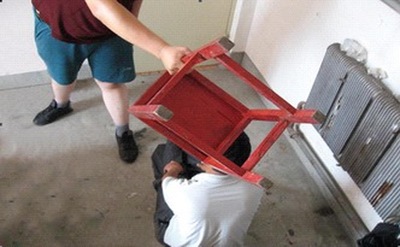 Torture reenactment: Hitting head with a stool
Forced to Leave Home
After Ms. Cui was released, the local police refused to return her resident ID card. Without it, it was more difficult for her to find work or take public transportation.
She left home to avoid further harassment and arrest. Even the temporary rental places where she stayed were often searched by the police.
In May 2007, when Ms. Cui was not at home, the police ransacked the temporary place where she was staying and confiscated all her Falun Gong books and other personal belongings.