41 Falun Gong Practitioners Currently Incarcerated, Tortured in Hulan Prison
April 18, 2016
|
By a Falun Gong practitioner in Heilongjiang Province
(Minghui.org) Forty-one people in Heilongjiang Province are currently incarcerated in Hulan Prison, where they are tortured for refusing to give up their belief in Falun Gong, a spiritual discipline being persecuted by the communist regime.
The practitioners' ages range from 38 to 73. Their sentences range from 3 to 17 years, with an average of 5.6 years.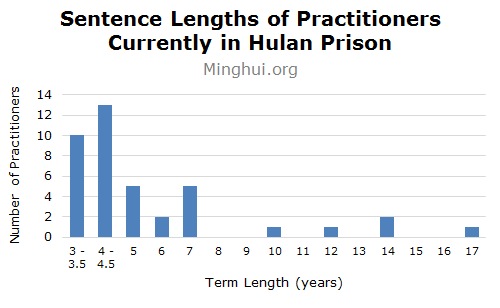 The chart includes 40 practitioners; one practitioner's term length is unknown.
Abuses in Intensive Training Ward
As practitioners first arrive in Hulan Prison, they are placed in the Intensive Training Ward and made to wear special vests as a means of humiliation and to differentiate them from other prisoners.
Guards attempt to force the practitioners to renounce Falun Gong under threat of torture. Mr. Dou Changying was beaten and deprived of water and sleep for refusing to renounce his faith. Mr. Zhang Wenlong was tortured until he became mentally ill. Mr. Kang Changjiang was bedridden for three weeks after suffering savage beatings.
All practitioners in the intensive training ward are made to do forced labor. Guards restricted their restroom use and forbade them from taking showers, doing laundry, and talking to one another. Their meals consist of steamed bread, blanched cabbage, and carrots. They are given water only occasionally.
At night, six practitioners are crammed into a space of 1.5 by 1.5 meters (5 by 5 feet). The filthy, insect-ridden sheets are covered in blood and urine stains.
Unlike other prisoners, who are transferred to other wards or prisons after three months in intensive training, practitioners are kept longer in this ward–some for up to a year. Guards and prison officials receive incentives for "transforming" practitioners, or forcing them to renounce Falun Gong.
Torture Continues in Other Wards or Prisons
After three to twelve months of "intensive training," practitioners are sent to Daqing Prison or transferred to other wards in Hulan Prison, where they are made to do forced labor for long hours without pay (other prisoners are paid for their labor).
The practitioners are viciously beaten, locked in solitary confinement for weeks, or denied family visits if they are found with Falun Gong literature, doing the Falun Gong exercises, or refuse to follow guards' orders.
In one example, Mr. Zong Zhaoqin was put in solitary confinement for a month for refusing to renounce his faith in front of supervising prison inspectors. Mr. Liu Wei lost a tooth from a beating by guards after he did the Falun Gong exercises. Mr. Zhang Jinku was denied family visits after he mentioned the beatings to his family.
The following are the 41 practitioners currently incarcerated in Hulan Prison and their term lengths:
Yang Yongying (age 51), 17 yearsKang Changjiang (age 49), 14 yearsYue Baoqing (age 44), 14 yearsMo Zhikui (age 61), 12 yearsMa Chuncheng (age 41), 10 yearsCheng Shouxiang (age 54), 7 yearsXu Zhanjie (age 51), 7 yearsZhang Jinku (age 40s), 7 yearsZhang Qingsheng (age 60), 7 yearsZhong Zhaoqin (age 45), 7 yearsAn Yongzhen (age 60), 6 yearsZuo Zhengqi (age 62), 6 yearsLi Xin (age 43), 5 yearsLiu Fengcheng (age 46), 5 yearsLiu Hongtu (age 47), 5 yearsSun Wenfu (age unknown), 5 yearsWu Guorong (age 52), 5 yearsLiu Shiquan (age 49), 4.5 yearsXiao Zhigang (age 42), 4.5 yearsZhou Shutian (age 61), 4.5 yearsFeng Zhifu (age 73), 4 yearsJiang Bo (age 38), 4 yearsJing Shengfeng (age 67), 4 yearsLiu Shiying (age 65), 4 yearsWen Yingzhou (age 48), 4 yearsYin Wanzhi (age 56), 4 yearsZhang Peizeng (age 54), 4 yearsZhang Zhong (age 48), 4 yearsZhou Jiafu (age 44), 4 yearsZou Enzhi (age 66), 4 yearsChu Xiucai (age 69), 3.5 yearsLi Min (age 45), 3.5 yearsZhao Chengxiao (age 69), 3.5 yearsPeng Jianpu (age 66), 3.3 yearsHou Shengjiang (age 42), 3 yearsXu Xianda (age 55), 3 yearsXu Yan (age 53), 3 yearsZhang Wenlong (age 58), 3 yearsZhao Jiakuan (age 46), 3 yearsZhao Zhengfu (age unknown), 3 yearsFang Zhengde (age unknown), unknown years