Woman, 83, Sues Former Chinese Leader for Torture Death of Son-in-Law
March 03, 2016
|
By a Minghui correspondent in Shandong Province, China
(Minghui.org) Ms. Jiang Chunzhen, 83, filed a criminal complaint with the Supreme People's Procuratorate against Jiang Zemin on August 12, 2015, holding the former Chinese Communist Party leader responsible for the death of her son-in-law, Mr. Shi Hongjie. Mr. Shi was tortured to death in a detention center at the age of 44.
Since Jiang Zemin launched the campaign to eradicate the peaceful spiritual discipline in 1999, Falun Gong practitioners all over China have been arbitrarily arrested, imprisoned, sent to forced labor camps, and even tortured to death for refusing to renounce their faith.
Mr. Shi Hongjie
Below is an excerpt of Ms. Jiang's personal account of what her son-in-law suffered in the persecution.
Son-in-Law Tortured to Death
My son-in-law Shi Hongjie was arrested in the fall of 2002. The guards at Laixi Detention Center brutally tortured him because he refused to tell them where the Falun Gong materials found in his home were produced.
On October 18, guards instigated several inmates to drag him outside with his face on the ground and jump on his body. They then stomped on his chest, kicked him in the head, and beat him all over. The assault broke his ribs and punctured his lung. He died before arriving at the hospital. He was 44.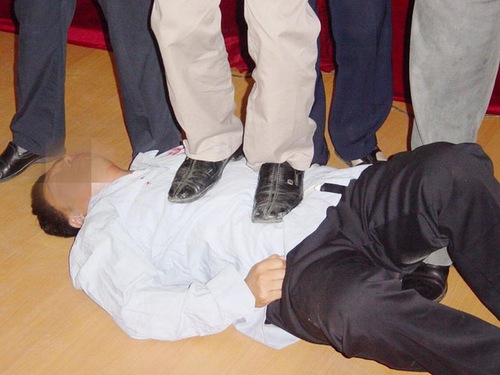 Torture re-enactment: Jumping on the chest with heavy shoes
Family Suffering
I cried every day for my desperate daughter and my two young grandsons. Thinking of the torture my deceased son-in-law had endured, I gave in to fear and stopped practicing Falun Gong. As a result, my old diseases and pains, which had disappeared after I first learned Falun Gong, came back and rendered me unable to do even basic house chores.
Background
In 1999, Jiang Zemin, as head of the Chinese Communist Party, overrode other Politburo standing committee members and launched the violent suppression of Falun Gong.
The persecution has led to the deaths of many Falun Gong practitioners in the past 16 years. More have been tortured for their beliefs and even killed for their organs. Jiang Zemin is directly responsible for the inception and continuation of the brutal persecution.
Under his personal direction, the Chinese Communist Party established an extralegal security organ, the "610 Office," on June 10, 1999. The organization overrides police forces and the judicial system in carrying out Jiang's directive regarding Falun Gong: to ruin their reputations, cut off their financial resources, and destroy them physically.
Chinese law allows for citizens to be plaintiffs in criminal cases, and many practitioners are now exercising that right to file criminal complaints against the former dictator.
Related Reports
Dafa Practitioner Mr. Shi Hongjie Tortured to Death in Laixi Prison, Shandong ProvinceMore Information Surfaces in the Case of Practitioner Shi Hongjie, Tortured to Death by Police in Laixi City, Shandong Province