(Minghui.org) Tens of thousands of Falun Gong practitioners have filed criminal complaints against Jiang Zemin since the movement to sue him began in 2015. In the past few months, hundreds of thousands of Chinese citizens have also signed petitions calling for his prosecution.
Another 250 people in Yingcheng City signed petitions calling for the prosecution of Jiang Zemin
Over 250 more people in Yingcheng City, Hubei Province signed petitions calling to prosecute Jiang Zimen and used their fingerprints as added verification. The petition being circulated calls on the Supreme Procuratorate and the Supreme Court to investigate the crimes against humanity that Jiang Zemin has committed and punish him accordingly.
A 70-year-old man said: "I want Jiang Zemin to be tried. I am hoping for it to happen soon. He is so evil. I will sign the petition."
A 50-year-old man remarked: "He caused great hardship for my family. We must prosecute him."
A young driver was very appreciative of learning that a lot of people were signing a petition to bring Jiang to justice. He signed it as well.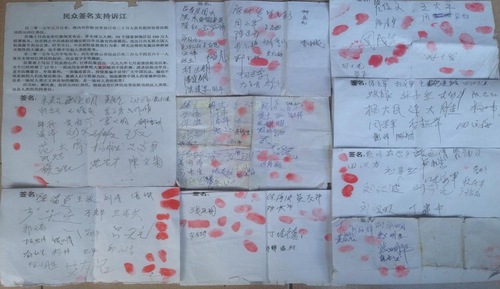 Another 564 people in Anshan City, Liaoning Province signed petitions to sue Jiang Zemin
People from the Xiuyan Manzu Autonomous County in Anshan City, Liaoning Province also joined the movement to petition for the suing of Jiang Zemin. They said: "People will live better when Jiang is arrested."
Some people also said: "We should have sued him a long time ago. He has caused so many good people to suffer."
The brother-in-law of a Falun Gong practitioner said: "I fully support suing Jiang Zemin. I am not a practitioner, but I was harmed. I know Falun Gong is good, yet I could not speak the truth for fear of persecution. Now I can sue him. I want to speak for Falun Gong and want him tried."
A friend of a Falun Gong practitioner said: "I don't practice, but I support you. He so brutally persecuted a group of wonderful people. He is inhuman and should pay for his crime."
BackgroundIn 1999, Jiang Zemin, as head of the Chinese Communist Party, overrode the other members of the Politburo Standing Committee and launched the violent suppression of Falun Gong.
The persecution has led to the deaths of thousands of Falun Gong practitioners over the past 16 years. They have been tortured to death for their belief and even killed for their organs. Jiang Zemin is directly responsible for the inception and continuation of the brutal persecution.
Under his personal direction, the Communist regime established an extralegal security organization, the 610 Office, on June 10, 1999. The organization overrides all other police and security forces as well as the judicial system to carrying out Jiang's directive regarding Falun Gong: to ruin their reputations, cut off their financial resources, and destroy them physically.
Chinese law allows its citizens to be plaintiffs in criminal cases. Many Falun Gong practitioners, as well as concerned citizens from all walks of life in China, are now exercising that right to file criminal complaints against the former dictator.