Twenty-six Falun Gong Practitioners File Criminal Complaints Against Former Chinese Dictator Jiang Zemin
September 20, 2015
|
By Minghui correspondent Zheng Yuyan
(Minghui.org) Twenty-six Falun Gong practitioners and their family members in Hong Kong filed criminal complaints against Jiang Zemin, former head of the Chinese Communist Party (CCP), during August 2015. They urge the Supreme People's Procuratorate and the Supreme People's Court in Beijing to bring Jiang to justice for his abuses of power in orchestrating the persecution of Falun Gong in China.
They range in age from thirties to eighties, and are from different professions, including enterprise, finance, and business, as well as retired teachers and homemakers. They joined the more than 180,000 people who have filed criminal complainants against Jiang since the end of May 2015.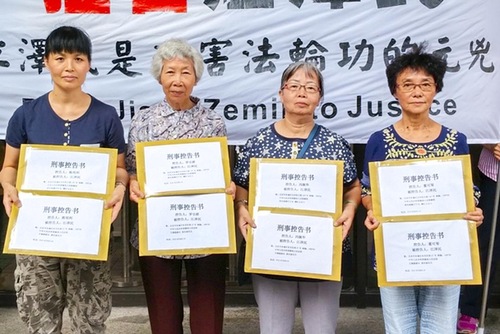 Four practitioners hold their complainant packages.
Unlawfully Imprisoned and Tortured
Practitioner Liang Yuzhen appealed many times since July 2000 for her right to practice Falun Gong, and was detained again and again. She was locked in Sanshui Women's Forced Labor Camp in Guangdong for one year, for distributing Falun Gong information in 2001. She was sentenced to the Women's Prison in Guangdong for four and a half years in February 2009 for distributing Falun Gong information.
She was tortured and subjected to brainwashing in labor camps and prison. One kind of torture she suffered was a large chain that locks the feet, hands, and neck together, making her unable to stand or walk. She recalled, "I was numb and could not walk alone even three months later. My 14 teeth were lost due to beatings while in prison."
Besides physical torture, police also intimidated her family members, in attempts to force her to renounce her belief.
The Whole World Should Sue Jiang as He Damages Universal Values
Practitioner He Jianhua went to Shenzhen to work in 1997, and started practicing Falun Gong there. Police arrested him in 2001 and detained him for 15 days. He was later transferred to a brainwashing center and held there for three months.
"You are forced to listen and read brainwashing stuff. You are also forced to do labor and treated as a prisoner." said Jianhua while choking. He stressed, "Jiang Zemin not only persecuted Chinese people, but also poisoned the whole world. Everyone should sue him."
Lin Junqing, 65, started practicing in 1996. She and two other practitioners went to Beijing to appeal for the practice. They were detained and deported. She was denied reentry to China. As a result, she could not attend funerals of her parents in China. She was very sad.
Junqing said her sister in China also practices Falun Gong. Local police have harassed her again and again. She was dismissed from her job, and was detained for a year in 2003. Junqing said, "I'm suing Jiang because he persecutes Falun Gong. The CCP's media, including newspapers, radio stations, and TV, defame Falun Gong. The lies mislead the entire world."
Practitioner Cao Zhixian is near 70. She had cancer before, and returned to health after practicing Falun Gong. She went to Beijing to appeal for Falun Gong in 2000 and was arrested. She was also denied reentry into China. She thought the lawsuit against Jiang was significant, "Falun Gong is good. I think everyone should speak out and sue the perpetrator Jiang."
Background
In 1999, Jiang Zemin, as head of the Chinese Communist Party, overrode other Politburo standing committee members and launched the violent suppression of Falun Gong.
Over the past 16 years, more than 3,800 Falun Gong practitioners have been confirmed tortured to death. The actual toll is likely higher, because such information is tightly censored in China. More have been tortured for their belief and even killed for their organs. Jiang Zemin is directly responsible for the inception and continuation of the brutal persecution.
Under his personal direction, the Chinese Communist Party established an extralegal security organ, the 610 Office, on June 10, 1999. The organization overrides police forces and the judicial system in carrying out Jiang's directive regarding Falun Gong: to ruin their reputations, cut off their financial resources, and destroy them physically.
Chinese law allows for citizens to be plaintiffs in criminal cases, and many practitioners are now exercising that right to file criminal complaints against the former dictator.