(Minghui.org) Falun Gong practitioners from Washington participated in the 66th Seafair Torchlight Parade in Seattle on July 25, 2015. This was the eleventh time practitioners have participated in the Seafair parade. Their float, a giant boat, was one of the parade highlights.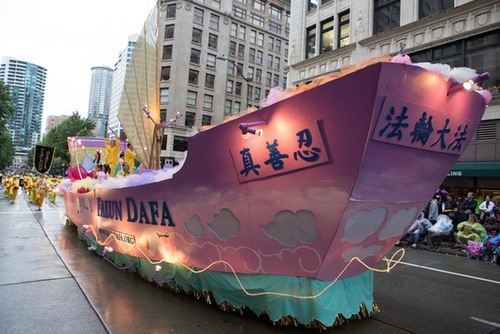 Falun Gong float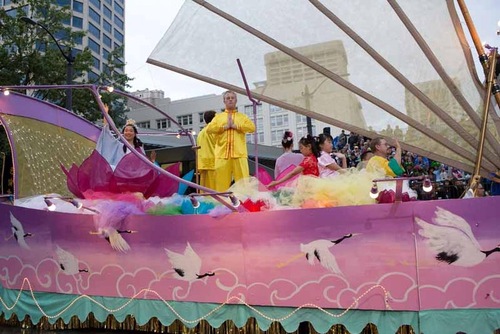 Demonstrating the exercises on the float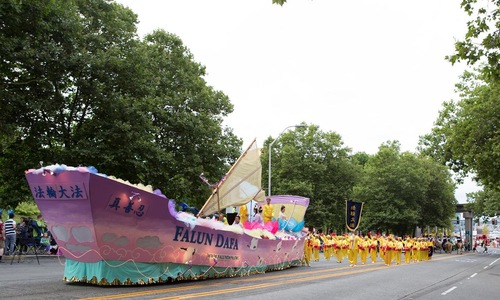 The float and waist drum team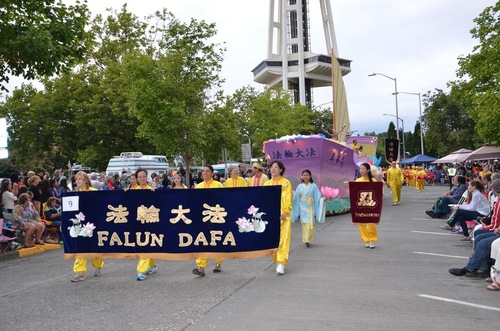 Falun Gong entry in the parade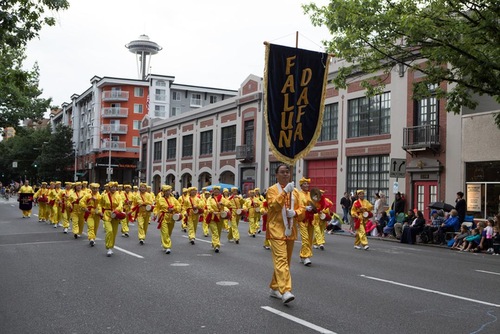 Waist drum team
The purple boat is 47-feet long, 12-feet wide, and 10-feet tall. The sail is about 20 feet in height. The float debuted in the same parade in 2005, and has since participated in about 30 parades in multiple U.S. cities, and won more than ten awards, including several first places. It was described as a "star float" in five Seattle and Canadian media reports on local parades.
According to Mr. Brown, a former organizer of the Seafair Torchlight Parade, the Falun Gong float has made a deep impact on other groups' float-building.
The parade began at Seattle Center, proceeded along Fourth Avenue, and ended at Centurylink Field, for a total of 2.5 miles. More than 300,000 people watched from the streets, and 700,000 watched the live television broadcast.
Besides the exercise demonstration on the float, Falun Gong practitioners also performed using waist drums, which was warmly welcomed by spectators.
Presley, a computer engineer at Microsoft, liked the Falun Gong float very much. "It is so beautiful. The waist drum team was great too. I am grateful that they gave us a chance to learn about the traditional Chinese culture. Falun Gong practitioners look very peaceful. This is an elegant entry," he said to the Minghui correspondent.
Many people in the audience have heard about Falun Gong and the persecution in China, and expressed their support for the practitioners' peaceful resistance. Some Chinese people were glad to to see a Chinese group in the parade. They were proud of the practitioners.
TV station KIRO7 broadcast the parade live.