(Minghui.org) A number of Falun Gong practitioners have filed criminal complaints in China's highest courts since the beginning of this month. These documents list the same defendant: Jiang Zemin—former head of the Chinese Communist Party who imposed his personal will on state organs to launch the persecution of Falun Gong in July 1999.
In China, Falun Gong practitioners attempted to file the first lawsuit against Jiang Zemin in August 2000. Independently, a wave of lawsuits were filed outside of China against Jiang Zemin and his cohorts, beginning with a case filed in July 2001 against a 610 Official and a case filed against Jiang Zemin in October 2002.
Now, a new wave of legal efforts to bring Jiang to justice has begun afresh in China. Chinese law allows for citizens to be plaintiffs in criminal cases, and many Falun Gong practitioners are now exercising their legal right to file criminal complaints against Jiang.
Practitioner Zhang Zhaosen in Hubei Province submitted his criminal complaint to the judge during his illegal trial at the Xiangyang Intermediate Court on May 15, 2015. The judge accepted the complaint.
Prior to the trial, Mr. Zhang also mailed his complaint to the Supreme People's Court and the Supreme People's Procuratorate on May 11 via EMS (Express Mail Service).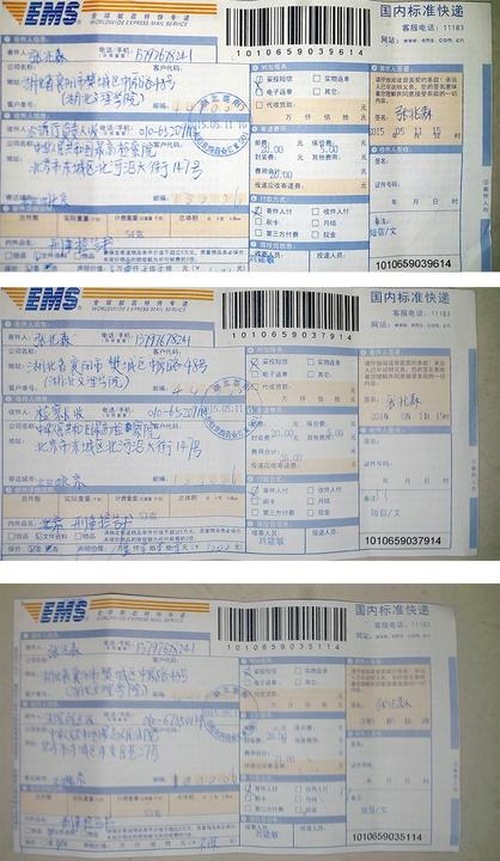 Falun Gong practitioner Zhang Zhaosen's three Express Mail Service receipts for criminal complaints mailed to the President of the Supreme People's Court, the Public Prosecution Office and the Procurators-General of the Supreme People's Procuratorate.
In Jiangsu Province, Zhu Hefei, a former official with the Jiangsu Second Normal University (then Jiangsu Institute of Education), filed criminal complaints in the Supreme People's Court and the Supreme People's Procuratorate on May 16 and 19, respectively.
On May 17 and 18, the wife of Zou Deyong also filed criminal complaints against Jiang Zemin in the highest courts, the State Council and Beijing courts, for launching and sustaining the 16-year persecution that is still ongoing.
Mr. Zou, a software engineer, was arrested on April 12, 2015 for distributing informational materials about the persecution of Falun Gong. He has been detained since April 13.
The latest lawsuit against Jiang was a May 20 joint complaint by five practitioners in Hebei Province.
During a court trial on April 24, a defense lawyer for Falun Gong practitioners accused Jiang Zemin of sabotaging law enforcement, a charge that the Chinese Communist Party often arbitrarily uses to persecute practitioners.
Renowned lawyer and law professor Zhang Zanning of Southeast University in Nanjing, Jiangsu Province said, "Without the approval of the National People's Congress, Jiang Zemin single-handedly decided and launched the persecution of Falun Gong. This is a major instance of 'organization to undermine national law enforcement!'"
Jiang's Crimes Against Humanity
Jiang Zemin single-handedly started the persecution of Falun Gong in 1999. Despite the disagreement of other Politburo standing committee members, he took advantage of his position as head of the Chinese Communist Party and imposed his personal will to launch the persecution.
The brutal suppression has resulted in the deaths of thousands of Falun Gong practitioners over the past 16 years. Many more have been tortured and it is believed that tens of thousands have been killed for their organs.
Jiang Zemin and his followers are directly responsible for the inception and continuation of the persecution. Under his personal direction, the Chinese Communist Party established a Party-based security agency, the 610 Office, on June 10, 1999. This is an extralegal organization that overrides the law to execute Jiang's directives regarding Falun Gong: ruin their reputations, cut off their financial resources, and eliminate them physically.
Jiang also ordered the killing Falun Gong prisoners of conscience for their organs, a crime in which the military has a major role through its access to the forced labor camp and prison systems.
Former Minister of Health for the Chinese People's Liberation Army (PLA) General Logistics Department, Bai Shuzhong (白书忠), discussed an order from Jiang to start organ harvesting in a September 2014 undercover investigative call conducted by the World Organization for Investigating the Persecution of Falun Gong (WOIPFG).
Bai said in the telephone conversation, "Back then it was Premier Jiang … there was an order, a sort of instruction, that said to carry out such things, organ transplantation. … Because back then after Premier Jiang issued the order, we all did a lot of anti-Falun Gong work …"
Previous Lawsuits
Falun Gong practitioners Zhu Keming and Wang Jie filed criminal complaints with China's highest courts on August 25, 2000. This was the first lawsuit against Jiang Zemin.
The complaints were not registered by the Supreme People's Court and the Supreme People's Procuratorate. Jiang gave a personal order to arrest the plaintiffs. Within two weeks, Mr. Zhu and Mr. Wang were arrested. Mr. Wang died in 2001 due to internal injuries sustained as a result of torture in police custody.
Mr. Zhu, who was a Hong Kong citizen, was illegally sentenced to five years. He suffered electric shocks and other tortures at Tianjin Chadian Prison. He lost almost all his teeth during the imprisonment. He was later released and returned to Hong Kong.
Practitioners outside of China have extended the legal efforts to bring Jiang to justice. During Jiang's visit to Chicago, he was sued under United States Human Rights Statutes (Alien Tort Claim Act & Torture Victims Protection Act) for the persecution of Falun Gong practitioners.
A legal complaint alleging torture and genocide was filed in the U.S. District Court of the Northern District of Illinois and was served on October 22, 2002 to security officers guarding Jiang at the Chicago Ritz Carlton Hotel.
Falun Gong practitioners have sued Jiang for genocide, torture, and crimes against humanity in 30 countries and areas, including Switzerland, Australia, Belgium, Spain, Taiwan, Hong Kong, Germany, and Canada. The lawsuits became the largest international human rights lawsuits of the 21st century.
Lawyers for the plaintiffs have argued that Jiang launched the persecution outside of the scope of his responsibilities as head of state, and therefore should not have diplomatic immunity.
In its "registration system reform opinions," the Supreme People's Court in China claims that it is going to change the filing review system to filing registration system and guarantee registration and processing of all complaints. This new policy was to be in effect as of May 1, 2015.
It remains to be seen whether the judicial system in China will put its policy into action.
Related articles in Chinese language:http://www.minghui.org/mh/articles/2015/5/17/湖北张兆森在法庭递交起诉江泽民刑事控告书-309642.html
http://www.minghui.org/mh/articles/2015/5/8/江泽民纠集的"六一零"是个什么玩意儿--308755.html