Macau: Two Thousand Chinese Tourists Quit the Communist Party During the Chinese New Year Holiday
February 26, 2015
|
By a Minghui correspondent
(Minghui.org) Nearly 2000 Chinese tourists in Macau quit the Chinese Communist Party (CCP) during their Chinese New Year vacations.
Chinese New Year is one of busiest tourist seasons in Macau. Hundreds of thousands of Chinese people visit every day. Local Falun Gong practitioners took this chance to set up booths at two tourist spots, where they exposed the persecution of Falun Gong in China, and helped people to recognize the evil nature of the CCP, and quit the Party.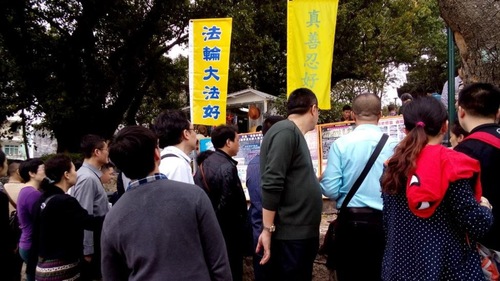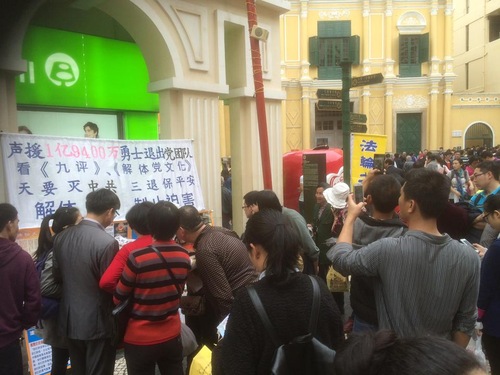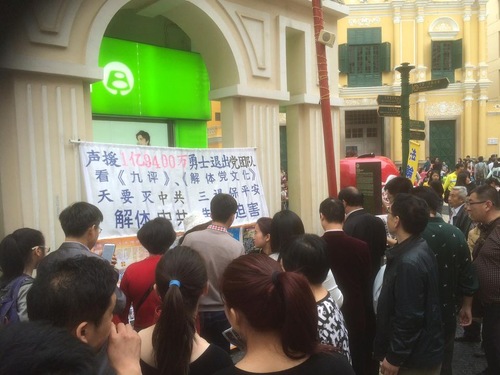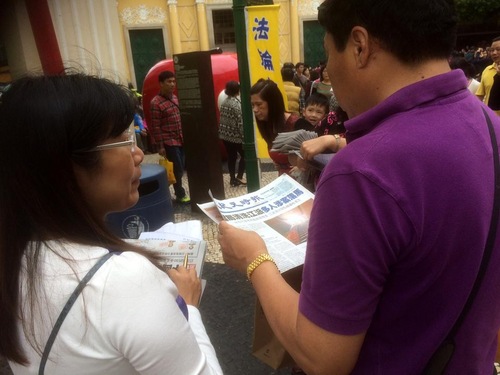 Chinese tourists view the materials.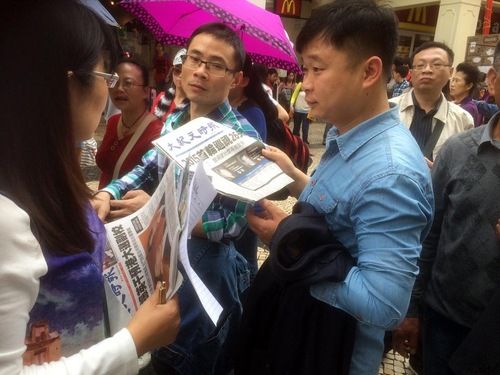 Practitioners explain the facts about Falun Gong to tourists from China.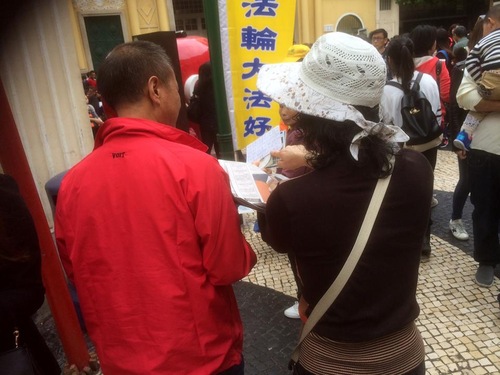 Helping Chinese tourists to quit the CCP.
Practitioners set up eye-catching banners at the tourist spots, which read, "Falun Dafa is Good, Truthfulness-Compassion-Forbearance is Good." Many tourists read it out aloud and took photos. Hundreds of people published their announcements of quitting the party each day.
Some Chinese tourists not only quit the party, but also took reading and video materials for their friends and families in China.
One day, a gentleman told a practitioner that he was a fan of qigong, and has practiced qigong for a long time. He said, however, that he had been deceived by the Chinese government's propaganda against Falun Gong, and therefore had misunderstandings about practitioners.
"I have watched you guys for several years. I realized that you were all good people, and that Master Li Hongzhi is truly great," he said, "I now tell everyone that the suppression of Falun Gong is wrong, and that Falun Gong is good."
He asked the practitioner to pass his greeting to Master Li Hongzhi.
More and more Chinese people have recognize the evil nature of the CCP. Since the Nine Commentaries on the Communist Party was published in 2004, 194 million Chinese have withdrawn from the Party and its affiliated organizations.