(Minghui.org) Sydney Falun Gong practitioners joined the Christmas Parade in nearby Gosford on November 28, 2015. They were invited to bring the Divine Land Marching Band for the third time, which was awarded with the top prize.
Sponsored by the Gosford Business Improvement District, this parade has a history of more than 20 years. Many community groups, organizations, radio stations, and schools participated in the annual celebration.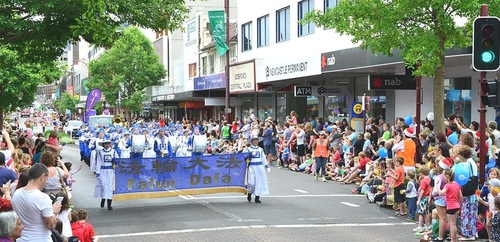 The Divine Land Marching Band joins the Gosford City Christmas Parade on November 28.
Program host Chris King said the organizers welcomed the Falun Gong group to the event. "I am glad to announce the Divine Land Marching Band as the top prize winner." He expressed hope that the band could participate every year, because it added flavor to the event and "brought happiness to the community."
Program host Chris King (left) and the mayor (right) awarded the Divine Land March Band with the top prize and 1,000 Australian dollars.
After the parade concluded, the band was invited to give a 30-minute performance at Kibble Park.
David Gao, a band member and music professional, said he was glad to hear that the band won the top prize. He said, "I know many members have worked very hard on this, to bring wonderful music to the community. I am proud of being a member of this group."
Mr. Gao said he specifically liked an original composition, The Sacred Song. "The melody connects with the audience well. Whenever playing that piece, I can feel that spectators understand the music with their hearts. And I was deeply touched, too."