Miss Canada Barred from China: "I Hope People See Courage and Hope in The Story"
December 12, 2015 | By Zhang Yun
(Minghui.org) Anastasia Lin, Miss World Canada, has been denied entry to China, making her unable to attend the global Miss World beauty pageant at Sanya, China on December 19.
This situation has drawn intense media attention, with CNN, the Associated Press, the Wall Street Journal, Time, the New York Times, and many others picking up the story. Lin said that she was barred from China because she is a Falun Gong practitioner, and she has been working to raise awareness of the persecution in China.
Asked why she believed she was denied a visa, she said, "To prevent me from even stepping into Chinese territory, I think this is what they're trying to do. I really don't see where this insecurity comes from."
Lin told the Associated Press that people should not be intimidated by the Communist Party's power from her experience,"I think that's the real harm when people watch this and learn a negative lesson. I hope people see courage and hope in the story, not simply just being denied."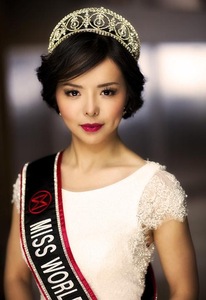 Anastasia Lin won the title of Miss World Canada on May 16 this year.
"Beauty with a Purpose"
Lin, 25, was born in China and emigrated to Canada at age 13. She graduated from the University of Toronto with a major in theater studies. She also studied history and politics. She is an actress and has had roles in films about human rights violations in China, including the persecution of Falun Gong.
After earning the title of Miss World Canada 2015 in Vancouver earlier this year, Lin was scheduled to attend the beauty pageant held in Sanya, along with entrants from more than 110 nations. Chinese officials did not send her the documents she had applied for, so Lin boarded a plane to Hong Kong, where Canadian citizens are routinely given landing visas.
But after verifying her identity, an officer said Lin was not eligible for a visa. He gave no explanation.
Citing the ethos of Beauty with a Purpose, Lin explained that was why she participated in the Miss World contest. Determined to be a voice for the voiceless, she wants to advocate for human rights and help Canada to support universal values.
"I hope to show people that we should not bow to tyranny. Although I cannot make it to Sanya, I think I have achieved my goal."
What Are Chinese Authorities Afraid of?
Lin was not the first one on the blacklist. Several renowned actors have been listed as persona non grata, including Brad Pitt, Christian Bale, Harrison Ford, and Richard Gere, according to an article on the front page of the New York Times on November 27, with the title "China Bars Anastasia Lin, Miss World Canada (and Rights Advocate)."
But such mounting reactions do raise serious concerns. "If they start to censor beauty pageants—how pathetic is that?" Lin said in Hong Kong during an interview.
In addition to appearing in films, Lin has also participated in forums related to human rights. During a hearing in July this year, organized by the U.S. Congressional-Executive Commission on China (CECC), she testified that at least 3,800 Falun Gong practitioners had lost their lives due to torture while in police custody in China. Many practitioners also became victims of forced organ harvesting.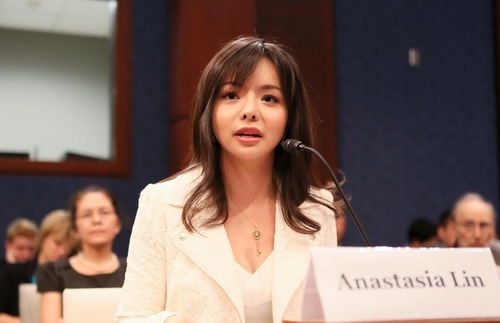 Lin attended the U.S. Congressional-Executive Commission on China (CECC) hearing on July 23, 2015, discussing human rights issues in China.
Her latest film, The Bleeding Edge, from the creators of the Peabody Award-winning film Human Harvest, is a thriller based on real-life events where she plays a Falun Gong practitioner. The film is set to be released in 2016.
At a forum on September 8 at the Legislative Assembly in Taiwan, Lin emphasized the severity of the suppression in China. "A large number of innocent practitioners were arrested and detained for their belief." She hopes more government officials will pay attention to this and urge the Chinese government to stop the persecution.
More than 16 years have passed since Jiang Zemin started to persecute Falun Gong in 1999. Over 221 million Chinese have renounced their memberships in Chinese Communist Party (CCP) organizations, and nearly 200,000 have filed criminal complaints against Jiang for his role in the persecution.
Lin actively participates in human rights activities and met with Chinese dissident Chen Guangcheng. As an actress, she has played roles in more than 20 movies, some of them reflecting the persecution of Falun Gong in China (middle and right).
Support from Canada and Around the World
Several days after winning the Miss Canada contest on May 16, security agents visited Lin's father, who remains in China, urging and threatening him to stop his daughter's involvement in human rights.
Back in Canada, however, she met with great support. Pageant officials have offered to allow her to compete in next year's finals. Ike Lalji, chief executive of Miss World Canada, said he was disappointed by China's actions. "Some people don't respect pluralism and diversity." "It would be a good thing, and help bring about peace in the world, if we were to embrace one another's cultures and beliefs."
The support also came from the Canadian government. In an email statement to The Globe and Mail, Canada's national newspaper, Foreign Affairs spokeswoman Amy Mills wrote, "Canada commends Ms. Lin for her efforts to raise awareness regarding these issues." "Canada is also concerned about allegations that the Chinese government have harassed Ms. Lin's family in China."
Through Facebook, Twitter, and media reports, Lin has gained broad support in other countries too.
"Silencing beauty queens, censoring journalists and torturing [those with] religious beliefs is not a sign of strength", reported the British newspaper, The Guardian, on November 26, "it is a sign of profound weakness and insecurity."