(Minghui.org) Shen Yun Performing Arts presented 14 shows on January 2-14, 2015, in four California cities, including San Francisco, San Jose, Berkeley, and Sacramento.
All the performances played to full-house audiences, and blocked seats were opened to meet the demand in San Jose and San Francisco.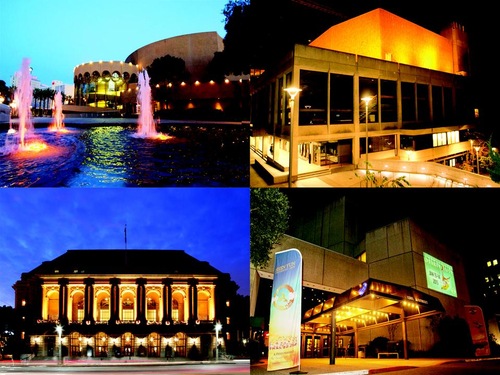 Shen Yun performed in California at (clockwise from upper left): San Jose Center for the Performing Arts, Berkeley's Zellerbach Hall, San Francisco's War Memorial Opera House, and the Sacramento Community Center Theater.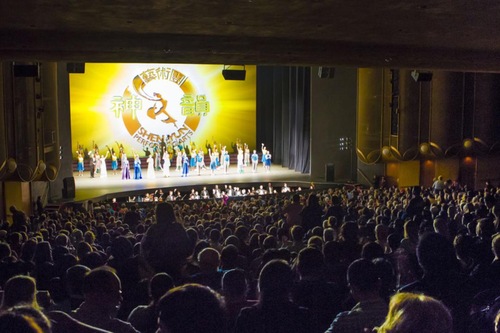 Curtain call at the Sacramento Community Center Theater on the evening of January 14.
Before Shen Yun performed in San Francisco, 42 elected officials from northern California sent 23 greeting letters and certificates welcoming Shen Yun Performing Arts to California.
Top row, left to right: John Garamendi, Ami Bera, Anna Eshoo, Doris Matsui, Alan Nagy, and Art Kiesel; Middle row, left to right: David Haubert, Ken Carlson, Nancy Shepherd, Jose Esteves, Robert McGarvey, and Joe Gunter; Third row, left to right: Jeff Gee, Dave Pine, Jim Griffith, Carol Vernaci, Wayne Lee, and Stewart Chen.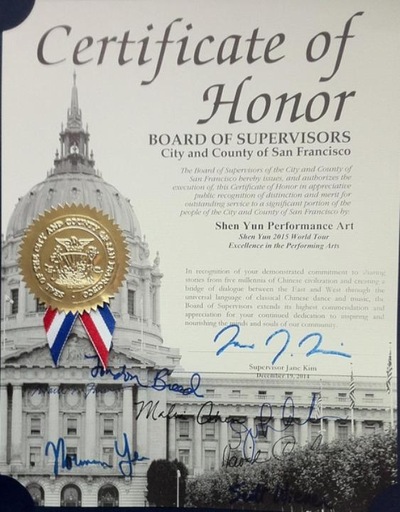 "Certificate of Honor" for Shen Yun Performing Arts from the Board of Supervisors.
Fabulous and Phenomenal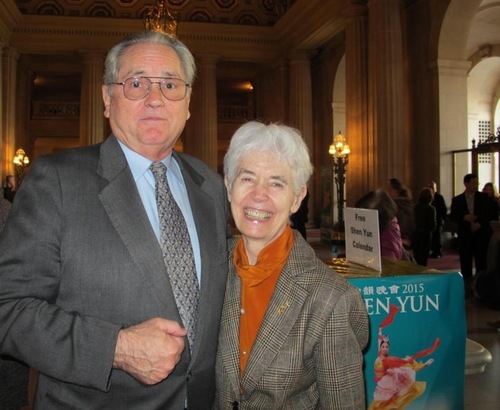 Jayne Davis, chair of the opera training Merola Opera Program, was impressed by the projections in the performance.
"It's fabulous!" exclaimed Jayne Davis, chairperson of the opera training Merola Opera Program.
"We want to know who does the projections. They are so extraordinary. I mean, the dances are just amazing," Ms. Davis said of the digital background. "We need that in opera."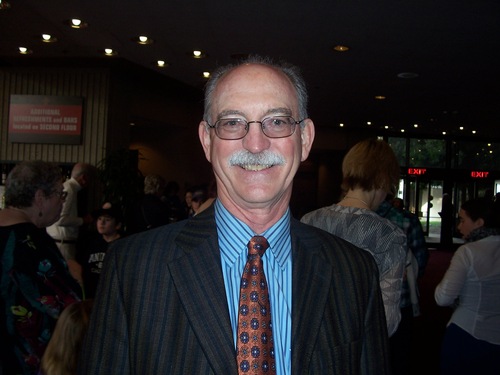 Judge Dale Drozd was impressed by the Shen Yun dancing.
Judge Dale Drozd, who saw the performance on January 4, thought the dancing was "fabulous" and "phenomenal," and commented, "It's definitely worth seeing."
He also thought it was very interesting to see the "all the different ethnic groups."
"Entertaining and Innovative"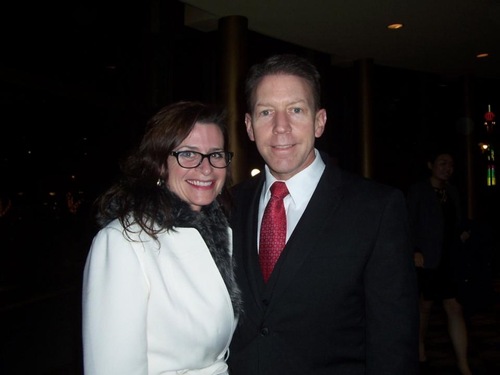 Todd Whitehurst, director of hardware development for Apple, said the digital backdrop was "entertaining and innovative."
Todd Whitehurst, director of hardware development for Apple, seemed enchanted with Shen Yun. "Ah, we really loved tonight's show," he said. "It was very entertaining.
"I really liked the multimedia backdrop. So the dancers would disappear into the screen or vice versa. I thought that was very entertaining and innovative.
"I also enjoyed the fact that the soloists were exceptional, just extraordinary. Especially the one who was on the two-stringed instrument from China. She was amazing.
"I would not have thought you could get such a range of sound and such a powerful piece of music out of such a simple instrument. But that was wonderful," he said.
His wife, Holly Whitehurst, an independent workshop instructor and writer, said she thought the show was "really visually overwhelmingly beautiful and graceful."
"It's nice to kind of get a sense of the vast array of diverse history and culture that really came to the performance," she said.
Mr. Whitehurst summed up his experience of the evening's performance as, "Just amazing. Visually stunning!"
Madhukar Tallam, a manager at Intel, said after seeing Shen Yun, "It would be great if people in China could enjoy it, too. Because there is a lot more Western influence in China now. It would help them to understand the kinds of things that Shen Yun is doing outside of China."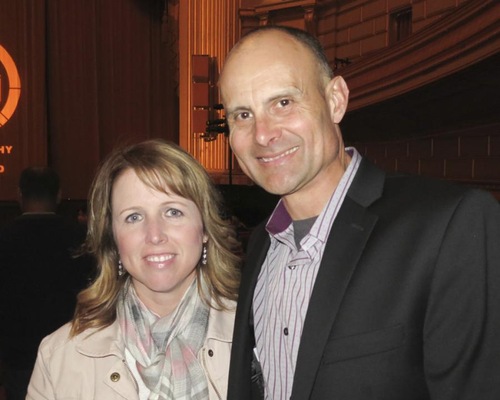 Robert Hildenbrand, vice president of HP's Oracle Applications Services, came to watch the performance for the fourth time. He said he enjoyed the dances that depicted ancient stories and the history of China.
Mr. Peng, an antiques dealer, saw the show on January 10 in San Francisco, for the third year in a row. He especially enjoyed the dance on "compassion." He said that people always say to "return hatred with virtue and use virtue to convince people," but hardly anyone does it. He thought that the dance about Falun Gong practitioners was a true demonstration of this saying. He kept saying, "Very good! Very good!"
Skillful Synchronization and Integration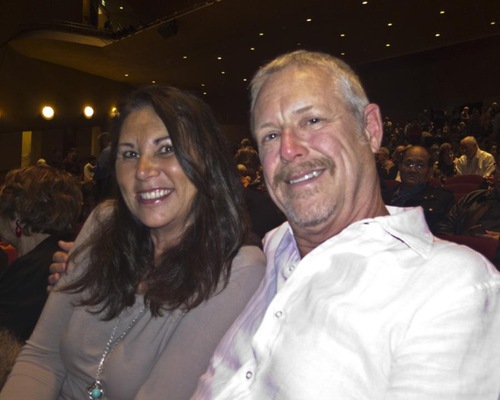 Financier Thomas Gay and his wife Yvonne enjoyed the performance at San Jose Center for the Performing Arts on January 4.
Thomas Gay, who works in finance, attended the performance with wife, Yvonne, a business owner. He said after the show, "Very good. I'm impressed by the skill of the dancers and the synchronization and integration of the background into the show."
Mrs. Gay was amazed by "the colors, the elegance, the storytelling, the history. It's absolutely spectacular!"
She also thought that the female dancers were "very elegant, very feminine, but conveyed a strong conviction when telling their story."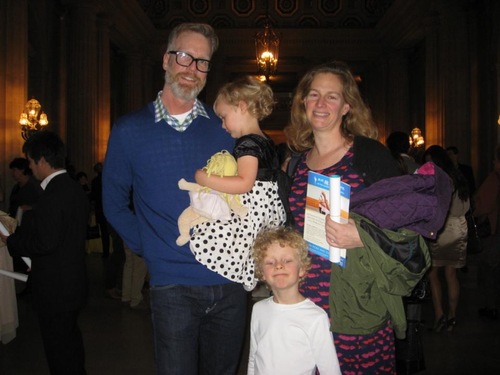 Jeffrey Veen, executive interface director for Wired Digital, attended the performance with his family. He was impressed by the design of the digital backdrop and the performers' skills.
Spiritually Fulfilling and Enriching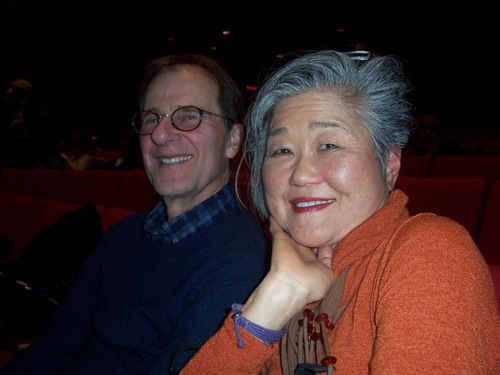 Playwright and poet David Beckman was amazed by the artistry of the Shen Yun performers.
"[Shen Yun] is very uplifting, very positive," said David Beckman, playwright, poet, and former New York actor.
His wife, Sharon, the former head of marketing for the Columbia Record and Tape Club, said that she enjoyed the dances and beautiful colors, and learning about China's history through the performance.
Among the highlights of the performance for Mr. Beckman were the vocal performances. "They capture the yearning of people to connect and enjoy aesthetic beauty," Mr. Beckman said about the lyrics.
Mrs. Beckman also said, "I'm really impressed with the quality of the dancers. They are beautiful. It's at a very high level."
Michael Anderson, retired owner of a Bay Area real estate firm, attended the performance with his wife, Lina. He saw hope in the show and described Shen Yun as "a bright light in the world."
"It's a bright light to destroy the darkness in the world," he reiterated.
"It's very enlightening," Mrs. Anderson said. "It felt more fulfilling than ballet. This felt enriching."
"[The dancers] are portraying the feeling of hope and good wishes for others, and I thought it was quite well done," said Mrs. Anderson. "You try to hit them with the arrow of kindness, and hope it infects them."
Shen Yun will continue to perform in California, in Los Angeles on January 22-25; Northridge, January 27-28; and Costa Mesa, January 29-February 1. For more information on tickets and dates, please visit http://shenyun.com.