The Art of Truthfulness-Compassion-Forbearance Held in Fremont, California
September 17, 2014
|
By Minghui correspondent Wang Ying
(Minghui.org) The Art of Zhen, Shan, Ren (Truthfulness-Compassion-Forbearance) International Exhibition was held at the Olive Hyde Art Center and Gallery in Fremont, California, a city in the San Francisco Bay area, on August 1-30, 2014.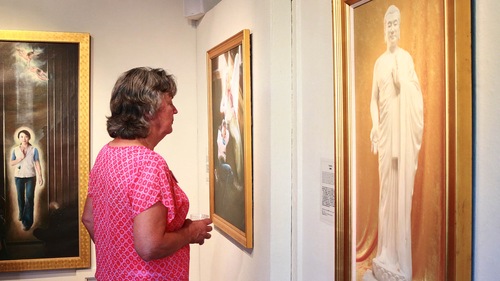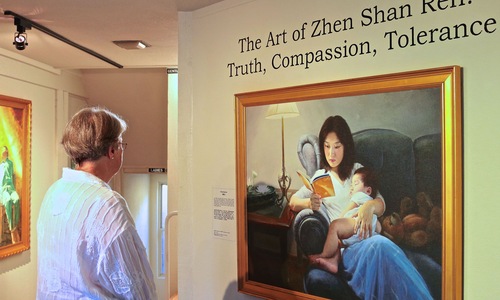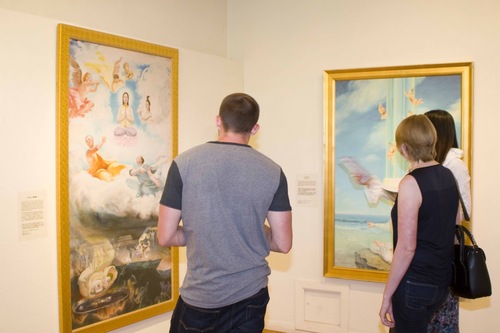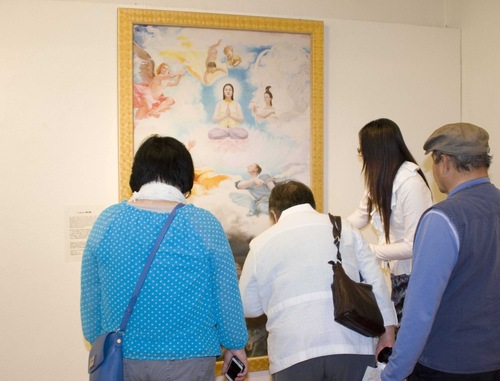 Spectators examine the paintings.
Mr. Zhang, the exhibition coordinator, said that the Fremont City government covered the costs for the art exhibition, including advertising, descriptions for each painting, and production of postcards.
The Tri-City Voice, a local newspaper, covered the event on the front page.
The exhibition showcased 29 paintings by artists who practice Falun Gong. Many artists attended the opening and praised the works on display.
James Patterson, a foreign policy professional, wrote in the comment book that he found the delicate and respectful paintings inspiring. He said that he was more motivated to work with government officials to help restore Falun Gong's reputation in China and seek justice for the practitioners.
Middle school teacher Linda Chittle found the paintings very moving and said she would recommend the exhibition to her students. She took some postcards to distribute to her students.
Artist Emery Hely said that she was shocked by the subject matter, the faces, and the characters depicted in the artworks.
Photographer Thomas Ricksmith praised the harmony conveyed in the paintings. Ms. Charlotte Severin has been to China and studied painting in Tibet. She commented that the artwork was "very beautiful."
Carol, a gallery employee, said that, for her, the paintings inspired kindness. She felt that no matter where one was from, the people in the paintings would be relevant to their lives. "I learned about Falun Gong and the persecution in China. There is even forced organ harvesting. The CCP is terrible," she said.
Ms. Pan from China identified former head of Chinese Communist Party (CCP) Jiang Zemin in one of the paintings. He was depicted as going to hell for instigating the brutal persecution.
"Isn't that Jiang Zemin? Frying would be too good for him. He should be sent to a lower level in hell. The CCP is so bad. Especially over the last 15 years, Jiang is responsible for the deterioration of the entire society. It is rotten to the core," she commented.
Ms. Pan learned the facts about the persecution after she came to the United States.