Ketam Island, Malaysia: "Now I Know Where Those Organs Came From--This Is Too Scary"
August 05, 2014
|
By a Minghui correspondent in Malaysia
(Minghui.org) A week after Malaysian Falun Gong practitioners held an event outside the Chinese Embassy in Kuala Lumpur on July 20, commemorating the 15-year-long severe persecution, they came to Ketam Island the following week to continue raising public awareness.
Surprised by the Chinese Communist Party's (CCP) brutality against Falun Gong practitioners, many passersby signed petitions to show their support for ending the persecution. Mr. Luo, a business marketing specialist from Kuala Lumpur, the capital of Malaysia, said to a Minghui correspondent, "I heard about many people going to China for organ transplantation because of the short turnaround time. Now I know where those organs came from—this is too scary."
The event at Ketam Island, a well-known tourist site in Malaysia, took place on July 28 and 29. Practitioners put up posters and distributed information about the mistreatment practitioners suffered in China for their belief, including detention, imprisonment, forced labor, and so on. A petition campaign was also launched, calling to end the severe human rights violations, especially organ harvesting from living practitioners. Like petitions collected by practitioners in other regions, they will be forwarded to the Office of the United Nations High Commissioner for Human Rights (OHCHR) for further action.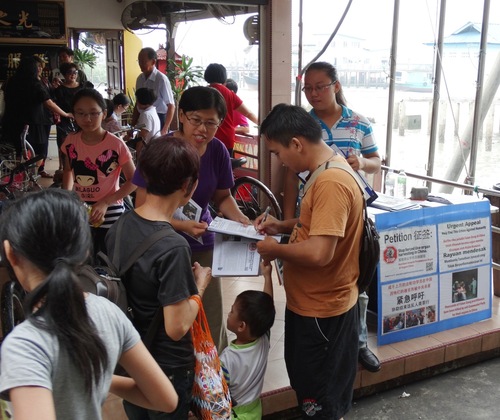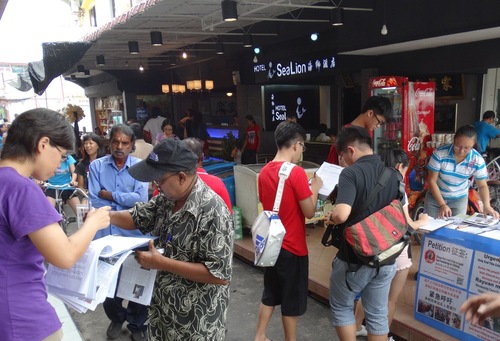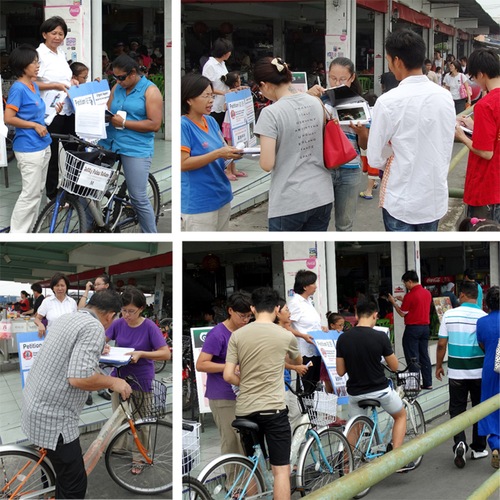 Practitioners telling people about the persecution and collecting signatures to end the brutality
Mr. Luo spent a long time reading posters and materials being handed out by practitioners. He said he had been told the organs were from death row prisoners. He now knows that could not be true, and felt bad for what was happening. He signed the petition and told practitioners to keep it up.
Mr. Rocky, a civil engineer from Indonesia, not only signed the petition, but also asked practitioners to give him updates on it in the future. "I will post such information on Facebook so that more people will know about it," he said.
After reading posters and materials, an immigrant from China knew the truth and said, "The CCP is worse than what I thought." She also asked her children to sign the petition as well. "This is important for them," she said.
When a group of tourists from Alor Star in northern Malaysia signed the petition, one of them said, "The CCP is really outrageous and beyond imagination. How could someone do things this bad?"