(Minghui.org) Parliamentarians Against Forced Organ Harvesting (PAFOH) held its first hearing at Parliament House in Canberra, Australia on July 16, 2014. One hundred Falun Gong practitioners were invited to attend. The unusually high number of attendees, many more than the usual ten or less, was a first in Australia, and would be a unique occurrence anywhere in the world.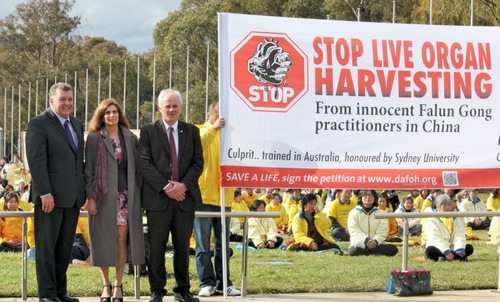 Senator John Madigan (right), Member of Parliament Craig Kelly (left), and Professor Maria Fiatarone Singh (center) of the University of Sydney at a rally in front of the Parliament House at Capital Hill in Canberra, Australia. The rally was held on the same day of the hearing.
During the hearing, Maria Fiatarone Singh, a professor of geriatric medicine at the University of Sydney, gave a presentation entitled, "Live Organ Harvesting: Law, Medical Ethics, and Social Responsibility."
Ethan Gutmann, an award-winning China analyst, appeared via Skype, and recommended that the Members of Parliament condemn the harvesting of organs from living Falun Gong practitioners by the Chinese regime.
PAFOH, a parliamentary Friendship Group founded by Senator John Madigan and MP Craig Kelly, aims to raise awareness and deepen lawmakers' understanding of organ harvesting and transplant tourism issues.
Senator Madigan: "The Barbarian Practice of Organ Harvesting Must Cease"
Senator Madigan proposed a resolution last March for the Australian government to support the UN and European Council initiative to prevent the trafficking of organs, tissues, and cells, and condemn the act of live organ harvesting. The motion was approved unanimously by the Senate.
At the July 16 hearing, he reiterated the need to stop the crime of live organ harvesting, and encouraged Falun Gong practitioners to raise greater public awareness of these crimes. He said:
"The issue of organ harvesting, illegal organ harvesting, is immoral under any circumstance. All people, no matter who they are, where they live, whatever their cultural or religious background, are entitled to live in peace and harmony... I have to commend the Falun Gong people on the fact that you conduct yourselves in a very peaceful, orderly manner.
"I hope that in the not too distant future, Australia condemns the illegal harvesting of organs, no matter where they are from. But we know from the evidence presented to us that China plays a big role in this immoral industry. We are not talking about commodities, we are talking about people. I believe, my party, the Democratic Labour Party, believes in the intrinsic value of every human life, from the moment of conception and till death.
"We look forward to winning the hearts and minds of our fellow parliamentarians on this very serious moral and ethical issue, and we will only win the hearts and minds of people by telling them the truth, and the truth is that this is a barbaric practice and it must cease."
MP Craig Kelly: Forced Organ Harvesting an "Appalling" Moral Issue
MP Craig Kelly said, "The moral issue of forcing someone to give up their organs... should be appalling to everyone around the world.
"As Members of Parliament, we have the obligation to use our voice in our parliament to express these issues, to express them on a national stage."
Reflecting on the scale of organ harvesting crimes, Mr. Kelly remarked, "Those numbers [65,000 Falun Gong practitioners] are too frightening to think about. Unfortunately, we can't undo that, but we have to learn from it... and make sure it doesn't happen anymore."
Legal Action Against Organ Harvesting Around the Globe
In her presentation, Professor Singh showed examples of countries around the world taking legal action against organ harvesting.
Israel
Professor Jacob Lavee, M.D., director of the Heart Transplantation Unit at the Sheba Medical Center, in Tel Hashomer, Israel, co-author of the book State Organs, said that one of his patients had traveled to China and had a heart transplant in less than two weeks. This caused Dr. Lavee great concern, and he went on to conduct extensive research into the Chinese regime's harvesting of organs.
Following recommendations by Dr. Lavee, in 2008 the Knesset (the national legislature of Israel) prohibited Israelis from traveling abroad for illegal organ transplants.
If Israelis travel abroad for transplants, the government will not provide health insurance or cover related costs. Furthermore, the new legislation imposed criminal charges on organ traffickers, and improved Israel's local organ donation system to enable more patients to receive organs domestically.
Spain
In 2010, Spain implemented similar laws prohibiting Spanish nationals from traveling to any country, including China, to receive known illegal transplants. The law also prohibits the promotion of illegal organ transplantation. The legislation was proposed after a Spanish citizen, Oscar Garay, traveled to Tianjin, China, on November 21, 2008, for an illegal liver transplant, for which he waited only 20 days and paid $130,000 USD.
Under Spain's legislation, anyone found guilty of accepting illegal organ transplants or involved in the promotion of illegal transplants can face 3 to 12 years in prison. Any organizations, companies, or hospitals involved in illegal organ transplantation transactions would be subject to a fine of three to five times the revenue collected.
United States
Resolution 281 was introduced in the U.S. House of Representatives on June 27, 2013. It calls on the Chinese regime to immediately stop harvesting organs from Falun Gong practitioners and other prisoners of conscience. The bill would also require the U.S. State Department to conduct a comprehensive and transparent investigation into China's organ transplantation system.
In addition, H.Res. 281 recommends: "(1) the [State] Department issue a travel warning for U.S. citizens traveling to China for organ transplants informing them that the organ source for their operation may be a prisoner of conscience; and (2) the U.S. government condemn organ transplantation abuses in China, ban the entry of those who have participated in such activities, and prosecute such individuals should they be found on U.S. soil."
The U.S. State Department amended the non-immigrant visa application form (DS-160) in June 2011, adding a new question related to organ harvesting: "Have you ever been directly involved in the coercive transplantation of human organs or bodily tissue?" An affirmative answer to this question would result in the visa application being denied.
Europe
The European Commission signed a treaty on July 9, 2014, agreeing to cooperate in punishing organ traffickers at the national and international levels. Starting in 2015, the treaty would also be open to non-EU member states. The treaty requires governments to prosecute non-consenting organ harvesting as a criminal offense.
After Professor Singh's presentation, lawmakers expressed the need for Australia to learn from what other countries have done, including specific details for how to implement such legislation. In addition to the resolution against organ harvesting passed unanimously last March, a current Senate bill modeled on U.S. legislation proposes increasing visa security checks and denying immigration to individuals involved in live organ harvesting.
Hoping For an End to the Persecution
Two Falun Gong practitioners from Southern Australia, Barbara and Brian, described Professor Singh's presentation as "thorough, touching, and thought-provoking." After the hearing, they spoke with the Member of Parliament from their region, learned that the representative had been moved by the presentation, and scheduled a meeting for after their return to Southern Australia.
Ms. Zhao Jingmin, who just arrived at Brisbane on May 10, was very touched by the hearing.
She said, "I'm thankful for the international support of Falun Gong. Practitioners in China have been persecuted since July 1999. The situation hasn't changed much since then. My family suffered a lot as a result. My two sisters, my sister-in-laws, and my mother have been repeatedly arrested, detained and/or sent to labor camps. In the past decade, our family was always been separated. I hope the persecution, especially forced organ harvesting, will be brought to an end soon."