New Zealand: Divine Land Marching Band Shines at the Largest Winter Festival Parade in the Southern Hemisphere (Photos)
June 27, 2014
|
By a practitioner in New Zealand
(Minghui.org) Falun Dafa practitioners participated in the Winter Festival parade held in Queenstown, New Zealand's "adventure capital," on July 21, 2014. It is the largest winter parade in the southern hemisphere. People attending the event were amazed by the Divine Land Marching Band and the beautifully decorated float.
The largest local newspaper, Otago Daily Times, and the Queenstown Winter Festival's official website both featured photos of the Divine Land Marching Band in their reports on the event.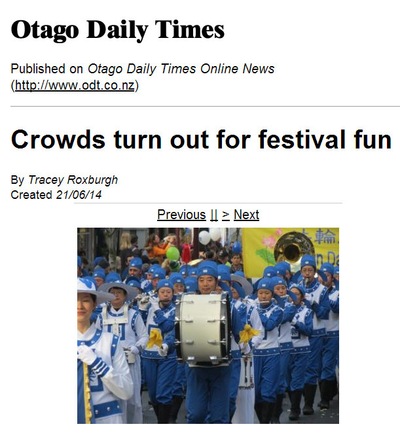 Otago Daily Times published an article on the parade with a photo of the Divine Land Marching Band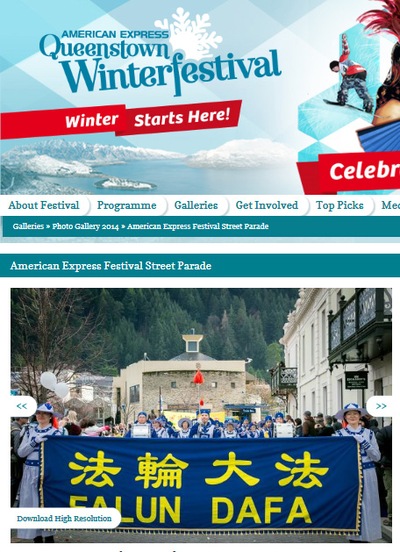 Queenstown Winter Festival official website published a photo of the Divine Land Marching Band
The Queenstown Winter Festival is New Zealand's biggest winter party. The ten-day celebration from June 21-29 draws more than 40,000 visitors from all over the world.
As part of the Queenstown Winter Festival, the annual Street Parade was held on June 21. The Divine Land Marching Band's majestic performance of "Falun Dafa Is Good" reverberated through the mountains surrounding the town.
Spectators were favorably impressed. Several Chinese tourists kept taking photos of the Divine Land Marching Band, and many of them expressed their surprise and amazement at the band's moving performance.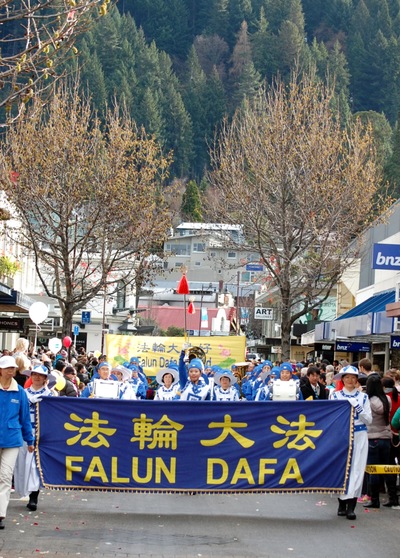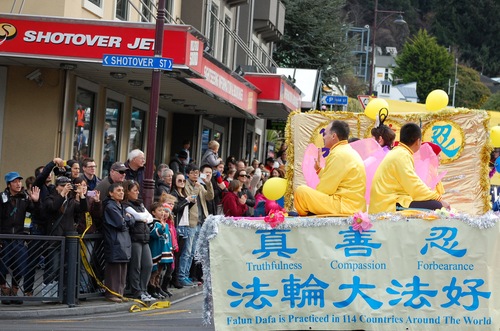 New Zealand Divine Land Marching Band in the Queenstown Winter Festival Parade
One young Chinese tourist said, "I'm amazed, because I come from China. The Chinese Communist regime still bans Falun Gong in China, so when I see Falun Gong practitioners giving a performance like this outside of China, I'm stunned!"
The band also impressed local residents, some of whom congratulated the band members and asked for informational materials to learn more about Falun Gong.
Several Westerners asked why the CCP would persecute such a good practice. They asked for more brochures to share with their friends.