Germany: Exposing the CCP's Organ Harvesting Crimes at Munich Street Festival (Photos)
September 29, 2013
|
By Dexiang in Munich, Germany
(Minghui.org) "This must be exposed on a large scale, so that more people will know," a retired professor of psychology from the University of Munich told Falun Gong practitioners.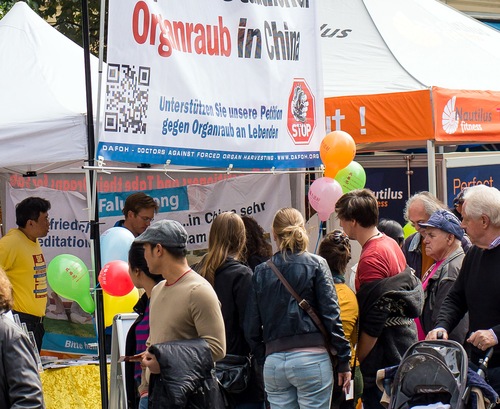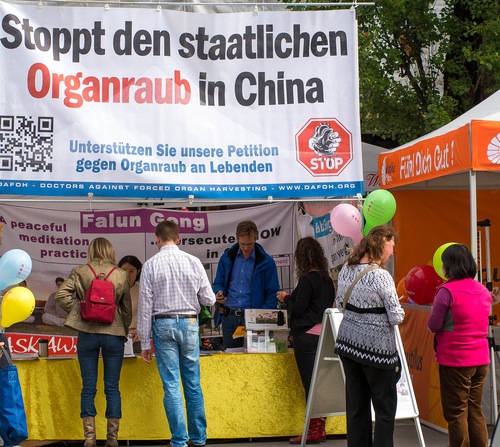 German Falun Gong practitioners expose the CCP 's crimes of organ harvesting at a street festival in Munich
On September 13-14, 2013, Falun Gong practitioners participated in a two-day street festival in Munich to expose the Chinese Communist Party's (CCP) crime of organ harvesting from living Falun Gong practitioners under persecution in China.
Many people stopped to read the prominent display board, "The Chinese government conducts organ harvesting," and a number of visitors asked for informational leaflets.
After reading the information, many headed straight to the stand and signed the petition calling for a stop to the CCP's crimes. Quite a few people thanked the practitioners for their courage and efforts to end the persecution.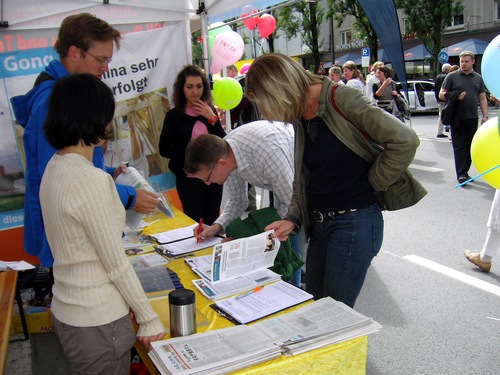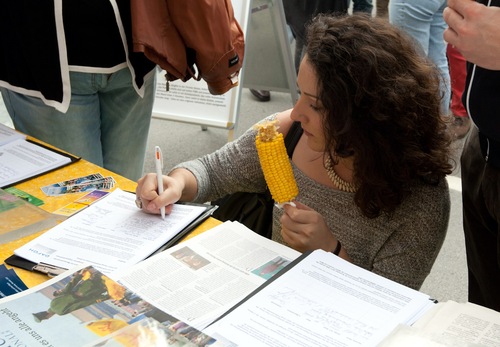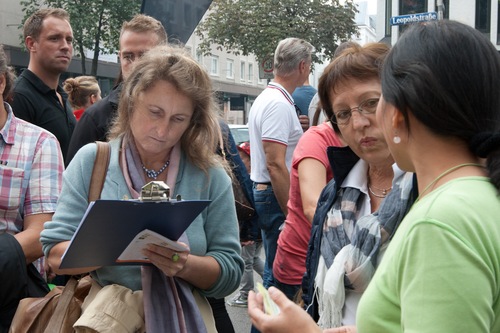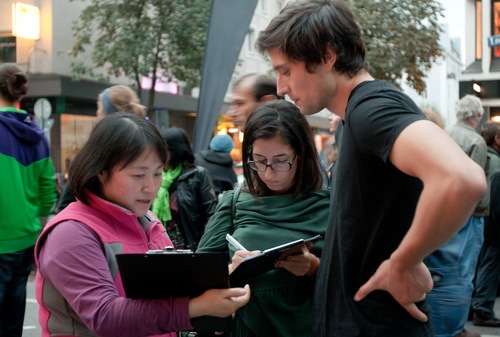 Many people signed a petition calling for a stop to the CCP's organ harvesting
One elderly gentleman couldn't wait to sign the petition, and asked to sign when Falun Gong practitioners were just setting up the display stand. He explained, "I'm a Catholic. Just mentioning organ harvesting – I definitely have to sign to stop it!"
One woman was completely horrified after reading the materials, and kept asking, "No anesthetic?! Organ harvesting?!" The CCP's brutality was such that she could not believe her ears. She solemnly wrote her name and address on the petition form. She told the practitioners that she collects signatures against slaughtering animals without using anesthetic. She never thought something like this would be done to human beings.
"People don't understand what they are participating in," a therapist said after signing the petition, "Each organ carries that person's information. How can it be installed in others?" She said that she was too sickened over the CCP's organ harvesting to even talk about it. "How could such an evil thing exist?" she asked.
After reading the banner and informational display, a lot of people asked for further details and carefully signed their names. Many said they felt they must take action to stop this evil. Several disabled people, including some who were blind or deaf, as well as elderly from nursing homes and their caregivers, also joined the line to sign the petition. Watching her mother sign, a little girl asked seriously, "Mum, may I sign too?"
"This is too sad. Someone should be held accountable for this!" one older woman said with tears in her eyes after she signed. She added that she wanted to learn more about the organ harvesting from living Falun Gong practitioners. She asked for all the information practitioners had, and said that she would show it to others.
Some people expressed their frustration at the vastness of the CCP's crimes and wondered how great an impact their signature would have. The practitioners assured them that their contribution was meaningful, citing the proverb, "A constant drip wears away stone." As soon as they heard this, people understood instantly, and gladly signed.
As the retired professor of psychology from the University of Munich said, "Every signature is energy that when brought together will change things."