Three Falun Gong Practitioners Arrested in Pingdu, Shandong Province
June 29, 2013
|
By a Minghui correspondent from Shandong Province, China
(Minghui.org) On May 24, 2013, police officers in Pingdu, Qingdao City, Shandong Province, arrested three Falun Gong practitioners who were distributing Falun Gong flyers. Two of the three, Ms. Sheng Shuli and Mr. Li Zhengxun, are still in cusody. Ms. Sheng, 45, has a daughter and a disabled son, both in elementary school.
When Mr. Li Zhengxun from Lijia Village was talking to people about Falun Gong, police from the local station arrested him. They took him to Pingdu, where he is still being detained.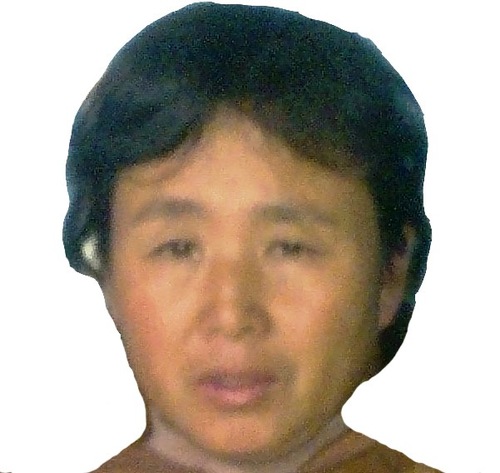 Recent photo of Ms. Sheng Shuli
Ms. Sheng and Ms. Qu Yuanzhi, both from Zhugou Town, drove to Jiudian Town in Pingdu City to distribute Falun Gong flyers. Around 5 p.m. they talked to a young man in Zhangjia Village and gave him a flyer. He asked for another one and then called the Jiudian Police Station to report them. Five officers from Jiudian Police Station arrested Ms. Qu and Ms. Sheng and took them to Jiudian Police Station.
Their families heard about their arrest and went to ask the police to get them released. Their families were not allowed to see them. They waited outside until midnight hoping to see their detained family members. At midnight they went home, but returned the very next day at 7 a.m. Jiudian Police Station officers told them the women had been sent to Pingdu City the night before, which was untrue.
In the police station, Ms. Qu Yuanzhi was dizzy and did not feel well. The police station refused to release her. At 9 a.m. the next day, after Ms. Qu's family had left the police station, the women were taken to Pingdu City Police Station.
Shortly thereafter, Pingdu City Police Station officers took Ms. Sheng to Jimo Detention Center in Qingdao. They took Ms. Qu to Pingdu People's Hospital to have a physical. Then they took her to Pingdu Detention Center, informing her that she would be there for 15 days. They confiscated all her personal property and told her to take some medicine and sign some forms they presented to her, but she refused.
Ms. Qu Yuanzhi, in her 40s, had a lot of health problems before practicing Falun Gong. She would often faint and therefore could not hold down any job for long. After practicing, she quickly recovered and could then work anywhere.
After her illegal detention, she began a hunger strike. She became very weak. On the morning of the 26th she told the officer on duty that she was feeling extremely weak. They allowed her husband and son to pick her up and take her home.
After returning home, Ms. Qu and her husband went to the police to pick up her personal belongings. Cui Jiwei, the director, was not there. Ms. Qu's purse and cell phone were locked in a drawer, and no one else could get them. The police told them to return the next day for her things.
They called the next day, but were given more excuses. Then the police told Ms. Qu's husband he needed to pay for her living expenses while she was detained. This made him angry. How could they ask such a thing, when she was not guilty of anything and they would not even return her belongings? Her two cell phones, cash, a bank card, and her purse have yet to be returned to her.
In 2012, police in Pingdu arrested Falun Gong practitioners who were talking to people about Falun Gong. Twelve practitioners were sentenced and sent to forced labor.
Jiudian Police Station: Cui Jiwei, director: +86-13370818885(Cell) 610 Office in Pingdu, Zhang Jinrong, dean: +86-13953216049(Cell) Zhao Wubin, section lead: +86-15253263357(Cell), +86-532-87339058(Cell) Liu Jie: +86-15866870870 (Cell) Pingdu Police Station: Tang Longwen, director: +86-13606306367(Cell), +86-53266587001(Office) National Security Team: Mo Zhuping: +86-53266587129(Office), +86-13806395321(Cell), +86-53287358369 (Home)