(Minghui.org) Mr. Jia Bin and Ms. Zhao Chunxia and their family were made to endure much hardship simply because they practice Falun Gong.
Their children were held for a day for protesting their mother's illegal incarceration. Ms. Zhao's sister was beaten when she demanded her sister's release. Police seized the family's belongings and cash. Both parents ended up behind bars.
Yet as horrible as this sounds, it is but one small example of the sufferings experienced by Falun Gong practitioners across China. Why? Remarkable as it sounds, and despite China's constitutional right to freedom of belief, all of this happens because these good people refuse to renounce their practice of Falun Gong.
Background
Mr. Jia Bin, 43, and his wife Ms. Zhao Chunxia, 45, are from a rural area of Baarin Left Banner, Chifeng City, Inner Mongolia. Prior to their arrest, the couple lived in a rental place in Lindong Town in Baarin Left Banner and ran a small business to support the family and pay for their three children's education.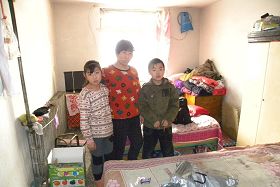 Zhao Chunxia and Her Son and Younger Daughter
Mother Arrested, Father Homeless, Family Savings Looted, Three Children without Caregivers
About a dozen officials from Baarin Left Banner descended on Mr. Jia's residence shortly after 5:00 a.m. on June 4, 2012. They included Wang Lixin from the 610 Office, political head Li Hongzhu, captain Tian Licheng and policemen Gao Shujun and Qi Baolin from the Domestic Security Division.
The door was locked, so they scaled the wall and went inside to loot the home without a warrant. They took the family's personal belongings valued at more than 20,000 yuan as well as more than 14,000 yuan in cash.
The officials went straight from the couple's home to the home of Ms. Zhao Chunxia's second elder sister, Zhao Fuxia, and took 680 yuan in cash. They also stomped on a satellite dish and broke it into pieces. Zhao Fuxia was taken to Baarin Left Banner Police Department and released later that night.
The police looked for Mr. Jia but failed to find him. To avoid arrest, he had left home. His wife, Ms. Zhao Chunxia, was taken to Baarin Left Banner Detention Center.
Mr. Jia and Ms. Zhao's three children were left penniless and on their own.
The couple's eldest daughter was away at college, so their 11-year-old daughter and 9-year-old son were left on their own at home. Mr. Jia's mother and Ms. Zhao's parents are all over 70, and the three grandparents had to take turns walking more than a mile every day to drop off and pick up the two younger children. It was very difficult for the grandparents.
On July 16, 2012, Tian Licheng and Gao Jianjun went to Mr. Jia's home again to harass the family, but only the two younger children were home.
All Three Siblings Detained for Seeking Justice for Their Parents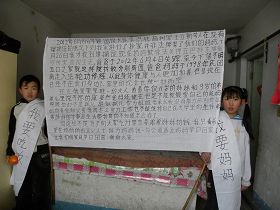 Jia Bin's Two Younger Children Wear Banners Reading
"I Want My Mom" and "I Want to Eat"
Mr. Jia's oldest daughter was extremely worried about her parents and had to comfort her younger siblings. She could neither eat nor sleep. She returned home as soon as the summer break began.
Several times she took her younger siblings to the police department to seek their mother's release. She said to Tian Licheng, "Why haven't you released my mother? Where is my father? Who is going to take care of my younger sister and brother when I return to school?"
Tian did not respond, just shoved the three children aside, leaving them crying non-stop.
On the morning of August 14, 2012, the three children staged a protest by wearing banners and holding poster boards in public. The banners read "I Want My Mom" and "I Want to Eat." The poster board read, "Mom was arrested for practicing Falun Gong and Dad has to hide to avoid arrest. The police took all our money and we are homeless." They walked down the busiest street in Lidong Town and went to the Baarin Left Banner Government building.
Tian Licheng, Li Hongzhu, Gao Shujun, and more than 30 police officers surrounded the three children before they could enter the building.
They snatched the poster board and ripped off the banners before dragging the children to the security office. Many onlookers shed tears of sympathy for the children who were crying in fear.
Police Fabricate Lies and Forge Grandparents' Fingerprints
The police didn't give the three siblings any water or food while they were in custody.
Shortly after 5:00 p.m., the children's uncle showed up after learning of the incident. He demanded the release of all three children and their mother, but Tian only agreed to set the two younger kids free. The uncle firmly refused to accept this and eventually got all three children released.
Before the children and their uncle left, Tian Licheng and Li Hongzhu produced a piece of paper with some fingerprints on it and claimed that Ms. Zhao Chunxia's parents had promised to take the children in and care for them.
As a matter of fact, Ms. Zhao Chunxia's parents are nearly 80 years old, and they had never met Tian Licheng or Li Hongzhu, let alone given them any fingerprints. After hearing how the police lied, the grandparents were outraged.
To Pay Tuition, the Children Are Forced to Sublease Their Home
At the start of 2012 fall semester, the children still had no money for tuition or living expenses. They had no choice but to sublease their home. They moved in with their Aunt Zhao Fuxia, whose place measures little more than 30 square meters. The children slept in the bed and the grownups slept on the floor.
Both Husband and Wife in Detention
Mr. Jia and Ms. Zhao's three children went to the police department and the detention center numerous times asking to see their mother but the police always refused to let them visit her.
About six months later, Mr. Jia Bin was arrested while installing satellite dishes on December 21, 2012.
Gong Chuanxin from Aohan Banner Domestic Security Division and agents from the Xinhuicheng District Police Station took Mr. Jia to Aohan Banner Detention Center. On February 17, 2013, Tian Licheng and Li Hongzhu transferred him to Lindong Detention Center, where he is today.
Ms. Zhao's Older Sister Beaten for Trying to Rescue Her
In January 2013, seven months into Ms. Zhao Chunxia's incarceration in the Baarin Left Banner Detention Center, her sister, Zhao Fuxia, brought two of her children to Baarin Left Banner Court and the Procurator's Office to request her release.
Baarin Left Banner Court officials instructed Zhao Fuxia to come back on Friday, but when she returned, they refused to let her in. When she argued with the guard, five employees suddenly rushed out and began beating her.
As the men showered her with punches and kicks, she protested loudly, "Practicing Falun Gong is not illegal!" After several onlookers gathered, the five men retreated back to the courthouse.
Just for Being a Good Person, Ms. Zhao and Her Children Rendered Homeless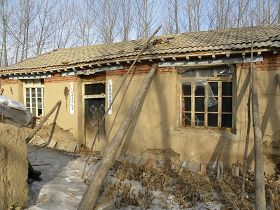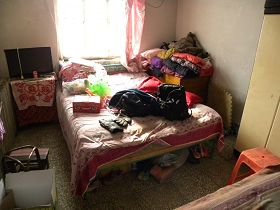 Mr. Jia Bin's home in rural Baarin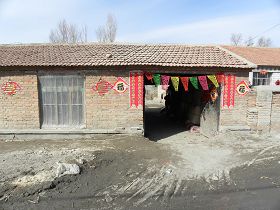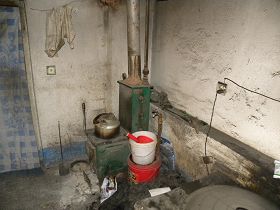 Ms. Zhao Chunxia's current residence

After being detained for 231 days, Ms. Zhao Chunxia was finally released on parole on January 25, 2013. She had no money and had to live with her sister just like her children.
Her sister, Zhao Fuxia, was caring for her own daughter's two children, ages 5 and 6. The five children were crammed into two beds while the adults had to make do on the floor. They had no money to buy charcoal to heat the tiny room and it was very cold.
Police Deny Taking Away Family Belongings and Savings
On February 1, 2013, Ms. Zhao Chunxia went with two of her children to the Domestic Security Division to ask for the return of the family's confiscated belongings and savings. Li Hongzhu denied the police ever took 14,000 yuan in cash. He said they only confiscated 4,000 yuan.
Li directed Ms. Zhao to talk to Tian Licheng but the latter was not around. She then went to find Gao Shujun, but Gao insisted he only saw about 4,000 yuan. When she turned around to argue with Qi Bolin, Qi flatly told her he was not in charge of the matter. He referred her back to Li Hongzhu and Tian Licheng.
The police involved in ransacking Ms. Zhao's home kept kicking the responsibility back and forth.
Ms. Zhao Threatened and Videotaped for Trying to Get Her Husband Released
At 8 a.m. on February 22, 2013, Ms. Zhao Chunxia brought her three children and her mother-in-law to Baarin Left Banner Police Department to ask for the unconditional release of her husband.
Tian Licheng said the Procurator's Office had issued an arrest warrant for Jia Bin and then tried to drive the family away. Ms. Zhao refused to leave, and Tian ordered his subordinates to video- and audio- tape her.
Li Hongzhu flew into a rage and yelled at Ms. Zhao, "You're still on parole. If you refuse to leave, I'm going to arrest you and your oldest daughter!" Ms. Zhao replied, "Since you people arrested my husband, Jia Bin, who else am I supposed to talk to? What's wrong with my children crying? Is that a violation of the law as well? I'll hire lawyers to sue you. You must release my husband!" Li had no response, but just kept repeating what he said earlier.
Call for Help to Rescue Mr. Jia and Reunite the Family
Simply because they practice Falun Gong, Mr. Jia Bin and Ms. Zhao Chunxia were made to go through so much hardship. In actuality, their plight is only one small example of the sufferings experienced by all practitioners in China.
We call on good people all over the world to extend a helping hand to secure Mr. Jia Bin's release and reunite his three children with their dad, thus restoring their family.