(Minghui.org) Falun Gong practitioners, friends and supporters held a rally in front of the Chinese Consulate in Los Angeles to protest forced live organ harvesting in China. The rally, held on December 10 for International Human Rights Day, also aimed to voice support for the pending resolution in the US Congress that condemns this crime against humanity.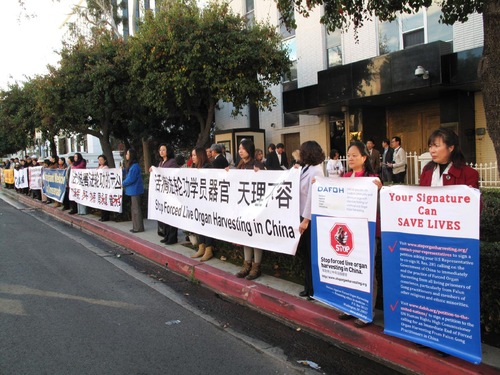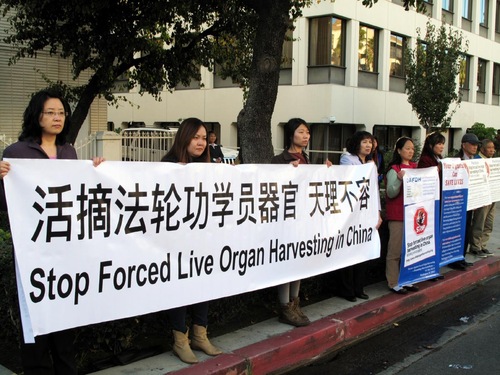 Rally held in front of Chinese Consulate to protest live organ harvesting atrocities.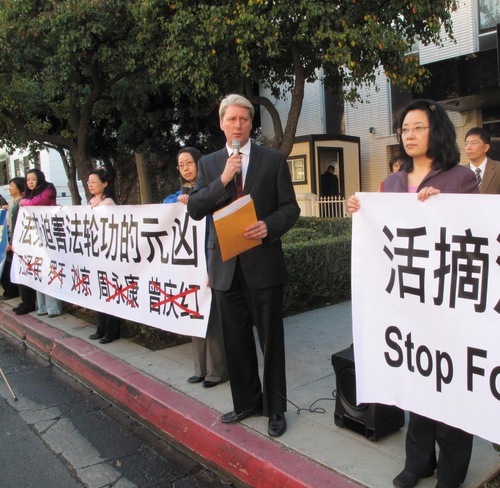 Dr. Dana Churchill, a representative of Doctors against Forced Organ Harvesting (DAFOH), gives a speech.
Jim Decicco, a Hollywood music producer and event promoter.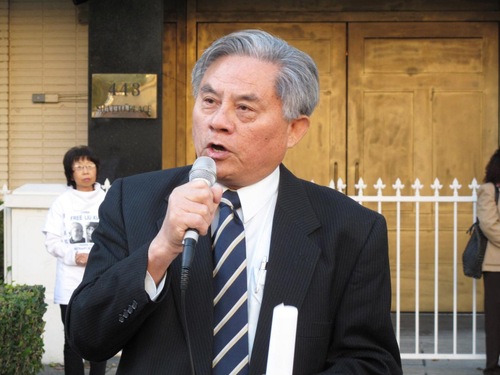 Wu Fan, a political commentator.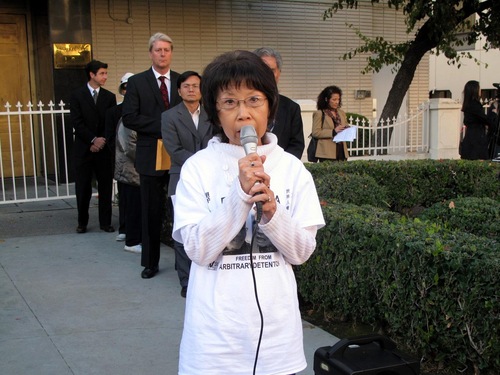 Ann Lau, chair of the Board of Visual Artists Guild, a human rights organization in Los Angeles, commended the pending resolution in Congress condemning forced organ harvesting in China.
Over 160 congressmen, more than a third of the House, have co-sponsored the resolution, which currently awaits floor vote. Co-sponsors from Southern California include Congressmen Dana Rohrabacher, Alan Lowenthal and Congresswomen Maxine Waters, Julia Brownley, Grace Napolitano, Janice Hahn, and Grace Negrete McLeod.
The number of confirmed deaths of Falun Gong practitioners is 3,731 as of December 10, 2013. The actual number is in all likelihood much greater. Dr. Dana Churchill, a representative of DAFOH, said in his speech that at least 65,000 Falun Gong practitioners were estimated to have been killed for their organs and stressed that even this is just the tip of the iceberg.
DAFOH volunteers collected 1.5 million signatures in over 50 countries during the past five months to call on the UN High Commissioner for Human Rights to help stop live organ harvesting in China.
Imprisoned Teacher Disappears After Reporting Evidence of Organ Harvesting
Fan Yu, a former Deputy Principal of the Lion Modern Arts School in Shenyang City, sent the rally a written statement about former teachers A and B from his school. Teacher A disappeared shortly after she confirmed that live organ harvesting occurred in the prison where she was detained for her belief in Falun Gong.
Teacher B was detained in the same prison as teacher A, also for practicing Falun Gong. He and teacher A were tortured severely in the prison. All of a sudden, the prison put them through periodical health examinations. Their meals suddenly improved noticeably. Ambulances started frequenting the prison. Many Falun Gong practitioners wondered what was going on.
When news of organ harvesting reached the prisoners by word of mouth, they realized the real purpose of such physical examinations and why the ambulances often appeared there. They heard that local hospitals started advertising short wait times for organ matching and transplant surgery. They noticed that many practitioners disappeared after being taken away for interrogation.
Teacher A asked a death row prisoner to help provide evidence. They had an agreement: If the prisoner saw organ harvesting going on before his execution, he would send out a special sound signal. Teacher A later heard that prisoner's sound signal, which meant organ harvesting was happening in that prison. Teacher A soon disappeared.
Mr. Fan and teacher B suspected that teacher A had been subjected to forced organ harvesting.
A Potential Victim of Organ Harvesting
Jennifer Zeng, featured in the documentary film "Free China: The Courage to Believe," was imprisoned in Beijing Women's Labor Camp.
She said, "On the first day that I was sent to the labor camp, medical doctors conducted physical examinations for us. One doctor asked about my medical history in detail. I told him sincerely that I had hepatitis C before and recovered after practicing Falun Gong. I did not know about forced live organ harvesting at that time. Later I realized that my medical history saved me from the potential live organ harvesting."
She recalled that one month after she was imprisoned in the labor camp, they were taken to a big hospital for a full scale physical examination. They also had their blood drawn in the labor camp clinic.
"We were not told why we had medical examinations and what the results were. We struggled between life and death in the forced labor camp every day. We could not imagine why the camp conducted medical examinations for us while torturing us every day," she added.
Ms. Zeng urged everyone to help end this heinous crime. "Hundreds of thousands of Falun Gong practitioners in China are being imprisoned and potentially become victims of live organ harvesting. Several countries have passed laws to prohibit patients from traveling to China for unlawful organ transplantation. I hope that everyone will speak out to stop live organ harvesting."
Representative of UNA-USA: Wishing DAFOH Success
Ms. Ginny Hatfield, representative of the United Nations Association of the United States of America (UNA-USA) expressed the organization's strong support of DAFOH.
She said that DAFOH should be commended for collecting 1.5 millions signatures within such a short time. She said that on this Human Rights Day, it is very appropriate to call for an end to the Party's forced live organ harvesting from prisoners of conscience. She also expressed her wish that in the near future that DAFOH will celebrate fulfilling its mission.
Wu Fan: Zhou Yongkang's Chief Crime Is Organ Harvesting
Well-known political commentator Wu Fan said in his speech that the news of 1.5 million signatures on a petition calling for an end to live organ harvesting was encouraging.
Mr. Wu Fan said that Zhou Yongkang should be prosecuted for his crime of harvesting the organs of Falun Gong practitioners. It's unacceptable if this key fact is concealed by the authorities, he said.
Zhou Yongkang, the former Secretary of the Political and Legislative Affairs Committee (PLAC) of the Chinese Communist Party (CCP), has been reportedly facing prosecution for crimes of corruption.
Ann Lau: Happy to See Actions from the US Congress
Ms. Ann Lau, Chair of the Board of Visual Artists Guild, a human rights organization in Los Angeles, commended the pending resolution in Congress condemning forced organ harvesting in China. She urged rally attendees to contact their representatives and ask them to vote in support of the resolution.