(Minghui.org) From January 11 to 13, the Falun Gong group in Kuching North City, Sarawak, Malaysia, participated in the Kuching North City Commission 2013 Agenda festivities as the only Chinese organization, and introduced Falun Gong to city government officials and the public. The event was held at the Old State Legislative Assembly Building. Many people from government and non-government organizations, and private associations attended the event.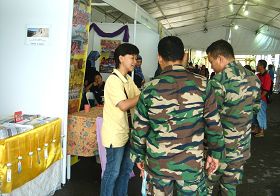 Introducing Falun Gong to military officers
A local Chinese man came to the practitioners' booth. He had seen practitioners' activities in many countries, but never knew the details of the persecution. Practitioners talked to him for a long time. The second day, he returned to the booth and expressed an interest in learning the exercises.
A high school teacher talked to the practitioners for a long time and then bought a copy of Zhuan Falun. She said that she believes that Falun Gong's teachings can help her teach her students to improve their behavior and moral standard.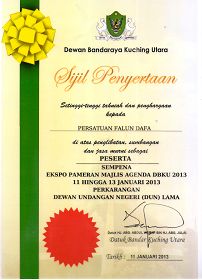 The mayor issued an award to the Falun Gong group
The mayor of the city, Datuk Hj Abang Abdul Wahap Bin Hj Abang Julai, issued awards to each participating organization for their contribution. The Chief Minister of Sarawak, YAB Pehin Sri Haji Abdul Taib Mahmud, hosted the opening ceremony and accepted informational materials from Falun Gong practitioners.
Throughout the event, many people learned about Falun Gong and condemned the persecution of the peaceful practice in China.