Malaysia: Falun Gong Practitioners Warmly Received in Parade Ushering in the Mid-Autumn Festival (Photos)
September 29, 2012
|
By a practitioner in Malaysia
(Minghui.org) Prior to the Mid-Autumn Festival, Falun Gong practitioners in Malaysia held a parade in three Chinese communities in Johor Bahru, the capital of Johor on September 22, 2012, to usher in the Mid-Autumn Festival together with local people. They were warmly received and won favorable comments.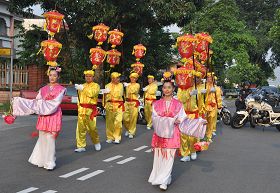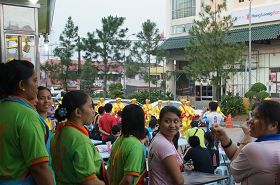 Local people along the road joyfully watch Falun Gong practitioners' parade to celebrate the Mid-Autumn Festival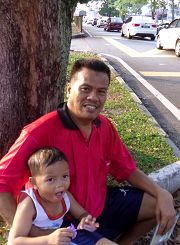 A Malay teacher is happy to watch Falun Gong parade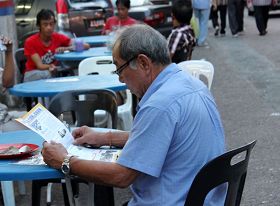 An elderly man carefully reads Falun Gong informational material
The Falun Gong parade featured the Divine Land Marching Band, Lantern Team, Celestial Maiden Team and Waist Drum Team, composed of more than 100 Falun Gong practitioners. With several police officers leading the way, the parade procession set off at 5:30 p.m., the parade covered three main gathering areas for the Chinese, Taman Pelangi, Taman Sri Tebrau and Taman Sentosa.
This is the first time the Falun Gong parade visited the three places in Johor Bahru where Chinese communities are the most active. Through this parade celebrating the Mid-Autumn Festival, the practitioners brought to local people traditional Chinese culture, and a festival atmosphere. The local people were impressed by the spectacular and orderly procession, and made favorable comments. The parade also helped clear the local people's misunderstandings of Falun Gong as a result of the lies told by the Chinese communist party over the past years.
Falun Gong Parade Wins Praise
"I saw it for the first time, wonderful! The procession was in good order. They'd better come every year," said Mr. Hong
Ms. Chen said, "Great, It's rare to see, but today I saw it as soon as I came out."
J. Sevendiran is an Indian operations manager. He said, "It's a good opportunity for us to learn about Chinese culture, especially for younger generations. Such an activity should be held often. Really, I think it's great."
Parade Resolves People's Misunderstandings
Mr. Zhang saw the Falun Gong parade for the first time. His understanding of Falun Gong had been acquired from misinformation propagated for years by the CCP and pro-CCP media. He was deeply impressed by the parade with several police officers taking the lead at the front. He felt it great that the situation for Falun Gong has positively changed.
Let More People Learn the Wonderfulness of Falun Gong
The parade concluded at 7:00 p.m. During the parade, most people who took Falun Gong flyers began reading them carefully. Many people also expressed their wish to learn Falun Gong.
A new local practitioner is a business person. He said that the parade helped many more people learn the wonderfulness of Falun Gong. Since he took up Falun Gong, he has been able to better control his emotions, and become healthier.
Medical Professor Who Learned the Truth After Ten Years of Being Misled Begins Practicing Falun Gong
Another new practitioner, Mr. Huang, is a medical professor. He used to study medicine in China. He was once influenced by the CCP's atheism, and also had long been misled by the CCP's slanderous propaganda. He had been strongly against Falun Gong over the past ten years.
Once he happened to watch a video in which many knowledgeable PhDs, medical experts and scientists confirmed Falun Gong's tremendous effects on improving one's body, mind and spirit. He was deeply moved. After learning the truth, he realized that his previous misunderstanding resulted from the CCP's misinformation. He chose to practice Falun Gong, and discovered Falun Gong's profundity, lofty moral standards, and its considerable contributions to humanity.