Attorney Zhu Yubiao from Guangzhou City Near Death, Persecuted in a "Legal Education School"
October 23, 2012
|
By a Minghui correspondent from Guangdong Province, China
(Minghui.org)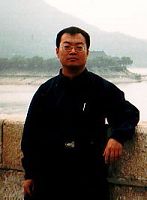 Attorney Zhu Yubiao from Guangzhou
Attorney Zhu Yubiao from Guangzhou was sentenced by the Chinese Communist Party (CCP) because he practices Falun Dafa. After suffering two years of illegal imprisonment, he was transferred from prison to the Sanshui Brainwashing Center in Guangzhou Province on August 17, 2012. Mr. Zhu's 76-year-old father, a retired physics professor and lawyer from Zhongshan University, who has presided over United Nations research projects, drove more than 280 kilometers (174 miles) to Beijiang Prison in Shaoguan, Guangdong Province. As he was following procedures to pick up his son, he was told that Mr. Zhu had already been picked up.
Overcome with emotion, Mr. Zhu's father asked prison director Xiao to release his son. Xiao said, "I am not releasing your son to you. I have just sent him to a local government department." The attorney asked him which legal regulation prevented the family from picking up a prisoner who had served his term. Xiao asked the attorney who he was. He also said they were just following regulations. When Mr. Zhu's father asked to see his son's formal documents regarding leaving the prison, Xiao replied, "Why should I show them to you? This is an internal matter." Mr. Zhu's father asked what date his son had left. Xiao said again, "Why should I tell you? This is an internal matter."
Mr. Zhu was on a hunger strike to protest the injustice for over a month, beginning August 20. He was near death. Even so, police officers didn't allow Mr. Zhu's parents to visit their son. But they asked Mr. Zhu's wife to visit from time to time and pressured his wife to get her to persuade him to "."
Attorney Zhu Yubiao worked in the Guangda Law Firm and the Hengyi Law Firm in Guangdong Province. He is an attorney with high moral character and dares to defy the powers that be to safeguard the legitimate rights and interests of vulnerable groups and individuals. He often defends the underclass with deep discounts or does not charge at all. He has been reported in the newspapers twice for his good deeds.
Attorney Zhu was the first lawyer to publicly defend Falun Gong practitioners persecuted in Guangdong Province. In 2005 and 2006, he defended three practitioners in court. His wonderful and rigorous pleas embarrassed and shocked the CCP judges. After Attorney Zhu pleaded not guilty for Practitioner Gao Huanlian, the judges were speechless. The accuser suddenly said, "If it makes you feel good, then practice at home and don't go outside."
Relatives and friends call for all those at home and abroad to take care of those persecuted and provide emergency help through any available channels.
Contact information:
Sanshui Legal Education School in Guangdong Province ( i.e. Sanshui Brainwashing Center): +86-757-87775113
Sanshui Brainwashing Center Team 2: +86-757-87778798
Please refer to the original Chinese text for more names and telephone numbers.
Related articles:
Attorney Zhu Yubiao Arrested Due to His Defense of Falun Gong Practitioners in Guangzhou City
http://en.minghui.org/emh/articles/2007/3/1/83130.html
Guangzhou Lawyer Mr. Zhu Yubiao Imprisoned in Forced Labor Camp For Defending Falun Gong Practitioner
http://en.minghui.org/emh/articles/2007/6/19/86909.html
Falun Gong Practitioner Zhu Yubiao from Guangzhou City Released from Prison
http://en.minghui.org/emh/articles/2008/7/6/98747.html
Falun Dafa Practitioner and Attorney Mr. Zhu Yubiao Arrested
http://en.minghui.org/html/articles/2010/10/26/121027.html
Lawyer Zhu Yubiao Will Be Tried in Guangzhou
http://en.minghui.org/html/articles/2011/5/10/125054.html
Attorney Zhu Yubiao Put On Illegal Trial, Gallery Seats All Taken by 610 Office Personnel
http://en.minghui.org/html/articles/2011/5/19/125365.html
Haizhu District 610 Office Controlled the Local Court to Put Attorney Mr. Zhu Yubiao On Trial Illegally
http://en.minghui.org/html/articles/2011/6/4/125812.html