Name: Tan Yurui (谭玉蕊)
Gender: Female
Age: 39
Address: Xinhua Town, Acheng City, Heilongjiang Province
Occupation: Teacher
Date of Most Recent Arrest: July 10, 2012
Most Recent Place of Detention: Police Station in Xinhua Town, Acheng City, Heilongjiang
City: Acheng City
Province: Heilongjiang
Persecution Suffered: Detention, home ransacked, loss of job, extortion, brainwashing, forced labor, long-term squatting, long-term standing, beatings, insults, hanging by handcuffs, freezing
(Minghui.org) Xinhua Town Police Station in Acheng City, Heilongjiang Province, arrested Ms. Tan Yurui over two months ago and haven't released her yet. Her ten-year-old son really misses her and is very depressed. Her fellow villagers are very sympathetic, and 400 of them recently signed their names and gave their fingerprints, asking for the police to release her.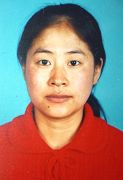 Ms. Tan Yurui
On July 10, 2012, several Falun Gong practitioners including Ms. Tan Yurui went to Yupai Village, Xinhua Town, to clarify the truth of Falun Gong to the villagers. A villager named Zhao Lianzhong, who had lost money gambling, vented his anger on these practitioners. The villagers said that Zhao Lianzhong made three phone calls, asking the police to arrest the practitioners.
Hearing that his wife had been arrested, Ms. Tan's husband, who was working out of town, rushed back home. He saw his home in a huge mess after being ransacked. His ten-year-old son was very depressed. Seeing the situation, he wanted to cry but had no tears. Ms. Tan had been arrested twice in the past and severely tortured. What her husband was most concerned about when he worked out of town was her safety.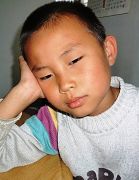 Ms. Tan Yurui's son, Hong Yang
Currently Ms. Tan Yurui's son Hong Yang keeps crying for mother when he wakes up in the middle of the night. He says, "I miss my mom. She is a good person. I want her to come home soon."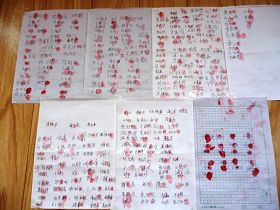 Over 400 fellow villagers voluntarily signed the petition asking for the release of Ms. Tan Yurui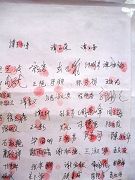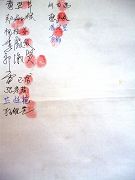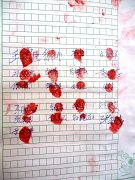 Fellow villagers' signatures on the petition asking for Ms. Tan's release
The Persecution of Ms. Tan Yurui
Ms. Tan Yurui used to be a teacher at Hongxing Forestry. She started to cultivate Falun Gong on February 28, 1999. Her illnesses were healed, and she became a healthy person who always thinks of others.
However, less than six months later, on July 20, 1999, the Chinese Communist Party started the brutal persecution. Her supervisors at Hongxing Forestry and the Forestry Bureau police harassed her frequently. They threatened her and pressured her to give up her belief. Later, Hongxing Forestry contracted out its jobs, and Ms. Tan Yurui was forced out of her teaching position. After that, she had no income.
On October 13, 2000, she was reported to the police for posting a banner that said, "Falun Dafa Is Good." She was sent to the Acheng Detention Center. They extorted over 16,000 yuan from her before she was released.
On December 18, 2000, when she went to Beijing to appeal for Falun Gong, she was arrested and taken to Xiannongtan Police Station in Beijing. She was later picked up by people from her workplace and detained in Acheng No. 2 Detention Center. She was then transferred to a brainwashing center. Without any legal procedures having been followed, she was admitted to the No. 12 Team of the Wanjia Forced Labor Camp and tortured.
In the camp, police team leader Zhang Bo and his followers used all kinds of vicious means to torture Falun Gong practitioners. Zhang Bo first made several practitioners, including Ms. Tan, watch a video and TV programs that defamed Master and Dafa. They also forced collaborators to try to "transform" the practitioners. If the practitioners refused to listen or watch, the police and the collaborators would make them squat or stand. They were very often cursed and beaten. Since their living conditions were very poor, Ms. Tan Yurui and many other practitioners were covered with scabies.
Once the police deceived Ms. Tan and other practitioners into going to the team leader's room. They used a metal scoop to scrape and cut out their scabies. With blood and pus running all down their bodies, the women's piercing screams were heart-rending.
The labor camp police also forced the practitioners who were badly injured to work at a workshop. They had to put different colored tape on toothpicks. Sometimes when they were not careful enough, the colored tape was pasted on with blood. It was said all the toothpicks would be exported to Korea.
Wanjia Forced Labor Camp overloaded the practitioners with excessive work. All of the female practitioners who refused to work or do the camp drills were tortured. There were put into several small groups and thrown into male cells. They were also tortured with electric batons, leather-thonged whips, sitting on the tiger bench, sleep deprivation, denial of toilet use, and squatting beside a heating pipe.
Squatting beside a heating pipe involved the handcuffing the victim's hands behind her back to the heat pipe. After a long time of not being able to sit or stand, the lower legs become numb and feel like thousands of needles are piercing them. For a little while, the legs have no feeling and the victim can hardly move. Every day, they were tortured like this. As a result, their feet and legs became swollen. The police tried all different kinds of torture on the practitioners. When the police saw that they still refused to be "transformed," they would hang them by their handcuffs.
One day, when heavy rain and wind hit the windows, the policemen, who had their cotton jackets on, were frozen and had to walk back and forth to keep warm. However, they hung up Ms. Tan and other practitioners on the iron bars. The police opened all the windows to freeze the practitioners who had on only thin clothing and bare feet on the ice-cold floor. The wild wind and rain dripped off onto their backs. After a little while, it became a river under their feet. Ms. Tan's clothes and pants were soaked, and she was shivering all over. Her teeth were clenched shut. The police still let them hang, just the tip of their toes touching the ground. Their arms felt broken. Their heartbreaking screams made Ms. Tan herself tremble with fear even as she recollected these moments.