(Clearwisdom.net) The Chinese Communist Party has been persecuting Falun Gong practitioners for 12 years, since July 20, 1999.
The Communist Party's atrocities have been exposed, and the international community has condemned the crimes. The Party has also spread lies abroad and interfered with many Falun Gong events. Chinese consulates have refused to renew passports for Falun Gong practitioners, blocked them and their families from visiting their hometowns in China, and even threatened overseas practitioners' relatives living in China. However, all of these tactics only serve to expose the Party's unscrupulous nature.
The following is a list of a few cases of harassment and persecution of Vancouver practitioners.
Denying passport renewal
When Falun Gong practitioners' passports expire, the Chinese consulate refuses to renew them, leaving them without any citizenship. This was the recent experience of two Vancouver practitioners.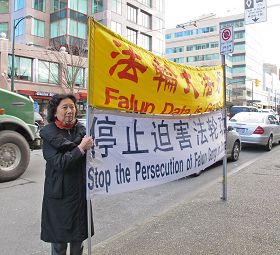 Ms. Lu Qun protests in front of Chinese Consulate
Ms. Lu Qun's passport expired on April 19, 2011, and she applied for renewal on February 9. She inquired in person on April 6 and was told she would receive a reply later that afternoon, but did not get any response. She returned to the consulate on April 19. An official requested a private meeting with her, during which he clearly told her, "I can renew your passport, but we hope you will stop protesting in front of the Chinese Consulate." Lu Qun answered, "If the persecution doesn't end, the protest will not end, either." She was stripped of her citizenship.
Ms. Dong Shuhui had a similar encounter last year.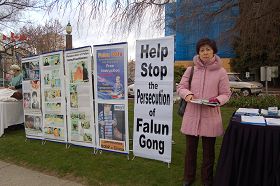 Ms. Dong Shuhui stands by exhibition boards
Ms. Dong had lived in Singapore for 14 years and she applied for a new passport at the Chinese Consulate in Singapore on June 19, 2009. After over a year, she still didn't get her new passport. She then decided to try the consulate in Vancouver. She traveled to Vancouver on August 24, 2010, submitted an application on August 30, 2010 and was told to pick up her passport on November 1. On September 8, however, an official called her at 11 a.m. and said her passport could not be renewed. She asked why and the official said, "No reason."
Pro-CCP dignitaries intervene with protest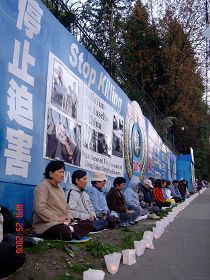 Falun Gong practitioners protest in front of Vancouver Consulate
Vancouver practitioners started around-the-clock protests in front of the Chinese Consulate in August 2001, which had a huge impact. Many local people learned about the persecution through these practitioners, which made the protest site a sore spot for the CCP.
On June 9, 2006, the Vancouver Courier reported that the former mayor of Vancouver, Li Jian Bao, met with two Consular Generals to discuss the protest structures in front of the Consulate. He believed that Canada is a country that values freedom of speech and belief, so he refused to take action against the protesters.
However, the situation changed when Sam Sullivan was elected mayor of Vancouver in November 2005.
On August 11, 2006, Sullivan applied to the B.C. Supreme Court, based on the city's traffic regulations, to demand that the court issue an injunction, ordering the practitioners to remove their protest boards and their small blue hut on Granville Street, which had been there for more than five years.
The practitioners appealed the court's decision. In January 2009, the B.C. Supreme Court granted the city of Vancouver an injunction to remove the structures outside the Consulate, and the practitioners did so. But then they appealed again and continued to protest in front of the Consulate with informational banners. On October 19, 2010, the B.C. Court of Appeals ruled that Falun Gong practitioners had won the legal battle.
Former Vancouver city councilor Tim Louis said: "It's not a secret that the communist regime had been pressuring the city of Vancouver and told them to stop Falun Gong practitioners' protest in front of the consulate."
When asked by the lawyer, Sullivan denied having any contact with the Chinese Consulate before he made the decision to dismantle the protest billboards and the blue hut. Later on, when he was asked again, he said after he sent the application to the court he was invited to a private dinner by Yang Qiang held at the ex-Consular General's residence, where Sullivan provided the latest information regarding the protest site. He told Yang that he had submitted an application to the B.C. Supreme Court, and the results would come out soon.
The communist regime put much effort into stroking Sullivan. The regime's newspapers have published several articles speaking highly of him. The Vancouver Sun published an interview with Sullivan in which he said, "During my visit in China, they welcomed me with a red carpet and treated me like an emperor. It's a pity that Vancouver doesn't have such a large budget so that I could pay them back."
Before Yang left his post he held a press conference. When asked by a reporter whether he had any regrets during his office, Yang publicly admitted that he had urged the city of Vancouver to remove the protest site outside the Consulate many times but didn't succeed.
On April 7, the city government proposed a new bylaw that prevents structures in front of the Chinese Consulate. According to local media reports, the city government consulted the Chinese Consulate before the new bylaw was proposed.
Clive Ansley, a lawyer representing Falun Gong, said the fact that city engineers consulted the Chinese Consulate is "disgraceful" and "indefensible." Adding, that after reviewing the proposed bylaw restrictions, "It was clear that the consulate pretty much got their entire wish-list."
"We didn't fight this battle over five years, and the Court of Appeal didn't make this decision striking down the bylaw in order for the city to enact a new bylaw that results in the identical prohibition of free expression," he said at the council meeting.
Later, a new version was drafted that allows structures in front of the Chinese Consulate and also removes the $200 registration fee and $1,000 deposit, but increases the fine for breaking the law.
There are still some limits in the new version, for example, the size of the allowable structure was reduced by half.
Falun Gong Practitioners Attacked by Gunman at the Protest Site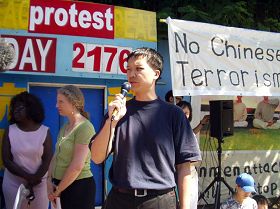 Attack victim Zhang Chunyu at the press conference
After the practitioners were ordered to remove the protest billboards, one practitioner was attacked in front of the Chinese Consulate. Practitioner Mr. Zhang Chunyu was assaulted the morning of August 2, 2007 by three Asian men who appeared to be around 20 years old. They tore up the protest display boards. One of the men confronting Mr. Zhang held a handgun against his temple, ordered him to leave and shouted, "Don't stay here! Go away!" The three thugs beat Mr. Zhang, punching him in the eyes and head and kicked the blue shelter, making several large holes. Not until a bus passed by did they stop and leave.
Vancouver Falun Gong spokesperson Sue Zhang said the thugs obviously were instructed to carry out the attack, and it was premeditated.
CCP instructs pro-CCP Chinese community leaders to interfere with Falun Gong activities

Chinese organizers trying to obstruct Falun Gong banners during 2007 Chinatown parade
The annual Chinese New Year's Parade in Vancouver had in past years turned its back on Falun Gong applications to participate, instigated by pro-CCP forces. The application for the 2007 Chinese New Year's Parade got the same result. The sponsor did not reply to Falun Gong practitioners' application, but instead lied and told a local TV reporter that Falun Gong did not apply for a permit.
National Security Bureau agents threaten Falun Gong practitioner's family
Ms. Zhang's daughter and son-in-law, neither of whom practice Falun Gong, traveled to Beijing in late 2010. Three national security agents and a translator took the couple to a hotel conference room and interrogated them for more than two hours.
The agents asked, "What is your mother doing abroad? Tell her not to make public appearances and oppose China." (The Communist Party intentionally equates "China" with "Communist Party.") Ms. Zhang's daughter answered, "Canada gives us freedom of belief. My mother has her belief and I have mine. I cannot interfere with her, and neither does she interfere with me."
In the end, the agents told her to send a message to her mother, urging her not to expose the CCP abroad. They threatened to "take action" if she refused.
Ms. Lu began practicing Falun Gong abroad. She and her husband and daughter went back to China to visit relatives in early 2008. Local national security agents rented out the two rooms to the left and right of their room. Four agents interrogated them and asked for the type and quantity of Falun Gong materials they brought back to China, and to whom they gave them. Ms. Lu said, "They seemed to know everything I did in Canada, including the type, price and store where I bought my Qi Pao (Chinese traditional cloth) to promote Shen Yun." The agents followed them closely until they left China and also demanded that she send information about Canadian practitioners back to them after they returned to Canada, or act as a de facto spy.
Ms. Shi also learned Falun Gong abroad. No one bothered her during her first trip back to China. During the next year's trip she was taken to the police department. Several national security agents talked to her and questioned her about Falun Gong activities abroad, and Shen Yun shows. They even knew she bought tickets and invited her friends to the show. They told her, "We knew you came back last year, too." Then they demanded her email address and offered to be her "friends."
Threatening practitioners' family members in China
Ms. Zhao never returned to China, but because she often talks to people about Falun Gong and asks people to quit the Communist Party, Chinese consular officials threatened her. Her daughter living in China had money extorted from her and was told by security agents, "We have a huge pile of documents on your mother, including photos and telephone recordings."
Dozens of practitioners and their families have been harassed and threatened by regime agents during the past few years.
The CCP exposes its own vile nature while Falun Gong enjoys ever-wider popularity
Vancouver practitioners said all the CCP's ruses have ended up in vain. Over the past 12 years, people all around the world have witnessed the grave injustice inflicted upon Falun Gong practitioners, but the practitioners have not been destroyed. Instead, the world's people see through the CCP's vile nature and are more convinced that Falun Dafa is righteous, and the practitioners have matured through the tribulations.
The CCP's exportation of the persecution abroad has only served to expose it further before the world.