Ms. Li Yushu Brutally Beaten by Inmates in Heilongjiang Women's Prison
July 17, 2011
|
By a Clearwisdom correspondent in Heilongjiang Province, China
Name: Li Yushu (里玉书)
Gender: Female
Age: 62
Address: Mohe City, Heilongjiang Province
Occupation: Retiree from the Education Commission of the Amu'er Forest Bureau
Date of Most Recent Arrest: May 2002
Most Recent Place of Detention: Heilongjiang Women's Prison (黑龙江女子监狱)
City: Harbin
Province: Heilongjiang
Persecution Suffered: Shocked with electric batons, sleep deprivation, forced labor, brainwashing, illegal sentencing, forced injections/drug administration, beatings, hung up, imprisonment, solitary confinement, torture, force-feedings
(Clearwisdom.net) Ms. Li Yushu, 62, is from Mohe City, Heilongjiang Province. She retired from the Education Commission of the Amu'er Forest Bureau in Daxinganling, Heilongjiang Province, where she was a Chinese Communist Party secretary. She was subjected to a year of forced labor for practicing Falun Gong in 2000, then sentenced to twelve years in prison in 2002. She has been imprisoned in Heilongjiang Women's Prison since January 2003. The Minghui website has reported on the violence and torture against Ms. Li in the prison several times. The latest report was in September 2010. The following is Ms. Li's recent statement.
Deputy Prison Director Bao Rui Ordered Guards to Beat Me and Strip Off My Clothes
On the morning of February 16, 2011, Bao Rui, deputy director of the prison; Tao Shuping, director of the prison's Political Office; Cui Hongmai, and Zhao Lisha came the 10th Ward (where I was held) to target Falun Gong practitioners. They first harassed practitioner Ms. Ba Lijiang in the 4th group. Guard Zhao Xiaofan warned me to cooperate and not to resist. The inmate group head and personal monitors then dragged me from the bed to the ground.
Soon after, Bao Rui and others came in. They dragged me to corridor. I started to shout, "Falun Dafa is good." Bao Rui told the guards, "Seal her mouth" and at the same time, she and others were searching the bed. Riot guards, men in their thirties, arrived after her order. They beat me, kicked me and stomped on me, taped my mouth with several rounds of tape, and grabbed my arms behind me.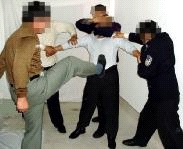 Torture demonstration: Brutal beating
I did not stop shouting. Bao Rui then said, "Strip her." Several people stepped up and stripped my clothes off me using scissors. They also stole all my other clothes, both summer and winter, even my underwear.
Ward Director Zhao Huihua Ordered Inmates to Beat Me
At around noon on March 22, 2010, a section leader from the 10th Ward ordered inmates to drag me to the prison hospital ward. Personal monitor Li Yingli slapped my face on the way. She took apart my bedding and wrote "Prisoner" on my clothes.
At 5:05 a.m. on March 23, while I was holding one palm erect to send righteous thoughts, Li Yingli slapped my face. Xin Guohui, a personal monitor newly appointed by 10th Ward director Zhao Huihua, followed. While she slapped my face, she said, "Do you know why the director ordered me to monitor you?"
Yang Qiuxiang, inmate head of the hospital ward, came and brutally beat me. They threw me from the bed to the ground. Li Yingli stomped on my chest with fury. I was in so much pain that in the following three weeks, I was not able to take deep breaths or lift my arms. My blood stained the pillow. Li Yingli had to soak it to remove the evidence. They beat me until 9:30 a.m.
In the afternoon, two guards led a group of inmates to force me into a prison uniform. One of the inmates was Gao Fuyan, the inmate head of the 10th Ward (South). She was known as one of the most violent inmates in the prison. Others were Li Yu Bo, Zhang Fangqing (inmate head of the 10th Ward (East)), Li Dan, Wang Zihua, and Wang Shuxian.
I did not cooperate when I was being forced into the prison uniform. They struck me, and I was beaten from the bed to the ground. Gao Fuyan viciously stomped on my legs. The pain was unbearable. They forced the uniform on me after beating me for half an hour. Then I shouted, "Falun Dafa is good" again. Li Dan taped my mouth with several rounds of tape, then bound my hands behind my back and dragged me. Wang Zihua wrapped my body and arms with tape.
The next morning, March 24, a gang of inmates came and brutally beat me again when I did not cooperate.
Related report:
http://www.clearwisdom.net/html/articles/2010/9/19/120096.html