Name: Cui Zhanyun (崔占云)
Gender: Female
Age: 66
Address: Peiying Street, Yushu City, Jilin Province
Occupation: Not stated
Date of Most Recent Arrest: June 2010
Most Recent Place of Detention: Not stated
City: Yushu
Province: Jilin
Persecution Suffered: Electric shock, sleep deprivation, forced labor, illegal sentencing, beatings, torture, force-feedings, extortion, physical restraint, home ransacked, interrogation, detention, denial of restroom use
(Clearwisdom.net) I started to practice Falun Gong in June 1996. Before that time I was physically weak and suffered from many illnesses, such as intestinal tuberculosis and pulmonary heart disease. The doctors had no cure for me and I could only wait for death. However, after practicing Falun Gong for over a month, my illnesses disappeared.
Since the Chinese Communist Party began persecuting Falun Gong in 1999, my home has been repeatedly ransacked. I have been detained several times and sent to forced labor camps twice.
My son-in-law and I went to Beijing in July 1999 with other practitioners to appeal for Falun Gong. We were in Tianjin and taken to a detention center, where we were forced to watch programs defaming Falun Gong. We were later escorted back to Yushu by officials from the Domestic Security Division. I was detained for 15 days.
On November 4, 1999, I was arrested by Zhao Wenfeng from Peiying Police Station. Practitioners Zhou Xiumei, Cao Yanhua, Li Shuying and Yue Kai were also arrested on the same day. Li Shuying and Yue Kai, husband and wife, both died as a result of persecution. I was detained for more than a month and forced to write a promising not to appeal again, in exchange for my release.
When I was handing out materials in Liushu village, I was reported to the authorities by the village security head. Officers from the police department came to my home to arrest me the next day, and confiscated my Dafa books. I was detained for 15 days and forced to pay 400 yuan before being released.
My neighbor, also a practitioner, and I went to Beijing to appeal in October 2001. We were arrested at our hotel by officers from Fangshan Police Station. At the police station I was handcuffed, hit in the face, forced to kneel down and was beaten until I fell unconscious. My nostrils were also burned with cigarette butts.
When I was taken back to my hometown, I was detained for 15 days and forced to pay 3500 yuan. I was then sentenced to one year in Heizuizi Forced Labor Camp, but after being held there for 16 days, I was sent back to Yushu and held in a detention center instead. Officials from the Domestic Security Division tried to extort 3000 yuan from my family a month later, but my husband told them that he had no money to give. When they realized that they could not extort money from us, they released me.
I had put up many banners in 2001 with the words, "Falun Dafa is good" in public areas around Yushu and Fu'an. The head of security in Fu'an, Bao Guoxi, reported me to the authorities. I was arrested and taken to a detention center. When I went on a hunger strike to protest the persecution, the officials in the detention center were afraid that they would be held responsible if I died there, so they allowed me to return home twelve days later.
Shortly after the Changchun cable TV signal was intercepted on March 5, 2002 with broadcasts reporting the facts about Falun Gong, police broke into my home and ransacked it during the night. I was taken to the police department and was viciously beaten until I lost consciousness. I was released the same day, but not long after, a dozen policemen came and lived in my house, watching me all the time. They prohibited my family from leaving the house and interrogated whoever came to visit us. Several practitioners were detained as a result. Yu Aihua from Fu'an village was arrested when she came to visit me, and was sentenced to three years of forced labor.
When I spoke to people about Falun Gong at a train station in June 2002, I was arrested by officers from Zhengyang Police Station. I went on a hunger strike to protest my detention, and was sent to Heizuizi Labor Camp two weeks later. I was not allowed to speak, sleep or go to the toilet. When I went on a hunger strike, the guards brutally force-fed me.
Division head Wang Yumei ordered a practitioner, who had already succumbed to pressure from the guards, to monitor me. When I spoke to her about Falun Gong, she realized that she had gone astray, and asked me to help her write letters to some officials at the camp, stating that she was wrong to go along with their orders.
This practitioner was then shocked in the face with an electric baton until she agreed not to practice Falun Gong. Her face was all blistered. Wang Yumei also shocked my wrists, neck, face and back because I wrote the letters for this practitioner.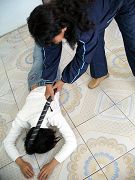 Torture re-enactment: Shocked by electric baton
When I returned home after spending one and a half years in the camp, I learned that my daughter Ms. Li Shuhua had been tortured to death in October, 2003 while she was held in the Yushu Detention Center. She left behind two young children. I also learned that my son-in-law Yang Zhanjiu was sentenced to seven years imprisonment, and had became disabled from the torture he went through at Shilin Prison in Siping City.
Several police officers came to my house one day in July 2007, and forcibly carried me to a police car. I was detained for 15 days. A dozen practitioners from the same area were also detained at the same time.
When two practitioners came to my home in 2008, they were arrested by officers from Peiying Police Station, and taken to Yushu Domestic Security Division. My husband and I were later taken there and I was held for 5 days. A female practitioner was released on the same day, while a male practitioner was detained for 15 days and was later sent to Changchun Forced Labor Camp. However, officials at the labor camp refused to accept him because of his poor health, and he was allowed to return home.
My home was ransacked by several police on March 5, 2010. They confiscated two desktop computers, a laptop, two printers, a DVD burner, 200 yuan and other personal belongings. My husband, son-in-law and I were arrested. My husband, who is not a practitioner, and I were released the same day, but my son-in-law was detained beyond that point.