(Clearwisdom.net)
Continued from:
Part 8: http://www.clearwisdom.net/html/articles/2011/11/16/129511.html
Part 7: http://www.clearwisdom.net/html/articles/2011/11/15/129491.html
Part 6: http://www.clearwisdom.net/html/articles/2011/10/30/129084.html
Part 5: http://www.clearwisdom.net/html/articles/2011/10/29/129065.html
Part 4: http://www.clearwisdom.net/html/articles/2011/10/28/129057.html
Part 3: http://www.clearwisdom.net/html/articles/2011/10/26/129000.html
Part 2: http://www.clearwisdom.net/html/articles/2011/10/16/128806.html
Part 1: http://www.clearwisdom.net/html/articles/2011/10/4/128512.html
III. List and Photos of Female Practitioners Who Have Died Due to Persecution
1866 female practitioners are verified to have died as a result of persecution between July 1999 and May 31, 2011. Their deaths took place in 31 provinces, municipalities, or autonomous regions in China. The number of deaths in different provinces are listed below, followed by a list of the practitioners' names.
Hebei Province: 235
Liaoning Province: 234
Heilongjiang Province: 221
Jilin Province: 196
Shandong Province: 180
Sichuan Province: 118
Hubei Province: 85
Hunan Province: 69
Beijing: 66
Henan Province: 66
Chongqing 57
Guangdong Province: 45
Inner Mongolia: 40
Tianjin: 29
Gansu Province: 27
Guizhou Province: 25
Shanxi Province: 24
Anhui Province: 23
Jiangsu Province: 18
Jiangxi Province: 17
Shaanxi Province: 15
Yunnan Province: 13
Guangxi Province: 10
Xinjiang Uyghur Autonomous Region: 9
Fujian Province: 8
Shanghai: 8
Qinghai Province: 3
Zhejiang Province: 2
Hainan Province: 2
Tibet Autonomous Region: 1
Ningxia Province: 1
9 death cases from unknown provinces
53 death cases with unknown sex
The names of female practitioners who have died as a result of persecution are listed below, categorized by the provinces that they are from:
Hebei Province: 235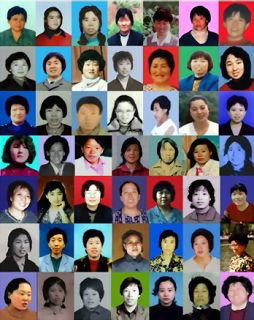 Some of the female practitioners from Hebei who have died as a result of the persecution
Liu Rongxiu, Ding Yan, Zhao Wenyu, Liu Xing, Qi Xueping, Yan Xiangzhi, Zhang Zi'e, Liu Huamiao, Yu Ruilan, Li Huiqi, Liang Baozhen, Feng Xiaomin, Zhang Tongyan, Yang Yanyun, He Zang, Wu Huaxiang, Liu Cangzhen, Cui Fengtai, Wang Suting, Sun Nianrong, Dong Cui, Dong Yanping, Yan Ezi, Guo Ruiying, Liu Wenxia, Zhang Sanni, Gong Qunzhi, Kang Ruizhu, Zhang Bingli, Zhang Wenping, Zhang Ruhua, Wang Rongtan, Bian Bingyue, Zhao Yunjie, Zhang Xiaonian, Hao Manxiu, Xie Fengting, Zhang Yanying, Zhang Shulan, Zhang Xiumin, Jiang Xiuyun, Wu Guoying, Zhang Fengqin, Dong Lianling, Zhou Shufen, Gu Shichun, Luo Huirong, Li Shurong, Jia Xiulan, Shen Xiaojing, Pei Cuirong, Zhou Yuqin, Qi Suzhen, Xu Shufen, Cao Bojing, Zhu Shuzhen, Li Ruixia, Wang Shufang, An Xiukun, Ni Yingqin, Wei Hongying, Gao Shulan, Li Sulian, Pi Jinghui, Gu Yingwen, Zhang Zhibin, Zhang Yuqin, Xuan Guirong, Hou Guimin, Ning Guizhen, Ding Shuyi, Shen Zhihua, Hou Suxia, Yin Yuhua, Guo Xiuying, Li Cuiyan, Xing Shuju, Liu Huanqing, Chen Yuqing, Zhang Xiuling, Zhang Xiaoru, Zhang Xinye, Li Fengru, Jiang Xiuting, Xue Xia, You Zhilan, Jia Yinjie, Wang Qiufeng, Wang Heini, Liu Dongfen, Chen Yanying, Liu Cunzhi, Sun Lancheng, Zhao Zhuni, Guo Xianghong, Ma Zhanmei, Jiao Fenglan, Sun Shouqi, Xie Wenping, Zhang Xiuxian, Wang Wenduan, Yu Shufen, Wang Zongrong, Han Xiangying, Li Yuncai, Zhen Minru, Sun Jihua, Li Fengqin, Yang Xingzhe, Liang Xiu, Tai Yurong, Zhan Jinyan, Wang Jinling, Zhang Yiqin, Xing Xiuqin, Yan Xiling, Xiong Fengxia, Yang Xinglan, Li Guimin, Zhang Shuhua, Li Ruiqin, Wang Yanmin, Yuan Zhanzhi, Jing Fengting, Xin Jianfen, Cao Xiaoling, Zhang Xiuling, Rong Fengxian, Yang Lirong, Zhu Yuting, Kong Shumin, Han Junmiao, Liu Yuling, Shi Yongqing, Wang Huilan, Chen Xiaoqin, Cheng Zongzhan, Gong Xiuling, Shi Suqin, Xu Xiuzhi, Zhen Xiaona, Liu Yufang, Zhou Cuihua, Han Xiufang, Li Ruiying, Cao Yuanru, Zhang Yuzhen, Xu Fenglan, Zhou Meixiu, Fan Yaxiong, Chen Hongping, Sun Yumei, Yang Yufang, Sun Yanqing, Gao Shiping, Li Xiuying, Su Xinyue, Wang Xiuqing, Yang Xianmei, Shao Yue, Li Fengxiang, Wang Lianrong, Cui Xinxiang, Zheng Zhigen, Wang Ailing, Yuan Pingjun, Li Shulin, Shi Xiuying, Wang Junmei, Fu Guiju, Liang Ying, Jiang Suhua, Song Cuiling, Hao Guimei, Wei Suqin, Zhou Qichun, Gong Baohua, Qi Lanying, Ding Jingyan, Liu Qingzhen, Zhang Shulan, Yu Xiuying, Pei Xiuyan, Wang Yaping, Li Xiaohua, Yang Mei, Li Shuzhen, Xiao Xingai, Wang Jingfang, Sun Shuying, Wang Xiuzhen, Wang Zhilan, Niu Sujuan, Li Guizhi, Yang Xiaowen, Liu Lianqin, Xu Surong, Wang Xinling, Cui Yulan, Wang Xinping, Du Kerong, Zhang Runzhi, Gao Shuxiang, Wang Wenshu, Sun Guangjuan, Zhang Meilan, Wang Shuyun, Pu Shuzhen, Li Baozhen, Liu Shujuan, Zhou Shuying, Su Qi, Lu Wenhua, Liu Shulan, Jiang Guixian, Zhang Xiuling, Fang Xinzhi, Wang Dongmei, Li Guifen, Zhang Huanrong, Yao Yumei, Liu Fuse, Wang Sulan, Liu Guifang, Wang Juan, Qu Shufen, Li Wenjun, Feng Sujuan, Hu Lianhua, Chen Suxiang, Hao Fengru, Liu Juan, Liu Qingrui, Gao Lihua, Liu Yuxia.
Liaoning Province: 234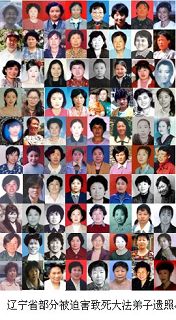 Some of the female practitioners from Liaoning who have died as a result of the persecution
Yang Lanying, Chen Sumin, Wang Guilan, Wu Xifen, Zhang Meihua, Wu Wenjie, Gao Liangqin, Shi Shengying, Zhao Huiru, Wen Yingxin, Liu Kun, Zou Qingyu, Yang Sulan, Yang Xiaoyan, Shi Yulan, Qu Guizhi, Ren Shujie, Dong Chunshi, Chen Yumei, Wang Xiuyuan, Yin Shuzhen, Jin Qiuhua, Shi Xiumei, Cao Guiying, Xue Guizhen, Gao Rongrong, Liu Xixia, Wang Fengqin, Zhao Yuqin, Li Yinju, Zhang Sukun, Sun Hongyan, Wang Ling, Wang Hong, Gao Fengying, Kang Yuxia, Wei Suzhen, Zhang Lihua, Jiang Hong, Cao Guimei, Zhao Shufen, Wang Xiuxia, Bai Suzhen, Tang Xingyun, Zhang Peilan, Liang Yuqin, Li Xiumei, Chen Zhenli, Wang Yan, Kong Zhaoshu, Wang Yunjie, Jiang Ruihong, Wang Youju, Sun Lianxia, Yu Lixin, Chi Yulian, Wang Qiuxia, Zeng Xianmei, Liu Yulan, Zhang Chunlan, Huang Bing, Wang Hong, Sui Ruolan, Li Ping, Qu Ping, Bai Shuzhen, Sun Ying, Gao Chunhua, Li Guizhi, Lu Guixiang, Wang Shuyuan, Liu Guixiang, Yu Li, Dai Zhijuan, Liu Lihua, Wang Yan, Li Yansong, Qu Peifen, Ding Guilian, Yang Quanxia, Cai Shufen, Bi Daihong, Lu Daixin, Kou Xiaoping, Zhang Li, Zhang Xiaomin, Li Sufen, Dong Sukun, Sun Yuhua, Wang Qinglan, Li Xiuchun, Tang Tierong, Chen Sulan, Liang Suyun, Zou Guirong, Zhou Yuling, Xu Xiufen, Zhong Yunxiu, Zhang Chuanyan, Sun Yazhi, Liu Yuqing, Li Ying, Chen Min, Wang Xiuxia, Sang Shuqing, Yang Xiuyun, Xue Yuhong, Qian Xiuying, Zou Yongping, Li Shuqin, Xing Guirong, Zhang Fengyun, Zhou Yulan, Zhong Weihui, Wang Yujie, Zhang Guizhi, Zhang Cuizhen, Chen Shuxiang, Wang Shuhua, Yu Fenghua, Chen Huiying, Kong Xianghua, Wang Yuqin, Jin Xiuqing, Song Yunling, Du Baolan, Cao Shufang, Liu Zhi, Zang Jinlu, Yao Hongxia, Zhang Haiyan, Wang Fengru, Qi Suchun, Li Guilian, Wu Chunlan, Liu Yulan, Zhang Guizhi, Wang Wenjun, Li Ling, Zhang Guifen, Fei Muzhen, Xiao Yuzhen, Jin Shuchun, Zhao Xingci, Zhu Shaolan, Hu Xiuying, Li Shulan, Wei Koushi, Li Dan, Wang Yuxian, Jin Lifeng, Li Shuyuan, Liu Liyun, Cao Fengqiu, Li Baoxia, Zhang Shounian, Wang Shujuan, Liu Penglan, Su Juzhen, Feng Fengmei, Liu Yongfang, Zhao Shufan, Li Hongxia, Zhang Zhilan, Shi Yingchun, Guan Lijun, Li Yanhua, Lu Guifang, Su Jingyan, Li Ling, Yang Jingfen, Liu Wenping, Li Baojie, Zhao Fengqin, Guan Shuyun, Liu Fengzhen, Zhang Yanju, Zhu Yulian, Cao Jinling, Yang Hongyan, Wen Zhiping, Lu Guiqin, Yao Shulan, Bai Shufen, Guo Shuyan, Ma Xiukun, Gao Jinling, Li Yanbo, Fang Yuqin, Li Shuping, Zhai Shuzhen, Hao Yutian, Li Yuxia, Wang Shuxia, Kong Qinglian, Chen Shuxian, Cong Peilian, Wang Lixia, Yu Xiuling, Chen Suyun, Sun Xueyan, Zhen Yujie, Yu Xiuchun, He Guihua, Pu Cuiqin, Li Shuxia, Gong Yurong, Li Chunrong, Li Guangzhen, Li Suqiu, Zhang Shuxian, Ni Shuqin, Li Yingjun, Yang Suqing, Hu Yanrong, Li Shuxian, Yang Xueyan, Xu Zongying, Zhang Guizhen, Cui Shuqing, Zhang Yanxin, Wang Shulan, Zhou Fenglian, Gao Shulian, Wang Baozhong, Zhao Shuzhi, Sun Kemei, Wang Yue, Lu Hua, Jin Qiuhua, Gao Changying, Jiang Xueying, Wang Caifeng.
Heilongjiang Province: 221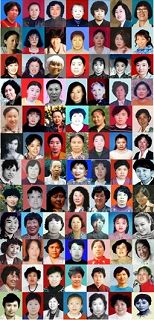 Some of the female practitioners from Heilongjiang who have died as a result of persecution
Zhang Min, Meng Xianzhi, Bai Xiuhua, Bi Yunping, Wang Shufang, Fu Guilan, Liu Jie, He Qiuping, Zhang Guilan, Liu Xiuyun, Liu Qianqian, Cao Yue, Ding Yanhong, Wang Liqun, Zhang Guiyun, Yao Caiwei, Xiao Yali, Wang Ying, Wang Ying, Mao Yali, Xu Fengyun, Liu Guifen, Li Yaru, Sun Yaxian, Zhang Guangwen, Chang Shuhua, Ji Yugui, Wang Fengyun, Li Wanzhi, Chu Xiuli, Wang Xiuying, Yu Shuqin, Gao Feng, Zhang Hong, Wang Guangying, Yu Jinhua, Yang Gaoshi, Gu Yuanxia, Chen Huixuan, Zhang Qifeng, Wang Wenlan, Xie Shuhua, Yu Chuanfeng, Dong Guilan, Song Yulan, Wang Moxian, He Shuwen, Yang Yajuan, Yang Xiuzhi, Yao Fengjie, Du Jinglan, Sun Guozhen, Jin Chunqing, He Caibin, Liu Jinling, Zhao Shuhong, Qin Shuyan, Wang Xiulan, Liu Limei, Pang Siyuan, Gu Xiuxian, Zhao Fengyun, Sun Yuhua, Chan Yuqin, Wei Yaxia, Gu Xiuhua, Zhang Guiqin, Liu Guiqin, Guo Shuqin, Zhang Jiang, Jiang Xianjun, Lu Lihua, Wang Cuiying, Ni Shuzhi, Zhou Wei, Wang Guofang, Gao Shuqin, Chen Shuxian, Chen Qiuju, Liu Sheng, Zhang Tieyan, Cui Xiaojun, Ye Xiufeng, Chen Qiulan, Zhang Weixin, Jin Shulian, Yang Lifan, Pei Shurong, Yang Yuhua, Tian Jierong, Liu Sumei, Jiang Pai, Wang Chengyuan, Lu Xiuyun, Zheng Wenqin, Wang Shuqin, Guo Ailing, Wang Zhixin, Li Hongying, Cheng Fengzhi, Cui Shuping, Zhang Yaqin, Li Xiufen, Liu Tongling, Cui Shuzhi, He Xuyan, Yang Shuqin, Sun Shuqin, Zhang Yuzhen, Sun Yalan, Li Guanglan, Jia Dongmei, Wu Meiyan, Deng Xiangyun, Du Guilan, Liu Yuhong, Qu Jie, Liu Zhenying, Yu Xiulan, Wu Shuyun, Wang Yufan, Ren Huibin, Cheng Hanbo, Su Yanhua, Xu Yuzhi, Shi Rui, Chen Ying, Tang Hong, Xu Jiahui, Zou Jiqin, Cao Xiuxia, Liu Yanyun, Yuan Hezhen, Sun Guirong, Yin Guimin, Yang Guizhi, Ma Cuihong, He Guizhi, Zhang Xiaogeng, Zhao Yinglan, Zhao Fulan, Wang Shujun, Li Fenghua, Wang Dongxia, Li Zhifang, Chen Qing, Du Xuefang, Xu Fuzhi, Wang Liyan, An Fenghua, Sun Chuilian, Shen Jinge, Jin Chunxian, Li Hongmin, Guan Shujie, Ye Lianping, Wu Shujie, Wang Fang, Xiao Shufen, Hou Lihua, Guo Chunying, Han Shumin, Lin Limei, Fang Cuifang, Jin Guilan, Zheng Libo, Liu Xin, Li Fengqin, Liu Shuling, Liu Shurong, Yang Jingyun, Liu Xiaoling, Li Ping, Bi Jingzhi, Li Xuelian, Li Hua, Zhang Xiuchun, Zhang Yanfang, Chen Guiqin, Liu Yujie, Zhu Xiuqing, Zhang Shuhua, Yin Ling, Yu Fengchun, Dai Xiaoling, Yu Zhixian, Fei Jinrong, Wu Lingxia, Li Guiqin, Miao Xiaolu, Gao Hua, Tan Xiuna, Zhang Guiqin, Zhao Yazhen, Gan Xiuyun, Li Guiqin, Xu Hongmei, Shen Zili, Hao Zhimei, Zhang Yunzhi, Chen Weijun, Ding Yajie, Yang Hailing, Zhao Chunying, Guo Meisong, Xu Caitian, Liu Yanchen, Yao Guoxiu, Liu Guihua, Liu Guiying, Jiang Rongzhen, Wang Zhongxin, Bai Lixia, Li Guilan, Zhang Hong, Sun Jihong, Liu Guixiang, Liu Shu, Li Fengxia, Jiang Shuqin, Ji Fengqin.
Jilin Province: 196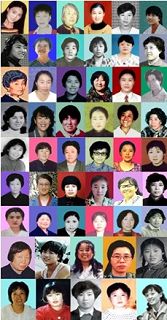 Some of the female practitioners from Jilin Province who have died as a result of persecution
Wang Fengyue, Zou Fengxia, Li Shunfeng, Cao Guizhi, Li Ruiyun, Guan Shuying, Wang Shanling, Dai Shufen, Zhao Hongmei, Wang Wanzhen, Zhao Qinglian, Tong Guijie, Xiao Jinrong, Chen Baoying, Sun Yuxian, Wang Guiying, Wu Lianjie, Yu Qiushi, Chan Jinghua, Jiang Shulan, Wang Yajie, Ji Shuyuan, Li Hua, Wang Shuxian, Zhang Zhiqiu, Hou Lijun, Li Shuqin, Li Rong, Li Shuhua, Xu Shuxiang, Jiang Chunxian, Cao Yali, Hao Hong, Li Fenglan, Yu Yan, Ma Shiying, Ma Zhijin, Wang Xiuhua, Jiang Jifen, Jiang Shufang, Hou Xiuping, Sun Xiaoqiu, Sun Shuxiang, Li Yulan, Gao Ya, Wang Kefei, Shen Jianli, Chen Jiamei, Wang Yanqin, Qiu Lanfen, Li Fengzhen, Wang Shouhui, Wang Yan, Lu Qinghua, Tian Xiulan, Li Jing, Yang Yan, Dong Huiru, Yu Guizhi, He Mingxia, Cui Tong, Jin Shuxian, Wang Guizhen, Li Fengqin, Tian Yuan, Wang Yuhuan, Yang Lingyun, Meng Qingxia, Yao Shufeng, Dong Suyun, Cai Qinghua, Li Jinrong, Wu Shulan, Zhang Lixin, Luo Shuchun, Qiao Yuzhen, Zhang Zhengrong, Li Shuzhen, Peng Zhanrong, Yin Shuyun, Li Cuiwen, Zhao Fanglan, Li Xianhui, Sun Xiuhua, Fang Yuzhen, Zheng Xuanguan, Liu Shuxiang, Zhao Jing, Wang Huimin, Guo Hongqing, Liu Shiwei, Wang Xiulan, Wang Xiufen, Song Yufang, Qi Yuzhen, Hu Qinzhong, Wu Mingli, Liu Fang, Dong Xiuqin, Li Chuanping, Guo Yaling, Kong Fanrong, Su Fang, Yu Guoqing, Wang Shuzhen, Yu Lixin, Lu Suqiu, Qu Junli, Song Bing, Gao Yuqin, Lu Jinshun, Liiu Yuzhu, Zhang Mingyi, Li Xiuzheng, Zhang Guizhi, Cui Zhengshu, Liu Mingke, Chu Congrui, Zheng Junshu, Wang Minli, Zhao Yaqin, Liu Shuxia, Wang Xiuyun, Wei Fengju, Qiao Xuechen, Wen Yumei, Ma Lishi, Deng Shiying, Guo Shufen, Xiao Guiqin, Zhang Guiqin, Cai Huilan, Lou Qingyun, Jin Yingdan, Zhang Yulan, Liu Xiulan, Wu Yingzi, Yin Fengqin, Yang Zhongfang, Pu Jizi, Wen Shuqin, Liu Bo, Song Yonghua, Song Yaqin, Lilu Boyi, Teng Peixiang, Jiang Guirong, Jing Shuhua, Wang Shujie, Xuan Honggui, Chen Zhiying, Liu Guilan, Li Huafeng, Zhang Fengzhen, Wang Yufang, Li Xifang, Chen Guangmei, Wang Conghua, Zhao Shurong, Yang Shuqing, Gao Fangrong, Wang Enhui, Yang Baozhen, Cong Guixian, Zhao Fengying, Lu Shi, Zou Yunqin, Ding Guixiang, Li Aiying, Han Cuiyuan, Zhen Guizhi, Zhang Xiaotong, Zhi Guixiang, Han Chunyuan, Sun Guilan, Li Li, Deng Wenjie, Dai Chunhua, Zhang Yunzhi, Liu Fengqin, Yang Guiqin, Zhao Xiqin, Liu Bairen, Zhou Wenjie, Ma Yuhuan, Yang Guijun, Li Xiulan, Sun Fengzhen, Yu Changli, Song Zhiwei, Zhang Huiqin, Sui E, Shen Shuhua, Yuan Wenshu, Chai Yujuan, Huang Jingzhen.
Shandong Province: 180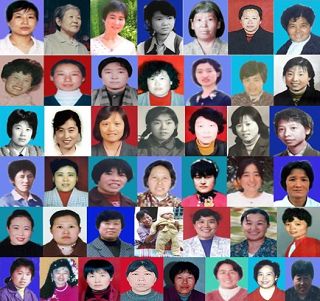 Some of the female practitioners from Shandong Province who were persecuted to death
Zhu Zhi, Hao Guanglan, Ma Guifen, Yu Fuxiu, Wang Meiying, Tong Ruilian, Liu Liane, Yu Suyun, Li Guiping, Wang Suqin, Zhang Fuzhen, Gao Yulan, Yin Xiuzhen, Liu Junling, Jia Shuhua, Wang Xiaoli, Liu Jiming, Zhu Meijuan, Chang Shuzhen, Geng Xuezhi, Lu Xiufang, Yu Guizhen, Liu Shue, Zhang Jinyong, Gao Xiuqin, Hao Guixiang, Li Maofen, Zhao Baolan, Jiang Xiuqin, Gao Shuhua, Guo Ruixue, Cao Guiying, Du Ruizhen, Cui Zhimin, Song Jinfang, Liu Qiying, Wei Peixiu, Zhang Zhihui, Tan Pingyun, Tian Ruiying, Liu Xiumei, Zhang Yuelan, Chen Zixiu, Yang Guizhen, Ma Yanfang, Wang Xiujuan, Wang Aijuan, Wang Lanxian, Li Yinping, Liang Yunxia, Chen Ruixue, Ma Yuying, Ji Xiulan, Yang Huirong, Niu Guilan, Sun Yuqiu, Liu Shuhong, Zong Xiuxia, Li Xianglan, Wu Junhai, Wu Jingxia, Zhao Fenghua, Cao Guifen, Guo Ping, Li Guojun, Su Baolan, Zhang Xiangxia, Liu Guixiang, Yu Zhihua, Liu Jianmin, Wang Lanfen, Li Yuxiang, Li Xiuzhen, Zhang Chengmei, Li Fang, Li Chunhong, Ma Guixiang, Liu Airong, Wang Guihua, Wang Ying, Wang Hongxia, Wang Li, Zhao Jinhua, Tian Xiangcui, Wang Lixuan, Sun Shaomei, Ren Tingling, Jiang Liying, Cong Yue, Li Mei, Zhang Lin, Zheng Shuqin, Tan Xishuang, Yuan Zexiu, Sun Pizhen, Luan Xiuying, Li Lihua, Ms. Li, Wang Fengqin, Gao Deyan, Kong Qingfen, Chi Lianfen, Li Guizhen, Song Xiumei, Wu Hong, Sun Houlian, Duan Qingfang, Sui Songjiao, Sun Aihua, Wang Cuifeng, Xu Yonglian, Kao Fulan, Sun Aihua, Li Li, Pan Yumei, He Xiuling, Chi Lixuan, Wang Keai, Yu Guilian, Yi Shuhui, Tang Guiying, He Wenzhi, Liu Caiying, Qiu Aihua, Chu Huiqing, Qu Yunlian, Yu Huiqing, Sun Aihua, Jiang Shuxian, Chu Cuixiang, Zhao Shuzhen, Zhang Shuying, Wang Shuzhen, Yu Zhenghong, Tian Li, Pu Shude, Liang Hongguang, Cui Dengzhi, Zhang Shuying, Sun Guifeng, Zhang Qingmei, Xu Guiqin, Zeng Xiuying, Jia Xiumei, Bai Shihua, Dong Buyun, Ms. Shi, Gao Mei, Zhou Xiangmei, Li Xiuju, Sui Xueai, Liu Shufen, Zhang Dezhen, Liu Lifen, Liu Fengchun, Zhang Xihui, Yu Lianchun, Wang Fengwei, Sun Xiucai, Zhang Shunu, Qi Fengqin, Zhang Xiulan, Wang Hongfang, Xu Jiling, Chen Xiulan, Lu Huiping, Ni Xiuhua, Wei Meilan, Dou Suli, Wei Aiqin, Wang Fuzhen, Sun Junying, Xu Jianhua, Li Yongqiu, Gao Demei, Zheng Fangying, Li Xiumei, Xiao Sumin(Xiao Shumin), Li Huiling(Li Huilin), Zhao Yuezhen.
Sichuan Province: 118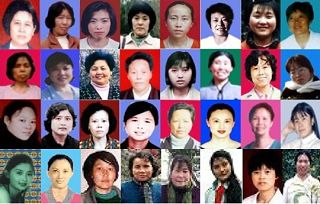 Some of the female practitioners from Sichuan Province who died as a result of persecution
Liu Zhifen, Huang Lirong, Jiang Jieyu, Chen Guohua, Zhao Zhongling, Luo Yingjie, Zhang Weihua, Miao Sufang, Wu Dabi, Xue Yuzhen, Liao Chaoqi, Hu Hongyue, Deng Jianping, Zhou Qifeng, Luo Junfang, Li Jiawei, Huang Yufang, Lei Guofeng, Huang Min, Yang Chongyu, Zhou Biru, Tang Fafen, Zhu Yinfang, Lu Guirong, Liu Shenglu, Lu Qiongfang, Ye Wenying, Liao Yonghui, Chen Guijun, Gu Chanying, Meng Xiao, Shen Daoqiu, Hu Guie, Li Yuru, Yang Xingbi, Chen Guoxiang, Wu Minhua, Du Yuqing, Zhu Yunfeng, Li Xiuqing, Li Yangfang, Tan Yanfang, Liu Bangxiu, Deng Shufen, Zheng Youmei, Liao Yongyi, Qin Zhiyu, Wang Peihui, Yang Wenhui, Que Fazhi, Gu Xingzhi, Zhao Qiying, Du Xianhua, Zeng Lingxiu, Tan Sufen, Li Rufen, Li Decong, Yin Huafeng, Wu Shicui, Jiang Yirong, Shi Jinqin, Liu Guifang, Wei Rong, Zheng Shihui, Shu Qunhua, Liang Guirong, Jiang Xiangqin, Meng Yuhua, Gong Suying, Kuang Yuliang, Li Xianming, Su Qionghua, Ren Guihua, Gao Huifang, Zhang Cuihua, Lu Wenqian, Li Hui, Yang Zhengbi, Luo Fengying, Zhou Runhua, Chen Wenai, Li Yuhua, Hong Lisha, Rao Mingzhen, Lin Lisha, Xie Yuhua, Lin Feng, Pu Suchun, Du Qunhua, Huang Dengfang, Miao Chuanyuan, Liu Guoshu, Miao Qun, Tang Chengyu, Xu Qing, Li Zhongzhen, Li Mengshu, Lu Sufang, Liu Xianju, Wang Yuru, Luo Junling, Mao Kaiming, Hu Yunhuai, Bao Zhengrong, Tang Qianwan, Zhou Zebi, Luo Sufang, Wu Minhua, Tang Xiuqiong, Yu Yufen, Jing Biqing, Li Xiaowen, Yuan Yongwen, Yang Yinhua, Xu Zhilian, Yu Biqing, Zhou Huimin, Guo Qirong.
Hubei Province: 85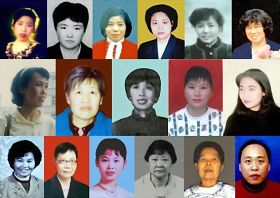 Some of the female practitioners from Hubei Province who died as a result of persecution
Fu Xiaoyun, Liu Qunying, Qin Jinxiu, Li Yuzhen, Luo Jiazhi, Liu Xiaolian, Tong Huilan, Liu Lihua, Shen Jinyu, Li Junxia, Tian Baozhen, Li Yingxiu, Yang Qinghua, Zhang Jianqing, Wang Aihua, Zhu Dafeng, Guo Aihua, Zhang Ying, Chen Yinfang, Hu Shuying, Yao Yindi, Chen Huiyuan, Huang Liping, Gao Aihua, Zhou Huirong, Huang Zhao, Li Zhi, Min Runxiang, Zhang Huifang, Chen Xiang, Zhao Yingfeng, Sun Guiying, Ju Xingfeng, Ren Jinhuan, Chen Caixia, Zeng Xiane, Shang Junxiu, He Liming, Dong Guange, Guo Henghong, Li Ruilan, Li Jiju, Tao Weixiang, Guo Huafeng, Bian Xiaolian, Wang Shaocheng, Liu Kexi, Guo Yuzhi, Wang Zhengxiu, Li Yonghui, Shen Ju, Su Kezhen, Pan Zhenghui, Wang Yanfeng, Chen Jianghong, Yang Yanhong, Dong Xiuzhen, Yu Fuxiang, Zhou Jiaoxiang, Wang Huajun, Sun Jinzhou, Liu Yilin, Zhang Yaqin, Chen Qing, Zhou Xingxing, Zhang Yuyan, Liu Aimin, Liu Xiaolian, Wang Shuqian, Xu Yufeng, Wu Mingfang, Liu Guangfeng, Qian Jingjing, Chu Zhongping, Yuan Anhua, Shang Chuancui, Xu Baodi, Ma Yongan, Zhang Aijiao, Xu Dongqin, Su Aigui, Wang Daiyu, Shen Chunru, Wei Qiurong, Zhang Jianqing.
Hunan Province: 69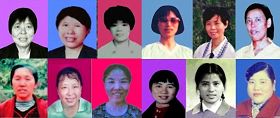 Some of the practitioners from Hunan Province who died as a result of persecution
Hong Jingping, Luo Chunhua, Li Deyin, He Yingqing, Shen Yuxia, Kang Linxia, Ji Mengrong, Zhou Yihui, Jiang Liying, Yi Zhenyun, Zuo Shuchun, Su Shukun, Deng Yulian, Guo Lifang, Cheng Linghui, Zhao Yuping, Chen Guilian, Pei Ouhua, Wang Yingmei, Liang Jianqin, Kuang Sue, Yu Aiping, Liu Shiyou, Xiao Yafang, Chen Xisheng, He Qiulian, Tang Manyuan, Zeng Duanyan, Yuan Meixiang, Xin Jingwen, Xu Youzhen, Chou Xie, Liu Genhua, Chen Xingtao, Xiao Guiying, Chen Ouxiang, Chen Liying, Lu Yongzhen, Zhang Lingwu, Wen Huiying, Peng Donglian, Hu Zhengxi, Zhu Guilian, Cao Jianzhen, Wu Yuemei, Dai Shuzhen, Cao Jingzhen, Du Chunlan, Deng Guojun, Ouyang Youhua, Luo Qiaohong, Chen Lijuan, Liu Caiyun, Jiang Xianyi, Zheng Chengkui, Liu Jianhua, Chen Chujun, Zhao Lihua, Deng Zhenyuan, Liu Bizhen, Tang Wanqing, Mao Haizhen, Zheng Chenggui, Yang Jusheng, Jia Cuiying, Chen Yuanmei, Yang Hongying, Yi Qunlan, Huang Ling.
Beijing: 66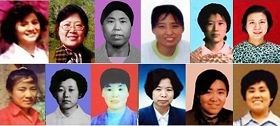 Some of the practitioners from Beijing who died due to the persecution
Sun Hongfei, Ma Jingfang, Zhang Shuqi, Zhao Xiuqin, Wang Baoyuan, Liu Lianfeng, Wang Shuwen, Liu Chunhua, Mei Yulan, Wang Huilan, Zhang Lianying, Gu Yeming, Wang Puhua, Li Yuling, Zhao Hong, Wang Huipu, Zhao Xin, Wu Yao, Zhang Shuzhen, Zhu Quandi, Geng Jine, Wang Guiju, Yin Zonghua, Zhang Shufen, Li Zuling, Ren Hanfen, Zhang Shuzhen, Guan Lin, Wang Xiuhua, Liu Zhilan, Wang Shufen, Wang Lanxiang, Zhang Chunfang, Li Lianyu, Liu Xianglan, Niu Shumin, Wang Guifen, Wu Junying, Wang Fengqin, Wang Qiuling, Gong Baohua, Xiao Cailian, Liu Guimin, Yang Haiqin, Ji Yongfang, Zhang Fengmei, Xin Huiming, Feng Nairu, Zhao Xiuzhen, Wang Haiying, Zheng Zongying, Wang Yaqing, Yu Huiqin, Zhen Shuangsuo, Cui Fue, Li Yuhua, Zhang Minqiu, Li Xiuchun, Xu Xiuling, Zhang Shitong, Yang Xiaojing, Deng Kuiying, elderly Mrs. Kang, and three other female practitioners whose names are unknown.
Henan Province: 66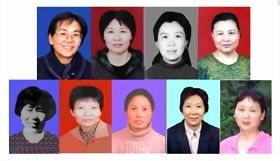 Some of the practitioners from Henan Province who died as a result of persecution
Cui Ningning, Chen Lijun, Luo Guizhen, Liu Baolan, Yang Ronghua, Li Fengling, Dai Xiaojing, Zhu Gaidi, Yang Guifen, Li Yunxian, Yuan Xiangfan, Lei Xinrong, Liu Santuan, Li Peiqing, Liu Cuiying, Chen Xiue, Zhao Guixiang, Lin Wanzhen, Bai Aixiang, Zhang Chunqin, Liu Guilian, Liu Gai, Liu Baorong, Zhang Shimei, Li Quanying, Li Guangsu, Liu Yuying, Shi Dianzhi, Zhu Ying, Lu Shenghua, Zhao Tingyun, Ma Yulian, Li Yancai, Fu Hongxia, Hu Guimin, Jia Yuzhi, Wei Xianglian, Jia Yumei, Zhang Zhunli, Zhou Shulan, Lin Xifeng, Bao Yuzhen, Fan Yanli, Wang Gaizhi, Li Kun, Xiao Yongzhen, Li Tianzhen, Yin Shuangmei, Wang Jingrong, Sun Shimei, Wang Ruilan, Guo Xiumei, Liu Yulan, Liu Yuzhen, Yang Xiuqin, Zhao Suzhen, Shi Huiyun, Ke Ling, Chen Fengying, Wang Dexuan, Shun Xiangmei, Wang Wenli, Kong Fanrong, Yao Guijiao, Wang Quanmei, Wang Yuzhan.
Chongqing: 57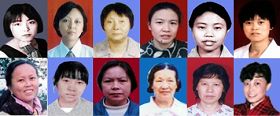 Some of the practitioners from Chongqing who died as a result of the persecution
Yang Xiaoping, Su Zebi, Li Guihua, Xia Wei, Mo Shuijin, Wang Kaiping, Pang Dingrong, Yan Guangbi, Zhao Guiqun, Yuan Suxian, Xu Huibi, Wei Hua, Xiao Daoming, Zhou Liangzhen, Zhang Cunsu, Gao Zehuai, Zhou Xinglan, Du Juan, Feng Yongyuan, He Zhengxiu, Peng Chunrong, Yu Xiangmei, Zhang Sufang, Su Guiying, Zeng Fanshu, Guo Chuanshu, Wang Jifeng, He Derong, Zhao Jiafang, Li Lanying, Zhang Guozhen, Guo Sulan, Deng Shangyuan, Long Gang, Xiao Hongxiu, Sheng Xueya, Ren Conghuai, Liao Furong, Liu Chunshu, Wang Jiqin, Wu Deming, Xiang Xuelan, Xu Huijuan, Zhang Nengxiu, Xu Yunfeng, Zhou Liangzhu, Tang Meijun, Zhang Wenjun, Zhou Chengyu, Zeng Weibi, Duan Shiqiong, Li Yukun, Zheng Xueqiong, Zeng Chaobi, Chen Yuecui, Zhang Dabi, He Tingxuan.
Guangdong Province: 45

Some of the practitioners from Guangdong Province who died as a result of being persecuted
Zeng Yuhua, Yang Sufen, Li Guangmei, Wu Yuxian, Shen Xuelan, Hao Runjuan, Li Xiaojin, Yang Xueqin, Luo Zhixiang, Zheng Weiying, Wang Zhuanlang, Li Yunkai, Lin Hai, Wang Xiaodong, Xie Chuhua, Zeng Huanzhen, Zhong Youlan, Wang Liyun, Huang Dingyou, Zheng Hailing, Bai Yanxia, Deng Weiqun, Wu Yuyun, Tian Huiying, Ma Xiulan, Li Qixin, Li Zhongjuan, Huang Yaoying, Chen Liwen, Yang Mingfen, Yuan Zheng, Huang Yulan, Li Mei, Luo Feiming, Fan Shaoqing, Li Hongfang, Huang Chaomei, Wu Jingfang, Huang Sujun, Huang Weijun, Tang Jinlian, Tang Ying, Yu Huiqin, Feng Lanzhu, Liufu Meihui.
Inner Mongolia: 40

Some of the practitioners from Inner Mongolia who died as a result of persecution
Zhang Miaoling, Liu Jie, Liu Wenli, Qin Kejing, Hao Lanhua, Zheng Lanfeng, Yuan Shumei, Zhou Caixia, Zhao Yanxia, Wang Suzhen, Wang Xiumei, Wang Xiulan, Sun Min, Zou Ruihuan, Hu Suhua, Liang Xiuzhen, Liu Guohua, Sun Xiuzhi, Wang Yaxuan, Ci Yunling, Tang Haihua, Wang Shuyan, Fu Guiying, Zhao Gongxia, Zhang Zhumei, Zhang Yichao, Zhou Liru, Lu Fengxi, Meng Guiying, Pang Fengzhi, Liu Yuxiang, Wang Rongxin, Liu Yan, Chen Shurong, Li Haiyan, Wang Xuemei, Yang Junping, Liu Yufeng, Tian Sufang, Yu Xiulan.
Tianjin: 29

Some of the practitioners from Tianjin who died as a result of persecution
Bai Hong, Cheng Ke, Tian Zhirong, Gong Hui, Ms. Zhang, Xu Zengfang, Li Wenxia, Li Fengmei, Zhang Yulin, Zhang Qingying, Hua Yuli, Lin Chunfang, Wang Shuhua, Zhang Zhaozhi, Zhao Dewen, Zhou Xuezhen, Liu Sulan, Xue Guiqing, Xu Jinglan, Dong Jingyun, Ma Yunhua, Li Huimin, Kang Shurong, Dong Yuying, Li Shumin, Meng Guangfen, Chen Guifeng, Li Hongpeng, Xu Weiwen.
Gansu Province: 27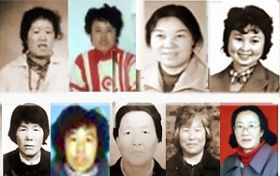 Some of the practitioners from Gansu Province who died as a result of the persecution
Yao Baorong, Zhang Fengyun, Fu Jinmei, Cao Dangui, Mao Jinfeng, Yan Xiulin, Liu Jirong, Liu Zhifang, Zhao Fenglian, Hou Youfang, Cheng Guilan, Liu Wenyu, Liu Lanxiang, Ren Yanfang, Dong Jinlan, Wang Yueying, Hu Yuxia, Zhou Huafang, Miao Yuzhen, Chen Cailian, Feng Xiumei, Cao Guifang, Zhang Yuling, Yang Shengchun, He Chunmei, Yang Fenfang, He Xuehua.
Guizhou Province: 25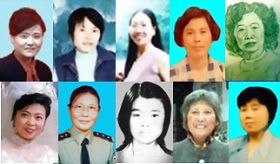 Some of the practitioners from Guizhou Province who died as a result of the persecution
Zou Qianzhu, Zhan Yean, Fu Keshu, Zhang Guangxian, Lei Yanfen, Liu Zhixian, Bao Liqun, Liu Baoying, Yu Kun, Liu Yuanzhen, Shi Tongwen, Chen Chunxiu, Zhang Yan, Mu Liangyao, Gao Qiying, Xu Jiarong, Han Ming, Huang Yuhua, Peng Yuanlin, Wei Yalan, Wang Yuzhi, Yang Hongyan, Wang Biyu, He Deming, Liu Xiaoju.
Shanxi Province: 24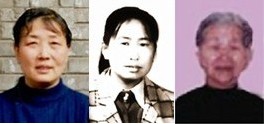 Some of the practitioners from Shanxi Province who died as a result of the persecution
Jiao Xiuying, Xu Wanxiang, Yin Guizhen, Liang Cuiai, Cui Yuanyuan, Gao Lijun, Song Yuying, Feng Lanfang, Li Xiumei, Wu Cuiying, Du Shurong, Wang Tingfang, Feng Peizhi, Li Xuehua, Yang Yanying, Zhang Aihua, Li Meilan, Xing Yindi, Cao Shuangmei, Luo Bue, Guo Bailing, Zhao Dongmei, Li Jinmei, Yang Meiying.
Anhui Province: 23

Some of the practitioners from Anhui Province who died as a result of being persecuted
Sun Shoufen, Zhu Zongxia, Zhou Qiong, Zhang Guiqin, Li Mei, Zhu Guangzhen, Zhang Duyun, Yang Xuezhu, Zhang Qiuhong, Sun Ranzhi, Guan Suzhen, Xie Guiying, Wang Hongxia, Cheng Min, Sun Xiumei, Fan Wenfang, Mei Jianzhu, Zhang Fanglin, Zhang Lianxiu, Yang Jinying, Yin Huiying, Zhu Zhengfang, Zhao Jishi.
Jiangsu Province: 18
Ning Peihua, Zhou Suzhen, Chen Ying, Chen Jiafang, Yang Meizhen, Shi Zhongling, Mrs. Geng, Zheng Yuling, Ge Xiulan, Dong Guiying, Zhou Fenglin, Liao Qinying, Wang Yuqin, Gu Xuejuan, Zhou Zhiying, Zhou Yun, Chen Xiufen, Sun Xiuying.
Jiangxi Province: 17
Liu Juanjuan, Zhang Shujun, Li Yulan, Ge Peiling, Li Yanhua, Liu Fengchun, Zhou Qin, Cheng Guangping, Li Jingchun, Huang Aihua, Yang Dongzhi, Chen Zurong, Zhou Xiaoling, Han Cuiping, Fu Xiaojuan's mother, Tang Jinmei, Zhang Meilian.
Shaanxi: 15
Some of the practitioners from Shaanxi Province who died as a result of the persecution
Huang Guiqin, Zhang Jinlan, Yan Huiqin, Yang Qiaoli's mother-in-law, Sun Guilan, Chen Guangying, Gao Yimin, Liu Gaixian, Shi Meiling, Lei Xiuqin, Wang Yurong, Jia Junying, Zheng Cuiping, Wang Yunfang, Yang Zhiyu.
Yunan Province: 13

Some of the practitioners from Yunnan Province who died as a result of the persecution
Wang Xing, Zeng Shaolan, Yang Suhong, Shi Xizhi, Zhang Fengxian, Huang Jumei, Tan Zaizhi, Chen Shuqiu, Cai Banghua, Wang Lianzhi, Gui Mingfen, Fu Qingxian, Shen Yueping.
Guangxi Province: 10
Li Xiaomei, Ma Yuming, Xu Anqi, Xiao Yexiu, Li Tiemei, Lu Guiduan, Chen Yongfang, Zou Erpo, Gan Yulan, Mo Jiaying.
Xinjiang Autonomous Region: 9
Zhao Xiaoping, Zhou Yurong, Niu Mengling, Cao Aihua, Zhou Jun, Bai Wangxiu, Li Qingfang, Bai Wanling, Zhang Yunzhi.
Fujian Province: 8
Chen Biyu, Yang Ruiyu, Chen Xiuchong, Xie Liqian, Yu Meiying, Huang Laiyu, Li Qingqing, Li Chunxiang.
Shanghai: 8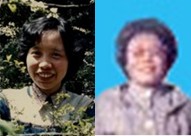 Some of the practitioners from Shanghai who died as a result of the persecution
Li Limao, Zhou Yuntian, Li Weihong, Zhang Zhiyun, Huang Qiaolan, Cao Jinxian, Gu Jianmin, Ge Wenxin.
Qinghai Province: 3

Zhao Xiangzhong from Qinghai Province who died as a result of persecution
Fan Lihong, Tan Yingchun, Zhao Xiangzhong.
Zhejiang Province: 2
Zhou Fengping, Yan Suyun.
Hainan Province: 2
Shi Yueqin, Fang Qiaoying.
Tibet: 1
Zhasang.
Ningxia Autonomous Region: 1
Lu Hongfeng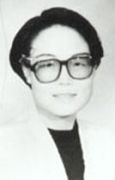 Lu Honggeng from Ningxia Autonomous Region who died as a result of persecution
Practitioners with unknown names or addresses who died from persecution: 9
Hu Zhengying, Ji Yunting, Chen Shangying, Ma Sufang, Han Shulan, and four other practitioners with unknown names.
IV. Afterword
Faith in Truthfulness-Compassion-Forbearance is without fault, and Falun Gong teaches people to be virtuous. Practitioners in China hold firm to the righteous faith that they have chosen and proceed on that path without hesitation. The gentle female practitioners documented in this article undertook their moral obligations and, with their great benevolent hearts treasuring all sentient beings, explained the facts about Falun Gong to people, resisted the persecution, and saved worldly people. This showed their great compassion and forbearance. However, they have been cruelly persecuted by the CCP for more than ten years and the persecution is still going on.
During the Nuremberg Trials after the Second World War, procurator Robert Jackson said, "The wrongs which we seek to condemn and punish have been so calculated, so malignant and so devastating, that civilization cannot tolerate their being ignored because it cannot survive their being repeated."
At the Nuremberg Trials, an international court tried 5,025 defendants accused of war crimes, crimes against peace, and crimes against humanity. Those trials also left us such legal thoughts, "An individual must be held responsible for violating the law while fulfilling his duties or executing commands."
Mr. Gao Zhisheng, a lawyer in Beijing and known as "China's conscience," said after investigating cases about persecuted Falun Gong practitioners, "I found that the severity of this issue is both horrific and desperate. As a lawyer, as a Chinese citizen, I cannot choose silence!"
The World Organization to Investigate the Persecution of Falun Gong reiterates that they will continue to thoroughly investigate all crimes relating to the persecution Falun Gong and that they will track down responsible organizations and individuals across the globe, to even the remotest corners of the earth, no matter how long it takes, and that they will help the victims to take the criminals to the court to be punished for their crimes and alert the public.
Peacefully and rationally, Falun Gong practitioners are merely resisting the persecution that seeks to deny them their right to freedom of belief. In everything they do—whether it is to explain the facts about Falun Gong, hand out flyers, put up banners, expose the persecution of Falun Gong through Chinese state-controlled media, prosecute evildoers overseas, spread the , or advise people to withdraw from the Chinese Communist Party, the Youth League and/or the Young Pioneers—they are following heaven's will, the law, and people's will to stop the persecution.
Today, Falun Gong practitioners are bearing a huge tribulation and waiting for people to wake up from indifference. They are fulfilling with their lives the promises that they made in remote ages. Please distinguish between good and evil and understand the truth of Falun Gong. A kind thought or a few fair words about Falun Gong will bring you a most wonderful future. This is what those practitioners, at the cost of being brutally persecuted in China, are hoping and striving to achieve.