Ms. Tang Yu from Kunming City Brutally Beaten by Donglu Police Station Officers (Photos)
October 17, 2011
|
By a Clearwisdom correspondent from Yunnan Province, China
Name: Tang Yu (唐玉)
Gender: Female
Age: 40s
Address: Unknown
Occupation: Retiree from the Xihuayuan Park of Kunming City
Date of Most Recent Arrest: September 30, 2011
Most Recent Place of Detention: Donglu Police Station (东陆派出所)
City: Kunming
Province: Yunnan
Persecution Suffered: Beatings, torture, physical restraint, home ransacked, detention
(Clearwisdom.net) Ms. Tang Yu, in her 40s, is retired from Xihuayuan Park in Kunming City. She was arrested and taken to the Donglu Police Station when she was in the vicinity of the Yunnan Province Sanitation School in Dongluqiao, Kunming City at around 7:00 a.m. on September 30, 2011. The officers severely beat her while she was handcuffed behind her back. Due to the brutal torture, her entire body was black and blue, her knees were swollen, and she was unable to sit or stand.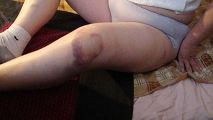 Ms. Tang's knees are swollen because of the brutal beating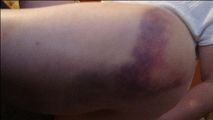 Ms. Tang's legs were beaten until they were black and blue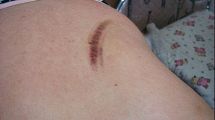 Scar on Ms. Tang's back after she was handcuffed behind her back
Later, police from the Xishan District Domestic Security Division went to the police station and attempted to take Ms. Tang to the detention center. However, when they saw her injuries from the beating, they took her the Majie Hospital. She was diagnosed with trauma from head to foot in addition to having gallstones. However, the police from the Domestic Security Division still took her to the Xishan District Detention Center. After the detention center refused to accept her because of her poor condition, the police threatened and forced Ms. Tang's younger sister to sign a guarantee, requiring her to monitor and restrict Ms. Tang for 12 months or she would be sentenced to seven years of imprisonment if Ms. Tang distributed Falun Gong materials during that time. The police also tried to force Ms. Tang to place her fingerprint on the guarantee statement and wrenched her finger because she refused to cooperate. She was not released until after 10:00 p.m.
That same day officers from the Donglu Police Station also broke in and ransacked Ms. Tang's home. They took Dafa books, pictures of Master, other Falun Gong materials, and many of her personal belongings, including a computer. Her two cell phones and motorcycle that were confiscated when she was detained have still not been returned.
After Ms. Tang began practicing Falun Gong in 2001, she recovered from headaches and heart disease without treatment. She was once arrested for distributing Falun Gong materials by three officers from the Daguan Police Station at around 4:00 p.m. on June 23, 2008. The police handcuffed her to the desk and severely beat her till 4:00 a.m. the following morning. They then took her to the Wuhua Detention Center in Kunming City. After being for nine months, she was transferred to the Guandu District Detention Center and was subjected to another six months of detention. While held in the detention center, Ms. Tang was forbidden to eat or clean herself. The guards forced her to stand outside in the winter cold. In addition, one of her ribs was fractured due to the torture that she was subjected to in the Guandu District Detention Center.