(Clearwisdom.net) Thirteen practitioners from Taiwan planned to attend the Falun Dafa Cultivation Experience Sharing Conference in Hanoi, Vietnam and to return to Taiwan on May 12, 2010. Unfortunately, they had to return ahead of time, on May 10. They were continuously followed and harassed while in Vietnam and were even held against their will by officials from the local police department. In addition, 78-year-old practitioner Ms. Nie Shuwen was repatriated as soon as she arrived at immigration in Vietnam. Local immigration officials said, "Ms. Nei Shuwen is on the Entry Control List because she is a Falun Gong practitioner." According to one insider, these acts were directed by the Chinese Communist Party (CCP).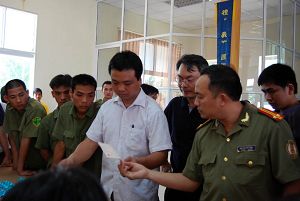 Dozens of uniformed and plainclothes police officers, sent by the Vietnamese Communist Party, used a number of methods to interfere with the Falun Dafa Cultivation Experience Sharing Conference on May 9, 2010. Officials forcibly shut down the conference and required authentication again, especially for the practitioners from Taiwan.
The first Falun Dafa Cultivation Experience Sharing Conference was successfully convened in Hanoi, Vietnam on May 10, 2009. Nearly 150 practitioners attended that conference. The second Falun Dafa Cultivation Experience Sharing Conference, organized by practitioners in Vietnam, was scheduled for May 9, 2010.
Ms. Nie Shuwen told local police officers that she is a legal citizen of Taiwan and was already granted an official visa to Vietnam. She asked them why she couldn't enter. A female police officer asked Ms. Nie during an interrogation, "Have you enrolled in any organization ?"
A staff person from Taiwan's China Airlines who accompanied Ms. Nie into the detention room said angrily, "This is completely scandalous. They've gone much too far! What could an 80-year-old lady do? She came all this way, but you forbid her to enter. It is really beyond reason."
The China Airlines staff person had accompanied Ms. Nie the whole time she was in Vietnam, from her arrival in the country at 10:00 a.m. on May 6, to the time that she was compelled to return to Taiwan via China Airlines at 5:20 p.m. on the same day. Ms. Nie told the airline staff how she benefited in body and mind from practicing Falun Gong. She told them about how popular the practice is in Taiwan, and that more than 100 million people from more than 100 countries practice Falun Gong. She also told the staff the facts about the persecution of Falun Gong, letting them know that the "Self-immolation Incident" in Tiananmen Square was a staged performance by the CCP to slander Falun Gong, and how the CCP harvests organs from living practitioners for profit in the organ transplantation trade, and then cremates the victims' bodies to destroy evidence.
The CCP's Persecution of Falun Gong Has Spread Outside of China; "Black List" Is Often Exposed
For the past 11 years, the CCP not has not only persecuted practitioners in Mainland China, but has also extended the persecution outside of China. They use all manner of tactics to slander, harass and persecute Falun Gong practitioners overseas. For example, the CCP uses trade interests and diplomatic pressure to stop overseas governments from expressing support for or granting awards to Falun Gong. The party controls overseas Chinese community activities and incites overseas Chinese to act against Falun Gong. These incidents have happened in the United States, Canada and the United Kingdom. Chinese embassies in these countries frequently refuse to renew passports of Chinese people living overseas who practice Falun Gong. When former Chinese President Jiang Zemin visited Germany in April 2002, the German police stopped practitioners' peaceful protest of the persecution due to pressure from the Chinese regime. When the Chinese community living in France held a Chinese New Year's Parade in January 2004, the French police even mistreated practitioners when they arrested them under pressure from the CCP. They forcibly arrested people who wore yellow-colored scarves and/or yellow-colored clothes [a color frequently worn by Falun Gong practitioners], including travelers who didn't practice Falun Gong. People from all walks of life strongly denounced these actions.
In recent years, CCP-provided "black lists" have often prevented overseas practitioners' legal entry into Hong Kong, in direct violation of the "One Country, Two Systems" policy. Over the past eight years, under pressure from the communist regime, the Hong Kong government has forcibly repatriated as many as 240 practitioners trying to legally travel to Hong Kong. Although the international community strongly denounced these actions as an obvious case of religious discrimination and human rights violations, the Hong Kong government still persists in doing such violations of human rights.
The Communist Regime's Persecution Spreads to Vietnam
According to the Taipei Economic and Cultural Office in Vietnam, "Some fairly high-level officials in the Vietnamese Communist Party have been involved in this incident [of harassment of Falun Gong practitioners]." When a reporter asked whether the CCP was involved behind the scenes, officials at the Taipei Economic and Cultural Office didn't deny it.
An official at the Taipei Economic and Cultural Office told Taiwanese practitioners that his telephone communication was tapped. He said, "Actually my phone is always tapped. Didn't you find that every time you called me, police officers then treated you even worse? They know that you keep in touch with me."
A Vietnamese police officer told Taiwanese practitioners, "Don't tell these things to your Taiwanese police after you return to Taiwan. If they ask you, just tell them that we only checked your credentials." Practitioners questioned, "If those things [i.e. harassment] are legal, why did the Vietnamese police tell us that?"
When the thirteen Taiwanese practitioners traveled in Vietnam, the Vietnamese police monitored and harassed them, and even confiscated the car that the practitioners were driving. When the Taiwanese practitioners attended the Falun Dafa Cultivation Experience Sharing Conference on May 9, Vietnamese Communist Party officials sent police officers to monitor practitioners outside of the conference room. In addition, more than ten officers suddenly broke into the conference at noon and surrounded the Taiwanese practitioners. Officials from the Taipei Economic and Cultural Office expressed their grave concern over this incident.
It is known that, under pressure from the Chinese communist regime, the Vietnamese Communist Party has been involved in harassing and openly persecuting Vietnamese practitioners many times. Vietnamese practitioner Mr. Fan stated, "Prior to this incident, police officers often ransacked local practitioners' homes and confiscated Falun Gong books and materials. Police officers also harassed practitioners' relatives and pressured them in many ways. Moreover, the police sometimes arrested practitioners and took them to a detention center without reason, and then severely beat them."
During the experience sharing conference, the police used electronic interference to disable the microphones inside the conference room. At 2:20 p.m. on May 9, the police even cut off the power supply, to further interfere with the conference.
This was Falun Gong practitioner Mr. Zhang's first time trip to Vietnam. After encountering the harassment and human rights violations, he said, "Having experienced this incident, everyone should realize again the true nature of the CCP - falsehood, lies and terror."