Authorities Who Killed Ms. Li Shuhua Should Be Brought to Justice (Photo)
February 07, 2010
|
By Minghui Correspondent in Jilin Province
(Clearwisdom.net) Seven years ago, Ms. Li Shuhua, 32-year-old Falun Gong practitioner from Yushu City, Jilin Province, died an untimely and tragic death just 14 days after she was arrested. Those responsible have yet to be brought to justice. They include Li Fenglin (head of ), Fan Hongguang (head of police department), Zhang Deqing (head of domestic security division), Gong Tie (detention center director on duty), Wang Jun (police officer), a guard named Li, a guard named Sun, and others.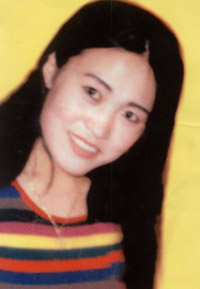 Li Shuhua, mother of two young children
Ms. Li had a dreadful death. We want to find out: Who participated in torturing her? Who punched out her eyeball? How and by what methods was she killed?
Ms. Li, a seamstress living on Peiying Street, got along well with everyone. Her husband (Yang Zhanjiu) and mother (Cui Zhanyun), both Falun Gong practitioners, were arrested in 2002. Ms. Li and her two young children had to live with her father. On September 24, 2003, Jiang Wei and two other police officers from Yushu City Police Department went to her home and forcibly took her away. They claimed that they would let her return home within 20 minutes, but two days passed and she still had not come back. On the morning of September 26, police sent a detention certificate that gave no reason or terms for her illegal detention. On October 8, Ms. Li's father went to the police department to ask that his daughter be released, but police officials were already covering up her murder. Ms. Li was beaten to death the day before, on October 7, but police did not notify the family until October 9.
When asked by a family member how Ms. Li died, police said it was due to hunger. Later, one police officer who knew the details told the following story.
After the arrest, Ms. Li was kept at a detention center. Seeing her not answer their questions, several police officers started to torture her. They put her head inside a plastic bag and used needles to prick her finger tips, arms, back, and chest. It was very painful and Ms. Li yelled aloud. Several inmates and staff members could hear her being repeatedly tortured.
Seeing that the torture had no effect on her, one police officer fiercely told Ms. Li, "You must tell me who you interact with and the sources of the materials." Seeing that she kept silent, the police officer hit Ms. Li so hard in the eye that her eyeball was knocked out. Ms. Li was in extreme pain and immediately fainted. The police officials became frightened because this would be hard to explain to her family and the public. They asked upper officials what they should do, and they were told to kill her to cover up the crime.
Police officers took Ms. Li's dead body to a hospital and soaked it in chemicals for several days followed by a cosmetic treatment. Because of these steps, including freezing, the needle holes in her body were not very clear. One side of her face was bluish, the eye socket with the missing eyeball just appeared to be caved in a little bit and it was hard to notice it unless one examined it carefully. Seeing rows of needle holes on her body, Ms. Li's family asked the forensic medical expert who worked for the police and were told those were a result of emergency rescue since the blood vessels shrank. In addition, there were two places with broken skin in Ms. Li's face. Her nails were bluish and her abdomen was full of bloody water. After dissecting her body, there was so much of bloody water that it flew out from her lower body, and toilet paper put under her body were all soaked. When Ms. Li's family asked the forensic medical expert about the bloody water, they were told that was a result of her menstrual period.
One released inmate confirmed that when inmates were having dinner at Yushu City Detention Center on October 7, 2003, they saw Ms. Li being taken away by several people including Gong Tie (detention center director on duty), Wang Jun (police officer), a guard surnamed Li, a guard surnamed Sun, and an inmate surnamed Kou from Wukeshu. Later, inmates in many cells heard Ms. Li screaming from the pain. After a while, she was dragged away along the hallway, accompanied by female inmates Sun Dongguang and Li Yanbin. Witnesses heard Ms. Li screaming in the hallway. She never returned.
Before she was killed, many inmates knew Ms. Li was very healthy, both physically and mentally. Later, some inmates asked a guard surnamed Teng where Ms. Li was and they were told she had been released. To cover up the truth of Ms. Li's death, guards deliberately took out some winter clothing and gave them to inmates who were in her cell, saying those were left from Ms. Li after she was released.
Justice has long arms. The murderers will be brought be justice.
Related articles:
"Li Shuhua's Father Accuses Yushu City Police of Killing His Daughter" http://clearwisdom.net/html/articles/2004/7/3/49822.html
"Father and Husband Disclose More Details of the 2003 Death of Ms. Li Shuhua (Photo)" http://clearwisdom.net/html/articles/2004/11/5/54207.html