(Clearwisdom.net) At around 9 a.m. on July 19, 2009, dozens of police cars and a big bus filled with military police gathered outside a funeral parlor in Fuxin City, Liaoning Province. There were approximately a hundred policemen in the area, creating an intense atmosphere both inside and outside the parlor.
After Yang Guiquan's body was cremated, his family members collapsed and cried in grief. When Mr. Yang's friends went to the parlor to request to see Mr. Yang's body one last time, the security guards replied, "You can take a look at anyone else, but not Yang Guiquan."
Mr. Yang Guiquan, 45, was a Falun Dafa practitioner from Fuxin City. While imprisoned at the Xindi Detention Center in Fuxin City, he was tortured and died on July 5, 2009. Major wounds appeared on his back as well as on the back of his skull. Signs of electric shocks were also observed on his legs.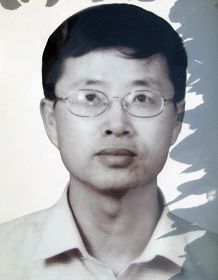 Yang Guiquan
After Mr. Yang's death, his entire family was prevented from contacting the outside world because the authorities feared that they would appeal, sue them or try to find out the reason behind the otherwise ambiguous cause of death provided by them.
Mr. Yang's friends had tried to hire a lawyer to investigate the crimes committed by the authorities. However, none of the local lawyers dared to work on Mr. Yang's case. They were told, "Liaoning's People's Courts has recently released a document prohibiting lawyers from defending Falun Gong practitioners."
Mr. Yang was born on January 2, 1964. He lived in Apt 604, Building 1, Meihai District, Beixin Village, Xihe District of Fuxin City and was an employee of Rongxing Plastics Ltd. in Fuxin City.
At around 6 p.m. on June 20, 2009, Mr. Yang was reported to the authorities while distributing flyers at the Fuxin City Mall to expose the facts of the persecution of Falun Gong. He was then arrested by policemen from the Haizhou District Public Security Bureau's Political Protection Section led by Wu Zhongqi. While the policemen were dragging Mr. Yang away, he kept shouting, "Falun Dafa is good!"
Wu Zhongqi and his officers interrogated Mr. Yang for many nights without rest and in the end imprisoned him at the Xindi Detention Center. Once he arrived at Xindi, Mr. Yang began a hunger strike to protest the illegality of his detention. Policeman Wu and his officers then began torturing Mr. Yang, including forced-feeding. On July 5, Mr. Yang's health was in great danger.
During Mr. Yang's detention, his 80-year-old mother had gone to the Haizhou District Public Security Bureau several times to request her son's release, but this was refused by Policeman Wu and his officers. Mr. Yang's family was also forbidden from visiting him. Even when Mr. Yang's company supervisors demanded his release, the Political Protection Section refused.
Mr. Yang passed away at 3 p.m. on July 5, yet the authorities waited until after 8 p.m. to notify his relatives.
A few hours before Mr. Yang's death, he was taken to a hospital, and then brought back to the detention center. A few hours later, Mr. Yang was sent to the Fukuang Group Central Hospital where doctors made the diagnosis that the patient had already stopped breathing and his heart beat had already stopped. The body had signs of blood clotting on his back and behind his skull, and signs of electric shocks could also be seen on the insides of his legs.
More than 10 days after Mr. Yang's death, his body was still withheld by the authorities. When Mr. Yang's relatives requested help from other authorities, not a single person spoke up for them. The CCP continued to pressure local lawyers, prohibiting them from defending Falun Gong practitioners. Mr. Yang's entire family had nowhere to go to raise their grievances. Under such circumstances, with no choice at all and with no way of finding out the true cause of Mr. Yang's death, the family reached an "agreement" with the authorities. The authorities provided a minute amount of compensation and a number of conditions that Mr. Yang's family had no other choice but to accept.
Mr. Yang's body was cremated on July 19, 2009. The CCP knew that Mr. Yang's family members felt that what had happened was unjust, and that the local people felt that the entire incident was unjust. As a result, they dispatched hundreds of plain-clothed and military police to the funeral parlor.
According to inside sources, Mr. Yang was beaten to death by the police.
Personnel involved:
Wang Zhonghong: Xindi Detention Center Chief, Fuxin City.
Wu Zhongqi: Political Protection Section, Haizhou Public Security Bureau, Fuxin City: 86-13464857277 (Cell)