(Clearwisdom.net) Practitioner Mr. Zhu Xiaodong, 39, from Jinan City, Shandong Province, was arrested by the police outside of Jinan City Middle District Court on March 31, 2009. He was subsequently sent to a forced labor camp. Mr. Zhu went on a hunger strike and later fell unconscious. The police then dragged him away and injected him with an unknown substance.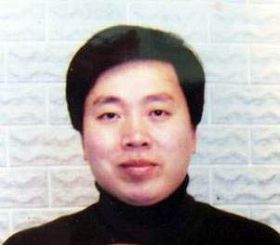 Mr. Zhu Xiaodong
The Jinan City Middle District Court tried 67-year-old Dafa practitioner Professor Zhang Xingwu on March 31, 2009. During the trial, the local authorities dispatched over 200 police officers and plainclothes officers to patrol outside the court. The officers prevented Professor Zhang's attorney and family members from attending the hearing. Some family members were arrested while waiting outside to hear news of the trial. Practitioner Zhu Xiaodong was arrested when he asked the police what was happening with their arrest of Professor Zhang's family members.
The police took Mr. Zhu to Liulishan Police Station and detained him for 15 days. On April 1, they transferred him to the Jinan City Jail in Zhangzhuang, where he was further imprisoned. Liulishan Police Chief Shan Jinwen put Mr. Zhu in a cell used to confine the most serious criminal offenders. In the cell, they handcuffed and shackled him.
Mr. Zhu went on a hunger strike on April 1 to protest the persecution, and he became unconscious on April 7. The jail authorities did not try to help him. Instead, they repeatedly obstructed his family members from visiting him and lied to them about his condition. On April 9, Mr. Zhu was sentenced to 19 months in a forced labor camp.