(Clearwisdom.net) On the morning of May 13, 2009, Falun Gong practitioners held a grand rally and parade in front of Ontario's Provincial Government building at Queen's Park. That day is World Falun Dafa Day, the 17th anniversary of Falun Dafa's public introduction, and the birthday of Falun Gong's founder.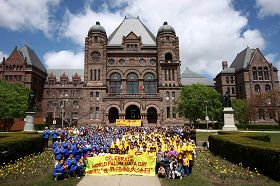 Toronto practitioners celebrate the 10th World Falun Dafa Day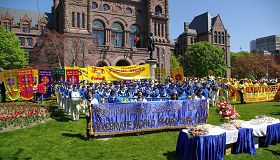 Rally in Toronto celebrating the 10th World Falun Dafa Day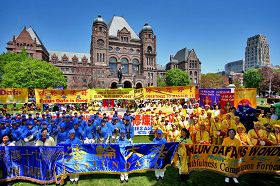 Rally celebrating the 10th World Falun Dafa Day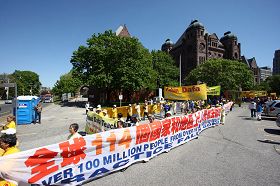 Parade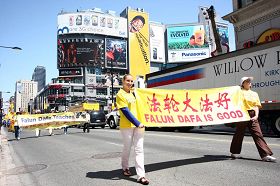 Parade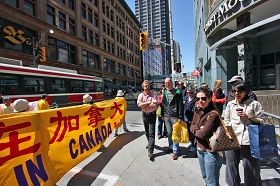 Parade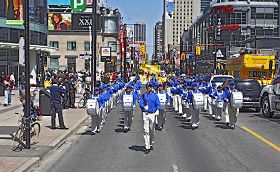 Divine Land Marching Band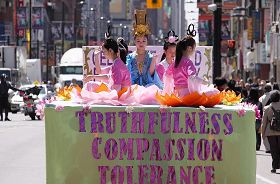 Float in parade
At 10:30 a.m., practitioners sang the songs "Falun Dafa iI Good," "Appreciating Master's Grace," "Being Saved," and "On Returning" to convey their appreciation to Master Li and wish him a happy birthday. Other performances at the rally included readings, a chorus, lion dancing, and the band. A birthday cake was shared among participants and spectators.
Falun Gong was first introduced to the public seventeen years ago. It has spread to 114 countries and is loved by people of many different races and ethnicities.
Mr. Joel Chipkar, representing the Canada Falun Dafa Association, said that Falun Gong spread quickly due to its outstanding effects in improving health.
Falun Gong practitioners in China are being persecuted. Practitioners across the world keep explaining the facts and protesting the persecution. He said, "We appreciate the hundreds of thousands people who have signed the petition or written to the Canadian government to help us stop the persecution."
Practitioner Wu Xiangrong said, "We are here to celebrate World Falun Dafa Day. I have a great feeling. It has been seventeen years since Master introduced Dafa to the public. Seeing Dafa spreading to the world and so many people learning Dafa, I am very proud and very delighted."
Practitioner Du Xia has practiced Falun Gong for one year. She said, "It is my first time to participate in a World Falun Dafa Day activity. I am very excited. I was afraid when I heard of Falun Gong in China because of the CCP's slanderous propaganda. When I came to Canada, I started practicing Falun Gong after being introduced to it by a friend. I was weak and had illnesses before. Now I feel great. I feel indescribable happiness and appreciation."
Ms. Huang, who just came to Canada from China, said, "Many practitioners in China are being persecuted. I wish that the persecution would end as soon as possible."
Mr. Michael Walker, a member of the Toronto City Council, attended the rally. He said his feelings were a little complex, noting that, on the one hand, the rally was to celebrate the 17th anniversary of Falun Dafa's public introduction, while in China, Falun Gong practitioners' rights are trampled at will. Practitioners are unlawfully arrested, tortured, forced to do hard labor, and even end up missing. The CCP defames Falun Gong using its propaganda machine.
As a Toronto City council member, Mr. Walker said he felt fortunate to be able to help practitioners reclaim their freedoms and rights.
Ms. Rosalinda Javier, Director of the Philippine Center in Toronto, praised Falun Gong practitioners in her speech. She said, "Falun Dafa is developing every day."