France: Falun Gong Practitioners Invited to Chinese New Year's Parade in Noisy Le Grand (Photos)
February 24, 2007
|
By a practitioner in France
(Clearwisdom.net) On February 17, 2007, Falun Gong practitioners participated in the Chinese New Year's Parade in Noisy Le Grand, a suburb of Paris, under invitation from the city. This was the second time practitioners took part in the parade since last year.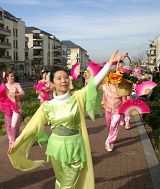 Falun Gong was the first procession in the parade. The fairy distributing flowers won praise.

Falun Gong exercise demonstration

Practitioners dancing
It was the afternoon on the eve of the Chinese New Year. Under gorgeous sunshine, residents in a festive mood crowded the streets to watch the performance. The Falun Gong procession was the first formation of the parade. In brilliant costumes, female practitioners performed dances of fairy maidens casting flowers and fan dances along the way, which won applause from the audience, who also took many photos. They were followed by drum dancers in yellow costumes, dazzling in the sunshine. The drum beats were greeted by cheers. The audience admired, "Splendid!"
After the parade reached its destination – the Community Center, practitioners demonstrated the five sets of Falun Gong exercises. Some visitors asked to learn the exercises right after the demonstration. Practitioners also showed costume fashions through various dynasties, which was well-received. A resident of Noisy Le Grand, M. Henri Goulain, commented on the performance, "I am extremely interested after seeing the Falun Gong exercise demonstration. Having heard about qigong, it is fascinating to see people practice, especially within such short distance. These dancers showed us Chinese culture. The costumes were fabulous. The girls were graceful."
The lotus flower folding team was popular with children and adults alike. Colorful paper was folded into exquisite lotus flowers in the hands of practitioners. With a charming small bookmark introducing Falun Gong, each flower delivered practitioners' New Year's greetings to public.
At the end of the event, the Mayor, M. Michiel Pajot, gave a speech. He summarized, "Today is a brilliantly sunny, special day. Many have watched the parade, which is a good beginning. It is very important for people in Noisy Le Grand to see the Asian community performance during their cultural festivals."
Practitioners told the Mayor about the persecution happening in China and the Chinese Communist Party's atrocities of organ harvesting from living Falun Gong practitioners. The Mayor said, "That is horrible. What is happening today in China as exposed by the media is obviously not acceptable. I hope to see immediate changes to the situation. Even though these are not matters that we have to deal with, my heart is with you in demanding the Chinese regime to respect individuals and to refrain from doing such dirty deals." He went on to say, "As the Mayor as well as an individual, I would like to thank you very much for contributing such high quality, wonderful performances."