(Clearwisdom.net) Central News Agency reported on July 17, 2005 that the Falun Dafa Association of Taiwan held a press conference concerning the "Global Mission to Rescue Orphans - call for the Chinese Communist Party (CCP) to release 255 orphans of Falun Gong practitioners tortured to death," on July 17 in 2-28 Memorial Peace Park, Taipei. Mr. Huang Guohua and his daughter Huang Ying, victims of the persecution in China, were on site to narrate their suffering in China.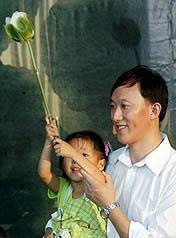 Mr. Huang Guohua and his daughter Huang Ying come to Taiwan to narrate their suffering due to the CCP's persecution of Falun Gong in China
China Times reported that the Falun Dafa Association of Taiwan and the Global Mission to Rescue Falun Gong Practitioners, Taiwan Branch launched a global rescue action to demand that the CCP stop the persecution and issue passports to the orphans unconditionally so that they can be adopted overseas.
Ms. Chang Ching-Hua, spokesperson for the Falun Dafa Association of Taiwan and Director of News Research Institute, Taiwan University, pointed out that 2,675 practitioners have been tortured to death during the CCP's unlawful persecution. Their underage sons and daughters are discriminated against and forced to stay away from home. They lose their parent and their opportunity to receive an education. Some of them were sent to brainwashing sessions and labor camps. Based on information published on Clearwisdom.net, there are 255 orphans of practitioners, whose names and family conditions have been verified.
Mr. Huang Guohua, whose wife was tortured to death for persisting in practicing Falun Gong, brought his four-year-old daughter Huang Ying to condemn the CCP's persecution. He and his wife were sent to forced labor camp for practicing Falun Gong. His wife, Ms. Luo Zhixiang was three months pregnant and had to stay away from home to avoid persecution. Her daughter Huang Ying was born in a small clinic. Because she was being monitored by 70 police officers, Ms. Luo asked her mother-in-law to bring Ying home and take care of her daughter in Shandong Province.
Mr. Huang and his wife were arrested again later and sent to Huangpu Drug Rehabilitation Center for brainwashing. They protested by going on a hunger strike and were force-fed four days later. When Mr. Huang heard of his wife again, it was four months after Ms. Luo Zhixiang had been tortured to death.
Mr. Huang said that his daughter was happy during the daytime but that she cries at night. He once asked his daughter why she was crying, and his daughter said while crying, "Other children have a mom. I want my mom!" The father and daughter cried together. His daughter's nickname is "Kaixin" (Happy). Mr. Huang dearly hopes that his daughter's sorrow will be lifted.