(Clearwisdom.net) At around 5:30 p.m. on October 25, 2005, Falun Dafa practitioner Mr. Yuan Shengjun escaped unnoticed from police custody. He was being held at the People's Hospital in Jiyuan City, Henan Province. He escaped with the power of righteous thoughts after carrying out several days of a hunger strike. He ran to the home of a villager in Nantao Village, Chengliu County, Jiyuan City.
Mr. Yuan Shengjun was later surrounded by the police. The police forced officials in Nantao Village to sign a death certificate even before Mr. Yuan Shengjun died. They dragged Mr. Yuan Shengjun to the crematory and beat him to death on the way. According to those who know, Mr. Yuan Shengjun's eyes did not close even two days after his death, with his mouth wide open. One hand, arm and fingernails were totally black, his back was totally black and blue, and one of his legs was greenish purple.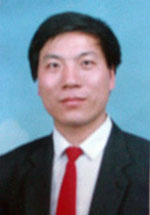 Mr. Yuan Shengjun
See related information on: http://www.clearwisdom.net/emh/articles/2005/11/3/66488.html.