Dafa Practitioner Mr. Li Zhen, an Economist from Xiangtan City, Hunan Province Dies as a Result of Torture (Photo)
June 13, 2004
|
By a Dafa practitioner in Xiangtan City, Hunan Province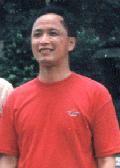 (Clearwisdom.net) Dafa practitioner Mr. Li Zhen was 52 years old. He had worked as an economist for Xiangtan City Science and Technology Committee Equipment Company. Mr. Zhen had lived in the Yuhu Workers Community and had begun practicing Dafa in 1997. In February 2000, he went to Beijing to validate Dafa. Later in the month, he was abducted and beaten by agents from Xiangtan City National Security Bureau, who illegally sentenced him to two years of forced labor. When the Xinkaipu Forced Labor Camp in Hunan Province refused to accept him because of his poor physical condition, his family paid 3,000 Yuan for him to receive medical parole. He passed away at 9:00 a.m. on May 26, 2004. Following are the details:
In February 2002, the Xiangtan City National Security Bureau started another round of arresting Dafa practitioners. Around 9:00 a.m. on February 2, 2002, a man around 30 years of age tricked Li Zhen (who had been fired from his position as an economist and made a living by chauffeuring people on a motorcycle) to come to a coal mine. Before Li Zhen could get off his motorcycle, seven or eight agents ran up and pinned him to the ground. They flipped his coat up over his head, almost suffocating him.
After they took him to the National Security Bureau, they took his cell phone, driver's license, driving permit, 190 Yuan cash and two sets of keys. At the time they only returned his driver's license and his keys. Later, Huang Zhi and Tan Jigang from the National Security Bureau abducted his daughter and also ransacked his home. They took two audio recorders, Dafa audiocassettes, hand-copied Dafa articles, a yellow cloth and ten cases of music tapes. They asked his daughter, "Do you have bank notes at home?" A witness called the agents "burglars."
Mr. Li Zhen was first held at the Politics and Law Committee, where the police officers tortured and interrogated him. They asked him where he obtained the Dafa truth clarification materials and where he was going to deliver them. They wouldn't let him sleep because he refused to tell. A tall man hit Li Zhen's ribs so savagely that Li Zhen's ribcage caved in. The tall man just turned around and walked away. At night, Li Zhen did the Dafa exercises and miraculously recovered. Zhang, head of the National Security Bureau said to Li Zhen, "The government authorizes us to make you disappear from the face of earth as we see fit!"
On February 10, 2002, they detained Li Zhen under criminal detention at the Sanjiaoping Detention Center in Xiangtan City and didn't allow his family to visit him. The detention center was overcrowded. Li Zhen was forced to sleep on wet floors for a long time, which caused him to cough; his blood pressure rose and he ate little.
On March 28, the National Security Bureau sentenced Li Zhen to two years of forced labor. When they sent him to Xinkaipu Forced Labor Camp in Hunan Province, the authorities there saw he was deformed from torture so they asked, "Are you sick?" Li Zhen pointed at the perpetrators from the National Security Bureau and said, "No. They beat me!"
The labor camp authorities refused to accept him, and the National Security Bureau agents then took Li Zhen to a hospital for a physical exam. He was diagnosed with abnormal heart and brain function. Despite the diagnosis, they again sent him to the Xinkaipu Forced Labor Camp. The labor camp authorities looked at his cardiogram and again refused to accept him. This time the perpetrators took Li Zhen to Xiangtan City. They ordered his family to pay 4,000 Yuan "for medical parole," or else they would throw him in prison. His family eventually gathered 3,000 Yuan and paid another 200 Yuan for the physical exams before Li Zhen was released.
Because of the physical tortures and especially the long term mental torture Li Zhen suffered, he passed away on May 26, 2004.
6/5/2004