March 3, 2004
Mid County Chronicle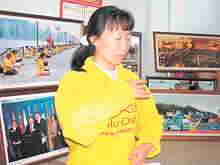 Joy Zhou practices Falun Gong in front of pictures taken during the fight to keep the exercise alive.
It is a practice of meditation and exercises with teachings based on the values of truthfulness, compassion and forbearance, but in one country, the practice of Falun Gong is persecuted.
This is what has bothered Joy Zhou of Orange for a year now.
This exercise, also known as Falun Dafa, has been known to relieve stress and anxiety, increase energy and vitality and improve physical health as well.
The ancient practice, originally taught in private, was first introduced to the public in 1992 by Li Hongzhi in China.
The exercise is practiced in 50 countries around the world.
Mr. Li Hongzhi has received hundreds of awards and proclamations from government officials throughout North America for the benefits Falun Gong has brought to those who practice it and the communities in which they live. Mr. Li was also nominated for the Nobel Peace Prize in 2000 and 2001.
But in July 1999, Chinese president, Jiang Zemin, banned the practice viewing its popularity as a threat to his power.
This is a concern to Zhou because she practices Falun Gong.
Zhou was born and raised in China and came to the United States with her husband in 1998 to attend college.
While they lived in Houston, Zhou continued her practice of Falun Gong.
One of her friend's finance Charles Li, a Falun Gong practitioner and a U.S. citizen from Menlo Park, Calif., was arrested in China Jan. 22, 2003.
"He had gone to China to celebrate the Chinese New Year and was arrested upon arrival," she said.
"He had also planned to broadcast information about the Falun Gong persecution."
He was charged with attempting to broadcast information on state-run television about the persecution of Falun Gong and was sentenced in March 2003 to three year in prison
Zhou said she believes Li was on a black list and other natives of China, like herself, who practice Falun Gong may also be on the list as well.
"While I was living in Houston I received a call one day from the Chinese Consulate asking me why I practiced Falun Gong," she said.
"I can not go back to China or I will be arrested. I know it."
These events have inspired Zhou and she has put together a small photo exhibit, which shows what Falun Gong is and what some of the consequences people in China face if they practice it.
She and her husband are also working to free Li from prison.
Zhou said according to reports from the U.S. Consulate in Shanghai, Li is tortured whenever he tries to practice the peaceful meditation.
Zhou said she cannot understand why people in China are persecuted for practicing a peaceful exercise which she said has great health results.
Her uncle Decheng Zhou, a high ranking official in China, had become sick with cancer. During his illness he began to practice Falun Gong and later doctors discovered his cancer was gone.
Because of his high ranking, he was not subjected to the same treatment others have experienced, but was shown a number of programs denouncing Falun Gong.
Zhou said her efforts are not political but rather focus on human rights.
"What happened to Li is political," she said. "We're doing in not. This is a human rights issue."
Zhou said many of the residents throughout the area, which she has talked to have called Charles Li a hero for upholding his beliefs.
Zhou said there are two things they want everyone to understand.
"First we want to let people know this is an exercise not a religion," she said. "Second, people need to know just how brutal the persecution of those who practice Falun Gong in China is."
Zhou said since she's begun her efforts, she has seen more than 1,000 proclamations calling for the release of Li and believes her efforts are worthwhile.
"There is an old Chinese proverb which says, 'evil is rewarded with evil, but good is rewarded with good,'" she said.
Zhou will be at Doornbos Park in Nederland on Saturday from 10:30 a.m. to 1 p.m. with her photo exhibit of Falun Gong. She will also hand out post cards addressed to the president informing him of what has happened to Li in hopes the government will work to have him released.
To learn more about Falun Gong visit www.falundafa.org.
http://www.southeasttexaslive.com/site/news.cfm?newsid=11060061&BRD=2287&PAG=461&dept_id=512588&rfi=8