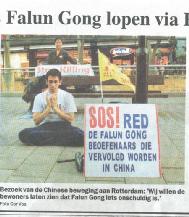 13th Oct, 2001
Rotterdam -- during a demonstrative walk from Amsterdam to Brussels they were briefly present in Rotterdam yesterday to draw attention to the human rights situation in China.
Among other things, the three practitioners of the meditation technique Falun Gong handed over a letter to mayor Opstelten. They also demonstrated their meditation techniques in the centre of Rotterdam.
Each of the three hikers has a personal motive to participate in the walk. Wang (48) lives in Amsterdam. "At present both my mother of 85, my niece of 14 and two brothers and one sister-in-law are in a Chinese prison, just because they practice Falun Gong. From the little contact I have with the rest of my family members, it appears that my mother and my niece are being held in prison in my birth place. I don't even know where my brothers and my sister-in-law are," says Wang. "We would like to show the people of Rotterdam, Holland, that Falun Gong is something innocent," so the Chinese woman explains her visit to the Dutch city.
Brian (22) is from Ireland. "I came into contact with Falun Gong through a student at my university. During his vacation this student, Zhao Ming, was picked up and send to a labour camp somewhere around Beijing. He has been tortured more than once. He was hit hard with a stick under his feet, behind his knees and behind his ears. He couldn't walk for eight days. At present I am walking to make the world aware of the terrible things that happen in China. Yesterday my legs were really hurting but that is nothing compared to Zhao Ming's fate."
Deng has studied at the Technical university of Eindhoven, Holland, and is also walking to Brussels. At present her husband is somewhere in a labour camp in China. In the letter to mayor Opstelten, she writes that already more than a thousand Falun Gong practitioners in China have died in prisons and labour camps.
According to the three hikers, the Chinese government probably sees Falun Gong as a threat, just like other popular movements with principles not in line with the [party' name omitted] ideology.
The hikers'goal is to reach Brussels on the 17th of October. On that day all ministers for Foreign Affairs of the European community are meeting.