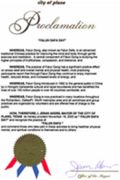 Speech at Plano's Council Meeting
On behalf of local practitioners of Falun Dafa, and millions of fellow practitioners around the world, I would like to thank Mayor Jeran Akers and members of the City Council for naming Nov. 18, 2000, as Falun Dafa Day in Plano. This proclamation will go a long way towards encouraging more people to find out for themselves what Falun Dafa is and, more importantly, to benefit from it.
Falun Dafa, also known as Falun Gong, was introduced to the public in 1992 by Mr. Li Hongzhi. It is a practice that has brought better health and inner peace to 100 million people in over 40 countries. We call it a cultivation practice: "cultivation" refers to the improvement of one's heart and mind by conducting one's life in accordance with the principles of truthfulness, benevolence, and forbearance; "practice" means doing exercises and meditation to energize the body.
The teachings are articulated in two books, China Falun Gong and Zhuan Falun, which are available in over a dozen languages, including English.
The exercises, which include a seated meditation, are easy to learn, enjoyable, and at the same time both relaxing and energizing.
Falun Dafa is apolitical, informal, and completely free of charge, obligation, and membership. Everyone is welcome. We invite you to give this wonderful practice a try and discover it for yourself.
You may have heard about a massive crackdown against Falun Dafa currently going on in China. For us in nations with democratically elected governments, freedom of belief is considered to be one of the most basic universal rights, but in China, such fundamental human rights are rarely protected.
In July of last year, Falun Dafa was officially declared illegal in China. Since then, the China government has used the most inhuman methods available to terrorize and pressure people to renounce their belief.
To date, there are more than 80 documented cases of otherwise healthy practitioners being beaten and tortured to death while in detention. And the death toll continues to escalate on a daily basis.
We are seeking your support. The best way you can help is to let people around you know what Falun Dafa is. Let them know that it is a practice based on ancient philosophies that helps people gain better health and peace of mind. Also, let people know what is happening to Falun Dafa practitioners in China, and that you are concerned about the human rights situation in China. We will be forever grateful for your efforts.
Thank you very much