8.1 WOMEN, CHILDREN, AND THE ELDERLY (Continued)
8.1.96 A Hong Kong woman was arrested in Shenzhen
Victim: Lee Yuksuet, female, 51, permanent resident of Hong Kong
Location of incident: Shenzhen, Guangdong Province, China
Description:
According to a report "Falun Gong Members Said Harassed" from Associated Press, Yuksuet Lee was threatened with arrest in Shenzhen City. Below is the report.
HONG KONG (AP) -- Members of the Falun Gong sect said Friday that a woman organizing a support drive for the group in China was being threatened with arrest.
Hong Kong sect member Paul Chan said Lee Yuksuet, also from Hong Kong, called him to say that she was being harassed by police at an apartment in the southern border city of Shenzhen. Falun Gong is banned in China. According to Chan, Lee told Falun Gong members in Shenzhen that she would collect signatures on a letter asking the local government to halt the crackdown on the group. The letter would also criticize alleged police brutality against a sect member, Zhao Jinhua, who was reportedly beaten to death in police custody in Shandong province.
The report of the death has not been confirmed. The Associated Press called a Shenzhen telephone number provided by Chan that was answered by a woman claiming to be Lee. She said she was held up in an apartment in Shenzhen as three policemen waited for her outside, demanding that she surrender. The line was cut during the interview, apparently because of a faulty connection. The number was busy when dialed again. Lee, in her 50s, lives in Hong Kong, but her cross-border beauty product business takes her to mainland China frequently, Chan said. She is an active member of the quasi-religious sect, but is not known to have organized other protest activities in China, according to Chan. Falun Gong, founded by Li Hongzhi, a Chinese native now living in New York, is a blend of Li's theories and concepts from Buddhism and Taoism. The sect is legal in Hong Kong.
8.1.97 Employees forced to give up their beliefs or to be sent to labor camp
Message received: October 13, 1999
Victims:
1. Tong Li, female, Heilongjiang Province, China.
2. Zhang Gemei, female, Heilongjiang Province, China.
Location of incident: A city of Heilongjiang Province, possibly Jiamusi City
Description:
The following description is given by a practitioner whose name is Tong Li:
"My name is Tong Li. At 3:00pm on September 30, 1999, Zhang Gemei, my colleague, and I were taken to our supervisors' office. They asked us to tell them our "understanding" of Falun Gong. We said we would continue to practice it. Our supervisors thus became concerned that we would cause trouble for them because Falun Gong had been banned by the government. Zheng and I, therefore, requested to resign in order not to cause trouble for them. Our supervisors accepted our requests. They then put us in the Security Office to wait for further arrangement. In a short while, policemen of Xiangyang Branch of the Public Security Bureau came in and took us to the Bureau. They asked us if we would still practice Falun Gong. We said "yes". Therefore, we were charged of "disturbing social security" and were ordered to be detained for 15 days. We are still in the detention center."
It is reported that if the above practitioners did not sign a pledge that they would stop practicing Falun Gong and stop appealing to the government, they would probably be punished with forced labor for three years by the Public Security Bureau.
8.1.98 Two Changchun female practitioners were sent to labor camp
Victims:
1. Li Zhiling, female, living in Changchun City, Jilin Province, China. She is a tracer in Changchun Scales Factory
2. Tian Xiuhua, female, living in Wujiawazi, Balibao St., Changchun City, Jilin Province. She is a member of the local residents' committee
Location of incident: Changchun, Jilin Province.
Description:
Li Zhiling and Tian Xiuhua, were given one year of forced labor by the Labor Camp Committee of Changchun City, recently. On July 22nd, they went to appeal to the local government after they had heard on the news that the central government had banned Falun Gong. On July 23rd and September 25th, they went to Beijing to appeal. They still insisted on their own views about Falun Dafa after being repeatedly "educated".
8.1.99 A 50 year old female practitioner died during a hunger strike
Message received: October 12, 1999 Victim: Zhu Shaolan, female, 50, home address: 29 Fudeli, Unit 4, Apt 66, Jinzhou, Liaoning province
Location of incident: Detention Center, Jinzhou, Liaoning Province, China
Description:
Zhu Shaolan is another Falun Gong practitioner who is reported to have died for her belief in Falun Gong. On September 28, Falun Gong practitioners in Jinzhou collected signatures for an open letter intended to appeal for the freedom of practicing Falun Gong. Many practitioners involved were arrested. To protest against the injustice, more than 40 practitioners started to fast the next day. Zhu Shaolan was one of them. Two days later, she became very weak. On the fourth day, she started to vomit. The local police in Raoyang Police Station sent her to the hospital on October 5. She died in the hospital the morning of October 7.
8.1.100 Fifty practitioners detained in Shandong, not allowed to sleep for five days and nights
Victims:
1. Wei Huayu, working for the Jiaozhou Accounting Firm, Jiaozhou, Shandong Province
2. Tan Guihua, working for the Third Shoe Factory of Jiaozhou, Shandong Province
Location of incident: Jiaozhou, Shandong Province, China
Description:
In order to guarantee that no one would go to Beijing to appeal during the vacation for National Day, about 50 practitioners were detained. While they were in custody, they were tortured and punished. To force them to confess, some were not allowed to sleep for five days and nights, and not allowed to eat for three days. After they were badly beaten, police threatened them and told them not to talk about the treatment they received while in custody. In the countryside, many practitioners were forced to submit large amounts of money as a deposit to guarantee that they would not go to appeal in Beijing.
Some practitioners were sent to mental hospitals and locked up with mental patients. Wei Huayu, who works for the Jiaozhou Accounting Firm, and Tan Guihua, who works for the Third Shoe Factory of Jiaozhou, were forced to accept tranquilizer injections (or sedatives) for more than 20 days in a mental hospital, because they would not give up practicing Falun Gong.
8.1.101 Liang Shaolin was arrested and on hunger strike for 7 days
Victim: Liang Shaolin, female, Maoming, Guangdong Province, China
Location of incident: Maoming, Guangdong Province, China
Description:
During the evening of October 6, Liang Shaolin and some other Falun Dafa practitioners were arrested in Guangzhou, and then sent back to Guandu Detention Center in Maoming. Her relatives are not allowed to visit her until October 11. Until then, her husband knew that she had stopped eating and drinking for several days, and she was very weak. However, under this situation, the officials still insisted that she should give up her belief in Falun Gong before she could be released. But she still insisted in her belief. On the evening of October 13, Liang Shaolin was released unconditionally after 7 days on a hunger strike.
8.1.102 Falun Gong contact person in Qingdao will be put on trial
Message received: October 11, 1999
Victim: Cui Weixin
Location of incident: Qingdao, Shandong Province
Description:
Cui Weixin was a Falun Gong contact person in Qingdao. The Qingdao prosecutor office approved of her arrest after she had been detained for 30 days. She was charged with "obstruction to justice using superstition" and would be put on trial.
8.1.103 Three women were arrested in Tiananmen Square before the National Day Ceremony
Victims:
1. Li Yanxia, female,
2. Zhang Feng, female,
3. Wang Yanying, female.
Location of incident: Beijing, China.
Description:
On September 30th, three Falun Gong practitioners from Tianjin were arrested while practicing Falun Gong meditation exercise in front of Tiananmen Square. In order to let the world know that the Chinese govern-ment's brutal ban on Falun Gong is wrong, those three practitioners bravely appeared in Tiananmen Square the day before National Day. Tiananmen Square is considered the gate of the central Chinese government, and also a key location for an anniversary parade on National Day. Now being detained in Tianjin police station, they are expected to be put on trial soon.
8.1.104 Forty-two year old woman Zhao Jinhua was beaten to death
Message received: October 10, 1999
Victim: Zhao Jinhua, female, 42, Zhaojia Village, Zhangxing County, Zhaoyuan, Shandong Province.
Location of incident: Zhangxing County police Station, Zhaoyuan , Shandong Province, China.
Description:
On Sept. 27, 1999, Ms. Zhao was taken away by the Zhangxing County Police while she was working in the farm fields. The police asked her if she would continue to practice Falun Gong. She said "yes", and they started to torture her. She lost consciousness the morning of October 7 and was sent to the county hospital emergency room. After she regained consciousness she was returned to the police and tortured again until 3:00pm. She died on her way back to the hospital this time.
She was tortured with atleast police electric clubs and rubber clubs, and electrified with old-style rotary telephones. The police repeatedly asked her if she would continue to practice Falun Gong, and she always answered "yes". Her skin was broken all over her body except on her face.
During the morning of October 8, forensic doctors of Zhaoyuan dissected her body. In the afternoon, forensic medical experts of Yantai made another autopsy, reported as follows: Injuries and wounds on many parts of the body except the head. Deposited blood beneath the skin for a total area of 120 cm x 60 cm. Conclusion: death caused by beating with blunt objects.
During the period from Sept. 27, when she was taken by the police, to October 7, when she died, Ms. Zhao's family had not been allowed to see her. She was taken away as a lively person, and sent home on October 9 as a box of ashes after she was cremated. When her family buried her remains, the whole village attended the funeral and cried.
Ms. Zhao was a Falun Gong practitioner for four years, and has been known to be a kind and benevolent person in the local community. She was tortured to death by the local government simply because she chose to practice Falun Gong. Such savage persecution has resulted in deep discontent among the people.
8.1.105 More than 300 practitioners detained and tortured in Balibao Prison
Victims: More than 300 Falun Gong practitioners detained in Balibao prison of Changchun, Jilin Province, China
Location of incident: Balibao prison, Changchun, Jilin Province, China
Description:
More than 300 Dafa practitioners were detained in Balibao Prison of Changchun city before October 1 (all of them refused to write the so-called confession statement). The practitioners have suffered all kinds of torture. Some practitioners were burned by cigarettes, some were beaten by large clubs (the clubs were broken from the beating). A woman (Falun Gong practitioner) who was released from a Changchun detention center said, "Regardless of whether they are male or female, they were beaten with all their clothes stripped off. Wounds can be found all over their bodies. Even pregnant women did not escape such inhumane treatment. Ms. Xu (a practitioner) was handcuffed, hung up by a rope, and beaten. There are wounds all over her back."
8.1.106 A little girl and many women were beaten, chained, and deprived of food and restroom facilities
Message received: October 7, 1999
Victims:
1. Zhang Xihong, female
2. Guo Fenren, female
Location of incident:
Qiliqu Detention Center in Changping County, Beijing, China
Description:
In Qiliqu Detention Center in Changping County, Beijing, many Falun Gong practitioners were detained because they came to Beijing to appeal to the central government and did not want to go back to their home-towns. Some of them were detained for a month. The following are true stories in the women's detention center from late August to mid September, 1999.
The policemen in the detention center called them by numbers instead of their names. In order to ask the police to report their appeals to higher authorities, sixty detained practitioners began a hunger strike on Sept. 7.
Most of them refused to eat for 8 or 9 days. During the strike, they had to endure 2-3 hours of interrogation every day. Some were yelled at, beaten up or punished by the police.
During the morning of September 9th, the police forced them to stand under the burning sun for three hours even though they had not eaten anything for almost 3 days. Some practitioners vomited and became dehydrated. But the police did not allow them to drink water or take a rest. They beat those who could not continue to stand.
Ms. Zhang Xihong and practitioner "No. 4" had been on strike for 10 days but they were still chained. The hands and feet of Ms. Zhang were locked together so that her head almost touched the ground when she walked. There were about 10 practitioners who were handcuffed because they practiced Falun Gong exercises, or their sitting gesture looked like practicing. Normally, their handcuffs were taken off after 3 days and 3 nights. It was very inconvenient when going to the restroom.
During the evening of Sept. 14th, a chief officer came back after getting drunk. He yelled at practitioners and beat them madly if they made any noise. He also hand-cuffed those who did not sit in the "right manner". The policemen in Office 5 of the pretrial department used whatever instruments at hand such as belts, iron wires, screw drivers, to torture practitioners until they were tired or hungry. Even so, they would still punish them by forcing them to bow 90 degrees with their hands elevated behind them. Some practitioners almost lost consciousness under the constant torture.
A practitioner named "Jin Gang" (meaning "solid as a diamond" in Chinese) was beaten up twice simply because of her name. She had not had any food for 7 days and her stomach ached terribly after she was beaten. She was not able to eat until the next day. There were black and blue marks all over her back.
Another practitioner, Guo Fenren, was beaten by a policeman using a string of keys and there was blood in her mouth and nose. Her eyes got hyperemia. Practitioner "No 10" was beaten by the police with a screwdriver and her eye socket became black and blue. There was a little girl (also a practitioner) who was beaten. The inner side of her lower lip was totally broken because of the beating.
8.1.107 A sixteen year old girl detained and humiliated in Beijing
Message received: October 2, 1999
Victim: Gao Shanshan, female, 16, No. 1 High School of Qiqihaer City, Heilongjiang Province.
Location of incident: Beijing, China
Description:
Zhou Yingjie (a Chinese woman in Tokyo, Japan) went back to China to visit her family. Her daughter, Gao Shanshan went to Beijing to meet her on September 20 and lived in a hotel at night. The owner saw the Falun Gong book brought by her daughter, then sent her daughter to the police station. Her daughter was only given a piece of dry steamed bread after being detained for 7 hours. During that time, a policeman interspersed his talk with curses. Later, he added some foreign substance to a plate of lamb. Then, police pulled her daughter's hair and forced it into her mouth. Other policemen on the side said that the food was very good and roared with laughter. There were also other abuses directed at this young girl. They threatened that her mother would be arrested if Gao Shanshan was still considered to have "no regret". There are more students having the same mistreatment as Gao Shanshan had in No. 8 high school of Qiqihaer City.
8.1.108 Zhou Ximeng arrested; her private car was confiscated illegally
Message received: September 26, 1999
Victim: Zhou Ximeng, female, born on May 7, 1965, the president of Shijiazhuang Tianming Architecture and Decoration Company in Shijiazhuang, Hebei Province, China. She was the key contact person at the Shijiazhuang Falun Dafa Assistance center
Location of incident: Shijiazhuang, Hebei province, China
Description:
Zhou Ximeng was one of the targets in the large-scale arrests of Falun Gong contact persons on July 20th. She escaped the arrest because at that time she and her husband (Mr. Jia Zhicun) were visiting their relatives in Sichuan Province. When the police tried to catch her in Sichuan, she and her husband were already on their way to appeal in Beijing. Seven days later, they arrived in Beijing. On July 26th, she was arrested by Beijing Public Security Bureau and was sent back to Shijiazhuang Detention Center. After one month of detention, she was secretly transferred out of the detention center. Now her whereabout is unknown. Her private car was confiscated illegally by the local Public Security Bureau. Her office was considered a "criminal site". Under great pressure, her landlord had to force her family members to move her belongings, and her company had to be closed.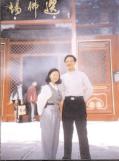 Photos of Zhou Ximeng with her husband and other family members.
8.1.109 Practitioners chained to bars, mouths sealed by tape
Message received: September 20, 1999
Victims:
1. Zhang XiaoHong, female, born on October 31, 1961; Home address: 36-703 Yang-Shu-Dong Street, Sa County, Dalian, Liaoning Province, China
2. Sun LanFang, female, born on May 2, 1971, Dalian
3. Sa YuSong, female, born on October 12, 1963, living in Dalian
4. Yin XingQin, female, born on February 16, 1965, living in Dalian
5. Yang XiuJian, female, born on November 3 1968, living in Dalian city
6. Zhu Hang, female, Associate Professor of Department of Humanity and Social Sciences, Dalian University of Science and Technology
7. Zhang ChunQing, female, born in 1941; home address: Nanshan #13, 2-101, Dalian University of Science and Technology
Location of incident: Yaojia Detention Center, Nanguanling, Dalian City, Liaoning Province
Description:
There were more than 50 practitioners there when they were imprisoned. After some of them were released, there were still more than 30 of them remaining. One day, they recited "On Buddha Law" [a Falun Dafa text] fervently while being all chained to the windows bars of the hallway (it is more than 800 feet long.) Several of them were chained to one window. The prison guards told other prisoners (prostitutes) to beat the practitioners. They kept beating the practitioners in the hallway, the sound of them being beaten was audible from a distance. However the voices reciting "On Buddha Law" echoed persistently in the hallway of the prison until they finished reciting. While one of the practitioners was reciting, the prison guard tried to stop her and ordered someone to seal her mouth with plastic tape. But she was still able to continue reciting. A layer of tape after another was then ordered to seal her mouth until her voice was no longer heard. Then the guard walked away with satisfaction.
Among them, was a young practitioner who was 16 years old, a student of a business/accounting school in Dalian City who lived in Pulandian. She was arrested this time when practicing the exercises outdoors. Now she has been released but has been expelled from school. She was subjected to the same type of instruments of torture as were the adult practitioners in the prison without exception, and has endured great suffering.
On August 30, some Dafa practitioners in Dalian practiced the exercises outside, and were arrested and detained in the local Yaojia Detention Center of Nanguan Ling in Dalian City. They have endured all kinds of suffering and torture, and have been treated inhumanely.
Zhang Xiaohong was arrested on August 30, 1999 while she was doing the exercises at the Youjia Village Bus Station in Saharkou County. She was detained for 15 days on charges of "using superstition to interfere with social order and public security". On September 9, because of asking for permission to do the exercises in the prison (her request was rejected), she was chained back-to-back with another practitioner after they finished work at 9:00pm. Their handcuffs were cross-chained together. From 9:00pm that night till 8:00pm the next day, they were forced to sit on a piece of wood in the factory shop (in the prison), for a total of 23 hours. During that period of time, they could not move or help themselves in any way, and were not allowed to sleep or go to the toilet. They were not given any food either. On September 10, they were separated and individually chained with their hands cuffed at the back and were forced to lie on the beds. They could only lie on one side of their bodies. They could not fall asleep otherwise the handcuffs would get tighter and tighter and eventually cut into the flesh. They were handcuffed this way for a total of 120 hours until September 14. During that period, they had to be fed by other prisoners (bread and pickles) with a limited ration. They had to get help from others to go to the toilet. From 9:00am of September 14, their condition slightly improved when they were chained with their hands in front of their bodies until being released on September 15.
At 10:00am of September 4, Sun Lanfang was put on an instrument of torture called the "dungeon" device (an instrument using iron chains to connect handcuffs and fetters so that the prisoner cannot move easily) till 1:00pm of September 7, for a total of 99 hours. It is known that this kind of instrument of torture is usually used on murderers or prisoners with capital punishment.
Illustration of the so called "Dungeon" or "Di Lao"
At around 11:00am of September 4, Sa Yusong's hands were cuffed to a heating pipe till 8:00am the next day because of doing the exercises. Later, she was chained to the window bars of another cell till 4pm. Seeing that she was so determined, the chief prison guard put pressure on other prisoners (prostitutes) in the same cell saying that: if any one in a cell is chained (because of doing the exercises), no prisoner in the cell would be allowed to be visited by his/her family and the period of detention will be extended. Other prisoners in Sa's cell all cried and begged Sa not to do the exercises and they wrote a promise on her behalf to the chief guard saying that Sa would not do the exercise anymore. Her handcuffs were then released. After September 9, Sa received similar treatment as Ms. Zhang Xiaohong mentioned above, till she was released at about 2:00pm, September
11.
Arrested on August 30. Yin Xingqin was chained at about 11:00pm on September 8 to the window bars in the hallway, and forced to stand there until 8:00pm the next day, for a total of 21 hours. During the evening of September 9, she was chained back to back with another practitioner. They were forced to stand until 8:00pm of the 10th, then were separated and individually chained with their hands cuffed in the back until 9:00am of the 14th when she was forced to work with handcuffs removed until 9:00pm that night, then chained again. This went on till she was released on the 15th at noontime. Her hands have obvious scars.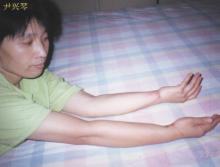 Photo of Yin Xingqin, after being released from detention center. Scars on her hands are very obvious.

Arrested on August 30 at about 10:00am of September 4, Yang XiuJian was chained to the window bars of the cell because she wanted to do the exercises. She had to stand there until 4:00pm the next afternoon, for about 30 hours. At about 11pm, September 8, she was put on the instrument of torture called "dungeon" for the same reason and forced to sit on a brick-floor until 8:00pm of September 9. During that period of time, she had her menstrual period, but had to sit on the floor. Her pants were soaked. The guard did not allow her to change clothes upon seeing this, and even made her walk from room 1 to room 9 carrying the instrument of torture. She was forced to walk fast, not a bit slower. Her feet were cut badly immediately. (Because the instrument had not been used for a long time, it was rusty. The frame was fixed to the feet; the feet would be cut if it were not balanced). Around 8:00pm on September 10th, she was handcuffed and chained until she was released. She didn't eat anything for 6 days.
Zhu Hang was arrested while practicing the Falun Gong exercises in a park on August 30, 1999, charged with "disrupting social order with feudalistic superstition." When detained in the Dalian Yaojia Detention Center located in Nanguanling, she went through unimaginable suffering, inhumane treatment, and torture.
She was tortured with the "dungeon" device that held her limbs too tight to move. As a result, she was not allowed to use the toilet or eat on her own. Because she did not want to make difficulties for other detained practitioners, and there was not enough food for everyone, she started fasting. After 7 days and nights, the authorities started to worry about a possible "life threatening" condition, and ordered several guards to force her to eat by prying spoons into her mouth, ruthlessly, which caused severe injury in her mouth. Later, they installed a pipe in her nose to force liquid into her. She finally lost consciousness because of the torture, and was sent to the People's No. 2 Hospital in Dalian for recovery.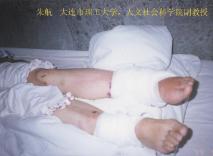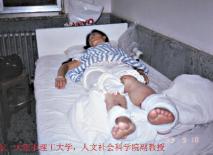 Zhu Hang, an Associate Professor in the Department of Humanity and Social Sciences, Dalian Polytechnic University, was tortured for practicing Falun Gong.
Because of the "dungeon" device, now her left foot is swollen to almost double its normal size. Her right foot is better but still has many injuries. She could not open her mouth to speak well. The doctor is infusing a liquid in her. Because of the bandages, accurate pictures of injuries cannot be taken at this time. She expressed that she would like to reveal everything to the media and human rights organizations to help release others.
On September 3, Zhang Chunqing was arrested because she practiced the Falun Gong exercises in a park with her granddaughter, and subsequently detained for 15 days in Dalian Nanguan Yaojia Detention Center, for "disturbing social order".
On September 5, ChunQing Zhang wanted to practice the Falun Gong exercises in prison. As soon as she started, the section chief slapped her hard on her face and hands. Her hands and feet were chained using the "dungeon" device. It has stains everywhere and even spider webs on it. It is nearly impossible to walk with it, but the chief ordered her to walk back to her own cell, which was about 200 feet away. She could only move one inch at a time. But the chief forced her to move faster. It took her over 40 minutes to travel the 200 foot distance. She was locked in that instrument for two days and nights and was not permitted to go to the restroom.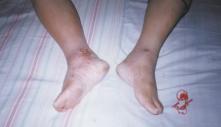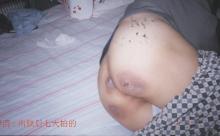 Ms. Zhang Chunqing was tortured with the "Di Lao" device. All pictures were taken 7 Days after hospital treatment.
On September 9, ChunQing Zhang and other practitioners practiced Falun Gong exercises after other prisoners fell asleep, but it was found out by the guard. They were punished for practicing. ChunQing Zhang and three other practitioners were locked in the "dungeon" device again. Other practitioners were handcuffed on the window rails in the hallway. Around 11:00pm on September 9 there were 13 people locked in the hallway. The number people increased to 26 at 5:00am on September 10, and 36 at 2:00pm.
At about 6:00pm on September 10, practitioners started to recite "Lunyu (On Buddha Law)"-- an article from a Falun Gong book. Five or six guards started to beat the group of about 30 practitioners, until they were too tired to beat. Some ordinary prisoners wanted to show their cooperation with the police to shorten their jail terms, and also started to beat the practitioners. They shouted as they were beating, "Let you recite. Let you recite." The guards ordered, "Slap them on the face, on the mouth. Slap them hard and make them swollen so they cannot speak." They were locked on windows until the evening of September 10. Then they were handcuffed as groups of two, sitting back-to-back, not allowed to move or talk. The handcuffs were made with mechanisms that automatically tighten when the hands are moved. The handcuffs cut into the skin of the practitioners.
They were freed from the handcuffs at about 9:00pm on September 11. There were big and bright blisters all over their wrists. The hands of some practitioners were swollen like big bread. Because of the stains on the foot-cuffs, many of them had brown and purple scars on their ankles. After they were unlocked, they were allowed to use the toilet for the first time since those two days.
In fact, Zhang Chunqing didn't see the arrest permit written for her until she was released after 15 days of detention. Many places around her ankle had suppurated. Pus came out continuously. She said that it hurt like being poked with needles.
8.1.110 A nine year old child left to a friend
Victim: Wang Yajuan, female, 34 years of age, Changchen Bldg 15, Room 703, Shenzhen, Guangdong Province
Location of incident: Shenzhen, Guangdong Province
Description, by her own account:
At 6:00pm of July 23rd when I was copying Falun Dafa materials in Xiwan Hotel of Beijing, I was caught by a policeman in plain clothes and then taken to the hotel basement. I was interrogated until 4:00am the next morning. Later I was transferred to Shenzhen Liaison Office in Beijing. On July 24th, I was escorted back to the Huali Detention Center of Shenzhen. The police forced me to write a pledge to give up Falun Gong etc. They also ransacked my home at night and took away all the books and material of Falun Dafa. The police went to my workplace many times to put pressure on my officials. My company had no choice but to suspend my work. The police and residents' committee often came to my home to disturb me. I need to go to Beijing to appeal. My 9-year-old child is left to a friend.
8.1.111 Practitioners arrested, leaving children at home
Message received: July 21, 1999
Victims: Many female practitioners
Location of incident: Many cities in Liaoning Province
Description:
Since the early morning of July 20, 1999, the Public Security Departments in different parts of China have begun to arrest Falun Gong practitioners who are in responsible positions on a large scale.
Jinzhou, Liaoning Province:
Some Falun Dafa practitioners were arrested, including Mr. Wu Baolun, and Mr. Zhou Wenliang. Li Yuxia and her husband were arrested, leaving their child at home.
Dalian, Liaoning Province:
Many women had their hair pulled out by police. Some were being choked, while others fell and stumbled police continued to beat them. Some young practitioners were beaten twice, by four and five officers at a time. Children were dragged by their feet and thrown into cars. A thirty-year old woman was dragged and beaten by three or four policemen. One hundred practitioners were being dragged and beaten. An 80-year-old passer by said, "I have never seen police beating people like that".
8.1.112 A female college student was detained, beaten, while appealing in Beijing
Message received: June 18, 1999
Victim: a female college student
Location of incident: Central Appeal Office in Beijing
Description:
I am a junior student in college and also a cultivator of Falun Dafa. I would like to share the incredible experience I have had in the last couple of days.
On June 15th, I watched the Highlights of Conversion between the National Bureau of Appeal and some cultivators of Falun Dafa broadcaster by CCTV. I felt it did not reflect what has truly happened to the cultivators around me. Although the government has never forbidden the practice of Falun Gong, on several occasions cultivators have been taken into custody, followed, and their telephone conversations have been monitored.
I decided to report these occurrences to the government in the most efficient way. I took the train and arrived in Beijing on June 18, 1999. I went to the Central Appeal Office located at Yongdingmen, Jia #1. I was filling out the report to describe the situation in one of the offices when someone asked me why I was there. I told him that I was a practitioner of Falun Gong. Later I noticed a middle-aged man with dark skin behind me surreptitiously copying my ID. I went to him and showed him my ID. He was a little embarrassed but wrote down all the information. Then he started to talk with me and soon another man joined us. Later the middle-aged man told me to stop writing the report, asked me to follow them to some place to talk. I asked them to show me their IDs. I refused to go with them since they would not show their IDs. I continued to write the report and told them: I know who you are, you are afraid of me reporting the truth, I will not go with you. I will hand over this report to the authority. This is Beijing and I am a citizen who has not done anything illegal. Unless you show me your documents, you can not take me anywhere. Soon the middle-aged man left and returned with several other men. He was very rude and ordered me to go with him. I still asked for their IDs or any other official documents. They had none. I asked them who they were. They did not reply. So I remained silent. The middle-aged man then proceeded to tear up my report and grab my ID. I was a little upset and started to realize the situation was getting serious. I came to Beijing to report the situation and had told no one I knew that I was there. Beijing is far from my home and I had no idea where these people would take me. It was also impossible to make a phone call. I stood up and told the other people in the room: I am a Falun Gong practitioner and came to report the situation. They are afraid of me reporting the true situation to the government and are trying to prevent me from making this report. I wish you would be the witnesses of what is happening here. They started to push me out of the building. On the street, I repeatedly tried to tell the people passing by what was going on. More and more people stopped to watch us.
They took me to a policeman in a green uniform who was accompanied by a heavyweight man. They arrested me without any reason and without showing me any official government document. I asked them again, "Who are you? Can you show me any ID? Why am I being arrested? What did I do wrong?" They dragged me to a street intersection where there were alot of people. An old man passing by came to us and said, "Why do you do such an awful thing? Treating the young lady like this?" At this time they stopped a taxi and tried to push me into the taxi. When I resisted they forced me into the taxi.
The taxi stopped in front of a hotel. Because I was not "behaving myself," the guard at the door grabbed my glasses and hit my head. I said, "you arrested me illegally, and hit me." Before I finished, the guy slapped me on the face. I started to black out and fell on the ground. The waitresses in the lobby saw this when it happened. I was unable to walk anymore. Someone dragged me into the elevator and I lost one of my shoes. In the elevator, I started to cry. I felt very tired and sad; and I could not stop crying. They put me into a guestroom. I could not open my right eye. My lips were terribly swollen.
After a while, I was able to calm down. I was not afraid of them. I had done nothing wrong. On the contrary, I was trying to do a good thing for everyone, for the society at large, by reporting on the mistreatment of ordinary citizens. I felt pity for the men who treated me rudely. I started to introduce the great law of Zhuan Falun to them. I told them about virtues and that we should not do bad things to hurt other people. I also told them about the limitation of modern science in means of realizing the truth of the universe.
The policeman was on the phone discussing with his boss what to do with me. They then sent me to another hotel and there were two representatives from my home-town government waiting for me. They inquired where I got the articles that I brought with me. I told them I downloaded them from the Internet and was planning to send them in with my report to the Central Bureau of Appeal. They are the reports from different cities in the country about how practitioners have been mistreated. One of the representatives told me it was a rumor. I said I wanted to send it to the government and let them conduct the investigation. One of the principles of Falun Gong is to be truthful so if these reports were not true, it was important for us to know. If the reports were true, the leaders of the government should be made aware of what is going on.
They then brought me lunch. After 6:00pm, one of the representatives came back with a much better attitude. She sent me to the airport. I found out at the airport that my instructor, the dean of student service, and the vice president of my college had all flown to Beijing to take me back. We took a flight at 8:00pm to fly back. They asked me not to tell anyone about what had happened.
I think it is the legal right of every citizen to raise their concerns by lawful means; our constitutional laws protect this right. It was my intention to help others by proceeding to make a complaint by lawful means and not to get involved in politics. As a responsible citizen with a commitment to society and the country, I feel that it is my duty to report to the government both what I heard and what has occurred to me to prevent others from suffering mistreatment. In addition, I believe that there is nothing wrong with telling the truth.
(A student of year 96 of xx College)
8.1.113 City government's brutal treatment of practitioners in Linyi, Shandong
Message received: June 15, 1999
Victims: Falun Gong practitioners
Location of incident: Linyi, Shandong Province, China
Description:
Excerpt of practitioners' letter to Primer Zhu
We are Falun Gong practitioners from Linyi of Yimeng region in Shandong province. Since May 1, not only our routine morning practice has been harassed, but also almost every Falun Gong practitioner has been asked to talk with his supervisors and demanded to write a letter of guarantee to quit Falun Gong.
On June 11, at the Dongfanghong Park practice site, the Urban Countenance Bureau robbed our cassette player and sprayed our practicing site with water while we were practicing. On June 12, Zhu, director of the Urban Countenance Bureau, cursed Master Li with a loud voice at our practice site; robbed another cassette player from us and announced, "any Qigong practice is allowed here but Falun Gong. Falun Gong is an evil religion." On June 13 morning, even more people crowded to the practice site to harass the practitioners. Those people came in more than 60 automobiles, over 20 three-wheel motorcycles, and many regular motorcycles. Secretary General of the Politics and Law Committee of Linyi municipality came to the practice site too. He instructed the Police Department, the Urban Countenance Bureau, and the Municipal Gardening Bureau, Residential Committee and supervisors of Falun Gong practitioners to attack and insult the practitioners with force. Below are just a few examples:
One practitioner brought his 11-year-old son to practice with him. They were attacked and insulted by 20 some people. Some of them kicked the little kid, lifted him up and placed him on his father's head who was sitting in meditation. Still not pleased, they began to kick the father repeatedly on three separate instances, then continued to slap his face, legs, neck and head. The father endured all these silently. One of the men who beat him yelled proudly, "How wonderful! It has been a long time since I beat someone this way. It really makes me feel good."
Some practitioners were lifted up by two people and then dropped hard onto the ground. Some practitioners were raised and thrown in the air and their pants tore when they hit the ground. Some were dragged for more than 20 meters on the ground and thrown in the middle of the street. For fear of blocking the traffic, the attackers took them away from the street and attempted to throw them in the trash containers. Since those people could not find any trash containers nearby, they left the practitioners on the sidewalks. Some attackers even pinched the little practitioners' mouth. Some little practitioners could not bear the insult and physical abuse and ran away from the practice site crying.
After a young female practitioner's clothes were pulled up, her chest became exposed. The harassing crowd burst into uproarious laughter at the sight. Facing all these atrocities, the practitioners did not complain a single word. After finishing the practice, the practitioners even picked up all cigarette buds and trash left by the disturbing party.