3.5 Arrests and Police Brutality on Oversea Falun Gong Practitioners
3.5.1 She was arrested when visiting other practitioners in an apartment in Beijing
Victim: Yu Li, female, US citizen
Location of incidents: Beijing, China
Description:
"Feb 11, 2000, when I visiting some practitioners in an apartment in southern Beijing, ten plain clothes policemen broke into the room. They surrounded the apartment, broke the other locked doors and searched everywhere. We were forced to be video taped and searched all over; personal belongs were taken away and we were sent to detention center of Beijing.
A policewoman searched me all over again physically, recorded all my personal information and interrogated me. After a few hours, I was brought to the police office for International Matters in Beijing. There I was detained for 3 days and 4 nights in a small room down in the garage of a big police office building.
There I saw Ms. Zhao from New York. She was arrested in Tiananmen Square at Chinese New Year's Eve, and had been detained for 5 days. Three practitioners from Taiwan were doing [Falun Gong] exercises in Beijing Taoranting Park with other thirty more practitioners while they were all arrested. Next day they were interrogated separately for almost a whole day. Two practitioners from Australia came one after the other. One of them went to appeal in the government office; the other was followed since arrival to the country, so she decided to go to Tiananmen Square, then was arrested there.
I had to go through another interrogation again and heard that the practitioners who were arrested on the same day as I was detained in the 7th detention center, which is the place for all severe cases.
During the detainment, three or four different police officers were with us most of the time, day and night. All policemen in the department took shifts. We had the chance to face variety of people and answered different questions from them and help them know more about Falun Dafa.
February 15, policemen refused to return all my personal belonging. I was the brought directly to the airport."
3.5.2 Many practitioners from Japan rejected, detained, fined, beaten in China
Case 1. January 5, 2000, Mr. Osamu Kamiya and Mr. Hashimoto (Japanese citizens) were beaten up when they exercised Falun Gong at Tiananmen Square. They were arrested and deported to Japan. Zhao Yihong and Xu Jie from Japan (Chinese citizens) were beaten up at Tiananmen Square and arrested later. Their where about is still unknown as of today (Feb. 15, 2000)
Case 2. January 5, 2000, Ni Hong, a Chinese citizen from Japan, went to visit her mother, who is sick and hospitalized in China. She was refused at Qingdao Airport.
Case 3. January 4, 2000, Wang Jinzhi, Xiao Xuetao and Peng Shi were refused at Beijing Airport. They were detained for the night and deported to Japan. Xu, Gao Shanshan and Li Rui were also refused at Beijng Airport. They were forced into the airplane to Pakistan. They lost freedom in Pakistan for 3 days and were returned to Tokyo.
Case 4. January 3, 2000, Zhao Yihong, Xie Hui and Yu Guojun from Japan went to Beijing National Affair Appealing Office to appeal. They were detained from there for 5 days and deported to Japan.
Case 5. December 31, 1999, in the evening, more than a dozen Falun Gong practitioners from Japan were arrested. Ms. Ran Koma and Mr. Haruhisa Inose and 6 other practitioners with Japanese citizenship, a practitioner with Malaysian citizenship, and a practitioner from Taiwen were interrogated and requested to pay 70,000 Japanese Yuan from each of them. Other practitioners holding Chinese passports were detained for various days. Xiao Xinli was detained for a month in Beijing; Wu Lili was detained for 27 days in Hefei in Anhui province; Zhang Yufu was detained for 17 days in Herbin; Gu Xiaohong was detained for 4 days in Dalian; Cheng Yaqong and Li Buo was detained for 3 days in Beijing. They were all deported to Japan afterwards. Wu Lili, Cheng Yaqong and Li Buo were beaten up brutally by the policemen. Ms. Masako IItsuka's camera was forcefully taken away.
Case 6. December 31, 1999, twelve Falun gong practitioners from Japan were refused at Beijing International Airport. They were detained for 12 hours and deported.
Case 7. December 30, 1999, graduate student Zhuang Jinzhong was questioned when he passed by Tiananmen Square. When he admitted he is a Falun Gong practitioner, he was detained for 5 days and beaten up brutally.
Case 8. December 30, 1999, Wang Jinzhi from Tokyo University and other 6 Falun Gong practitioners were arrested on the train from Shanghai to Beijing while they were found reading the book of Zhuan Falun. They were detained for the night and deported to Japan.
Case 9. December 29, 1999, eight Falun Gong practitioners from Japan were refused at Shanghai International Airport customs. They were detained for 14 hours and deported to Japan.
Case 10. December 14, 1999, Doctorate student Lei Shuhong of Tokyo University was refused at Zhenzhen customs. Her Falun gong books were all forcefully taken away.
Case 11. December 10, 1999, Graduate student Yang Wen from Tokyo University and other 17 Falun Gong practitioners with Chinese passport was detained for 3 hours at Luohu custom in the city of Shenzhen. They were forced to be photographed. Their Falun Gong books were taken away. Later, they were sent back to HK.
Case 12. December 9, 1999, Lu Min and Li Na (couple) from a company in Japan, went to China for a visit. They were questioned at Hainan International Airport. Their Falun Gong books were taken away.
Case 13. November 1999, Wang Wei, college student from Japan Shangzhi University went to Beijing to appeal. He was arrested and detained for 15 days in the city of Changchun.
Case 14. October 1999, doctorate student Wang Jinzhi from Tokyo University and Ni Hong from Saint Woman University were arrested when they went to appeal in Beijing. Wang Jinzhi was deported two days later to Japan. Ni Hong was sent to Shandong province and detained there for 15 days. Her parents were not allowed to visit her.
Case 15. October 1999, 17-year-old daughter of Zhou Yingjie was detained because it was found out in the hotel that she brought a Falun Dafa book with her. Zhou Yingjie posted an announcement on Minghui net website and was arrested later. She was jailed for 2 months in Herbin.
Case 16. September 1999, Yao Hailong, student of a tech school in Japan. He was asked if he is a Falun Gong practitioner on the bus in Beijing. He was detained in Beijing for 20 days after he admitted he was a Falun Gong practitioner.
3.5.3 Reports from AP and Reuters
Victims:
1. Zhao Tracy, female, a Northwest Airlines flight attendant, from New York, USA
2. Jiang Shelley, female, from Australia
Location of incident: Beijing, China
Description:
BEIJING (AP) - An American woman arrived in Detroit today after being freed from custody in China, where she was detained for taking a picture at a protest by the banned Falun Gong meditation group.
Police had put Zhao Tracy, 30, on the Northwest Airlines flight to Detroit, where she was trying to find a flight back to her home in New York. Zhao, a Northwest Airlines flight attendant, was taking a picture of police breaking up a Falun Gong protest around midnight Feb. 4 at Tiananmen Square when police detained her.
According to her boyfriend, Lin ChongLi, she did not join the protest but was there to observe it and show support. She was among at least 50 Falun Gong followers detained at the protest, which was held as China welcomed the lunar new year. Police kicked, punched and dragged many of the demonstrators before putting them in vans and driving them away.
Zhao, who was born in Beijing, immigrated to the United States at age 20. She had been practicing Falun Gong for about a year, according to her mother, Yan Zuo. Zhao was visiting Beijing to celebrate the Lunar New Year and to find out how Falun Gong members in China were being treated, Yan said.
NEW YORK (Reuters) - Zhao, who had been informed of the protest beforehand, was snapping photo-graphs of the crackdown when police took her onto a bus and then to a detention center outside Beijing, her boyfriend Lin ChongLi said.
Zhao, Lin and about half a dozen other U.S. Falun Gong members had arrived in Beijing a day earlier to meet local practitioners, Lin said. ``We wanted to go to China to show our support and find out more about the conditions people experience here,'' he said, adding they were not there to participate in the protest. ``We just wanted to see what would happen.''
A witness had said another foreign woman, Australian Shelley Jiang, was also detained in the round up. Her whereabouts was unknown.
3.5.4 Practitioners from Japan Arrested by Chinese Police
Message Received: February 11, 2000
Victims:
1. Xu Jie from Japan
2. Zhao Yihong from Japan
3. Hu Guoping from Japan
Location of incident: Beijing, China
Description:
Practitioners from Japan, Xu Jie, Zhao Yihong and Hu Guoping were arrested when they practiced Falun Gong in Tiananmen Square on the Eve of Chinese New Year (February 4). Their whereabouts are unknown. Some other practitioners from Japan who held Chinese passports were denied entry to China.
According to a practitioner, a Japanese citizen who was deported from China after joining the practice in Tiananmen Square on the same day, those three practitioners had been beaten up by the policemen. They lost contact with each other after being transferred for a few times.
3.5.5 China may deport American protester (The Washington Post)
Message received: Feb 11, 2000
Victim: Tracy Zhao, female, a Northwest Airlines flight attendant, from New York, USA
Location of incident: Beijing, China
Description:
BEIJING--A 30-year-old Chinese American woman detained for six days after taking part in a recent Falun Gong demonstration at Tiananmen Square will be deported, her boyfriend said.
Tracy Zhao, a Northwest Airlines flight attendant from New York, was among about 100 Falun Gong members taken into custody last Friday at the Lunar New Year's Eve protest. Practitioners tried to unfurl banners and meditate in protest of the government's ban on the spiritual movement.
Her whereabouts had remained unknown, but her boyfriend Lin Chonglin said Chinese police called him asking for Zhao's plane ticket and luggage. "They didn't admit they were holding her, but the fact they're asking these questions indicates they're ready to deport her," he said.
3.5.6 Jersey Woman Back Home after Jailing in China
Message received: Feb 8, 2000
Victim: Jackie Yu, female, from New Jersey, USA
Location of incident: Beijing, China
Description:
(The Star-Ledger Newark, NJ) A New Jersey woman jailed for nearly two weeks by Chinese police because of her membership in an outlawed spiritual movement returned safely to New Jersey yesterday.
Jackie Yu of Bridgewater and her 14-year-old son, David Wei Cui, were exhausted from their all-night flight but relieved to be back on American soil. ''There is too much freedom here," she said, laughing. "I feel, somehow, that it's strange. I've been in jail for awhile." Yu, a 44-year-old financial systems analyst, said she was beaten several times after her January 23 arrest in Tiananmen Square by police who wanted her to renounce her praise of the Falun Gong movement. She was released Friday.
''I was slapped, kicked, pushed to the ground and stepped on," she said. "When I was in jail, I practiced every day, and they also punished me for that." ''A lot of practitioners got great benefit from Falun Dafa (another name for Falun Gong), so they cannot accept the Chinese government's position that it is a cult," Yu said. "They try to find somewhere to complain, but the government shut all the doors."
3.5.7 An American citizen arrested in Chengdu City
Message received: Jan 20, 2000
Victims:
1. Kong Bin, female, a U.S. citizen
2. Liu Bangchen from Chengdu, Sichuan Province, China and other practitioners
Location of incident: Chengdu, Sichuan Province, China
Description:
On the afternoon of January 18, an American citizen, Ms. Kong Bin, was arrested by Chinese police when she was sharing experiences in Chengdu City with some local practitioners including Liu Bangchen. All practitioners on the spot were arrested. The details were unknown yet.
Ms. Kong a lawyer in the United States, she was deported from China for going to Beijing to appeal for Falun Gong in 1999. This year, she returned to her home province, Sichuan, after learning of the serious persecution of Falun Gong practitioners there from the news media.
3.5.8 Falun Gong practitioners were prevented from returning to Ireland to study
Victims:
1. Liu Feng, student in Ireland
2. Zhao Ming, student in Ireland
3. Yang Fang, female, student in Ireland
4. Dai Dongxue, a female, student in Ireland
Location of incidents: Beijing, China
Description:
During the last Christmas holiday, some practitioners from Ireland went back to China to appeal and got arrested. They are still in custody except Dai Dongxue who has been deported back.
Liu Feng, a marketing student in Dún Laoghaire Community College, brought a letter alone to appeal and got arrested. Now he is under home arrest in Dalian of Liaoning Province.
Zhao Ming, a postgraduate student in the Computer Science Department at Trinity College, was detained when he went to the State Council Complaints Office in Beijing on January 5th, 2000. He was released on bail after a few days, he is under house arrest in his home city of Changchun in Jilin Province. His passport was confiscated. The police are demanding him to write a pledge that he will not express any dissent against the govern-ment's crackdown on Falun Gong.
Yang Fang, an accountancy student in Senior College, Dún Laoghaire, was arrested together with 3 other British practitioners on December. 19th when staying in a friend's home in Beijing. The British practitioners were deported to the United Kingdom after a couple of days' detention, but Yang Fang was escorted back to her home city of Shenyang in Liaoning Province and detained. Only before Chinese New Year was she released on bail after about 40 days' detention, but her passport was confiscated.
Dai Dongxue, a Microsoft employee, was detained on January 1st, and was deported back to Ireland on January 4th. The police questioned her about the details of her journey as soon as she arrived in the airport.
3.5.9 Practitioners from Tokyo Arrested When Practicing Falun Gong in Tiananmen Square.
Message received: Jan 15, 2000
Victims:
1. Xiao Xinli, female, from Tokyo, Japan
2. Wu Lili, female, from Tokyo, Japan
3. Wu Xiaohua, female, Wu Lili's elder sister, an associate professor of Hefei Architecture Institute, from Hefei, Anhui Province, China
Location of incident: Beijing and Hefei, China
Description:
On the New Year's Eve of 2000, practitioners from Tokyo, Xiao Xinli and Wu Lili were arrested when practicing Falun Gong on the Tiananmen Square.
Wu Lili was sent back to her hometown in Anhui Province. Her family in China learned that she was detained in Luosigang Detention Center in Hefei City, but they are not allowed to visit her. Wu Lili's 2-year-old son, in Japan, missed his mother very much. Wu Lili's elder sister, Wu Xiaohua, an associate professor of Hefei Architecture Institute, was also arrested in Beijing for attempting to attend the trial of the four major contact people. She was sent back to Hefei City on December 26, 1999 and detained in the same detention center at the time of this message.
Xiao Xinli is a graduate student of a university in Tokyo. Her whereabouts was unknown.
3.5.10 Three detained Australian Falun Dong practitioners escorted out of China
Message received: Jan 10, 2000
Victims:
1. Ana Caterina Turcu, female, from Australia
2. Simon Vereshaka, from Australia
3. Nicholas Vereshaka, from Australia
Location of incident: Beijing, China
Description:
BEIJING, Jan 10 (AFP) - Three Australian members of the banned Falun Gong group believed to have been detained here after urging an end to the ban, have been escorted out of China, the Australian embassy said Monday.
Embassy spokesman Bob Nash said police informed the mission Monday that the trio had left China, and officials in Australia had confirmed their arrival there.
"They were interviewed, questioned and then driven to the airport (by Chinese officials)... They arrived in Australia safely Monday," Nash said.
It remained unclear whether the three had been detained as police would not confirm what action had been taken against them and the Australians could not be reached for comment.
Ana Caterina Turcu and twin brothers Simon and Nicholas Vereshaka disappeared Sunday morning after delivering a letter to the Beijing headquarters of the government news agency, Xinhua.
They had alerted foreign journalists they would be making the protest, and photographers and journalists at the scene saw the three enter the building, but did not see them leave.
The Australians were asked to stay inside after they delivered their letter and police were later called in, a photographer at the scene said.
Police later escorted the Australians to the airport to catch a return flight they had booked earlier.
3.5.11 An AP Report from Australian
Message received: January 11, 2000
Location of incident: Beijing, China
Description:
MELBOURNE, Australia (AP) -- Chinese officials detained three Australian members of the banned Falun Gong spiritual group for nearly five hours before letting them leave the country, one of them said Monday.
Ana Caterina Turcu said she and her companions were detained and questioned on the last day of a two-week tourist trip to China when they tried to present a letter to government officials protesting the treatment of Falun Gong members there.
Turcu said the three were detained Sunday morning as they delivered the letter to Public Security Bureau officials and were held almost five hours until they were escorted to their flight.
"They wanted to know everything we had done, how long we'd been there, especially where we had been and who we talked to and if we had spoken to other Falun Gong practitioners," Turcu said.
Turcu said she and her companions were repeatedly asked for the names of other practitioners.
3.5.12 Three Falun Gong practitioners from Singapore Detained in Beijing
Message received: Dec 28, 1999
Victims:
1. Wu Guorui, a student of Nanyang Institute of Technology, Singapore
2. Xiong Changlei, a student of Nanyang Institute of Technology, Singapore 3. Xiong Shouyong, a student of Nanyang
Institute of Technology, Singapore
Location of incident: Beijing, China
Description:
Three Falun Gong practitioners from Singapore, Wu Guorui, Xiong Changlei and Xiong Shouyong, who are students of Nan-yang Institute of Technology, went back to China on November 6 to make appeals to the Chinese central authority for Falun Gong. So far, they had been detained by Beijing police for over one month. It is believed that they were arrested in Tiananmen Square four or five days after they arrived in Beijing. These three Chinese students are recipients of the scholarships awarded by the Ministry of Education of Singapore.
3.5.13 US residents charged, arrested, and jailed for "disruption of social order" by chatting with friends in a private home
Victims:
1. Alicia Chen Zhao, resident in California,
USA
2. Feng Lili, resident in California, USA
3. Alan Yun Huang, resident in California, USA
Location of incidents: Beijing, China
Description:
(Alicia Chen Zhao) "I had a 13-day ordeal in a Chinese detaining center in Shenzhen, China from Dec. 15 to Dec. 27, 1999. I had never expected that two hours gathering with some local friends would lead to my two weeks imprisonment.
In evening of Dec. 14th, we gathered together with some local Falun Gong practitioners in a private house. It was a private gathering. We had gathered for 2.5 hours to talk about lives in the US and the benefits we have gained from practicing Falun Gong.
Around 5:30am the next morning (December 15th), three policemen entered in my room, while the rest went to Alan's room. They took my passport and green card and started interrogating me. A couple of hours later, they left with our identifications and asked us to go to their Bureau in the afternoon to pick them up.
When we arrived at the Futian Public Security Bureau at 2:00pm as instructed, we learned that other people were arrested around 1:30am. After lengthy interrogations, the two Hong Kong practitioners were deported later that evening. Around 9:00pm, the three of us who hold Chinese passports and US green cards were sent to Futian Detaining Center. On their arrest warrants, we were accused of "disturbing public orders." While as a matter of fact, we were just in a private house.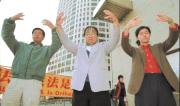 China detained Falun Gong practitioners holding US green cards. They practiced Falun Gong exercises outside China Xinhua News Agency in Hong Kong after realesed.
Our 13-day experience in the Chinese detaining center has opened our eyes to the part of China that was never known to us. We were deprived of shoes and personal belongings upon entering the gate of the detaining center. Dr. Feng and I were put in the same cell with 38 inmates, most of whom were prostitutes and drug addicts. It was dirty and cold (35F). An open toilet with no flush was right in the room where the 40 of us cuddled at night and worked during the day. 3 people had to share one thin quilt, which was never washed and covered with all kinds of dirty stains. A few of us had to sleep on the cement floor as they ran out of space. The cell had windows with only iron bars but no glasses. Wind and rain easily blew into the cell as a result. We were just as if sleeping on the street.
We were provided with only two simple meals (cabbages and Tofu) a day, one at 10:00am and the other one at 4:00pm. There was no tables or chairs. The cement floor was both our table and our chair. As shoes were not allowed in the cell, we had to be bear feet [bare foot] all the time, soaked in cold water. Pouring cold water from head to toe was considered as "taking a shower."
We were forced to make plastic hairbrushes, which according to the inmates were for export and would be sold at 5 cents. The other cells make shoes for export. We had to make 70 hairbrushes every day. It could easily cause bleeding of our fingertips when forcing the needles into the holes of the brushes. If we couldn't make the required amount, we would be punished with no sleep or forced to knee down on the floor.
We were not treated as human beings at all. We were forced to be strip searched upon arriving at the detaining center. There was no human rights whatsoever. The guards yelled at us and threatened to beat us. Our US permanent residency had eventually protected us from being beaten. But for mainland practitioners, they would easily be the victims."
3.5.14 China's crackdown on the Falun Gong spiritual movement is tearing a suburban Denver family apart - and motivating U.S.based Chinese supporters to fight back.
Message received: December 10, 1999
Location of incident: Guangzhou, Guangdong Province, China
Description:
The following is a piece of news written by Bruce Finley, a Denver Post International Affairs Writer.
Tuesday marked the 13th day without official word on Tang Jian, 39, a Highlands Ranch mother and computer programmer who was detained Nov. 25 in Guangzhou, China. A man held with Tang and later released - contacted by The Denver Post in Australia - said police handcuffed Tang and imprisoned her in a bedless third-floor room, where she and others embarked on a hunger strike. Among those detained and released is Sun Jie, 36, a Highlands Ranch resident with U.S. citizenship and a friend of Tang Jian's. Sun recently visited her parents in Beijing, practiced Falun Gong with others in Tiananmen Square, then traveled to Guangzhou for another gathering. She and others were chatting in an apartment Nov. 25 when police knocked, Sun said. Chinese authorities gave no information Tuesday about Tang Jian.
3.5.15 December 1999 - China's crackdown on the Falun Gong is tearing suburban Denver family apart
Victim: Tang Jian, female, a software engineering of Alltel Communications Inc. in Colorado, US resident, Chinese citizen
Location of incident: Guangzhou, Guangdong Province, China
Summary:
Ms. Tang was arrested in last Nov. and detained for 15 days in Guangzhou, China. Her husband and daughter who live in Highlands Ranch, Colorado could not find any information about her. The police in China refused to give any information about her when Denver local newspaper reporter and the family called to require the information. During her detention, police put shackles on her legs and ordered 5 male inmates forcing her down on the floor, fed her with salt water using plastic tube. "I thought that I would suffocate to death if they continued to do that."
Description:
On November 22, I went on my two week vacation to visit China. On November 24, I arrived in Guangzhou to visit friends who are also Falun Gong practitioners. It was in a suburban resident home where I met with over 30 practitioners. Among them there were practitioners from Australia and Sweden as well. They exchanged their experiences and helped each other to get through the current hardship.
After midnight, we heard shouting and fierce knocking on the door. We all came to the living room as the police rushed in, shouting "Don't move! Sit down!" Practitioners asked: "Which law have we broken? How can you just break in?" The police gave no answer and showed no warrant for arresting or searching. They started to beat practitioners on their head and body. One practitioner was beaten by four or five policemen at the same time. Another practitioner was beaten to the ground, his body cranked up and sweating from the pain. As the police started to beat on the Australian practitioner, Gao Yuan, two Chinese practitioners tried to protect him with their bodies. Two practitioners were dragged downstairs by the policemen. From the beginning to the end, no one fought back and maintained great forbearance.
The police handcuffed every two of us together and then took us downstairs. Police then started to search through our luggage. Anything related to Falun Dafa was confiscated. Books brought by Australian practitioners were all taken away. They even took some of our personal belongings.
Later police took us to Tianhe Detention Center. They ordered us to sit on the floor of the dining hall and took us one by one for questioning. From time to time, I heard noises of beatings. There was one practitioner who got slapped on the face every time he was asked a question. He was also forced to squat half way down for one and a half hours. I was taken for questioning before dawn. Police asked me why I still practice Falun Gong after it was banned. I told him, "Falun Dafa helped millions of people become free of painful illnesses, this is a fact witnessed by the whole society. Falun Dafa taught people to become a better person and helped millions to improve their morality. That is also witnessed by the whole society." He asked why I came to China. I said because I saw the Chinese government could not tell right from wrong and they are defaming Dafa. As a Chinese citizen, I have the obligation to come and clear the facts on Falun Gong and I cared about practitioners in China. I came to see their situation. The police sighed and told me that they had to do those things because they were ordered to do so.
After all 36 of us were questioned. We were locked up in 3 rooms on a second floor. We decided to carry out a hunger strike. We also demanded them to return our books and release us since we haven't broken any law. Most of us felt all right after 2 days of no food and no water.
In the afternoon, the guards ordered us to have our photos taken for records. We told them that we were not criminals, so we would not take photos. Then they came over to drag us. A guard dragged a slim girl out and shouted, "I will beat you to death." The girl screamed. We then encircled the guard, and asked him to let her go. He then loosened his hands. At night, the guard told us that they would transfer us to another place and ordered us to get out. We knew that they were going to punish us. Then the practitioners from Australia requested to see the Australia Consulate in Guangzhou, saying that they would not move before their request was granted because they felt that their personal safety was in danger. The officer who was responsible for foreign affairs came and after some negotiations agreed to call the Australia Consulate. But he never came back. Later the guards dragged all of us out while beating and kicking us. They dragged us to the yard downstairs and ordered us to squat down. Then they ordered us one by one into a room and conducted thorough body searches. Later we were separately detained in different cells with other criminals.
I was assigned to the sixth cell. I found a practitioner from Jiangxi province and six criminals. After a short while, the officer in charge of female prisoners came over and asked whether I had eaten or not and threatened to feed me with salt water if I would refuse to eat. The inmates all told me that it was a very terrible thing to be fed with salt water. Meanwhile, I heard someone screaming in another cell. They told me that it must be that someone was being fed with salt water. The officer then ordered 4 to 5 male criminals to come over. One of them carried a tool for feeding salt water, which is a long glass tube attached with a soft and thin tube and some other stuff. I sat on the floor and was close to the wall. The officer approached me and asked whether I still refused to eat. I asked him why I was arrested since I had not committed any crime. Up to now I had not seen the arrest certificate. He became extremely angry and kicked my right breast heavily, yelling, "Who do you think you are?" He then said to the criminals "Feed her with salt water."
Several male criminals came over and dragged me on the floor to the door, pushed me down and put shackles on me. I felt that somebody squeezing my nose and I could not breathe. Then something big was squeezed into my mouth. My mouth was immediately full of salt water. Since I could not breathe I had to swallow it. It was high-density salt water. Basically, it was made by adding a cup of water to a bag of solid salt. My throat felt like what I swallowed were all grains of salt, or a lot of salt plus tiny bits of water. I wanted to struggle but my hands and feet were forcefully held. I could not move at all. After a long time, I still heard the officer order, "Feed more." I thought that I would suffocate to death if they continued to do that. After another 3 to 4 minutes, they let me go but I could not breathe freely for a long time. I felt like I would be suffocated to death. Then my stomach felt terrible. I wanted to drink water. I could not speak. My inmates held a bowl of cereal and fed me but after a short while, all the cereals were thrown up. I had to constantly drink water and throw up. My clothes were full of salt and dirty stuff. The other practitioner could not help crying upon seeing me like that.
After throwing up for a long time, I started to feel a little better. The inmates held me to the water pool to clean my body. They tried to take off my pants. However, it was very difficult since I had shackles on me. At last, they had to tear off my pants. After they washed me, one of them offered her skirt to me kindly. It was already 3:00am after they cleaned me. They told me that they had to work during the day. They went to sleep. I also went to sleep after throwing up a few more times.
At 8:00am on the next morning, everyone must get up according to the prison's regulation. My stomach felt much better but I had to drink water constantly. I could only speak in a low voice. Somebody sent in raw materials for the forced labors. We were forced to work making plastic flowers. I then started to chat with my inmates. They said that they also would like to learn Falun Gong. Some other Falun Gong practitioners had been detained together with them earlier and introduced Falun Gong to them. They felt very good about it. They have changed themselves after they got to know the teachings of Falun Gong. They used to beat and swear at each other; now they get along with each other very well because they know that they should be good people and should purify their hearts. Last night, I already felt their kind hearts when they took good care of me and lent me the skirt.
It was dark when someone came to take off my shackles. I felt much more comfortable. After a short while, the guard ordered the other practitioner and me out. We got in a police car, not knowing where the car was heading for.
It turned out that they were going to question us again. We were taken to the Police Station in Yuexiu District. After a 2 or 3 hour interrogation, they finally convicted us of "participating in illegal Falun Gong activities" and we were given 15-day detention. I asked to use the telephone, but was refused. They completely ignored citizens' rights and even deprived us of the rights to appeal. Afterwards we were sent to Yuexiu Detention Center. I was put in a big barn where wind blew inside from two directions. I was locked up with some thieves and drug users. I had been asking to use a telephone to at least inform my family members, but they disallowed me to do so. Other detainees can make phone calls but Falun Gong practitioners cannot.
On the 10th day in Yuexiu Detention Center, police from Chengdu (my hometown) came to take me to Chengdu province. I was taken to a police office in western suburban Chengdu. They had me sit on a chair waiting for their verdict because they wanted to re-investigate my case. I didn't know what other "evidence" they could collect. Did I violate the laws and deserve to be detained and to have heavier punishment simply because I'm a Falun Gong practitioner and visited other Falun Gong practitioners at their home? After having sat on a chair for two days, finally the news came -- they decided to release me. They said they really could not let me go back to the US but they decided to release me due to other factors.
After I came back to the US, I learned that many friends gave me great help, and even the senators of Colorado were involved. However, I'm concerned about the fate of other practitioners. If they were sent back to their hometowns, what's waiting for them would not be as easy as detention. That female practitioner from Shandong told me that if she were sent back to her home-town, she would be sentenced for at least a 2-year labor camp (which had already happened to many practitioners in her hometown). On my way back to the US, I stopped in Beijing. I wanted to check whether the practitioner detained in the room next to mine had been released or not. I knew his cellular phone number and his phone were confiscated. If he had been released, he would have answered the phone. I dialed his number from a public phone but no one answered. The strange thing was that as soon as I hung up, someone called back and asked the location of the phone I just dialed. Less than half an hour later, from the distance, I saw a police car come to the place where I made the phone call. Obviously he was still under detention.
Although I've returned to the US, I'm still thinking of our fellow practitioners in China. I am very worried about their safety.