5. Public Destruction of Falun Gong Books and Tapes
5.1 Massive Confiscation and Destruction of Falun Gong Related Materials
[Xinhua News Agency, July 24, 1999] The Department of Culture has recently released a public notification, asking the departments of culture and administration at all levels as well as the administration departments on audio/video publications to ban and confiscate the publications of Falun Dafa immediately.
[People's Daily, July 29, 1999] In the afternoon of July 28, the first nationwide unified destruction of Falun Gong publications and promotion materials were held in Beijing, Tianjin, Jiangsu, Jilin and Hubei provinces as well as other locations.
[BBC, July 31, 1999] Picture on following: Falun Gong tapes are smashed - the banner reads "Crush Falun Gong Publications"
Picture on the following shows Falun Dafa books, cassettes, and other materials being burned.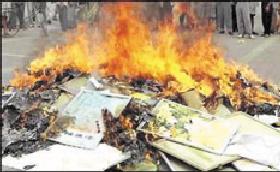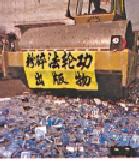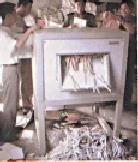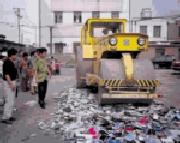 Typical scenes of public destruction of Falun Gong books and tapes.

[People's Daily, July 30, 1999] To this date, over 2 million copies of Falun Gong publications have been confiscated nationwide. Today, more than a dozen provinces, cities, and autonomous regions will destroy big batches of Falun Gong publications.
[AFP, October 21, 1999] Chinese authorities have arrested nine key members of Falun Gong and confiscated millions of banned books and videotapes in a fresh crackdown on the spiritual group, state radio and television reported on October 21. A total of 7.8 million books and 4.9 million videotapes were confiscated in the Chinese cities of Wuhan and Jinan.
[CNN, July 29, 1999] "...In Beijing, some 300,000 Falun Gong books were turned into pulp Wednesday, and more were to be destroyed throughout China, state media said. In Shanghai, authorities fed 45,000 books into a pulping machine Thursday at a ceremony led by city propaganda chief Jin Binghua, the newspaper Xinmin Evening News said..."
5.2 Bookstores Ransacked; Publishers and Retailers on Trial
Case 1
Victim: Wu Chengchu (male)
Location of incident: Xiangtan City, Hunan Province
Description:
Wu, the owner of "Teacher Wu's Bookstore" in Xiangtan, was under criminal detention because he kept Falun Gong books on the shelf. On July 27, the municipal authorities searched more than 289 bookstores, street vendors, multimedia stores, and printing shops to confiscate more than 40,000 copies of Falun Gong books and 1,000 copies of Falun Gong video/audio products.
[Guangming Daily News, August 2, 1999]
Case 2
Victims: Huang Dekun; Cheng Shulin; Zhang Kai and other bookstore managers
Location of incident: Across the country
Description:
China is to put at least 10 managers of printing presses across the country on trial for printing publications for the banned spiritual Falun Gong sect, officials and rights groups said Thursday. "Huang Dekun, Cheng Shulin and Zhang Kai were arrested by the police at the beginning of the month. They will probably stand trial in October," an official at the Xinhua southwestern Sichuan Province told AFP by telephone. [Agence France Presse, September 23, 1999]
Case 3
Victims: Li Xiaomei (female) and Li Xiaobing (female)
Location of incident: Beijing
Description:
They were arrested for operating a bookstore selling Falun Gong related books, tapes and other material. Li Xiaobing was sentenced to six years in prison, and seven years for Li Xiaomei. [Associated Press, February 1, 2000]
5.3 Practitioners were Forced to Turn in Falun Gong Books
Case 1
Victim: Liu Xiao (gender unknown) from Xiehe Medical School, Beijing
Location of incident: Beijing
Description:
Liu Xiao, a young teacher in the Beijing Xiehe Medical School, was arrested when he/she was chatting with fellow practitioners about his/her experiences with Falun Gong. His/her apartment was ransacked, and his/her Falun Gong books were seized.
Case 2
Victims: Wu Siwei, Chen Meifen
Location of incident: Nanjing district, Zhangzhou City
Description:
Two cadres from the Zhangzhou municipal Political and Legal Committee used force to take away books from [Falun Gong] practitioner Meifen Chen's home. Jingcheng public security bureau in Nanjing district forcefully confiscated the book away from Wu Siwei's home, with the excuse that the government demands the confiscation. They did not show any government documents nor did they follow any legal procedure in the confiscation.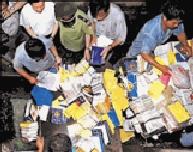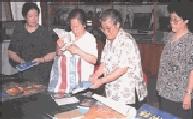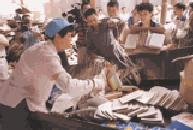 Typicaly scenes in which practitioners were forced to turn in their Falun Gong books and tapes.
Case 3
Victim: a male Falun Gong practitioner from Guangzhou
Location of incident: Guangzhou, Guangdong province
Description by his wife:
My husband also experienced similar unfair treatments. The head of his department asked him to turn in the book "Zhuan Falun", and said that it was wanted by the "upper level", and threatened that he would be fired if the book was not turned in. My husband is an obedient person and thought that they wanted the book just for inspection. He told them, "This book is very precious to me. Please take care of the book. Give it back to me in a few days." After a few days when my husband approached the division head for the book, he said the book had been given to the "upper level" and burned. My husband was so regretful and said, "If I knew it would come out this way, I would not have turned in the book even if it meant losing my job."
Case 4
Two of the pictures on the previous page were published in BBC reports: one is on Monday, July 26, 1999 by James Miles in Beijing, the other is on Friday, August 6, 1999 by Asia analyst Francis Markus in his report "Beijing's zero-tolerance policy".
5.4 Practitioners Arrested for Copying Falun Gong Materials
Case 1
Victim: Liu Jingxing (male), employee of Insititute of Changchun Biological Products Institute, Jilin Province.
Location of incident: Changchun City, Jilin Province
Personal Account:
On the afternoon of August 27, after I finished copying an article entitled "The Opinions of International Human Rights Organizations on China's Crackdown of Falun Dafa", I was arrested by some plain-clothes policemen and taken to the Youth Road detention center of Changchun. In the director's office, after the policemen had searched all my belongings, he grabbed my hair and yelled at me, "Tell us!" I was quite perplexed and didn't know what he wanted me to say. The director immediately issued a certificate for detaining me and asked me to sign my name. I refused to do that and asked them for the reasons. They said, "We will search your home even if you do not sign." They handcuffed me and brought me home in a police car. My wife Gao Tong was at home at that time. They took away Falun Dafa books and cassette tapes, a tape recorder, three walkmans, a radio, a VCR, a beeper, three meditation mats, etc. They did not leave us any receipts. They still have not returned these personal belongings to us. When my wife asked them why they took away our money, they said, "We are afraid that you are going to Beijing..."
My wife and I were both taken to the detention center. I was handcuffed to the heating pipe for more than 20 minutes. Later, I was transferred to the Luyuan District police department. I was beaten up when I was interrogated. I was detained for 15 days under the charge of "disturbing social order."
Case 2
Victim: Wang Yajuan (female, 34)
Address: Changchen Bldg 15, Room 703, Shenzhen, Guangdong Province.
Location of incident: Xiwan Hotel, Beijing
Description: (See Section 4.5, Case 7)