Mr. Huang Fujun Tortured to Death, His Family Seeks Justice to No Avail (Photos)
February 17, 2008
|
By Falun Dafa practitioner in Harbin City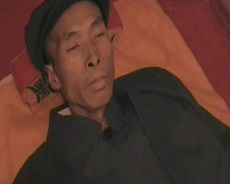 Mr. Huang Fujun Died on November 6, 2007, at 44 years old.
(Clearwisdom.net) Falun Dafa practitioner Mr. Huang Fujun lived in Acheng District, Harbin City, Heilongjiang Province. On July 24, 2007, he was arrested by policemen from the Songfengshan Town Station, and beaten until both of his feet were crushed and broken. Police detained him in Acheng District First Detention Center, deprived his right to be visited for three months until, on November 2, 2007, the police notified his family to visit him in the Acheng District Traditional Medicine Hospital, when he was dying.
He was unconscious, as thin as a skeleton, his face deformed from force-feeding tubes, which were still inserted in his nose. Dry blood filled his nostrils; no one was sure how long the tubes had been inserted. His buttocks were covered with terrible festering sores. Even in such a critical condition, guards still cuffed and shackled his wrists and ankles. His family repeatedly requested for him to be allowed to return home. The Detention Center Administration finally released him, out of fear that if they kept him they would be held responsible for his death.
Mr. Huang was picked up on November 4, 2007. A 44-year-old man who was in good health, was tortured to such a degree within only three months. He could not talk or recognize people. At around 8 p.m. on November 6, 2007, his face turned pale, and he died with his mouth and eyes open. He could not say one word to his family before his death.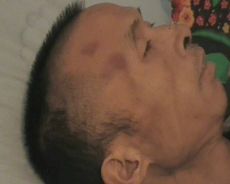 Mark on his head from being hit with heavy object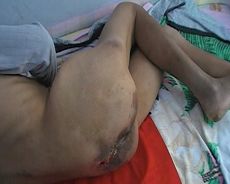 He was as thin as a skeleton, and festering sores covered his buttocks
After Mr. Huang died, the Acheng District 610 Office ordered his employer to take a look in his home. His family went to talk to the 610 Office Chairman, Wang Xiaoguang (male). Wang promised that the funeral cost would be covered by Mr. Huang's employer, and his employer would give the immediate family a job since Mr. Huang was the main source of income for the household. Wang also promised that Mr. Huang's parents and child would receive some income security. Wang told them he would negotiate with Mr. Huang's employer to arrange all these matters until his family was satisfied. Believing the "promises" would be kept , Mr. Huang's family agreed to let them ship his body to a funeral home. But soon after, police officers from Acheng District Department surrounded their home, and did not allow the family access to Mr. Huang's body. Nothing Wang promised actually happened; all of his promises were lies.
Under such terrible circumstances, Mr. Huang's family refused to sign on the cremation paperwork, and they continued to request to have an autopsy done. The police arranged the autopsy results to be issued after 45 days. During these 45 days, Mr. Huang's family hired a lawyer, requested to be compensated with 200, 000 yuan, and to bring the killers to justice.
The autopsy result said, his head had a mark caused by a metal object, his heart failed, throat was damaged, and cause of death was heart and lung failure. Even when presented with such evidence, the Acheng District 610 Office still claimed Mr. Huang died of suicide. They refused to admit responsibility for his death. The Acheng District Police Department notified Mr. Huang's family that they will not be compensated for any loss from Mr. Huang's death.
Mr. Huang's family hired a lawyer and found the District 610 Office agents. One agent said viciously, "You are lucky we are meeting with you. Mr. Huang Fujun's death was a suicide." When Mr. Huang's family and their lawyer went to the Legal Justice Office of Acheng District Police Department, the Office Chair Xi Jinglong (male) took the lawyer to the side, and threatened him, "How come you dare to accept this case? Do you still want to keep your license? How can you win a case against the Communist Party?" The lawyer emphasized that there is a life involved in this case, heaven forbids the murder of any life. But they still found no results.
Mr. Huang's family could not bear the grief. They sued Acheng District Police Department, Detention Center, and the 610 Office. But to this day, there is still nowhere that they can find justice, and Mr. Huang's body is still being stored in the funeral home.
Acheng District 610 Office Chair Wang Xiaoguang (male): 86-451-53760501 (Office), 86-451-53734388 (Home)
610 Office Deputy Chair (male): 86-451-57170124 0r 86-451-53761240
610 Office agent Li Juncheng (male): 86-13074597115 (Cell)
Songfengshan Town Police Station Director: 86-451-53831258, or 86-451-53890258
Deputy Director 86-451-53731258, 86-451-53834688
Acheng District Police Department Director Zhang Yabin (male): 86-451-53778889
Legal Justice Office: 86-451-53762334
First Detention Center Director: 86-451-53714847
Related reports: http://www.clearwisdom.net/emh/articles/2007/11/13/91319.html , and http://www.clearwisdom.net/emh/articles/2008/1/27/93709.html