Clearwisdom.net, Friday, February 17, 2006
Media Reports
Open Forum
News and Events Around the World
Facts of the Persecution
Practitioners Exchange Insights and Experiences
Traditional Chinese Culture
Media Reports
---
Financial Times & MSNBC: Internet giants grilled on China policies
February 15, 2006

The giants of the internet industry were put on the defensive on Wednesday when US lawmakers compared their compliance to Chinese censorship laws with the use of IBM's technology in the organisation of the Holocaust.
Yahoo, Google, Microsoft and Cisco later responded to stinging criticism of their business practices - including accusations that they have "enthusiastically volunteered for China's censorship brigade" - saying the issue was too big for the companies to tackle on their own and that the US government needed to take a leadership role.
The international relations sub-committee hearing on Capitol Hill was not the first time corporate executives had been taken to task by lawmakers for their business practices. But the presence at the hearing of Google and Yahoo, which pride themselves on facilitating the exchange of information around the world, and who have never before come under such harsh scrutiny, underscores that congressional pressure is building on the groups to take action to address concerns such as China's human rights record.
[...]
Mr Schrage [vice-president of global affairs at Google] and other executives were at times left speechless under the relentless questioning of California congressman Tom Lantos, a Hungarian-born Holocaust survivor who asked each of the companies whether they felt "ashamed" and whether they would agree to discriminate against women if asked to by a repressive regime.
"Your abhorrent activities in China are a disgrace. I simply do not understand how your corporate leadership sleeps at night," Mr Lantos said.
Dana Rohrabacher, a Republican legislator, emphasised the Chinese government's persecution of minorities in China, and introduced Peter Yuan Li, a Chinese-born American who was beaten in his home in Georgia this month. Mr Li has accused Chinese agents of being behind the attack because of the work he has done as a software engineer trying to get controversial websites through Chinese firewalls. In a Financial Times interview, the Falun Gong practitioner described being subjected to a ferocious beating at his home by Chinese and Korean speaking men who stole two laptops and his home telephone.

Source: http://msnbc.msn.com/id/11374936/
---
The Sun Herald: Internet giants come under fire on Capitol Hill [Excerpt]
February 15, 2006

WASHINGTON - Google and Yahoo found themselves denigrated as tools of China's Communist government in a congressional hearing Wednesday that led Yahoo to apologize for inadvertently assisting in the arrest of a Chinese dissident and Google to state that it could abandon China if censorship causes major business disruptions.

The two Internet giants were among four computer companies summoned to Capitol Hill to answer questions and face rebukes for their business activities in China, which have involved acquiescing to Chinese censorship laws.

The hearing - and the withering criticisms directed at the four - put into stark relief the complexities and compromises facing the high-flying Internet companies as they try to follow traditional American exporters in building global brands.

Unlike automakers or consumer products marketers, when companies like Yahoo and Google do business in countries with repressive regimes, they at times are accused of being complicit in supporting censorship and stifling political dissent.

This is an even more sensitive issue for the Internet companies because of the powerful image they have cultivated as champions of open communication.

Indeed, the central question of the hearing - and the conundrum before these big businesses - was whether they have a moral obligation to reject China's demands.

Yahoo received a stinging admonition for turning over e-mail account information that led to the imprisonment of a Chinese dissident, Shi Tao. A Yahoo affiliate in China provided the information without requiring a court order from Chinese authorities.

Google came in for perhaps the strongest criticism at the hearing. The Internet giant launched a China version of its search engine that blocks users from obtaining information about the Tiananmen Square massacre, the Falun Gong religious group, and other topics banned by Chinese censors.

"This makes you a functionary of the Chinese government," U.S. Rep. Jim Leach, R-Iowa, said after eliciting testimony from Google's representative indicating that the company models its list of forbidden search terms directly from those on official Chinese search engines.
[...]

During the course of the hearing, aides to U.S. Rep. Chris Smith, R-N.J., circulated the draft of a bill that would limit the China activities of U.S.-based Internet firms, and the U.S. State Department on Tuesday announced plans to lead a new international task force that would promote free expression on the Internet.

Smith's bill would require U.S.-based Internet companies to locate their computer servers outside of China, presumably out of the reach of Chinese censors. The proposal seems tailored to block censors from seizing computer files and arresting dissidents who use the Internet to, in the view of authorities, foment social unrest in China.

However, operating from outside the country could eliminate crucial business opportunities, including selling local advertising.

Smith acknowledged that any actions must be carefully considered, given that U.S. companies have invested more than $30 billion in China. Smith and other representatives argued that the censorship problem cannot be solved simply by placing limitations on U.S.-based Internet providers. U.S. government action and coordinated industry action will be needed, they said.

The policy proposals come after a string of embarrassing disclosures about various ways in which U.S.-based Internet companies have accommodated Chinese censors, decisions that have led in some cases to the arrest of Chinese dissidents. Besides contributing to the arrest of Shi and another dissident, Li Zhi, Yahoo also has signed a pledge of "self-discipline," promising to follow China's censorship laws.

Microsoft blocks sensitive terms from its MSN search engine. Last December, it also shut down the blog of Zhao Jing, who called on reporters for the Beijing News to walk off their jobs after an editor was fired for reporting news of unrest in southern China.

Cisco sells the computers that make China's Internet work. Congressmen at the hearing sought unsuccessfully to elicit testimony indicating that the company also provides training to China's security forces on how to block search terms on the Internet.

Perhaps the most outraged response came from U.S. Rep. Tom Lantos, from San Mateo, Calif., near Silicon Valley, who is also a Holocaust survivor and outspoken human rights advocate.

"These captains of industry should have been developing new technologies to bypass the sickening censorship of government and repugnant barriers to the Internet," Lantos said. "Instead, they enthusiastically volunteered for the Chinese censorship brigade."
---
WSJ: Chinese Internet Censors Face 'Hacktivists' in U.S. [Excerpt]
February 13, 2006
Surfing the Web last fall, a Chinese high-school student who calls himself Zivn noticed something missing. It was Wikipedia, an online encyclopedia that accepts contributions or edits from users, and that he himself had contributed to.
The Chinese government, in October, had added Wikipedia to a list of Websites and phrases it blocks from Internet users. For Zivn, trying to surf this and many other Web sites, including the BBC's Chinese-language news service, brought just an error message. But the 17-year-old had loved the way those sites helped him put China's official pronouncements in perspective. "There were so many lies among the facts, and I could not find where the truth is," he writes in an instant-message interview.
Then some friends told him where to find Freegate, a software program that thwarts the Chinese government's vast system to limit what its citizens see. Freegate -- by connecting computers inside of China to servers in the U.S. -- enables Zivn and others to keep reading and writing to Wikipedia and countless other Web sites.
Behind Freegate is a North Carolina-based Chinese hacker named Bill Xia. He calls it his red pill, a reference to the drug in the "Matrix" movies that vaulted unconscious captives of a totalitarian regime into the real world. Mr. Xia likes to refer to the villainous Agent Smith from the Matrix films, noting that the digital bad guy in sunglasses "guards the Matrix like China's Public Security Bureau guards the Internet."
Roughly a dozen Chinese government agencies employ thousands of Web censors,
Internet cafe police and computers that constantly screen traffic for forbidden content and sources -- a barrier often called the Great Firewall of China. Type, say, "media censorship by China" into emails, chats or Web logs, and the messages never arrive.
Even with this extensive censorship, Chinese are getting vast amounts of information electronically that they never would have found a decade ago. The growth of the Internet in China -- to an estimated 111 million users -- was one reason the authorities, after a week's silence, ultimately had to acknowledge a disastrous toxic spill in a river late last year. But the government recently has redoubled its efforts to narrow the Net's reach on sensitive matters.
It has required all bloggers, or writers of Web logs, to register. At the end of last year 15 Internet writers were in jail in China, according to the Committee to Protect Journalists, a New York group. China also has gotten some U.S. Internet companies to limit the search results they provide or the discussions they host on their Chinese services. A tiny firm Mr. Xia set up to provide and maintain Freegate had to lobby computer-security companies such as Symantec Corp., of Cupertino, Calif., not to treat it as a virus.
In response to China's crackdown, and to restrictions in many Middle Eastern countries as well, a small army has been mustered to defeat them. "Hacktivists," they call themselves.
[...]
Freegate has advantages over some of its peers. As the product of ethnically
Chinese programmers, it uses the language and fits the culture. It is a simple and small program, whose file size of just 137 kilobytes helps make it easy to store in an email program and pass along on a portable memory drive.
Mr. Xia says about 100,000 users a day use Freegate or two other censorship-defeating systems he helped to create. It is impossible to confirm that claim, but Freegate and similar programs from others, called UltraReach and Garden Networks, are becoming a part of the surfing habits of China's Internet elite in universities, cafes and newsrooms.
A Big Booster
Freegate has a big booster in Falun Gong, the spiritual group China banned in 1999 as subversive. It is a practice of meditations and breathing exercises based on moralistic teachings by its founder, Li Hongzhi. Chinese expatriates -- marrying U.S. free-speech politics with protests over persecution of Falun Gong practitioners in China -- have focused their energy on breaking China's censorship systems. They have nurtured the work of Mr. Xia, himself a Falun Gong follower, and several other programmers.
Freegate also gets a financial boost from the U.S. government. Voice of America and Radio Free Asia, part of the federal government's Broadcasting Board of Governors, pay Mr. Xia and others to send out emails featuring links to their stories.
Kenneth Berman, manager of the anti censorship office of the board's International Broadcasting Bureau, declines to say how much it compensates Mr. Xia's company. He says the bureau pays less than $5 million a year to companies to help combat Internet censorship abroad, especially in China and Iran.
"Our policy is to allow individuals to get anything they want, when they want," Mr. Berman says. "Bill and his techniques help us do that."
Human Rights in China, a New York nonprofit group funded by individuals and charities founded by Chinese scientists and scholars in 1989, also helps fund Mr. Xia's enterprise, which runs on a budget of about $1 million a year, and pays it to send out emails.
The resources behind Freegate and others hacktivists could increase if Congress revives a bill to create an Office of Global Internet Freedom. U.S. Internet companies have drawn strong criticism in Congress for compliance with Chinese Web restriction, and hearings on their activities are set for Wednesday.
[...]
Moving to the U.S. a decade ago to begin graduate studies in physics, [Mr. Xia] says, he never imagined becoming either a dissident or a programmer. Slowly, he became more uncomfortable with China's restriction of public discourse. In the U.S., he watched taped footage of the 1989 Tiananmen Square assault on protesters.
Mr. Xia says he taught himself computer science out of textbooks and in 2002 set up a small company called Dynamic Internet Technology Inc., hiring 10 people to help send out emails for such clients as Voice of America. He says he takes no salary, living a modest life off his savings and his wife's earnings.
Often working alone at his computer until 3 a.m., Mr. Xia lives like a secret agent, communicating with a small team of volunteer programmers across North America over secure email or coded phone calls. He combs his house with a device to detect the loose radio waves of bugging devices. In his 30s, Mr. Xia asked that the city in which he lives and works not be disclosed so he can maintain a low profile.
The programmer says he dashes to his computer as soon as he wakes up each morning, to make sure his system is still intact. He keeps a raft of programs running on his oversize flat-screen monitor, testing Freegate through a dozen different Web browsers and instant-message and chat programs.
Freegate works by constantly changing the address of its U.S. servers so that China can't block the connection, and users like Zivn, the 17-year-old, can read and write at will. Zivn says he uses Freegate three to four times a week to read domestic and international news. Besides the BBC site he frequents Radio Free Asia and the Epoch Times, a newspaper that champions Falun Gong. All have Chinese-language news services normally blocked by China's firewall.
Zivn says he isn't a member of Falun Gong and describes his political slant as "neutral." He says he has read about North Korean leader Kim Jong Il's recent secret visit to China and the closure of a liberal Chinese magazine called Freezing Point. He says he has copied some foreign news reports onto his personal blog, which is available inside China and periodically gets blocked itself.
One user, who describes himself online as a 22-year-old who works in Chinese
media, praises the software but adds that its use is "limited to a small group of people who are knowledgeable about computers and the Internet." Most Chinese, he says, "have not realized the harmful effects from network blocking." China's Internet control system, called Golden Shield, doesn't aim for complete control over information but rather to discover and plug major breaches in the firewall.
Nor can Freegate prevent self-censorship. Many Chinese surfers and bloggers, having a sense of the forbidden words and topics, check themselves before they cross the line.
Then, too, many Chinese are as frivolous in their Internet use as anyone else. Most of China's estimated 33 million bloggers write about entertainment, fashion and such, not the free-speech or police crackdowns.
Still, Mr. Xia says he sees a rise in Freegate traffic after events such as democracy protests or corruption scandals, which the state-controlled press doesn't cover.
Freegate's Web site supports an effort [...] to get Chinese citizens who belong to the Communist Party to renounce their membership, and the paper claims nearly eight million have signed a petition doing so. Many did so through Freegate, Mr. Xia says.
Mr. Xia says he gets a mountain of feedback. He convinced Symantec not to treat Freegate as a virus. "The users are not technical. They just say, 'It doesn't work!' and we have to ask them a lot of questions" to resolve problems, Mr. Xia says. He politely declines the help of volunteers inside China, fearing that they might be government spies or that they would be punished if discovered.
Occasionally, he says, he gets tips from Chinese who say they have been given the job of maintaining the Internet restrictions. "One guy told us, 'Sorry, I participated in some efforts to block your software. I think it is not going to work in a few days,' " Mr. Xia says. "China may have many people working on the firewall, but for them it is just a job."
When Mr. Xia got into this work, the anticensorship movement's great hope at that time was dying. It was a program called Triangle Boy, which worked by connecting Chinese users to a regularly updated list of secret portals, called proxy servers, hosted overseas. It worked well until 2002, when China sped up its countering system to close those holes in its firewall within hours after noticing a leak. Short of resources and solutions, Triangle Boy couldn't keep up.
Similarly, with each new version of Freegate -- now on its sixth release -- the censors "just keep improving and adding more manpower to monitor what we have been doing," Mr. Xia says. In turn, he and volunteer programmers keep tweaking Freegate.
At first, the software automatically changed its Internet Protocol address -- a sort of phone number for a Web site -- faster than China could block it. That worked until September 2002, when China blocked Freegate's domain name, not just its number, in the Internet phone book.
The government accomplished that by actually taking over China's whole portion of the Internet naming system, the common directory that computers on the Internet use to talk with each other. It then diverted Freegate users from the company's North American servers to several addresses China had picked.
More than three years later, Mr. Xia still is amazed by the bold move, calling it a "hijacking." Ultimately he prevailed, through a solution he won't identify for fear of being shut down for good.
Confident in that fix, Mr. Xia continues to send out his red pill, and users like Zivn continue to take it. The teen credits his cultural and political perspective to a "generation gap" that has come of having access to more information. "I am just gradually getting used to the truth about the real world," he writes.
---
AP: China Critics Say Crackdown Reaches U.S.
February 15, 2006

ATLANTA - Peter Yuan Li was beaten, tied up, blindfolded with duct tape and robbed of two laptop computers last week by three Asian men who burst into his suburban Atlanta home with a gun and knife.

He and other Chinese-Americans suspect it was no ordinary robbery.

Li, who works for a newspaper and Web site critical of the Chinese Communist Party, is one of several people tied to China's banned Falun Gong spiritual movement who say they have been harassed and hit with break-ins in the United States by Chinese agents.

They say China has carried its crackdown on dissidents to this country.

FBI spokesman Stephen Emmett said the bureau is looking into the attack on Li for potential civil rights violations and refused to comment on whether the Chinese government was behind it.

The men who broke into Li's home near Duluth spoke Korean and Mandarin and left behind certain valuables, including a camcorder and television, but took his computers, a phone and his wallet, according to Li and the Fulton County police report. They also demanded unspecified documents and pried open two file cabinets, he said.

"What surprises me is that in the U.S. they could do such things," said Li, a naturalized U.S. citizen who does computer work for the Web site of the Falun Gong-affiliated newspaper The Epoch Times. He now has stitches across his forehead.

[...]

Reporters Without Borders, a Paris-based press freedom group, has seen attacks on Falun Gong members in South Africa, Hong Kong and Australia, but said the one in the Atlanta area might be the most serious case yet.

"We are definitely intrigued by the circumstances in which the attack occurred," said Lucie Morillon, the Washington representative for Reporters Without Borders.

The other cases of harassment in the United States mostly involve threatening phone calls. However, Alex Ma, a vice president for the San Francisco branch of The Epoch Times and a Falun Gong member, said his home was broken into twice last year, and in the first incident, two laptops were taken.

After the first break-in, Ma said, he got a call from an older sister in China, who rarely calls. She asked him to stop doing things the government doesn't like, he said.

Haiying He, a Falun Gong member who lives outside Boston, said he has gotten threatening calls. He also said that his father back in China once passed along a message from officials there that they were keeping an eye on him.

In another instance, Ma said, he got a message on his home phone that was a recording of a cell phone call he had had with another Epoch Times employee. Ma said he is convinced the incidents are part of an effort by Chinese government authorities to intimidate those who criticize them.

"You cannot say this is all coincidence," he said.

Ma, along with Reporters Without Borders officials, said the attack on Li may have grim implications.

"I think it's an upgrading of violence," he said.
---
Agencia Internacional de Noticias: Reporters Without Borders Reports on the Atlanta Attack
February 14, 2006
Reporters Without Borders is concerned about the assault committed on Yuan Li, a journalist with the daily The Epoch Times, at his home in Atlanta on February 8, 2006. The organization is also intrigued by the circumstances under which the attack occurred.
"Would Yuan Li have been beaten and robbed as he was if he had not been a member of The Epoch Times' editorial staff? Not if the circumstances surrounding the crime are any indication. In addition, the ties between the daily and the Falun Gong spiritual movement, one of the Beijing regime's pet peeves, are well known. The involvement of the Chinese authorities in this case - which remains to be proven - would be a sign that dissident journalists are no longer safe, even in exile," Reporters Without Borders stated.
At about noon on February 8, a stranger rang the front door bell at Yuan Li's home in a residential area of Atlanta. "He claimed to be there to deliver water, but I had not ordered any. Just as I opened the door to let him in, another man burst into the doorway and broke the door down," the journalist explained to Reporters Without Borders. The two thugs, one armed with a knife, the other with a revolver, attacked their victim and beat him up. "They tried to suffocate me with a quilt. After that, they hit me and then slashed at my face with a knife," continued Yuan Li, whose face is covered with at least fifteen cuts.
According to the victim, two other individuals then entered his apartment. "They were speaking Korean, but one of them asked me in Chinese where my safe was. I saw only three of my four assailants, and they were all Asians." The thugs left after about thirty minutes, taking with them two computers, a hard disk a telephone and Yuan Li's briefcase. When he came to, still groggy, he went outside. A neighbor noticed him and called the police.
"I obviously do not have any direct proof that they were Chinese agents," the journalist admitted. "But they acted in broad daylight and took only computer equipment. That's troubling." Dana Cheng, Vice-President of The Epoch Times, is much more categorical. She told Reporters Without Borders, "Every single day, we denounce the activities of the Chinese regime. Many people - even in China - manage to connect to our website, despite the authorities' attempts to block the Internet. The regime fears us. It wants to silence us."
The FBI will be heading the investigation into Yuan Li's assault. According to The Epoch Times, letter bombs have recently been mailed to its Sydney and Toronto offices.
---
Winnipeg Sun (Manitoba, Canada): Immigrants also Targets
February 15, 2006

The Chinese Communist Party's campaign against Falun Gong extends well beyond the geographical borders of China.

Gary Yang, 47, who owns a restaurant in Regina, said his business has suffered because he practices Falun Gong.

"I get pressure from the Chinese Consulate. They tell all the Chinese people (that come to Canada) not to come to my restaurant," said Yang, noting he started practicing Falun Gong after moving to Canada.

"My parents in China are given a hard time. If my mom wants to talk to people in the street, nobody will talk to her, everybody is scared."

Sophia Wang also immigrated to Canada from China with her husband to have the freedom to practice Falun Gong.

Her family has faced dire consequences in China since she began speaking out.

"My mother-in-law was detained for two weeks and her pension was suspended for two years," said Wang.

Wang gave up her career as a doctor in China when she moved to Calgary.

She said having freedom [of belief] and to speak her beliefs was worth leaving her career and homeland behind.

"Everybody has a desire to be a better person," said Wang, noting Falun Gong helps her achieve serenity, happiness and truth.

Yang and Wang and about 10 other Falun Gong practitioners attended the Winnipeg trial yesterday to show support for the prosecution of those who inflicted torture on Kunlun Zhang.


---
Open Forum
---
On the Fundamental Evils of Communist Doctrine
(Clearwisdom.net) With the publishing of the Nine Commentaries on the Communist Party, more and more people are beginning to see clearly the evil nature of the Chinese Communist Party (CCP). However, there are still a number of people whose thoughts are that although the CCP is corrupt, its fundamental doctrines are still great and sublime. They believe in its ideas and concepts to push for a highly developed productivity, everybody contributing to the society according to his ability, and the distribution of goods and resources based on everyone's need. They feel that the only thing wrong is that corrupt officials have deviated from communist ideology and the cause of communism.
When the communist regimes in the former Soviet Union and its East European allies finally crumbled, the CCP used the same excuse to deceive the Chinese people. They said that communism was the ultimate ideology for the entire human society, and what happened in the former USSR and its East European allies was due to corrupt officials, not to communism itself. Many enthusiastic youth who wanted to dedicate themselves to the service of the motherland were misled and deluded by such evil doctrines and became CCP members. These people believed that the idea to establish a communist paradise on earth was very noble and great. However, they seldom ever thought about the question of whether the communist ideology is good, or is it in fact an evil doctrine that contravenes heavenly principles.
The answer is the latter. The communist doctrine of "high productivity, from each according to his ability, to each according to his need" is very deceptive. There are two key points here. Common ownership of production materials and distribution of products according to need. The former is the foundation while the latter is the purpose.
The key difference between common ownership of all production materials in the communist regimes, and the ownership of a small portion of production materials by the governments in other countries, is that communism requires the abolition of all forms of private ownership. It stipulates the so-called public ownership of all production materials. Their evil intent, however, is for the party to seize and control all. In reality, it is a party ownership system, not a public ownership system. The concept of public ownership is actually a tool used by the party to deceive and control the people, and to give the party control of all production.
The idea and concept of "to each person according to his need" is primarily developed by utilizing the negative side of human nature that is selfish and afraid of hard work. The concept of "to each person according to his need" basically means that regardless of how much effort and work one puts in, one can get whatever one wants and how much one wants. This concept is indeed favored by those who don't intend to do much work. These are the fundamental evils of such communist doctrine.
Mr. Li Hongzhi, the founder of Falun Dafa, teaches such a principle that the fundamental characteristic of the universe is "Truth, Compassion, Forbearance." Another principle derived from "Truth, Compassion, Forbearance" is the principle of "no loss, no gain." To gain, one must lose. The basic understanding of this statement is: "...one does not gain if one does not work for it, more work means more gain, less work means less gain." (Zhuan Falun) The words from Mr. Li actually speak of a law of nature or heavenly principle. The movement of everything in heaven and on earth validates this principle. A farmer needs to plough his field, sow the seeds, spread fertilizer, water it, weed it, eliminate pests and finally harvest the crop, etc. He needs to do his hard work with effort to be able to obtain a good harvest. Where there is sacrifice, there is gain. The more effort one puts in, the more return one gets. Therefore, the concept of "to each person according to his need" is an evil doctrine, which is against the heavenly principle. It is a doctrine to deceive and brainwash people. It is impossible for any society, developed or not, to realize the communist doctrine of "to each person according to his need." The Communist Party uses the doctrine of "to each person according to his need" as camouflage to carry out its real doctrine of "to each person according to his power in the Communist Party."
---
Seeing Through CCP Culture: Who is Actually the Minority?
(Clearwisdom.net) The Chinese government has long been deceiving people using a "principle" that sacrifices the interests of the minority for the benefit of the majority. Does that sound reasonable?
For example, the Chinese Communist Party (CCP) persecutes Falun Gong, and many people that subscribe to the CCP's philosophy believe that it is fine for a minority to suffer for the good of the majority. Therefore, many in China are unwilling to accept the truth about Falun Gong and the persecution. They do not want to think about it, and some are even involved or take part in the persecution of Falun Gong, due to their acceptance of the CCP's twisted logic.
What is wrong with the logic of "sacrificing the interests of the minority for the benefit of the majority?" To begin with, this only makes any sense if the interest of the minority is in conflict with that of the majority. If there is no conflict, then this logic becomes invalid and unreasonable.
Falun Gong believes in Truthfulness, Compassion and Forbearance. Not only do Falun Gong's interests not have any conflict with that of the majority, it is a benefit to the nation, society and the people. Falun Gong practitioners are against the persecution they face, and simply protest to regain their legal rights. Their interests are not in conflict at all with the general populace.
Some people say that if the CCP does not persecute Falun Gong, it would have to persecute other people, since it has to have an "enemy" to engage in its infamous "class struggle." In that case, isn't this a great indictment of the CCP?
Let's say that a mother has ten daughters, and one daughter is brutally beaten by her stepfather every day. If you justify it by saying that if the thug did not beat this daughter, he would do it to the other daughters instead, what mother in the world would be satisfied with that?
Who is the real "minority"?
The "majority" and "minority" are defined by the CCP as it sees fit. In reality, Falun Gong practitioners and the society as a whole have the same interests, and they are the "majority". The interest of the CCP is fundamentally different from that of the people it rules. In other words, the mother, the victimized daughter and the other daughters all share the same interests. The only person who has different interests is the stepfather. Only by stopping his vicious deeds will the family gain peace and harmony. Following the same reasoning, only when everyone comes together to stop the CCP will the people enjoy peace and prosperity.
The communist party theory of "sacrificing the interests of minority for the benefit of the majority" is actually "sacrificing the general populace's interests for the benefit of the CCP."
A friend's mother came to visit her from China, and she did not quite understand why Falun Gong practitioners expose the evil of CCP. She thinks that she leads a normal life, so why should she care about this? However, when she heard that a famous lawyer wrote a letter to the public relating accounts of sexual abuse suffered by many Falun Gong practitioners, she asked her daughter to read it to her. As a mother she was jolted awake by the brutal sexual abuse perpetrated by the CCP. I now believe that she will no longer agree with the CCP's so-called "interests of the majority". The true "minority" is the CCP.
On February 04, 2006
---
Practitioners in China Condemn the Attack on Dr. Peter Yuan Li
(Clearwisdom.net)
Falun Dafa practitioners in mainland China condemn the Chinese Communist Party's persecution of Dr. Peter Yuan Li. We were saddened to hear that Dr. Li, a practitioner in Atlanta, was violently assaulted and injured by CCP secret agents. We and other Chinese citizens who know the truth, condemn the spy agencies and agents manipulated by CCP henchmen Zeng Qinghong, Luo Gan and others.
In the United States, with its democracy and religious freedom, Dr. Yuan Li is protected by laws that safeguard human rights. Practitioners in mainland China sincerely hope the U.S. government and people will clearly see the harm caused by the rogue spies of the CCP.
We extend to fellow practitioner Yuan Li and his family our sincere best wishes.
We will completely support the Epoch Times to spread Nine Commentaries on the Communist Party and disclose the atrocities of the Chinese Communist Party. We will step up our efforts to expose the crimes of the CCP to all circles in society, letting all people in China and the world see clearly the true colors and criminal intentions of the CCP. Its hiring of thugs and use of brutal methods only reveals its stupidity and ignorance, and accelerates its complete collapse.
Dafa practitioners in mainland China condemn the crimes of the rogue spies of the CCP, and request the U.S. authorities to bring the criminals to justice! The spies of the CCP brutally assaulted a person in a democratic country, which fully exposes the evil nature of this political regime and its impending collapse.
Herein, we denounce this most despicable ploy utilized by the evil thugs and spies of the Chinese Communist Party to cruelly persecute Falun Gong practitioners. At the same time, we present our sincere salute to our fellow practitioner, Dr. Yuan Li, thanking him for his great contribution to assisting Falun Gong practitioners in mainland China in validating Dafa and exposing the evil. We express good wishes to Dr. Yuan Li for a quick recovery.
February 10, 2006
---
News and Events Around the World
---
Peru: Practitioners Condemn CCP Spies' Hoodlum Conduct (Photos)
(Clearwisdom.net) Falun Gong practitioners and some employees of the Spanish Epoch Times gathered in front of the Chinese Embassy in Lima at 4 pm on Feb. 11, 2006, to condemn the attack of Chief Technical Officer of the Epoch Times and Falun Gong practitioner Li Yuan. They expressed support for the global relay hunger strike to call for all people of justice and conscience to step out bravely, and to condemn and resist the CCP persecution.
Protest in front of the Chinese Embassy in the capital of Peru
The protest started at 4 pm on Feb. 11 and concluded at 6 pm on Feb. 12.
---
Edmonton, Canada: Practitioners Protest CCP Attack (Photo)
(Clearwisdom.net) At noon on February 12, 2006, Falun Gong practitioners from Edmonton and Epoch Times staff members gathered at the square in Chinatown to hold a press conference to protest and condemn the Chinese Communist Party (CCP) agents' armed attack and robbery of an Atlanta Falun Gong practitioner.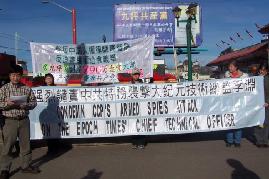 Mr. Ye, a representative of Falun Gong, giving a speech.
Falun Gong representative, Mr. Ye introduced the story of the incident. Atlanta Falun Gong practitioner Peter Yuan Li was attacked and robbed on February 8, 2006 in his home. Ye pointed out that Li's being attacked was one of a series of CCP agents' barbaric acts encroaching on the rights and privacy of Falun Gong practitioners in North America. This is the most brutal and most irrational act of violence against a practitioner in North America.
Ye said that the only consequence of the CCP agents' overseas activities was to more clearly enable Western countries to realize the CCP's evil nature. Recently, voices of justice from all over the world have formed a wave to condemn the Communist Party, and people are standing up against the persecution. The Atlanta incident reveals that the CCP is shameless, resorting to any kind of wicked act possible before its imminent collapse.
Local media including the Edmonton Sun and City TV covered the event.
---
Japan: Falun Gong Practitioners Gather at Chinese Consulate in Fukuoka to Protest CCP Violence in USA (Photos)
(Clearwisdom.net) On the afternoon of February 12, 2006, Falun Gong practitioners and Epoch Times volunteers from across Japan rallied in front of the Chinese Consulate General in Fukuoka to protest the Chinese Communist regime's terrorist acts outside China.

Falun Gong practitioners and The Epoch Times volunteers peacefully protest in front of Chinese Consulate
February 12, 2006 was the traditional Chinese Lantern Festival. The Chinese Consulate in Fukuoka invited local Chinese to have an evening banquet. Dozens of volunteers of the Epoch Times and Falun Gong practitioners from Hiroshima, Kagoshima, Oita, Kumamoto and Fukuoka came to the Chinese Consulate to expose the CCP's criminal behavior. They protested the brutal assault and robbery of Falun Gong practitioner and chief technical officer of the Epoch Times, Dr. Peter Yuan Li, in his home in Atlanta by CCP operatives several days ago.
At 4:00 p.m., Falun Gong practitioners and the Epoch Times volunteers unfurled banners and displayed picture boards. The Chinese people who participated in the evening banquet held at the Chinese Consulate arrived in succession. The photo of Dr. Yuan Li after being attacked, Falun Gong practitioners' banners and truth clarification display boards exposing the CCP's brutal persecution drew people's attention. They talked with each other in low voices, and slowed down their steps to view the posters one by one. Some even had their photos taken with the protest scene in the background.
At around 8:30 p.m., when people began leaving the Chinese Consulate, two volunteers of the Epoch Times took turns reading the statement of the Epoch Times regarding the assault of Li Yuan, and advised the Chinese people to quickly withdraw from the CCP and its affiliated organizations. On this serene evening with a bright moon in the sky, their resonant voices broke through the boundaries of space and people's misunderstanding. The sound of the truth being widely spread and the evil's true nature being exposed led the protest activity to a successful conclusion.
The protest activity was over around 9:30 p.m. During the process, local police gave great support. A relay hunger strike to protest the CCP's hoodlum and terrorist acts began on February 13 in front of the Chinese Consulate in Fukuoka.
---
Denmark: Practitioners Protest CCP Violence (Photos)

Practitioners Protest violence of CCP spies in Front of the Chinese Embassy
(Clearwisdom.net) On February 11th, practitioners gathered in front of the Chinese Embassy in Copenhagen to protest the vicious attack on American Falun Gong practitioner, Dr. Li Yuan. Thugs also broke the door of the key person in charge of NTDTV in France, to steal money.
8 million people have recently withdrawn from the CCP and the human rights movement has become more and more popular in China. The CCP is on the verge of becoming extinct. Everything it does has no effect except helping more people understand its evil nature.
On February 8th, the Falun Gong practitioner, Dr. Li Yuan was attacked, tied up, and beaten by pistol-bearing CCP agents in his Atlanta home. Two laptops and documents were stolen. His neighbor reported the attack to the police. Mr. Li Yuan was rushed to the hospital by ambulance and given 15 stitches.
On February 9th in Paris, the house of Epoch Times volunteer Ms. Chen, in charge of the NTDTV gala, was broken by Chinese Communist secret agents. The wardrobe door in the bedroom was dismantled and bent, the bed was overturned, clothes and other goods were routed in great confusion. The NTDTV ticket money, which was put in the box in the living room, was all taken away, but the tickets and checks were left. The valuable jewelry was also taken away. All materials in the living room were thrown on the ground.
The Chinese Communist Party has persecuted Falun Gong for nearly 7 years, from Mainland China to overseas countries. Danish Falun Gong practitioners, just like the practitioners in other countries in the world, have been threatened and harassed by the Chinese Communist regime. Some practitioners received more than 900 harassing phone calls in one or two days or as many as hundreds of thousands of spam email. The practitioners, including western practitioners, were all being persecuted in different ways. However, more and more people have started to practise Falun Gong. Many practitioners started their cultivation after the persecution happened. This fully proves that when people find the truth, no threat or fright could scare them.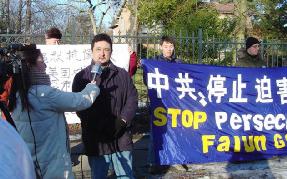 Practitioner Marco is interviewed
Danish Falun Gong practitioner representative Marco Hsu said, "We come here to protest the Chinese Communist regime's evil behavior. 8 million brave people have pulled out the root of the Chinese Communist Party in order to condemn the brutal torture as well as the persecution on its people. Recently, there's a hunger strike relay held worldwide to condemn the public horrible violence done by the Chinese Communist secret agents. No matter in China or in overseas countries, it is most people's wish to against the Chinese Communist regime. More and more people with a sense of justice are joining this big trend, which is against the Chinese Communist regime's tyranny. The suppression and violence against the media that dare to speak the truth, on the contrary, will attract more people gathering to support them. We strongly condemn the violent crimes in overseas countries committed by the Chinese Communist regime, and will expose its crimes in front of the people of the world. We appeal that the evil backstage manipulators of these kind of incidents be brought to justice, and also appeal to the international society to together boycott the Chinese Communist regime which exports its terrorism to overseas countries."
http://clearharmony.net/articles/200602/31485.html
---
"Remarkable!" - Introducing Falun Dafa in California's Capital on Chinese New Year
(Clearwisdom.net) California State University, Sacramento (CSUS) in Sacramento, the capital of California, greeted the largest annual Chinese New Year celebration on February 4, 2006. Falun Gong practitioners have been invited to take part every year, bringing the beauty and wonder of Falun Dafa to the people.
The practitioners' booth is different from most other booths. It does not have a commercial purpose, but teaches the Falun Gong exercises freely, and offers many elegantly made VCDs, video tapes and picture books to help people learn about Falun Dafa. Practitioners also volunteered their time.
During the one-day activity, many predestined people learned about the blessings of Falun Dafa and were deeply moved. Many people sincerely thanked practitioners for receiving the present--The Story of Cultivation.
A businessman who has a close contact with mainland China saw Falun Gong practitioners' booth, and said earnestly, "You are really remarkable! I'm from Northeastern China, and my friends in China said that your leaflets have reached every household!"
A middle-aged woman had a conversation with a practitioner which helped her resolve many puzzles. She felt the wonder of Falun Dafa and repeatedly said she was fortunate.
A visitor took truth clarification materials and said he would help display them in the library and he also gave practitioners suggestions on how to introduce Falun Dafa.
An active person from an association, after having a talk with practitioners took a Falun Dafa introductory flyer, and then walked up to a practitioner to express his admiration by giving a thumbs-up.
Some people quietly watched the video of the staged "Self-immolation Incident in Tiananmen Square." Some had a peaceful conversation with practitioners, and some eagerly asked for information about the local practice site so as to come to learn the exercises. Many children were attracted by the elegant bookmarks.
This year's Chinese New Year celebration was composed of 16 Chinese associations, and associations from overseas and mainland China were also invited to jointly organize the celebration. The celebration not only attracted thousands of Chinese, but also many westerners who love Chinese traditional culture. Be it artistic performances, commercial booths, garden visits, calligraphy, painting and posters competition, or delicious food, crowds of people could be seen enjoying all this to their hearts' content.
The Falun Gong booth was among all other booths, but was quite unique. Peacefulness and beauty, along with the music "Pu Du," gently permeated the entire hall, naturally flowing into people's hearts.
---
Citizen of Slovakia: "The things you're doing are very good. Please continue" (Photos)
(Clearwisdom.net)
On the morning of Saturday, February 11, 2006, Falun Gong practitioners visited Piestany in the middle of western Slovakia. They went there to let local residents know about Falun Gong and the cruel campaign of human rights abuses that has been waged against the practice by the Chinese Communist Party (CCP) for almost seven years.
Many people stopped and looked at the posters that exposed scenes of persecution. "The things you're doing are very good. Please continue," said one local man. "I was glad to sign your petition, I don't want such things to happen," said another lady, who was concerned about the atrocities against Falun Gong practitioners in China. After learning about the persecution, people are often surprised to find out that the persecution was launched by one person -- former CCP leader Jiang Zemin -- who was jealous of Falun Gong's popularity and made use of the CCP in attempts to carry out his plan to "eliminate" Falun Gong within three months.
A reporter from a local newspaper was interested in the healing effects of Falun Gong. She said she will write a feature article about it soon.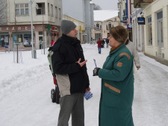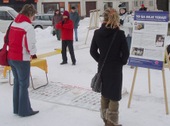 People talk to practitioners and read posters to find out more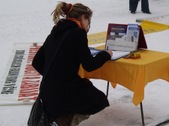 Signing a petition to call for an end to the persecution of Falun Gong
Source: http://www.clearharmony.net/articles/200602/31473.html
---
Facts of the Persecution
---
The Police Beat and Injured Me Because I Read a Brochure
(Clearwisdom.net) I am a Falun Gong practitioner from Shatuozi Township, Pingquan County, Hebei Province. The following is my experience at the hands of the local police.
At about 8 a.m. on March 3, 2004, Li Jianbo and Tong Yanhui from the Shatuozi Police Station with two other policemen rushed into my home. I was reading a brochure at the time. Seeing they were coming I put the brochure into my pocket. They said, "What were you reading? Let's see it!" They took the brochure from my pocket and demanded to know where it came from. I told them that I picked it up outside. They ordered me to go with them. I told them I had done nothing illegal and questioned why I should go with them. Right then and there all four of them became violent. Two of them caught me by my arms, one grabbed my hair, and the other one started to slap my face. They also searched my house. Without finding any incriminating evidence they forced me into their vehicle.
After I arrived at the local police station, they handcuffed me to a radiator pipe, beat me with their hands, and even used folded newspaper to hit my face. My face and hands were bleeding from the beatings. One of them, I can't remember which one, then wiped his hand with my blood, went out and lied to the people outside saying that I bit him. The police not only beat me again but also turned around and charged me, the victim, with a crime. The Communist Party regime is really so evil! The excruciating chest pain caused by the beating I had been subjected to lasted more than 40 days.
That day my relatives and other townspeople went to the local police station to plead with them for me. They praised and flattered them and also and found some influential people to persuade the police, but they still refused to let me go. After that we entrusted Li Fu, a man of influence in the county, with pleading for me. Communist regime agitator Li Jianbo not only slandered Li Fu but also took off his own coat and rushed toward Li Fu, intending to beat him. There were a lot of people around. Someone grabbed Li Jianbo around his waist and stopped him.
The local police telephoned the county police to resolve the incident. I had then been handcuffed for over seven hours, with a serious internal injury, obvious other trauma and a bloody face. Tong Yanhui released my handcuffs and ordered me to wash the blood off my face, for fear others would discover what had been done to me. When they arrived, the county police wanted to fine me 3,000 Yuan. They also stated that if we didn't give them enough money, they wouldn't release me and wanted to send Wang Shuying and me to their police department.
Once the local police noticed the county police department taking over, they realized the local police would not get the money. Then Li Jianbo told me, "1,500 Yuan is also ok." Wang Shuying and I were thus detained for a whole day and they extorted 3,000 Yuan in total from us. As a peasant, I only have several hundred Yuan income for a whole year!
Because of the beating I cannot move freely. The second day they also ordered my daughter-in-law to go to the police station, fill out this or that paper, sign documents and leave fingerprints.
2006-1-16
---
The Police in Yichun City Continue to Persecute Disabled Practitioner Wang Xinchun (Photo)
(Clearwisdom.net) The police in Fenggou County, Fengmao Forest, Yichun City, Heilongjiang Province have never stopped persecuting Falun Dafa practitioner Mr. Wang Xinchun, even though they crippled him in 2001. At the end of 2005, the police wounded his already disabled legs.

Picture: Police abuse and terrorism led Mr. Wang Xinchun to lose his legs
Wang Xinchun lost both feet due to persecution by the 610 Office, the police and the Public Security Bureau. Nevertheless, police and local officials in Fengmao Forest continue to persecute Mr. Wang. They have repeatedly kicked and beaten him, poured boiling water on him, pinched his neck, and burned him with a lighter. Liu Changmin, deputy manager of Fengmao Forest, violently beat the stumps where his feet used to be, causing him serious injury again.
At around 9 a.m. on October 31, 2005, Mr. Wang was crawling on the road, on his way home. A police car from the Fenggou Police Station suddenly appeared. Chief Min Caichun, Police officers Wang Choumin, and Yang Dawei jumped out of the car and ran towards Mr. Wang. Wang Choumin searched the pockets of Mr. Wang Xinchun's coat and found handwritten Falun Dafa materials, so he began to beat him. Mr. Wang Xinchun's face was swollen and was full of bruises. Another policeman Yang Dawei searched the right pocket of Mr. Wang's pants and stole his watch and all of his money, 184 yuan. Mr. Wang Xinchun asked Yang to return his money and his watch and, as a result, was cursed at and beaten. Once again, blood flowed from his two injured, disabled legs.
For detailed information on the persecution Mr. Wang Xinchun has endured, please refer to "How Did I Lose My Feet?" (http://www.clearwisdom.net/emh/articles/2004/7/20/50454.html)
Here we warn Yan Caichun and his accomplices at the Fenggou County Police Station: Stop persecuting Falun Gong practitioners immediately!
Telephone Numbers
The Fenggou Police Station: 86-458-3700555
Yan Caichun: 86-458-3734874(Home), 86-13846696677 (Cell)
Yang Dawei: 86-458-3732942 (Home), 86-13845846066 (Cell)
Wang Choumin: 86-458-3734082 (Home), 86-13134584082 (Cell)
Postal Address: Fenggou Police Station, Jinshan, Yinchun City, Heilongjiang Province, 153026
---
Call for the Immediate Rescue of Practitioners Held in the Women's Prison of Guangzhou City
(Clearwisdom.net)
The Women's Prison of Guangzhou City, where practitioners have been held and tortured for long periods, uses all of the brutal torture methods from throughout Mainland China to persecute Falun Dafa practitioners.
After being illegally sentenced to eight years in prison, Practitioner Ms. Yuan Xiaoling was held in the Fourth Division of the Women's Prison of Guangzhou City. Since she was transferred into the Women's Prison of Guangzhou City from the Detention Center of Shenzhen City in October 2004, she has been subjected to long-term torture.
Ms. Zeng Qing, 34, is a practitioner from Shaoguan City in Guangdong Province who was transferred to the Women's Prison of Guangzhou City. She was held there for three years. Because Ms. Zeng maintains a steadfast faith in Falun Dafa, she was severely tortured. When she was due for release, the authorities refused to let her leave. Now her whereabouts are not clear.
Practitioner Ms. Cai Wenjun was sentenced to seven years in prison. She was held in the Fifth Division of the Women's Prison of Guangzhou City and was severely tortured.
The following torture methods have been used in the Women's Prison of Guangzhou City to persecute those Falun Dafa practitioners who hold a steadfast belief in Falun Dafa:
Physical Torture: practitioners are totally isolated and not allowed to sleep, with five to six prisoners monitoring and torturing them in turn; practitioners are subjected to the torture method called "Hanging Up in the Air" (1), during which they are stabbed with needles as soon as they fall asleep; practitioners are not allowed use the toilet unless they beg for forgiveness as a criminal; practitioners are not allowed to take a bath, etc.
Mental Torture: practitioners are forced to read anti-Falun Dafa materials. If they refuse to read them, the prison guards read them to the practitioners constantly and force the practitioners to listen. Some practitioners are locked into a dark room and the persecutors write words that defame Falun Dafa in white on black cloth and hang the words everywhere in the room.
The detailed situation is more severe than what has been described above. Here we call on all righteous people in the world to help rescue the Falun Dafa practitioners who are being held and tortured in the Women's Prison of Guangzhou City.
The Women's Prison of Guangzhou City is located on Guangcongsi Road, Baiyun District of Guangzhou City.
The Guangzhou City 610 Office's mailing address: Guangcongsi Road, mailbox No. 52, Baiyun District of Guangzhou City
(1) Hanging up in the Air (http://www.minghui.org/mh/articles/2004/8/12/81597.html, http://www.minghui.org/mh/articles/2004/7/11/79151.html
The practitioners' hands are tied with thin ropes and then they are hung up for several hours, or even several days. Sometimes, the rope is so tight it breaks. Sometimes the rope cuts into the flesh. Some practitioners lose consciousness while being hung up. In many cases, the practitioners are hung by their handcuffs, which causes broken bones. See illustration on
http://www.clearwisdom.net/emh/articles/2004/7/5/49890.html; http://www.clearwisdom.net/emh/articles/2004/7/27/50708.html
---
Callous Persecution at the Shuangkou Forced Labor Camp in Tianjin
(Clearwisdom.net) Tianjin's Shuangkou Forced Labor Camp has detained many male practitioners from different regions since the persecution began. They have included government officials, factory workers, and farmers. Persecution is one way the guards can get promotions and make money. As a result they continue to brutally torture practitioners without any hesitation.
Prior to 2003, the following individuals were responsible for many acts of persecution: Ren and Yang, political heads in Team #5; Provost Chang; Dong and Du, team heads (in their 30s); and other police guards who used criminals as hatchet men. These officials, using sentence reductions as enticement, encouraged criminals to beat practitioners. The worse a criminal was, the more of an "important" position he would be assigned. With police encouragement, criminals openly yelled, "We could beat one of you to death! If you die, we will dig a pit to bury you." To achieve a so-called "reformation quota" they used all kind of methods, such depriving practitioners of sleep for a long time. In some teams, for two weeks practitioner only had two to three hours sleep per day. Sometimes there was no sleep at all. Practitioners had to work during the day and put up with punishment by having to stand at night.
The criminals and guards frequently tortured practitioners in the evenings. For one torture they forced a practitioner into the lotus position, crammed him underneath a bed a foot high above the ground, with his head sticking out and both arms hanging and not touching the floor. If the victim could not do this, they would beat him with the bottoms of their shoes. There was a restriction on drinking water. When the practitioner had finished washing his eating utensils and was caught filling a bottle with hot drinking water, he would be beaten again if the guards discovered it. Restroom use was also restricted. Practitioners who could not tolerate this and ran into the bathroom would be punished either by being beaten with wooden sticks or having cold water poured over them.
Canceling shower privileges during the heat of summer made practitioners develop scabies. Guards forced everyone to be exposed under the sun without clothes or drinking water and allowed no bathroom use for a whole day. Several days later some practitioners had festering wounds on their legs, large areas of scabies on their bodies, and open, oozing sores on their hands. In spite of these poor hygienic and health conditions, practitioners had to work with their hands to make soybean products and "sanitary" chopsticks for hotels and restaurants.
Guards used criminals to monitor practitioners' activities with hand-held sticks during the practitioners' working hours. If they saw a slow one, he would be pulled out and beaten. Because of the long-term lack of sleep practitioners easily fell asleep at work, so they were frequently hit. Some practitioners had to work on their knees because they had abscesses on their buttocks, which made it too painful to sit. After work, the punishment continued. Back in their cells, the practitioners had to sit on stools facing the wall and could not move. Any movement would lead to a severe beating. Most of practitioners had festering wounds on their buttocks and suffered from needle-sharp pain when sitting. The pus and blood stuck to their clothing and to their skin, tearing off when they stood up, creating fresh wounds, scabbing over, then becoming infected again, and the whole process began anew.
The posture of many practitioners had deteriorated from long-time torture. Their upper bodies were humpbacked and the lower parts of their bodies hurt. They walked as if they were lame. Nevertheless, they had to participate in army-style training and run for long-distances. Team head Du called this treatment a "cure." Several criminals would hold one practitioner down on the ground and brush off the scabs on his sores. They then poured cold water over him in the wintertime. They would repeat this process two days after the sores had fresh scabs. As the result, these fresh wounds would bleed and the practitioner would scream in pain. It was called a "treatment," but no medication was provided. They even treated practitioners in their 60s and 70s the same ruthless way. During the winter, practitioners were made to take a cold shower every day, in addition to enduring open wounds and being doused with cold water for so-called "treatment." No matter how sick a person was with fever, he had to work.
Each Falun Gong practitioner was partnered with a "squeeze control" member selected from among criminals and was monitored closely. Practitioners were forbidden to talk among themselves. If someone disobeyed, he would be pulled into a bathroom and brutally beaten with a wooden stick soaked in water.
Because many practitioners had open wounds, they were forbidden to touch anything in the cells. Touching the edge of a bed would result in a beating. Practitioners could not sleep on the bed. Instead, they had to sleep under the bed on a wooden board underneath. For a period of time even the wooden board was not allowed. They had to find an empty instant noodle cardboard box and sleep on it. They had to fold the carton up when they rose and hide it somewhere for the next time. There were many rules for punishment, such as don't make any sound when taking or replacing something. Sometimes practitioners were beaten for no reason.
Practitioners got up before 5:00 a.m. to start working until 11:00 or 12:00 at night. To meet deadlines for goods for export, such as artificial flowers, they had to work overtime at night. Fearing inspection by a higher authority, the camp officials frequently arranged for the practitioners to do the work in a bathroom where it was quite dirty, without any proper working conditions. In the evening, all practitioners were forced to line up, kneel on one knee, and greet the team head guards. Once I refused to bend my knee. I was then called in to the office. Team head Du beat me with a rubber stick and then had two criminals punch and kick me.
Monthly family visitations were restricted, because the camp insisted that the injuries the practitioners had sustained be healed first. Conversations during visiting times were conducted under surveillance by the team head. No practitioner would dare to relate anything going on in the camp to outsiders. Team head Du would check a practitioner's belongings when the visitors had left. Any discovery of a hidden, written note would lead to shocking with electric batons.
To meet the "reform" quota, the camp purchased a batch of 150,000 volt electric batons to abuse the practitioners. The camp enforcers covered evidence of torture by turning the radio to the highest volume to muffle the practitioners' agonizing screams when they were being electrically shocked. Some practitioners were unable to endure the torture, and they hit their heads on the wall or cut their wrists. (Note: China's persecution of Falun Gong is atrocious, but it is wrong for a cultivator to deliberately injure his or her own body as a way of protest. A Falun Gong practitioner must not do so, for it directly violates Falun Gong's cultivation principles. Only truly righteous thoughts and actions will prevail over and disintegrate the persecution). After 2003, the camp created a special team to escalate the brainwashing. Provost Chang worked overtime and tortured practitioners to give up their faith, using electric shocks. He turned the radio volume loud enough to cover the practitioners' tortured screams.
Practitioner Zhu Guang once came back with a swollen face, his eyes barely visible, and was barely recognizable after the beating. It happened while everyone else went out to work. Team head Dong had the "squeeze control" criminal beat him using the bottoms of his shoes and said, "This is a bad person beating another bad person." The criminal was transferred to another team.
The camp used atrocious and perverted methods to persecute practitioners. Teacher Tang Jian, a graduate of Nankai University, was tortured to death (his story was posted in the Minghui/Clearwisdom website). Zhou Xiangyang was tortured with the same method used on Tang Jian.
Zhou Zhencai, Zhou Xiangyang's father who is in his 60s, is now deprived of freedom at the camp and experiences abuse and maltreatment under this persecution.
What I have related above is all true. These were incidents of abuse and mistreatment under the persecution that I remembered after I was released. This is only small portion of what I personally witnessed and experienced. Many practitioners are still detained at Tianjin's Shuangkou Forced Labor Camp and suffer from inhuman maltreatment. I hope that the international community will pay attention.
---
Persecution Suffered by Ms. Luo Linfeng of Luzhou City, Sichuan Province
(Clearwisdom.net)
Ms. Luo Linfeng is a Falun Gong practitioner from the Jiangyang District, Luzhou City, Sichuan Province. Because she persistently practices Truthfulness-Benevolence-Tolerance, she has been persecuted.
Ms. Luo Linfeng is 62 years old and has only an elementary school education. Her family lives in the Wuxingcun Village, Lantian Town, Jiangyang District, Luzhou City, Sichuan Province. Before 1998, she suffered from various illnesses including cerebral thrombosis, mid-ear infection, chronic inflammation of the gallbladder, rheumatism, stomach problems and more. Ms. Luo was unable to work and had been to many hospitals seeking cures. Without income, though, she did not have any money and could not afford treatments without borrowing money. Her family sold rice and other things to raise the money. They also had to borrow a lot of money from relatives and friends, but her illnesses were not cured. Later she heard that practicing Falun Gong could cure illnesses. Ms. Luo started practicing Falun Gong and all her illnesses gradually disappeared. She was again able to work on the farm and do housework.
Jiang Zemin started the persecution and banned Falun Gong on July 20, 1999. Suffering from this unreasonable persecution, practitioners went to Beijing to tell the national leaders the truth about Falun Gong. The police arrested Ms. Luo as soon as she arrived at Tiananmen Square. They took her to the Luzhou liaison office in Beijing and detained her. When Li Chengjun, who is the Party Secretary of the CCP's Huayang People's Commune Committee, and personnel of the Mianhuapo Township Party Committee came to the liaison office, they searched the practitioners, took all their cash, and scolded them. They then sent Ms. Luo and other practitioners to the Luzhou City Detention Center where they tried to force them to "transform."
Ms. Luo was imprisoned in the detention center for three months. The police and local officials failed to force the practitioners to give up their belief. They fabricated lies and said that practitioners came to Beijing to disrupt social order and interrupt public transportation. Ms. Luo was sentenced to one year of forced labor and was transferred to the Huangjinshan Detention Center. There she and Liu Shuhua were forced to work in the kitchen and feed the pigs. They also had to deliver food to the cells, sweep the floor, and get boiling water. These two practitioners had to do nearly all the work at the center. They had to work for more than twelve hours each day without any breaks, except for the little sleep they were allowed. Their living conditions were inhuman and the center's personnel still scolded them.
After Ms. Luo's one year term of forced labor was over, she returned home. Soon after her return, Wu Dequn, the secretary of the Lantian Town women's federation came to her home and tried to compel her to write a "guarantee statement." Ms. Luo firmly refused. Then Wu Dequn forced her husband to write the statement. Because he feared that they would detain her again, he wrote the statement on her behalf and under pressure. When the local officials learned that Ms. Luo refused to give up practicing Falun Gong, they put her under continuous surveillance.
At midnight on December 22, 2002, the village cadres, Yu Zepei and Li Guangming, used the excuse that Ms. Luo had connections with other Falun Gong practitioners and brought several people with them, including a 610 Office official, Gao Xiang from the Lantian Township police station and the Party Secretary of the Lantian Township. They banged on her door and forced her to open it. After they went inside, the party cadres scolded and threatened her. That evening it was snowing and very cold. These cadres took Ms. Luo and her husband to the police station and left them to sit there for several hours. Her husband was shivering due to the cold.
For no reason and with no legal procedure, they forced Ms. Luo to go back to the Sanhuashan Detention Center. They detained her there for two months. Later, they sent her back in a vehicle. The secretary of the township women's federation Wu Dequn again tried to force her to write the "guarantee statement" using the excuse that the government had bailed her out. Ms. Luo firmly refused. Wu Dequn then threatened that if she refused to write it, she would have to pay 600 yuan for living expenses for the two month she was detained at the Sanhuashan Detention Center. Otherwise, they would not release her. That day, they also informed her family to pick her up. They then forced her husband to write a guarantee statement and an "acknowledgement of the debt" for the 600 yuan that they imposed on her.
After Ms. Luo returned home, the Communist Party cadres of the village constantly monitored her. She lived in terror all day long. They did not allow her to have the freedom a citizen is guaranteed by law. Yu Zepei, Li Guangming, Lantian Township Party Secretary Ren, and Gao Xiang of the police station are the main ones who persecuted Falun Gong. Yu Zepei received retribution for his deeds last year.
Ms. Luo Linfeng was detained, fined and robbed of her personal freedom simply because she wanted to have better health and to cultivate her mind. She did not do anything wrong. Then who is actually violating the law? According to articles 35 and 36 of the Constitution, Ms. Luo's practicing Falun Gong is legal. Going to Beijing to appeal is every citizen's right guaranteed by law. Therefore sentencing Ms. Luo to forced labor is illegal persecution. These acts of the people involved must be investigated.
---
Xue Lianchun and Chen Yuezhi from Guan County in Shangdong Province Led Police to Extort Millions of Yuan from Practitioners
(Clearwisdom.net) Xue Lianchun (male), the political commissar of the Guan County Police Department of Shangdong Province, and Chen Yuezhi (female), the Division Chief of the Police Department, are exhausting all means to persecute Falun Dafa practitioners.
In the past several years, police officers headed by Xue Lianchun and Chen Yuezhi have been using the means of arrest, detention, extortion, sentencing and illegal forced labor to persecute Falun Dafa practitioners. Many practitioners have been forced to leave home to avoid being arrested. More than ten practitioners have been illegally sentenced to prison. Over two hundred practitioners have been illegally sentenced to forced labor. Several thousand practitioners have been arrested and extorted out of large sums of money.
Throughout these years of persecution, Xue Lianchun and Chen Yuezhi have led police officers to steal belongings and funds from Falun Dafa practitioners' family members, forcing them to pay fines totaling millions of yuan. They have never given a single receipt for money or items stolen. After the police illegally arrested several practitioners, they extorted two to five thousand yuan from their families before releasing them. Some practitioners' family members were forced to give Chen Yuezhi "Three Gold" (referring to gold rings, gold earrings and gold bracelets), and also hand in 2,000 yuan in fines, without being given any receipts.
---
Practitioners Brutally Treated at Shuangkou Forced Labor Camp in Tianjin City
(Clearwisdom.net) The Shuangkou Forced Labor Camp of Tianjin City brutally persecutes and enslaves illegally detained Falun Dafa practitioners. Each division of the forced labor camp extends labor hours from 6:00 a.m. to 11:00 p.m. or midnight, and those practitioners who fail to work fast enough often have to work continuously for seven to ten days without a break. Every night they only get two to three hours of sleep.
In each division, there are some practitioners who refused to write the so-called "homework" or "exposing and criticism." The forced labor camp applied "Strict Monitoring" and ordered the "Personal Cangues" (persons designated to supervise practitioners' behavior) to follow these practitioners all day long. Practitioner Mr. Ma Jian has been on a hunger strike to protest the persecution. He has been on the hunger strike for almost seven months.
Following the order from the education staff of the second division, Zheng Junhong (male, police badge number 1224075), police officers Li Hua (male, badge number 1224214) and Meng Zhaosheng (male, badge number 1224100) used electric batons to beat practitioner Mr. Chang Tianxiang, with the purpose of forcing him to work longer hours.
Practitioner Mr. Yan Junling, held in the second division, was diagnosed as having hepatitis, with jaundice and tuberculosis. The authorities refused to release him for medical treatment, neither did they isolate him away from other practitioners, totally disregarding other people's health.
Guard Wang Ju (male) brutally beat practitioner Mr. Feng Yaochen and broke the bridge of his nose, but did not allow him any medical treatment. The guards have already lost their human conscience.
Practitioner Mr. Zhang Guoqing from Wuqing District was arrested and taken to the Damengzhuan Police Station one night in December 2004. He was shackled to the basketball backboard for half a night, freezing cold. Then the chief of the police station, Dong Haifeng (male), ordered eight police officers to hold him down on the ground and tie his hands behind his back. Dong then used an electric baton to shock him. Mr. Zhang was taken to the first division of the Shuangkou Forced Labor Camp of Tianjin City, and later transferred to the third division that is designated for strictly monitoring Falun Dafa practitioners. Every day Mr. Zhang was forced to sit for twenty-two to twenty-four hours and was not allowed to sleep. As soon as he closed his eyes, he was beaten and kicked. He was forced to do strenuous labor until January 2006, when he was finally released.
On January 20, 2006, a day designated for visits in the second division of the forced labor camp, practitioner Li Donglian and another practitioner came to deliver Falun Dafa materials to a practitioner in the forced labor camp. They were reported by someone and were immediately arrested. The police found the materials after a body search.
---
170 People Declare that their Words and Deeds Under Forced Brainwashing are Null and Void
(Clearwisdom.net) A "solemn declaration" is a person's public statement declaring to the world that whatever he or she has done or said under duress or deception that was against Falun Dafa is null and void. Most of these statements have come from Falun Dafa practitioners in China who wished to express regret that, in the face of physical torture and brainwashing, they had signed documents renouncing Dafa and guaranteeing not to practice again. Also, as more and more people in China learn the truth about how they have been deceived and lied to by the Jiang regime, many non-practitioners are also submitting "solemn declarations."
Here are some examples of the Solemn Declarations:
Please click here for more Solemn Declarations.
---
Practitioners Exchange Insights and Experiences
---
A Practitioner's Experiences While Imprisoned for Three Years
(Clearwisdom.net)
Searching bitterly, happily obtaining Dafa
In early 1997 when a friend of mine introduced me to Falun Gong, the riddle of human beings' significance, which had been hidden in my heart for dozens of years, finally was answered. Since then, I have walked on my path of cultivation. I feel extremely fortunate and happy to know Dafa, but I can never forget that dark day, July 20, 1999, when the Chinese Communist Party began persecuting Falun Gong. I walked to Tiananmen Square the following October and unfurled a banner that stated "Falun Dafa Practitioners Peacefully Appeal." I wanted to let everyone who had been deceived know that Falun Dafa is good. I was arrested, but I escaped with righteous thoughts after three days of detention.
Clarifying the truth in the local police station
To do better in letting others know the truth and saving sentient beings, fellow practitioners and I set up a truth-clarification materials production site. As a whole, we had had omissions in our cultivation, and in March 2002, our production site was destroyed. On reflection, I had a strong attachment to doing things, because we had few practitioners to help, and we could not produce enough materials to meet the demand.
Frequently, one practitioner worked until midnight and another worked until dawn. We operated 24 hours per day without stopping, like machines. Unfortunately, we studied the Fa less, and we slacked off on sending forth righteous thoughts, so the evil took advantage of us. Local police took me to their station where they beat me with clubs, demanding that I tell them where the materials came from.
At midnight, they poured cold water over me, and several police officers pulled up on my handcuffed arms very hard. I sat on the floor, my body forced into an arch. Then they burned my hands with cigarettes. I clenched my teeth and made no noise. Later my hands were so swollen that they looked like small loaves of bread, and the blood circulation in my hands had stopped. One police officer came over to rub my hands and said, "Is there a need for this? You will be fine if you tell us what we want to know." I replied, "Although you treat me like this, I do not hate or resent you, but your acts are sinful, and you will have to repay these debts in the future. I practice Falun Gong, and my Teacher tells us to value virtue, do good deeds, and improve our morality. What is wrong with that? You also have your parents, brothers and sisters. Don't you feel sorry? Doesn't your conscience bother you?"
A 27-year-old policeman said, "We have to do our jobs, otherwise the government won't pay our wages." When no one could hear or observe him, he quietly told me, "I actually learned Falun Gong over two months ago, look." He started practicing the standing exercises and the sitting meditation. When I told him the benefits of practicing Dafa, he did not say a word, but I could tell that he was listening to my words.
At night, they handcuffed me to a chair with my arms behind my back and kept me from sleeping. Two officers watched me. A Dafa book was on the table, and a policeman in his 40s picked it up and started to read. "The more you read, the more you feel it is right," he said. He read for more than two hours and then said to the other officers, "What's happening? Why is something rotating in front of my eyes as soon as I close them?" I told him, "That is happening because you have a great predestined relationship. Teacher showed you the Falun, so go back and practice well." He replied, "This is indeed divine."
In the police station, instructors, the precinct captain, and new officers fresh out of university took turns talking to me. I used these opportunities to tell them the truth, and their ominous, anxious countenances faded. At night another officer supervised me, and I explained the truth to him. He asked, "Did you know that the person who poured cold water on you the other night was me?" I asked him to treat Dafa practitioners kindly, and he nodded, "Don't worry, I won't beat them from now on." I was very happy. I had seen the awakening of a conscience, and another life being saved.
I stayed four days in the police station, and as long as I met people, I clarified the truth to them, because if I did not tell them, I would truly feel the losses. No matter what someone does, first of all the person is a sentient being who needs to be saved. One day an instructor came in and said, "Since you are such a capable talker, I brought someone to you, so you can have a good talk with her." An elderly lady of over 60 came in. Her face was full of sadness and tears. She told me how her son maltreated and abused her. I explained the karmic relationship between people, and we talked for more than an hour. She said, "Miss, you are too kind. I understand now." Then officers placed me in a police car and took me away. I turned my head when I the car was far from the police station. The elderly lady was still standing inside the gate of the station waving to me.
I must save the one who sentenced me to three years
I was sent to a detention center. I refused to memorize prison rules or wear a prisoner uniform. After a few days, a prison official came to interrogate me, and I introduced Falun Gong to him. This person was over 40. He listened to me very earnestly. He asked, "Will people persecuting Falun Gong receive retribution?" I answered, "Think about it. Falun Gong practitioners are so good, and you still persecute them. Good is rewarded and evil receives retribution. This is justice."
He continued, "I tell you honestly that I have sentenced 12 practitioners. Now I am receiving retribution. My fingers hurt. Sometimes I cannot sleep because of the pain, and the hospital staff cannot find the cause. I also know you are good people, but I have no choice, as I am in charge of sentencing."
I told him, "You can change you job, but how can you repay so much karma in the future? Furthermore, you are already receiving retribution. You can only change your life by joining the practice." He said he would find Teacher's video lectures.
Then he said, "If you 'transform,' I can set you free." I joked, "You want to practice, and yet you want me to be transformed (give up the practice). Don't you feel sad?" He laughed. Afterwards I came into contact with him again, and I asked whether he had read the book. He nodded, "Yes."
In the detention center, practitioners sent forth righteous thoughts, practiced the exercises and clarified the truth. Many prisoners recited Hong Yin with us. A fellow practitioner's detention term expired, but they did not release her. She recited Teacher's Fa every day. In the beginning, police officers beat and cursed her. They used the tiger bench torture on her, but they could not affect her. She continued to loudly recite Teacher's articles daily. We could all hear in more than ten cells. We knew that if Dafa practitioners' hearts were all righteous, we could certainly change the evil environment we were in.
Teacher said in "Also in a Few Words" (Essentials for Further Advancement II):
"Indestructible righteous faith in the cosmos's Truth forms benevolent Dafa disciples' rock-solid, Diamond-Like Bodies, it frightens all evil, and the light of Truth it emanates makes the unrighteous elements in all beings' thoughts disintegrate. However strong the righteous thoughts are, that's how great the power is. Dafa disciples are truly stepping forward out of ordinary humanness."
A policewoman said that if we recited the way our fellow practitioner did, she would remember the article. She and another police officer actually memorized the poem "To Be a Human" from Hong Yin.
Validating Dafa openly and honorably
After I was locked up in detention center for eight months, I was sent to Dabei Prison, a place that I had only seen in movies and on TV. The environment there was extremely bad. We worked around-the-clock every day. Every practitioner was supervised by two prisoners. Because those prisoners had lived in terrible conditions for a long time, their thoughts had become twisted. Plotting against people and harassing them was their biggest joy, especially if their victims were Falun Gong practitioners. They beat and cursed practitioners, and they did not regard practitioners' infinitely merciful endurance as tolerance but instead intensified the abuse. They did not allow practitioners to talk to anyone. We did not have any basic human rights. Without a doubt I felt invisible pressure from other dimensions. Devils dressed as police officers wanted us to write statements. Due to fear, I did not directly clarify the truth when I talked to them. One night when I could not go to sleep, I silently kept calling my name and asked myself, "Why are you here? Are you telling the truth? Why do you have the feeling of dragging out an ignoble existence? How can you disappoint Teacher's merciful salvation like this?" This was not right. I had to validate Dafa!
After several days, we were told to write an "ideology report." I wrote quite a few pieces in detail, and I openly and honourably told them how I benefited from the practice. I declared to be void all my words and acts, and those written by others for me, that did not comply with Dafa. I stated that I would continue to firmly practice! In prison, my heart became more steadfast. I believe that one day the persecution of Falun Dafa will certainly be redressed!
My report was like a bomb. Police officers summoned me to the prison office, shut the door, and ferociously said, "Do you know what this place is? This is prison. It is not up to you!" They demanded that I read materials that slandered Dafa. I said, "Dafa practitioners should not be here, but since I am here, I must tell you what Falun Gong is."
The police beat me with electric batons while shouting at me. One officer yelled, "Will you die if you do not learn Falun Gong?" I told her, "I live for Dafa. No external form can change people's will." I recited Teacher's article "Mighty Virtue:"
"Dafa does not leave the body,
The heart harbors Zhen-Shan-Ren;
In the world is a great Arhat,
Spirits and ghosts fear greatly."
I recited the Fa-rectification formulas. The electric batons shocked my body, but I did not feel much pain. I contemplated how much Teacher endured for each disciple. The police forced me to squat from 6 a.m. to midnight. They used this method, attempting to destroy my will. I had to squat for three days continuously. On the fourth day, they made me stand and work. I did not know how long I stood each day. I often worked through the entire night.
One day I worked from 6 a.m. until 3 a.m. I could not endure any more. I felt dizzy, so I found a chair and sat down for less than two minutes. The prisoner who supervised me grabbed the chair from me. I was very shocked by this. Afterwards, I learned that if a prisoner could "transform" a Falun Dafa practitioner, the prisoner's sentence would be reduced. They do not understand the consequences of person losing his or her human nature.
My feet became swollen from continuous standing. One day of suffering felt as long as a century. When I now think about that time, I realize I had resigned myself to bad conditions and acknowledged the old forces' arrangement. Meanwhile, there were also many prisoners with good hearts who tried to advise me, so I explained the truth to them. A prisoner with a short sentence said that, before being in prison, the thought of Falun Gong frightened as if she had heard about a plague because of what she had heard on state-run television broadcasts. "Now I that have met you, I know what the television says is all fake. You are so good. Quite a few Dafa practitioners from many areas have helped me. I had never heard about the things you have told me, but I feel very comfortable about what you have said. I will look for you after I get out." I told her, "We will definitely meet again if we have a predestined relationship."
Falun Dafa miraculously brings me back to life
Day after day I suffered. Then, one afternoon, I suddenly went into coma. I do not know any of the details of how I was sent from the prison to the hospital. I was told that I had several examinations, but no illness was found. The doctor did not dare to give me medicine. After less than an hour, I woke up, found myself on a hospital bed with many doctors surrounding me. I said, "I have no illness, and I need to leave this hospital as soon as possible." The next morning I left the hospital, and I was fine. This displayed Dafa's power and how miraculous it is. Many guards, and especially the warden, walked around me during the next several days. They could not believe that a dying person had recovered without an injection or a pill. It was simply inconceivable. I told the warden my cultivation experiences. I regarded her as a sentient being that deserved to be saved. After all, she had a knowing side. She liked to be with me whenever the opportunity arose.
These were my experiences in prison for three years. I walked my path clumsily, but my firm belief in Teacher and Dafa has never changed. Dafa is deeply ingrained in my heart. Every time I pass a test, I do so because of Teacher's merciful protection and bearing things for me. I would like to say, "Teacher, other practitioners know I have not cultivated well and have caused big losses, but I hope my fellow practitioners will listen to your words. If we slip up, we cannot just lie there. We must quickly get up, because every practitioner must go home with you.
I also urgently appeal to all kind people around the world to pay attention the evil persecution in China that has been going for over six years. There are still many Dafa practitioners detained in brainwashing centers, forced labor camps and prisons and are being tortured. Please offer your assistance!
---
My Father Remembered Teacher When His Life Was Endangered
(Clearwisdom.net) My father is sixty-six this year. He has been practicing Falun Dafa for seven years. Prior to practicing Falun Dafa, he suffered from severe asthma. After he started practicing Dafa, the illness went away. However, recently, my father has not been very diligent in his practice.
On December 14, 2005, my father suddenly felt waves of pain in his chest, but he forced himself to tolerate it and did not tell us about it. Later, he no could longer do the things he normally could do. After one month, both his mind and heart were exhausted and he looked tired and old.
On January 14, 2006, my father did not maintain his xinxing standard, and gathered his three sons together to discuss his situation. Afterwards, my father was sent to the hospital. The doctor first did a type B ultrasound test on him and diagnosed him with a lung infection. Afterwards, the doctor did a CT test on him and diagnosed him with late-stage lung cancer. Two days later, expert diagnosis determined that he could undergo surgery locally at a cost of 20,000 yuan, otherwise he could have the surgery in Beijing at a cost of 100,000 yuan. For someone living in a village, such a cost for medical expenses sounded astronomical. So my father took the prescription for several bottles of liquid medicine and bought some medicine to take home with him.
From the moment he began his first intravenous infusion, my father felt very uncomfortable. He vomited all of the medication he took. Around 11:30 p.m. that night, my father appeared to be dying, since he could no longer even recognize my mother and his eyes were wide open and could not close.
At this critical moment of life and death, my father remembered Teacher. He used all the strength in his body to call out, "Falun Dafa is good! Truth-Compassion-Tolerance is good! Teacher please save me."
As soon as he spoke these words, a miracle happened. My father saw the law body of Teacher appear. Teacher's law body used his hands to grab twice at the site of my father's illness and took the illness away. All of my father's symptoms of illness suddenly disappeared. Nothing was wrong with him.
My father immediately threw away all the medicine. Now my father is very diligent in practicing Falun Dafa.
---
Traditional Chinese Culture
---
General Liu Died a Violent Death After Defying Divine Beings
(Clearwisdom.net) In the Jin Dynasty (1115-1234), during the second year of the emperor's rule, the Tai'an area (in Shandong Province) had a severe drought, and had no rain for several months in a row. The defending general in Tai'an area, General Liu, went to the Tai Mountain to beg the divine beings for help, but received no response. He went to offer a sacrifice to the Dragon Pond, but the sun burned even more fiercely. General Liu became furious. He ordered civilians to carry stones and soil to fill up the Dragon Pond. At night in his dream, there was a divine being telling him, "The extended period of drought has nothing to do with me. How dare I do things against the heaven's will and randomly start a rain? I hope you can understand this."
After General Liu woke up from the dream, he was even angrier. After dawn, he led several thousand soldiers to speed up in filling the Dragon Pond. When it was almost dark, the pond was finally flat. But after just one night, the Dragon Pond returned to its original state. General Liu not only failed to take the hint, but also went wild in exhausting manpower to fill up the pond. It was a hot day, and suddenly a cold wind blew vigorously, with thunder and lightning over Dragon Pond, shaking the surrounding mountains. The civilians enlisted in the army were very scared, but Liu still urged them to fill the pond with stones and soil. Several days later, General Liu suddenly died a violent death. Then came the heavy rain.
Ignorant people who are over-confident want to battle with divine beings, but the consequence is self-destruction.
---