Clearwisdom.net, Saturday, July 28, 2001
De Standard: Falun Gong Activists Expose Persecutions
BRUSSELS -- They were standing in a long line in front of the Chinese Embassy in Brussels. There were a few banners and signs, but the spiritual exercises caught most of the attention. With this demonstration, Falun Gong practitioners in Belgium were trying to expose the persecution of their fellow practitioners in China.
Falun Gong is a spiritual practice consisting of five exercises which help lead to a healthy body and mind. The practice has spread all over the world, but is especially popular in China. This popularity was very disturbing in the eyes of the Chinese President Jiang Zemin.
Two years ago Jiang Zemin prohibited the spiritual movement in China. The start of this prohibition was attended by a bloody persecution.
According to a spokesperson of Falun Gong Belgium, between July 1999 and June 2001, "about 10,000 practitioners were sent to labor camps and 252 were tortured to death."
"Falun Gong is based on the principles of Truthfulness, Compassion and Forbearance. The Chinese government states that these principles are not consistent with communism," says a flyer about the movement.
"Yet the Chinese government itself is divided," said a spokesperson. "The movement in China has adherents in all layers of society. It is mainly the president who is the driving force behind the repression. He was frightened by the fact that there were more Falun Gong practitioners in China than members of the XX Party." It is said that about 70 million Chinese follow the spiritual practice.
With their demonstration in front of the Chinese Embassy, the activists wanted to appeal to the public.
Earlier, the Embassy refused a dialogue with the activists.
"By our actions we want people to know the truth and inform them," said a spokesperson.
[...]
Source: De Standard, July 20, 2001.
---
Photo Report: SOS Walk in Berlin, Germany
On July 20, practitioners from Germany came to Berlin for an "SOS" walk. Wanting to spread information about the situation in China, we passed out many newspapers to the people on the street. Five practitioners collected 15,000 petition signatures for the minister, Joschka Fischer. Finally the SOS parade arrived at the Chinese Embassy and joined the practitioners that have been staying there and appealing for over 200 hours. The practitioners did the exercises and handed out flyers.
In Berlin on July 21, we walked from the Alxanderplatz to the Chinese Embassy and back again to Alexanderplatz, where we had an information stand. This parade was attended by fifty practitioners.
On Sunday, July 22, we paraded for two hours on the west side of Berlin on the Kurfrstendamm. Most people who saw our parade were interested in Falun Dafa and our Dafa newspaper. Altogether, we gave out thousands of newspapers to the people.
---
Lord Mayor of Dublin Supports SOS Rescue Effort in Ireland
19th July 2001
Dear XXX,
Thank you for your recent correspondence regarding the Cross-Ireland Journey for Support for the Rescue of The Falun Gong Practitioners persecuted in China.
I wish you well in this important venture and pledge my support to you and your colleagues as you work for freedom and justice, not only for Zhao Ming, but for all Falun Gong practitioners in China.
I am aware that the Irish Government, with our EU partners, has called upon the Chinese authorities to respect the human rights of individuals, and has urged them to act in accordance with the principles contained in the UN Covenants, signed by China, in particular relating to the freedoms of expression, assembly and association. The Irish Government is committed to working actively to bring about full observance of human rights in China and I fully support this stand.
With my best wishes for success of the Cross Ireland Cycling Journey,
Yours sincerely,
(Signature)
Councillor Michael Mulcahy
Lord Mayor of Dublin
---
Falun Dafa Practitioner Huang Jianyong from Macheng City, Hubei Province was Tortured to Death
Huang Jianyong, male, Baiguo Town, Macheng City, Hubei Province
[Clearwisdom.net] Huang Jianyong (male) was the third of four Falun Dafa practitioners who were tortured to death in Baiguo Town, Macheng City, Hubei Province. He walked to Beijing to appeal for Falun Dafa, and after he was arrested and sent back to Macheng City, he was tortured to death. Any other practitioners who know about this case, please help provide detailed information.
Detailed information about the first two of these four Dafa practitioners can be reviewed in the following article: http://www.clearwisdom.net/emh/articles/2001/7/21/12457.html
á
---
Dalian Indoctrination Center Brutally Tortures Falun Dafa Practitioners, and Kills Chen Jiafu and Liu Yonglai
[Clearwisdom.net] Chen Jiafu was a teacher at a polytechnic school in Dalian city. Beginning in July 1999, he had gone several times to Beijing to appeal for Dafa and clarify the truth. He was illegally sentenced to a forced labor camp in October 1999. When he first came to the Dalian Indoctrination Center, he was forced to do the heaviest job--snatching the bricks.
Chen Jiafu was six feet and three inches tall. After continuously stooping and straightening his back for several days, he was so exhausted that he was passing blood in his stool and could not straighten his back. He was very weak physically. In September 2000, he was transferred and finished his sentence at the Dalian Indoctrination Center. At that time, he had already been dismissed by his employer. His wife divorced him. His parents had been so severely poisoned by the lying propaganda that they could not understand him.
Although he had nothing to his name, he looked for and found a job. After one month of working he had earned several hundred yuan, and again went resolutely to Beijing to appeal for Dafa. He was once more sent to the Dalian Indoctrination Center and was locked up in a "small cell" (solitary confinement). The staff working for the Education Section of the Dalian Indoctrination Center talked to him several times. He not only refused to give in, but also promoted Dafa and told them how wrong they were to persecute Dafa. After being released from the small cell, he was transferred and kept under close surveillance. Once when he was attending a meeting, he slightly closed his eyes, and was at once pulled out of his chair by the deputy director of the Dalian Indoctrination Center. Several policemen pushed him down, beat him up and forced him to kneel down. Chen refused to give in.
While under close surveillance, he was very strict with himself. Every day, he made good use of the time to recite the Fa and check inside for his own shortcomings. He always felt that he was not doing well enough. After March 2001, he was detained in the first brigade. The director of the Dalian Indoctrination Center himself, Hao Wenshuai, tried to force him to give up his belief. He did not give in, but still promoted the Fa. He was again locked up in the small cell until he was tortured to death for insisting on his righteous belief.
Now, in the Dalian Indoctrination Center, there are about five hundred Dafa practitioners locked up illegally. The female practitioners have always been locked up in one unit. Before March, the male practitioners were always spread out among the various brigades. In the first brigade of the brickyard, the practitioners have to work about twelve hours a day, without taking a day for rest. They can neither take a bath nor have their family visit them. Occasionally when their families come to visit them, the families are forced to curse Dafa. Otherwise, they might not have the chance to visit the practitioners. In the third brigade, the Dafa practitioners are forced to shoulder gunnysacks and hand-pick peas. Every day, they have to work over fifteen hours. After March, the male practitioners were locked up together.
On March 19, 2001 the political commissar, Zhang Xiaoliang, Hao Wenshuai, Zhang Baoling and others had a meeting to prepare for the criminal "forced transformation" of Dafa practitioners. Since then the Dalian Indoctrination Center has entered a horrifying period.
The method for "forced transformation" is to use the prisoners or the team leaders together with another three to five persons to handle one Dafa practitioner. Some of the practitioners were tied up in a standing position; some of them were handcuffed so that they were kept on the floor on their backs; still others were pushed down to the ground on their hands and knees. Wearing only shorts, the practitioners were shocked with electric batons. After they lost consciousness, they would be splashed with cold water and then shocked again. Or they might be beaten up with rubber clubs.
When the team leader named Qiao Wei was tired from beating the practitioners, he asked the prisoners to continue beating them. Some practitioners' faces were pressed down into the water, and they were almost suffocated before they were allowed to take some air. The torturers often used the electric batons to shock the practitioners' sensitive parts such as their genitals, necks, faces, arches of the feet and ears. Every day, miserable cries filled the floors upstairs and down. Whoever did not want to give up was tortured brutally. Zhang Jun's head received cuts; Zhou Benxu was beaten so badly that he could not stand up; Liu Changhai was tortured for several continuous nights. Screams of pain often broke out at midnight. In order not to let the cries be heard, the torturers used the mop to stop the Dafa practitioners' mouths. It is said that Liu Yonglai was tortured to death in this way.
At the present time, the Dalian Indoctrination Center uses these extremely brutal means to treat those practitioners who have recently been arrested. The team leaders ask the Dafa practitioners who have recently been arrested to kneel down on the ground. They keep them kneeling down if they do not give in. If they refuse to kneel down, they will use the electric batons to shock them. Jing Dianke tries to force the practitioners to write "exposure-criticism materials." If they do not write, they are considered as "stubbornly insisting on doing Falun Gong" and will be punished. Or, even if they write but do not curse Falun Gong in what they write, the policemen will not let them go. Frequently, they use the electric batons to threaten the Dafa practitioners.
Sometimes, the team leaders gave the electric batons and the policemen's tools to the prisoners and asked them to beat the Dafa practitioners. Whoever beat the practitioners would be rewarded with a deduction from the length of their sentence. Some prisoners, including Zhang Fudong and Jiao Bo, thus became willing accomplices to the police.
---
Times of Malta: Falun Gong Practitioner Appeals to Jiang Zemin
26.07.2001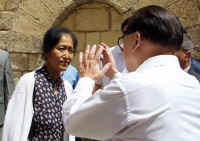 "I introduced myself and asked Mr Jiang to stop the killing of Falun Gong practitioners in China. He was very agitated [...]" - Ms Wang Wenwi.
Chinese President Jiang Zemin was taken aback yesterday during a visit to Mdina when a Chinese-American woman slipped past the phalanx of security men and asked him - standing just a few centimetres from him - about the suppression of Falun Gong followers in China.
Security guards immediately whisked her away from the President who, against all expectations but showing a presence of mind, asked her to be allowed back. He then answered her in an agitated voice and with much gesticulation.
The answer was in Chinese but the words Falun Gong could be made out clearly.
Falun Gong followers have been to Malta during President Jiang's visit, putting up peaceful protests against China's treatment of followers.
The incident at Mdina happened in a split second when the President departed from his official programme after a visit to the Cathedral Museum, going on a short walkabout to take a bird's eye view of Malta from Mdina bastions.
Coming down the steps leading from the bastion close to Fontanella Cafeteria, Ms Wang Wenwi managed to sidle up close enough to Mr Jiang to fire her question directly at him.
Police sources said it was Mr Jiang himself who wanted to go for a short walk, perhaps feeling secure and relaxed after experiencing the laid back tempo of life in Malta.
"The street along which the President walked was not lined with police officers because it did not form part of the program.
"The woman who approached the President did not constitute a breach of security," the police sources said.
[...]
Contacted later, Ms Wang told me: "I introduced myself and asked Mr Jiang to stop the killing of Falun Gong practitioners in China. He became very agitated [...].
"My point is that no one should be persecuted to death because of a different religious belief or point of view. It's against human morality to kill people for their beliefs," Ms Wang said.
Ms Wang said there were about 100 million Falun Gong practitioners in China. Falun Gong promotes discipline of the mind and body, self improvement, the search for truth, compassion and tolerance, she said.
Ms Wang said that last week a report from Hong Kong said that 15 Falun Gong practitioners had been beaten to death in the Chinese province of Heilongjing.
She is a graduate of the Norman Beihune university of medicine in Changchun, Jilin Province in China, and moved to the US 16 years ago, where she graduated in western medicine and later obtained a PhD in neuro science from the University of Chicago.
She leads one of the study groups of Falun Dafa in San Diego, California.
[...]
The sources said that Ms Wang was in Malta last week and had applied for a DOI press card but the accreditation was refused on the grounds that Ms Wang was considered 'a security risk'.
When asked to comment about the security risk she could have presented, Ms Wang said applications for a DOI card had to be screened by both the Maltese and the Chinese authorities.
"It seems the Chinese authorities objected to my having access to the Chinese President's visit," said Ms Wang.
http://www.timesofmalta.com/articles/article.php?id=17798
---
Hong Kong iMail: EC rights report gives thumbs up to SAR
Fri , 27 July 2001
THE European Commission has given a positive appraisal of Hong Kong, despite noting that the Falun Gong issue poses a new challenge to SAR authorities.
In its third report on Hong Kong, the commission said ''one country, two systems'' continued to work well during the year 2000.
Both the Central Government and the SAR government continued to stress the importance they attached to full implementation of the principle of ''one country, two systems'', it said. While the report noted several issues that had caused controversy, it observed that Hong Kong people ''remain vigilant in defence of their basic rights and freedoms.''
It said Hong Kong's press remained free, and that open and lively discussion continued on matters of public interest.
The report said the controversy surrounding the presence of the Falun Gong movement in Hong Kong posed ''a new challenge'' to authorities to continue to ensure that rights and freedoms under the Joint Declaration were maintained and respected.
The European commissioner for external relations Chris Patten, Hong Kong's last colonial governor, said he was delighted to see ''Hong Kong people are continuing to succeed.''
''Hong Kong ... remains a free society, and ... people have continued to demonstrate how much they value the values that have made their community so successful and prosperous,'' Mr Patten said.
http://www.hk-imail.com/inews/public/frontpageeye_v.cfm?intcatid=8
---
Russian Practitioners Protest Against Jiang Zemin, Clarify the Truth to the People and Suffocate the Evil
[Clearwisdom.Net] The whole world was watching Russia during the recent visit from the Olympic Committee and Jiang Zemin, while the Committee considered Beijing's bid for the 2008 Olympics. Russian Falun Dafa practitioners availed themselves of this excellent opportunity to clarify the truth and eliminate the evil.
Before Jiang Zemin and Chinese representatives arrived in Russia, Chinese secret agents had already begun their deceitful activities. They did their utmost to contact Russian Falun Dafa practitioners, attempting to find out all they could about local activities and planned events. They tried to identify the number of practitioners and the practice locations. The spies made special attempts, with obvious malicious intent, to locate the Chinese practitioners in Russia. Practitioners overheard them making statements among themselves, such as, "We only need to catch just one" and "They will be caught as long as they are Chinese." Their sinister goal was to destroy Falun Dafa through their persistent tricks of misrepresentation, rumormongering and fabrication. This foreign power also attempted to undermine the solidarity and structure of Russian Falun Dafa practitioners. They apparently forgot, however, that their sneaky tactics would not work in Russia. This was not China. Regardless of their deception and whatever masks they wore, Falun Dafa practitioners were able to see through them and expose their true motives and actions.
In each of Moscow's downtown streets and squares, practitioners distributed approximately ten thousand copies of Falun Dafa literature, printed in Russian, English and Chinese, that clarify the truth regarding the persecution and killing of Falun Gong practitioners in China. The urgent, global, "SOS" plea for help was disseminated through a press conference to the major media on location. The success of these practitioners was demonstrated by so many people expressing concern about the persecution in China, and by the earnest understanding they gained about Falun Dafa.
One night, while distributing the literature to foreign reporters, a few people who appeared to be Chinese representatives, suddenly seized the materials from the female practitioners and threw the materials on the floor. Many of the reporters and others in the audience immediately condemned this action. A Belgian TV station reported this contemptible behavior with video footage of the actual event. Later, a story with their photos also appeared in the newspaper.
We know there are many Chinese in Russia who thirst for the knowledge and truth of Falun Dafa. During this period, we distributed a lot of truth clarifying materials to the workplaces of Chinese people in Russia. Many others also asked for the materials, and some even asked for their relatives and friends.
The practitioners from Sweden and the USA gave us great support during this activity. They delivered the literature and clarified the truth to the foreign reporters in Moscow. During Jiang Zemin's visit to Moscow, Jiang could not escape the presence of Falun Dafa practitioners. Wherever he went, whether at the President Hotel, the Kremlin or the Government Building, he was constantly met with Fa-rectification, as practitioners would be at nearby locations, sending forth righteous thoughts to effectively suffocate the evil.
The activities of these days helped to clarify the truth of the persecution in China, thus helping those in China and other countries to learn the truth about Falun Dafa, and to crush the plot of Jiang Zemin's evil force to slander Falun Dafa and persecute the practitioners in Russia. We really felt that "Dafa disciples' righteous thoughts are powerful." [This quote is the title of an article by Mr. Li Hongzhi, written April 24, 2001, http://www.clearwisdom.net/emh/articles/2001/4/25/9088.html]
The Teacher said, "In clarifying the truth, don't wait, don't rely on others, and don't just hope for changes in external factors." [This quote is from "To All Students at the Nordic Fa Conference," an address delivered by Mr. Li Hongzhi, on June 17, 2001, http://www.clearwisdom.net/emh/articles/2001/6/17/11528.html]
We shall constantly eliminate our attachments in the course of Fa-rectification, to better play the roles of Dafa particles.
---
Seattle Times: Powell to press China on human rights [Excerpt]
Friday, July 27, 2001
HANOI - U.S. Secretary of State Colin Powell said yesterday that the Bush administration intends to follow up on the release of three scholars convicted as spies by pressing China on the fate of other detainees with U.S. connections.
In his first talks in China tomorrow, Powell will also press the [party' name omitted] leadership on broader human-rights matters despite resolution of one of the thorniest recent issues between the two nations, he said at a news conference.
"It's not so much individual cases that should be our principal focus and concern but the system that occasionally might go after people who perhaps should not be gone after or who are not being given the full protection of law," he said.
Powell, who is on the second leg of a weeklong tour of Asia and Australia, said the United States is reviewing other detention cases to see if there is a basis to raise them with Beijing.
He did not specify the detainees, but the United States has expressed concern about Wu Jianming, a U.S. citizen held on suspicion of spying for Taiwan, and two permanent U.S. residents, Liu Yaping and Teng Chunyan. Liu was picked up because of a business dispute; Teng was sent to a labor camp for her membership in the outlawed Falun Gong spiritual movement.
"We will continue to monitor these individual cases in China and discuss them with our Chinese colleagues," said Powell, in Vietnam for the annual summit of the Association of Southeast Asian Nations.
[...]
http://archives.seattletimes.nwsource.com/cgi-bin/texis/web/vortex/display?slug=china27&date=20010727
---
Star Tribune (Minnesota): Wellstone joins rally against persecution in China
Friday, July 20, 2001
WASHINGTON, D.C. -- An estimated 3,000 advocates of Falun Gong marched from the Washington Monument to the Capitol Thursday to protest the Chinese government's ban on the meditation [group].
Sen. Paul Wellstone, D-Minn., greeted the protesters, including 15 Minnesotans, marking the two years since China's government allegedly began killing and imprisoning Falun Gong practitioners.
"Falun Gong is based on practicing truthfulness, compassion and tolerance. Throughout my career ... I have believed in the values you represent more than any values," Wellstone said.
John Nania, who practices Falun Gong in Minneapolis, said that "having a huge number of people do anything makes the Chinese government nervous, since they get their power from controlling people's minds."
Wellstone criticized the decision to hold the 2008 Summer Olympics in Beijing, saying that the city should not receive the honor until it "respects human rights ... and stops torturing people and putting people in prison."
http://www.startribune.com/stOnLine/cgi-bin/article?thisSlug=CHIN20&date=20-Jul-2001&word=falun
---
The Ultimate Power of the "610 Office": Pulling the Strings of Operations against Falun Gong (first posted in January 2001)
Most overseas Chinese have never heard of the "610 Office." Even few Mainland Chinese would know the term. The term "610" is an alias for the "Supervising team in charge of the dealing with Falun Gong." The Central Committee's 610 Office was established on June 10th, 1999--hence the name, 610.
Headed by China's Vice Premier Li Lanqing, the 610 Office creates and executes the policies pertaining to Falun Gong. The office is a permanent member of the Central Committee's political and legal committee and it is the ultimate powerhouse through which Jiang Zemin can persecute Falun Gong. The sole duty of the 610 is to conduct political persecution---and being above the law, it is strikingly similar to the notorious supervising team of the Cultural Revolution. Following the central office is a local 610 Office in each province, city, autonomous region, and municipality. These were established directly under the jurisdiction of the local political-legal committee.
From the central government to the local ones, an independent system has been formed within the 610 Office. This system grants tremendous power to all levels of the party, government, and judicial systems in China. Ever since its formation more than two years ago, the 610 Office has become the source of persecution against Falun Dafa. Prior to the official crackdown on July 22nd, 1999, the municipal 610 offices had already obtained a complete list of Falun Gong practitioners' information, and they deployed it to monitor and arrest the key practitioners in charge.
After July 22nd, the 610 Office gradually came out from behind the scenes, appearing in the public media from time to time. It was not the ordinary guiding machine where policies were made, however. The 610 Office deceived the public by directly operating and strictly controlling the subordinate parties and government organizations such as the public security, the procurator's house, and the people's court, as well as the national security, reform through labor camps, reeducation through labor, and even the news media and public opinion channels.
According to current laws, rules, and statutes in Mainland China, the nominal decision power for reeducation through labor (laogai) resides with the local Committee of Reeducation Through Labor. In reality, however, it is in the hands of the local legal department, which hold the reconsideration as well. Since the establishment of the 610, all decisions made to send Falun Gong practitioners to the reeducation through labor camps are made by the local Committee of Reeducation Through Labor, though it is actually the 610 who single-handedly makes the decisions. In addition, Falun Gong practitioners' are completely deprived of the right to administrative reconsideration for the Reeducation Through Labor. Many Falun Gong practitioners are still being indefinitely detained in such camps without due process.
The arch criminal is still the 610. In addition to labor camps, detention centers under the local civil administration and the public security bureau, administrative lockup houses, drug rehabilitation centers, and prostitute reeducation facilities have all become tools for the 610 to illegally detain and torture Falun Gong practitioners.
The 610 Office encourages and instigates judicial personnel, facility guards, and staff to inhumanly torture the Falun Gong practitioners--innocent and kindhearted people. The brutality and viciousness of the torture is unprecedented.
The 610 office has even ordered the political-legal committee from all counties to set up coercive brainwashing classes in an attempt to force Falun Gong practitioners to renounce their beliefs. Those who refuse to renounce Falun Gong were sent to labor camps, mental hospitals, and drug rehabilitation centers for further torture. In order to carry out Jiang Zemin's orders to "Defame, crush, destroy [Falun Gong practitioners] financially and physically," the local 610 offices fine practitioners amounts ranging from 1,000 to 10,000 Yuan. In most cities, the amount of the fine or the decisions to fine are determined by the municipal 610.
The decision to arrest, prosecute, put on trial, and sentence each specific Falun Gong practitioner is made by the provincial level 610 office. Different levels of public security, procurator's office, and the people's court put on show trials in which Falun Gong practitioners are denied their rights, even the basic right to an attorney.
The notorious Masanjia Labor camp in Liaoning Province is under the control of the provincial judicial office. However, the controlling body in actuality is the 610 office of the political-legal committee of the provincial Party committee. Masanjia dares to use all extreme ways possible to brutally torture Falun Gong practitioners who refuse to be transformed. Because of its wanton propaganda, the Masanjia labor camp was declared an "exemplary unit," and it spread its influence across the nation, causing troubles to the Chinese people.
As a result of the 610 office, 254 identifiable Falun Dafa practitioners have been tortured to death according to Clearwisdom (Minghui) statistics. In addition, more than 500 have been illegally sentenced, and over 600 have been forced into mental hospitals; more than 10,000 people have been sent to labor camps without trial, and over 50,0000 people have been arrested and detained. Numerous Falun Gong practitioners have been brutally beaten and physically punished by law enforcement officers; the practitioners are forcefully separated from their spouses and children, and their friends and relatives are also implicated.
We can conclude that the 610 office is a vicious and vivid embodiment of Jiang Zemin's dictatorial regime.
---
World Service Authority Representative Speaks at July 19th Rally in Washington DC
My name is David Gallup and I speak on behalf of the World Service Authority, and on behalf of all world citizens who World Service Authority represents. World Service Authority works hard to protect the rights of ALL people regardless of political, religious, national or any other affiliation. We have recently provided legal advocacy to Falun Gong practitioners, writing letters of protest regarding the inhuman and illegal treatment they have suffered at the hands of the Chinese government.
We appreciate this brief opportunity to explain why we, as world citizens, must speak out. We know that all human beings have universal, innate, and inalienable rights, such as the rights to freedom of association, freedom of expression, and freedom of movement. As part of humanity, the women and men of the Falun Gong are no exception; indeed, there ARE NO exceptions. Falun Gong practitioners in China, however, are being subjected to arbitrary arrest and detention, as well as to torture, among other human rights violations. These acts violate Articles 5 and 9 of the Universal Declaration of Human Rights, which state that "No one shall be subjected to torture or to cruel, inhuman or degrading treatment or punishment" and "No one shall be subjected to arbitrary arrest, detention or exile." As you know, even affiliation with the Falun Gong is criminalized in China. This violates Article 20 of the Universal Declaration of Human Rights, which states "Everyone has the right to freedom of peaceful assembly and association."
Falun Gong practitioners should be able to sue the Chinese government in a World Court of Human Rights for the violations they are suffering. But this court does not yet exist. We therefore call upon all world citizens, whether through letter writing, protesting or other peaceful means, to come to the aid of Falun Gong practitioners, our sisters and brothers in our one human family.
---
SOS: Stop the Killing in Sister City -- City of Shijiazhuang
The Government and Citizens of Edison, NJ Strongly Call on the City of Shijiazhuang to Stop the Large Scale Persecution of Falun Gong Practitioners
| | | |
| --- | --- | --- |
| | | |
| Falun Gong representative giving a speech | An American citizen, with tears in her eyes, voluntarily giving a speech to support the resolution | Mr. Cooker from the Dept. of Education gives a speech condemning the persecution and supporting the resolution |
On the evening of July 25, the city council of Edison unanimously passed Resolution 461, which supports Falun Gong practitioners and condemns the Jiang Zemin government's severe and cruel methods of persecution. Several Edison citizens voluntarily gave speeches to support Falun Gong and the resolution, and oppose China's persecution.
The "SOS: Stop the Killing in Sister City -- City of Shijiazhuang" is part of the global "SOS: Urgent Rescue Falun Gong Practitioners Persecuted in China" campaign.
á
---
Photo report: S.O.S Walk in Toowoomba, Australia
On 14 July, around 30 Dafa practitioners took an "SOS Walk" in the center of Toowoomba City, sending urgent messages to the local people: "SOS! Stop the Killing in China" "SOS! China, Stop Persecuting Falun Gong." The local newspaper (The Chronicle) covered the event and carried a report and photos on two separate days.
As practitioners walked along the main streets in the city, passers-by showed their warm support by putting up "V" signs or honking car horns as they drove past the procession. After the walk, practitioners continued their hongfa activities in the grand Central Shopping Centre. When learning the truth about Falun Gong and the persecution in China, some local people said to the practitioners, "You are right to step out and tell the truth. If we all do the same, it will help make a difference." " No one should be persecuted for their beliefs and we hope you will succeed in your effort to stop this horrible brutality".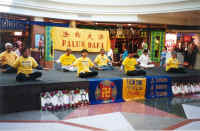 ---
A Dafa Disciple's Fa Rectification Epic (II)
Experience (2)
"Throughout my whole life I've been waiting to obtain the Fa and nothing else. It is Dafa and my Teacher who have given me a second life. Therefore, I will protect the Fa with my life."
On March 2, 2001, two evil policemen from the Qingming Police Station of Changchun City, Jilin Province unlawfully arrested me. At the police station, I was body-searched. They took Teacher's articles, my personal phone book and money out of my pockets. They tried to force me to tell them about other practitioners and their addresses but I refused. These vicious police beat me up, causing severe pain in my back and chest for over twenty days. After they got tired from beating me, they applied electric shocks to many areas of my body.
At Qingming police station, the police told me, "As soon as you denounce Dafa and your teacher, we will release you." I simply replied, "You'd better give up because I will never do that." I asked to go to the restroom three times and was refused each time. Later they decided to send me to the Tiebei Detention Center. On the way there, the policeman who escorted me stopped at the police division to get an arrest warrant for me. At the police division, this policeman beat me up and electrically shocked me constantly. He did not allow me to do the exercises. When he asked me to sign the arrest warrant, I told him that I was innocent and he was breaking the law and I refused to sign it. He then said, "I will sign for you since you insist on not signing it." After he signed it, he found out he had reversed the names. He talked to himself, "If I sign this way, don't you become the policeman and I become the criminal?" When he submitted the warrant to the detention center, he asked if it was ok in case the names were switched. His boss scolded him badly and told him that he would be punished for the mistake. This policeman suddenly lost his mind and started slapping himself on his face very hard. All the people there were shocked upon seeing this. I was surprised too. I told myself that this was because of the mighty virtue of Dafa that brought karmic retribution in this lifetime. When we went to get another warrant, that policeman said, "This warrant says I was arrested instead of you. Maybe I was wrong to arrest you." I told him, "I am a good person and I am innocent. Yes, you are wrong to arrest me."
During the 20 days at Tiebei Detention Center, there was often someone asking me to denounce Dafa. The staff knew that they could not brainwash me and sent me to Heizuizi Female Labor Camp (Changchun City, Jilin Province) on March 22, 2001. I kept in mind that "I am determined to cultivate in Dafa and nothing can stop me." As long as I live, I shall never betray Dafa and our teacher. I realized that this was another test on my path of cultivation and I certainly could pass it.
This is an evil hell on earth and has been nicknamed the "Masanjia of Jilin Province" (Masanjia Labor Camp is located in Liaoning Province and it is infamous for its brutality in beating Falun Gong practitioners). Although I had never seen it, I had heard a lot about its brutal torture of practitioners.
The police asked me to sign the warrant of labor education. I told them that I was innocent and it was illegal to put me into a labor camp. The head of the squad said, "You violated the rules of this labor camp as soon as you entered here." The squad head sent me to the instructor (there is one instructor in each squad and they all betrayed Dafa and became vicious thugs) without saying anything other than "she must be brainwashed." I remembered the teaching, "When it's difficult to endure, you can endure it. When it's impossible to do, you can do it." "One's mind must be righteous" and "One righteous mind can suppress one hundred evils" (Zhuan Falun). I am a true cultivator and will never listen to a betrayer. They tried to force me to read the materials that attacked Dafa. I refused and told them that I was illiterate. They then read it out to me. I blocked them out and recited Teacher's articles in my heart. At last, they saw no way to brainwash me and sent groups of people from one cell after another to try to persuade me. They all failed. I know that to say yes to evil is to betray the truth.
At the labor camp, I felt even the field surrounding me was vicious. The instructor spread his nonsense such as, "We are the true cultivators. You are wrong. You have already fallen into the evil understanding of the Fa and not yet realized it." Groups of people talked to me all day long. I was not allowed to sleep. I recited Dafa in my heart. One night I saw myself on the window glass. My face was twisted and horrifying. I asked myself, am I really wrong? No. Never. I told myself that it must be demonic interference. I should not look at the superficial things. Dafa is the foundation of everything. I should let Dafa guide me. My heart became more and more determined.
Upon seeing no sign of my being brainwashed, these vicious betrayers sent the most persuasive people in each cell to try to force me to denounce Falun Gong. These thugs looked so weak and poor in front of Dafa and true practitioners. I told them, "Don't waste your time. I will never give up my belief and betray Dafa." They did not allow me to sleep and force me to stand up all day long. Many people watched me during the day and six or seven people at night. When I requested to sleep, their answer was, "No sleep if you don't denounce Falun Gong."
After all these tortures failed to brainwash me, they brought me to a room and started electrically shocking me. The warden pointed two electric batons at me and ask me whether I was afraid. I said that I would never give up my faith in Dafa. They did not stop shocking me until I finally passed out. Later they brought paper and pen and asked me to write something to denounce Dafa. I threw away the paper and pen. They brought them back and I threw them away again. They finally gave up. Then I was electrically shocked for the second time. They even wanted to stick the electric baton into my mouth and I firmly stopped them. I told them that I would never give up my belief because of torture and suppression. Dafa is my belief. It is the Dafa of this universe that gives me life. I will never betray Dafa even if my life is in danger. And I will follow the path I choose.
Because the vicious wardens were almost at their wits' end, they selected the traitors most accomplished at so-called "transformation" to besiege and infuse me with evil thoughts. I thought to myself that "main consciousness should predominate" and I was able to resist them completely. I told the traitors, "You are no longer qualified to call yourselves students of our Teacher. Your logic is contrary to the law of the universe and is therefore untenable. You must stop doing evil."
The brainwashing lasted for almost a month but proved futile. The one in charge finally said, "We'll no longer attempt your "transformation." Go back and have a good meal, then go to talk with the the Chief after you've thought things over."
I thought that I must leave the labor camp to validate Fa, so from my first week, I ate and drank little or nothing. My health was deteriorating but the attempt to force me to renounce Dafa had failed.
Nonetheless those who succumbed to brainwashing refused to give up trying. They were seeking rewards and continued to persecute me. They accused me of practicing in the labor camp when they found me sitting cross-legged. For this reason I received a third round of electrical-shock. When they forced me to watch the fabricated video slandering Dafa I closed my eyes and advised the other practitioners who were forced to watch to do the same.
Due to abstaining from food for a long time, I was extremely feeble but I still managed my assigned quota of labor. The wardens and traitors told the authorities that I was committing slow suicide. The Chief was angry, "Electrical shock can't make you eat so we can do nothing more." Thinking of the persecution of Dafa, the slander of our benevolent Teacher, and the unwarranted charges against our practitioners by the evil gang led by Jiang Zemin how could I, as an element of Dafa, eat and sleep well?
"You will feel better if you renounce it," the Chief once said to me. "Look, how terribly sick and weak you are now." "Not at all !" I replied. "If I renounce my belief, then I will be only a walking corpse. What I am cultivating is the great Fa of the universe. Cultivation is profound and it is Dafa that gives me true life, so I must be responsible to myself. My Teacher says, "A man must live justly and honorably." (Lecture of Fa in Switzerland),
That day the Chief called me to the office and brought out a piece of paper.
Because I am illiterate, they ordered me to impress my fingerprint on it. I refused and closed my fists and, then put my hands under my arms. However, the Chief and another man forcibly grabbed one of my hands and pressed my closed fist into the ink and then onto a piece of paper full of words. A few minutes later, the Chief announced that I had renounced Dafa and I had impressed my fingerprint on the written statement. I immediately declared to all that it was a lie. I showed them the back of my fist they had forced into the ink and said: "Who ever makes a fingerprint with the back of their hand? This is a lie!" I saw the support in the eyes of the steadfast practitioners. Again, by frustrating the Chief, I defended Fa. This is our responsibility to the positive elements in the universe.
Whenever traitors helped the evil wardens in brainwashing, I told them they were violating the laws of heaven, and they were not only trying to thwart others' cultivation but also destroying so many sentient beings that they would be damned to hell. Without enlightenment, however, the traitors claimed, "We must 'transform' you, even if we do go to hell." So I solemnly warned them: "How can even hell hold sinners like you? The sins you have committed against the Fa and practitioners are so boundless that you will pay for them forever in the place worse than hell, unless you stop these evil deeds."
After May 3, it appeared that I had a relapse of heart disease, with symptoms of low blood pressure and a lack of blood in the cardiac muscles. I knew the appearance was a false one, created by supernormal powers. The doctors in the labor camp had to send me to the hospital for emergency treatment. After my return, I was still under strict surveillance; however, they stopped my physical punishment. The Chief also let some true practitioners persuade me to take some food. Previously these practitioners were forbidden to talk with one another. Thus we were able to improve the environment for cultivation even in the labor camp.
By June 18, 2001, the authorities had tried all possible means to brainwash me, but their attempts couldn't make me yield. Moreover, the steadfast practitioners became more determined and some of those who had previously yielded to brainwashing gradually woke up too. Because I seemed to be in such bad health, the authorities decided to release me for medical treatment. In this way, I walked out of the labor camp openly and above board. I understand that it was the great benevolence of the Master and the great power of Dafa that helped me to finally regain my freedom.
Between April 25, 1999 and June 18, 2001, I was detained in Beijing eight times, in Langfang (a city in Hebei Province) twice and in Changchun (a city in Jilin Province) nine times. Every time, I was able to endure the tribulations through the righteous belief in Dafa. So far I have never signed any anti-Dafa documents. While I still have a lot of attachments to remove, I believe that I will be able to remove them through cultivation.
I thank our benevolent and gracious Teacher again. I only live in the superficial world of human beings, but our Teacher endures more and is always supporting, encouraging and concerned.
Thank you, our great Teacher!
---
Latest News From China - 07/20/2001
[Clearwisdom.net]
[China] Latest News on Zhao Ming

[Benxi City, Liaoning Province] The Weining Labor Camp Persecutes Falun Gong Practitioners

[Benxi City, Liaoning Province] List of Those who Persecute Practitioners

[Changchun City, Jilin Province] Heizuizi Women's Labor Camp Detains Practitioners Past Their Original Sentences

[Beijing] Police Arrest Practitioner in Tiananmen Square

[Xinjiang Province] Practitioner Forced to Flee Home and Abandon Her Child

[Kaifeng County, Henan Province] A Happy Family Is Broken Up

[Zhaodong Township, Heilongjiang Province] Wrongful Acts Committed by the Local Police

[Harbin City, Heilongjiang Province] Local Officials Brutally Beat Practitioners

[Shenzhen City, Guangdong Province] Practitioners Arrested for Distributing Falun Gong Flyers

[Beijing] Practitioner Detained at the Tuanhe Labor Camp
1. [China] Latest News on Zhao Ming
Zhao Ming, a graduate student of Computer Science studying in Ireland, was illegally sent to a labor camp for protecting the Fa while visiting China. The police tried many cruel methods to try to make him denounce his belief in Falun Gong, but they could not shake his firm beliefs. Zhao was transferred from Beijing Tuanhe Labor Camp to Xinan Labor Camp and later transferred back to Tuanhe in May. Zhao has endured the persecution and torture, and he remains deeply committed to Falun Gong. Currently, he is still being held at the Tuanhe Labor Camp.
2. [Benxi City, Liaoning Province] The Weining Labor Camp Persecutes Falun Gong Practitioners
In accordance with orders from Jiang Zemin and Luo Gan, camp officials attempt to brainwash every Falun Gong practitioner. If practitioners refuse to renounce their beliefs after brainwashing classes, they are subjected to violence and torture.
Since June 1, 2001, the camp staff assigned six of the most steadfast Falun Gong practitioners to the "Strict Supervision Team." On the following day, these six practitioners went on a hunger strike to protest and began to practice the Falun Gong exercises. On June 4, under the pretense of getting them together for a meeting, more than twenty guards attacked these practitioners, knocking them down and handcuffing them. Because one practitioner didn't cooperate, they beat him and shocked him with electric batons repeatedly. When they felt that it was not effective, they beat him severely again, and sent him and another practitioner to a "stretch room." The guards handcuffed them after stretching their limbs straight and tight. They called this "fixing the position." The practitioners were secured to the ground spread-eagled, unable to move an inch. The guards force-fed them and denied them sleep for days. Because of the unbearable physical pain and the extreme mental torture, these practitioners renounced their faith while not fully conscious. The guards did not want the outside world to know what happened, and they told the practitioners, "Your repentance was not coerced. You changed because of the re-education." They assigned more than twenty people to carry out around the clock surveillance to keep information from leaking out. After over a month, the practitioners were sent back to the Drug Rehabilitation Center, where even more people monitored them. Brainwashed practitioners monitored them even during their sleep. One practitioner who had refused to give a written statement to denounce Falun Gong was sent to the "self-reflection room."
This was how Weining Labor Camp used violence to torture Falun Gong practitioners at will. The situation is both serious and difficult. The brutal persecution has escalated with the help of those such as Li Yuehua, Kang Yuezhen, and Liang Jiming.
3. [Benxi City, Liaoning Province] List of Those who Persecute Practitioners
Jiang Mingdong, male, Deputy Secretary of the Benqi Ironworks Group, sponsored "brainwashing classes" to persecute Falun Gong practitioners many times. Recently he received an award for what he has done. He also appeared on CCTV News and slandered Falun Gong during the daily news program.
Li Yuehua, Kang Yuezheng, Liang Jiming, Wang Maowu are all brainwashed practitioners who have turned against Dafa. They have all participated in the persecution of Falun Gong practitioners.
4. [Changchun City, Jilin Province] Heizuizi Women's Labor Camp Detains Practitioners Past Their Original Sentences
A large percentage of practitioners being held in the Heizuizi Women's Labor Camp have reached their terms for quite some time. However, because of their deep commitment to Dafa, they are still being detained and continue to go through inhuman torture.
Deng, a practitioner in her thirties, is one of them. Deng was arrested when she was sharing experiences with other practitioners on January 15, 2000. During her detention, when she was asked whether she would continue to practice Falun Gong, Deng answered firmly, "Yes!" Thus, she was transferred to a detention center where she was asked the same question. Her answer remained the same, "Yes!" Because of this answer, she was sentenced to the Heizuizi Women Labor Camp for one year.
Upon her arrival, Deng was kicked, punched and electric-shocked by a group of guards. They handcuffed and shackled her, and they did not let her sleep for days. They also forced her to remain standing for long periods of time while taunting and cursing her. All of this could not shake Deng's firm belief in Dafa, even while she was spitting out blood and at the brink of death. The guards then sent her to a cell where common criminals were put in charge of monitoring Dafa practitioners. At the urging of the guards, these inmates looked for new ways to torture practitioners. However, no matter what they did, they could not shake Dafa practitioners' firm and righteous faith.
Deng and other practitioners who were sent to the labor camp at the same time were due to be released in February of 2001. However, none of them have been released, and no one has given any explanation to their families. Since last year, camp officials have denied visitation rights to practitioners who refused to renounce their beliefs. Husbands were not allowed to visit wives, and children were not allowed to see their mothers.
5. [Beijing] Police Arrest Practitioner in Tiananmen Square
Jiang Ruigang, a practitioner from Jilin Province, was arrested this June in Tiananmen Square for unfurling a banner. The police in Jilin and his employer went to Beijing to pick him up after they learned of the incident, but the Beijing police are still holding him in the detention center for unknown reasons. Another Dafa practitioner, Zhong Zhiwei, went to Beijing to appeal a week ago. His whereabouts are unknown.
Days ago, Clearwisdom reported that eleven Dafa practitioners were arrested while distributing Dafa materials. Zhang Hanyi was among them, and he was sentenced to two years in a labor camp. Currently no information is available about the rest of these practitioners.
6. [Xinjiang Province] Practitioner Forced to Flee Home and Abandon Her Child
Mrs. Hou is a practitioner from Xinjiang. After her husband was sentenced to a labor camp for practicing Dafa, Hou had to leave home and live in exile to avoid the brainwashing class, leaving behind her one-and-a-half-year old baby and elderly parents-in-law. Whenever the child saw visitors, he would call them "Mom." One time, an elderly woman went to visit the family. The baby again called her "Mom" right away. With tears, this elderly woman said: "I am not your mother. Call me grandma." Everyone who heard the story felt very sad.
7. [Kaifeng County, Henan Province] A Happy Family Is Broken Up
The local police arrested Ning Xiuzhi and two of her daughters at their home in the afternoon of July 9. The daughters, Pan Shasha and Pan Tingting, are not practitioners. They were arrested because one or two Dafa flyers were found in their rooms. Ning Xiuzhi is currently being held at the Kaifeng County Detention Center. Pan Shasha was sent to the local labor camp, but she was released three days later. Pan Tingting was transferred to Qi County, and her current whereabouts are unknown. The police have denied visitation rights for Ning's family. Furthermore, Ning's husband was sentenced to three years in a labor camp for going to Beijing to appeal. A happy family was thus broken up. We call for the attention and help from all kind-hearted people.
8. [Zhaodong Township, Heilongjiang Province] Wrongful Acts Committed by the Local Police
Around 8 PM on June 26, 2001, Yu Libo, a female practitioner who was still nursing her 10-month old infant, was arrested. She was taken away by Li Qingfu, chief of the Fendou Police Sub-station and other police officers when she was discovered putting together Dafa materials. Yu Ming, another practitioner from Daqing who was living in exile, was arrested with her. After two hours of interrogation and torture, Yu Ming was forced to reveal the location where Dafa materials were stored. This caused Liu Xixiang, a practitioner from Qitaihe who had successfully escaped from Jiamusi Labor Camp earlier, to be arrested again. The police also confiscated two copiers.
From the program broadcast by the local TV station on June 28, it was clear that Liu Xixiang had been brutally tortured. He had difficulty walking, and his face was hardly recognizable. As of July 8, Liu Xixiang and Yu Libo had been on a hunger strike for eleven days. Despite the fact that they were extremely weak, the Public Security Bureau still violently interrogated them twice a day. They also issued an order to the labor camp staff to beat them as much as they wanted. They wanted to find out who provided financially for the production of these Dafa materials, and claimed that if the practitioners were beaten to death, no one would be held responsible. Liu Xiaoling, another local Dafa practitioner, was force-fed to death after she went on a hunger strike, as reported by Clearwisdom. Currently, Yu Libo is on the verge of death. Practitioners who were arrested at the same time and now are on hunger strike include: Wei Zhiping (still nursing), Gao Jingmei, Gao Jingyun (who was released after being on hunger strike for twelve days, but was arrested again a day later), Sun Hongbo, Hou, Sun Shutang, Weizhiling and her husband.
The police in Zhaodong distributed flyers all over the city, promising handsome rewards for those who turn in Falun Gong practitioners. The Public Security Bureau, the Police Department, the Residential Committees and security personnel of all districts and apartment complexes are focusing their energies on capturing Falun Gong practitioners.
We appeal to all international human rights groups for their attention to what is happening in Zhaodong.
The ringleader is Zhu Yin, the newly appointed mayor of Zhaodong.
Ren Songlin, Secretary of the Legal and Political Committee, also the person in charge of the persecution against Falun Gong
Office of the Secretary: 86-455-7709298; 86-455-7709235
General Office: 86-455-7709245
Zhaodong Public Security Bureau, Political Department: 86-455-7789849
Zhaodong Public Security Bureau, Public Safety Department: 86-455-7784560
Fendou Police Sub-station in Zhaodong: 86-455-7787490
Li Qingfu, chief of Police Sub-station: 86-455-7788110
Wang Fu, Director of Administrative Detention Center: 86-455-778-3338; 86-455-778-4448
Wu Guozhi, Chief of Detention Center: 86-455-7701780; 86-455-7712862
Li De, Zhaodong State Security Bureau: 86-455-7784769
9. [Harbin City, Heilongjiang Province] Local Officials Brutally Beat Practitioners
Guan Xin, from the Dongli Branch of the Harbin Public Security Bureau, put plastic bags over practitioners' heads so that they couldn't breathe. He used lamps to burn Dafa practitioners and viciously beat them. Marks left on the backs of practitioners by his kicks were still clearly visible a month later.
10. [Shenzhen City, Guangdong Province] Practitioners Arrested for Distributing Falun Gong Flyers
Li Ciyi (alias) was arrested in Shanghai for distributing flyers. She was taken back to Shenzhen and is being detained at the Baoan Women Labor Camp. Two sisters, Hong and Mei (alias) were arrested in Dongwan for distributing flyers. They are being detained at the Baoan Labor Camp.
Li Ling was arrested while distributing flyers in Shiyan, and she is being detained at the Baoan Labor Camp.
Xiao Ling was arrested while distributing flyers in Shiyan, and she is being detained at the Baoan Labor Camp.
11. [Beijing] Practitioner Detained at the Tuanhe Labor Camp
Shi Wenbo, a practitioner from Jilin, went to Beijing to protect the Fa. He was arrested and is now being held at the Tuanhe Labor Camp.
á
---
Immediate Retribution in this Lifetime: Two Policemen Die from Cancer after Persecuting Dafa Practitioners
July 20, 2001
[Clearwisdom.net] Zhu Gang, male, around 40, was the Deputy Captain of the Hanting District Police Department of Weifang City, Shandong Province. Yang Lianzhong, male, about 38, was the Section Chief. They were both malicious people who aggressively participated in the persecution of Falun Gong. They were once awarded prizes at the "Reward Conference of Advanced People" held by the district workers' union. Recently, both of them died from cancer, one after the other. Goodness is rewarded with goodness and evil meets evil. We wish to advise those vicious people who are still persecuting Falun Dafa practitioners: Don't become accomplices to the grave for Jiang Zemin. Please protect your kind thoughts for the sake of your eternal life.
---
Police in Wei County, Hebei Province Brutally Torture a 60-year-old Female Practitioner
[Clearwisdom.net]
On April 20, 2001, unable to legally appeal, Guo Xianglin (female), a 60 year-old Dafa practitioner, made some posters saying, "Falun Dafa is Good!" and posted them in public places in order to express her own feelings. Because of this, she was caught and attacked by a group of thugs. After severely beating her, they reported her to the local police. When the policemen arrived, they handcuffed the elderly woman, and the whole group brutally beat her. As they walked her back to the police station, the policemen repeatedly kicked the elderly lady to the ground, until she could no longer stand up and walk. The pedestrians were shocked and scared by the display of the brutality of the "people's police" towards an elderly woman. After arriving at the police station, these "criminals in police clothes" interrogated and tortured Guo Xianglin for four hours.
The following day, these policemen transferred Ms. Guo from the police station to a small room in the yard of the Coal Company. For no apparent reason, at least a dozen policemen rushed into the room, and dragged the old woman from the bed and hit her on the head. Then a policeman grabbed her by the hair, kicked her down, and slapped her repeatedly in the face. After this beating, several policemen shocked her with electric batons. Three electric batons were used at the same time, while another policeman kicked her from behind repeatedly. They did not cease this fierce beating until the old woman lost consciousness. One policeman said, "I think we killed her!" Another said, "Don't worry, she won't die!"
Sometime later, Ms. Guo finally revived and tried to stand up, but two policemen immediately beat her to the ground again. They also interrogated her to get names of other practitioners. The old woman fearlessly said, "Only me. I made the posters and I hung them up. You can do whatever you want to me." Although the police spent many hours interrogating and torturing her, Guo Xianglin refused to comply with their evil intentions. She never gave in, and in the end the police finally exhausted themselves.
In the evening, a group of thugs forced Ms. Guo to kneel down on the ground with her hands above her head while they proceeded to beat her legs with wooden clubs. After the beating, the police viciously interrogated her again for information about other practitioners. She continued to stand firm with a righteous mind and told them, "I will not name others even if you kill me!" The policemen were enraged. They again used three electric batons at the same time to shock her, pulled her hair, and burned her skin with cigarettes. They tortured her the entire night.
On the third day, officers from the county police department came. One policeman seized Ms. Guo by the hair while a group of police surrounded her and savagely beat her. In such a cruel manner, this old woman with small build (less than 5 feet tall, and about 77 pounds) was tortured non-stop for three days and nights straight. Even so, she remained true to herself and with the indestructible righteous mind entrusted by Dafa to cultivators, she thwarted every attempted plan of the evil force.
Main criminals: (Wei County postcode: 075700)
Guo Fengshan: policeman of Nanliuzhuang Town Police Station: 86-313-7280015
Liu Guiwen: Nanliuzhuang Town deputy party secretary, work telephone: 86-313-7280242
Tian Junjie: Nanliuzhuang Town official, work telephone: 86-313-7280242
---
My Excruciating Experience at the Chaoyang Police Station and Detention Center in Beijing
[Clearwisdom.net] I was arrested and detained three times by the police, although I was innocent. The first time, I was arrested for appealing in Beijing in October 1999. The second time was in July 2000. I was detained for nearly a month on both occasions.
Below is my experience during my third incarceration:
Around 6 a.m. on October 24, 2000, Ding Jinming (deputy head of Chaoyang District Police Station) and Song Xuejun came to my home and took me to an office located on the sixth floor in the police station. Three people, including Ding Jinming and Zheng Dongping, handcuffed one of my hands over my shoulder to the other one brought up behind my back for over 3 hours (this corporal punishment is called "sword on the shoulder"). Ding Jinming twisted my hands behind my back, pushed me down to the ground, and kneeled on my back. I felt suffocated and could not breathe, as if my ribs were going to break. Afterward, I was handcuffed to the heater until they got back to work in the afternoon. During dinnertime, these thugs hung me on the window by my handcuffs, with the tips of my feet barely touching the ground. They constantly attempted to extort a "confession" from me.
At midnight, Ding Jinming used an electric baton to shock me all over the back of my neck, my face and hands, and later he beat me with a police club. During this time I was forbidden to use the restroom and given no food or water. I was also prohibited from sleeping during the night, and was hung there for a long time. Whenever my eyes closed slightly, they would immediately wake me up. They also opened the window to let the cold wind blow in on me. I was released on the evening of October 26, 2000. There were many other Dafa practitioners who were beaten at the Chaoyang District Police Station. Among them, Wang Chuanqin had a deep dent about 5 cm [about 2 inches] in diameter at the upper right side of her head, the result of being beaten with a stun baton. Even after several months, she has not recovered.
On October 29, Song Xuejun and Ding Jinming transferred me to the No. 1 Detention Center, but I refused to sign the detention warrant. In order to validate Dafa, thirteen female Dafa practitioners including myself, Sun Yongmei, Lin Yuying, Liang Hongmin and Lu Kehua kept doing group exercises. One day at noon, when we were doing the exercises, a dozen of us were punished by being placed in the solitary confinement cells.
During their imprisonment, some practitioners, like Liu Lan, did group exercises and were handcuffed and put into the solitary confinement cell after they were found out. They kept shouting loudly, "Falun Dafa is good, there is nothing wrong with doing exercises, suffocate the evil, eliminate the evil" etc. when they were been putting into shackles in the hallway.
On Dec. 24, 2000, the city government directed a large-scale arrest all over the city, and many practitioners were arrested. They held a group hunger strike to protest such persecution. As a result, Zhao Jialian, Huo Guangjun and Wei Likun etc. were sent to solitary confinement cells. During the hunger strike, practitioners were force-fed salt water and flour porridge by the detention center officials and prison guards. Among them, Liu Lan was force-fed through a tube after holding a hunger strike for 28 days, and was later sent to a hospital for emergency treatment. Zhu Zhiyuan was force-fed salt water on the 7th day of the hunger strike. Wei Likun had food forced into her lungs when she was force-fed and was sent to a hospital. To remove the food, her trachea had to be cut open.
Hui Yuan and Sun Yongmei didn't cooperate with the force-feeding and were beaten until their legs and buttocks were black and blue. Sun's face was bruised. The thugs then chained them with shackles that weigh dozens of pounds. The shackles went through their handcuffs, so all four limbs were locked together, and their bodies were forced to be like bows which crawled on the cement floor. Because they were extremely weak from the hunger strike and didn't stand up to answer the roll call, right then the policeman Guan Xinguo cursed them. Together with Yang XX and Li Peihua, Guan Xinguo arranged to have three bowls of highly concentrated salt water made with one jin [about 1.1 pounds] of salt, and threatened to force-feed them to death. They said to a prisoner named Cheng, "You killed so many pigs, and you can't even handle them [the practitioners]? Show your strength like when you were killing the pigs!" They used other vulgar language as well.
Guan Xinguo asked the outer prison guards to cuff us to the stairs by all four limbs, and to tie our waists with black electric cords, after which they force-fed us with salt water. He even asked the outer prison guards to take off our socks and jam our mouths with them. If that failed to work, they were to take off our panties and pants to fill our mouths with, which was inhuman. When the salt water went down my throat, I felt as if my throat was burning with fire. After the force-feeding, the brutes put socks in our mouths, blocked our noses, grabbed our hair and used their knees to press our heads so that we could not move on the ground. Because we couldn't breathe, the salt water went down into our lungs.
Two of the outer prison guards cuffed both of my hands, dragged me back to my cell and threw me on the ground. I felt severe chest oppression and back pain, and I had great difficulty breathing. I coughed up a great amount of salt water and a pink bubbly fluid. Later, Doctor Liu came and I was released from the handcuffs. They sent me to the emergency room at a hospital. I continued to spew out blood, and my pulse and blood pressure could hardly be detected. My heartbeat was as high as over 160 per minute. My blood vessel couldn't be found when an injection was needed. I was diagnosed with acute left-ventricle heart failure and heavy shock.
Once the practitioners in No. 42 cell, including me, Sun Yongmei and Wang Jiuhong (both are female) did group exercises. After Cui [probably a guard] came and stopped us, he handcuffed me to a cement pole next to the bathroom for 24 hours.
Zhang Yongxia (female) was severely beaten by the police at Renmin Road Police Station. Because she went to Beijing to appeal, she was handcuffed behind her back and hung up. The thugs even put Teacher's portrait beneath her feet. Five to six people surrounded her and beat her up. They even forbade her to cry out. If she made a sound, they would stuff her mouth with the bathroom mop. They even spit phlegm on the floor and forced her to kneel down and lick it up. She would receive brutal beatings if she disobeyed. The criminals include the head of the Renmin Road Police Station Hu Zhuangfei and Gao, and a vicious policeman named Cui. Zhang Yongxia was unable to walk after she was taken down. With her hands cuffed behind her back, she was kicked by Hu Zhuangfei and rolled down the stairs to the first floor. When she was picked out by a vicious policeman to interrogate, Zhang Yongxia was severely beaten by him. Another policeman at the detention center stopped the beating. Then Zhang Zhuangfei was taken to the captain's office, and was dropkicked by a malicious policeman. Her body hit the couch and bounced back. When she returned to her cell, her whole face was swollen and covered with black and blue marks.
Liu Mingzhi (female) was escorted back after her appeal in Beijing, and was handcuffed behind her back and hung up, after which she was beaten by thugs. She also received the "sword on the shoulder" punishment, but was asked nothing. After she returned to the cell, she could not feel her arm at all.
Yu Fen (female) was put in the detention center for her appeal in Beijing. When being interrogated, she was taken to Renmin Road Police Station. The heads Gao and Hu gave her the "sword on the shoulder" treatment and hung her up on the window with her toe tips barely touching the ground. They also put Teacher's portrait beneath her feet and beat her whenever she didn't answer their questions. They also swung her back and forth to increase her pain. She was hung this way for seven and a half hours. After she was released, her arms were diagnosed with having severe muscle damage, and she could no longer take care of herself.
Another two practitioners were sent into the detention center after appealing, and their husbands brought them divorce papers.
Practitioner Li Tianfen (female) was sent to a mental hospital to receive cruel torture.
---
A Female Practitioner's Righteousness Overwhelms Policemen
[Clearwisdom Net]
I had the chance to get to know a female practitioner from another part of China. She told me about her experiences at the Detention Center of Lingyuan City, Liaoning Province and the police brutality there. The following is her story.
"In January 2001, I went to Beijing to appeal for Falun Gong, asking the government to deal with the Falun Gong issue reasonably and to restore the good reputation of Falun Gong. I was arrested for exercising every citizen's right of appealing to the government, the right that is granted by the Chinese Constitution. I went on a hunger strike with other practitioners to protest such an unjustifiable act and requested our unconditional release. Six days later, they sent me and dozens of fellow practitioners to Chaoyang City, Liaoning Province, and then detained us in different counties, with 25 practitioners in each county. I was sent to the detention center of the Lingyuan Police Station.
The police there often beat and cursed detained Dafa practitioners. Since we had not eaten for six or seven days and still firmly refused to eat anything, the police started force-feeding us through various brutal means. They knew that practitioners never drink alcohol, so they deliberately force-fed alcohol to some practitioners. Thinking that we should not yield to the evil nor disregard the suffering of these fellow practitioners, we used our righteous thoughts to stop such a vicious act. They soon gave this up.
Since we all still kept up our hunger strike and demands for unconditional release, the guards began to force-feed us individually. During my twenty-two day hunger strike, I was force-fed once in Beijing and once in Lingyuan. Each time when they force-fed me, I refused to cooperate and told them firmly, "I don't need your force-feeding! Release me! Return my freedom!" Seeing this, several guards came to hold me down and beat me. Then they pried my mouth open with an iron bar. As a result, I bled freely from my mouth, lips, and throat, and several teeth were knocked loose. I vomited all of the force-fed food mixed with blood twice, never yielding to them. Although I had been on hunger strike for more than twenty days, I was still strong and energetic. I always felt that our Teacher was with me.
During my stay at this detention center, the police tried everything to coerce, threaten, beat and humiliate me, so that I would be forced to cooperate with them. I firmly refused. As a Dafa practitioner, I am a person who is frank, openhearted, honorable, broad-minded and not guilty of anything. How could I listen to them and abide by their deeds? Seeing my steadfastness, the police said that they would strip me naked and leave me outside to freeze if I did not do as they asked. When I still did not yield to them, one cold night they forced me to stand outside barefoot, wearing only a shirt and underpants. Even under these circumstances, I never cooperated with them.
One night at midnight, a policeman took me alone to his office. Seeing me young and pretty, his vicious thoughts were aroused. Many disgusting, obscene words flowed out of his mouth. He used various despicable, shameless means to force me to submit. It turned out that underneath the police uniform with our national emblem on it, was actually a base and obscene person. I firmly refused to submit and was not afraid of his brutality at all. At this moment I deeply realized that Falun Dafa is solemn, dignified and inviolable. Seeing me full of upright and righteous thoughts, he started to madly hit my hands, neck, face and lips with an electric prod. While using a set of handcuffs to beat me, he carelessly hit a policeman who suddenly came into the office. Then they beat me more ferociously together and even burned my hands with a cigarette lighter. Facing this, I still steadfastly upheld my belief in Dafa, regarding them as nothing more than bugs. They finally gave up, as they saw that they could not deal with me. He held the lighter in his hand, looking at me with a twisted and ugly expression. Shortly after, the lighter suddenly broke apart in a small explosion.
After the hunger strike had continued for more than twenty days, a fellow practitioner and I were taken to a hospital affiliated with the Lingyuan Labor Camp for a forced infusion. The doctors, nurses, other staff members and inmates could not believe that we had already been on the hunger strike for more than twenty days. We still looked energetic and quite healthy, without any signs of sickness. They were surprised and could not understand. They even guessed that we might have been eating secretly. I told them that this is the power of Falun Dafa and that we cultivate ourselves in accordance with "Truthfulness, Benevolence, Forbearance." We would never lie to them.
The 52-year-old fellow practitioner and I firmly refused the treatment. She strongly requested our release with a declaration of our innocence. She was handcuffed and shackled, with her hands and feet tied to the bed. Four or five sturdy guards attempted to hold her down so that they could inject her. They tried many times, but all they managed to do was to prick her. Eventually, they gave up. Although she was an over fifty-year old lady and had not eaten anything for more than twenty days, she was so strong that nobody could hold her down and give her an infusion. Every person in sight was moved and shocked.
In the end, the police told us that they would free us if we told them our names and addresses. However, as soon as we told them, they contacted the local police and had them take us away."
After she finished her story, I cried until my face was bathed in tears and felt as if a knife was piercing through my heart. How could these so-called "people's police" inhumanely and deliberately perform such heinous deeds? How could they treat practitioners so brutally, just to find out their names and addresses? How could a so-called "people's government" commit such crimes openly? Won't anyone stop Jiang Zemin and his followers from continuing to trample on the rights of the common people?
---
Sending Out Righteous Thoughts Is a Powerful Way to Eliminate Evil
[Clearwisdom.net]
I am a 57 year-old female Dafa practitioner from Jilin Province. At 2:30pm, June 18, two policemen from the town police substation suddenly broke into my house and illegally searched it inside and out. They also searched my body. Teacher's articles and pictures showing the hand movements were found. The police shouted angrily, asking who gave me all these and ordered me to confess quickly. I said: "I found them under my door, how could I know who gave them to me." Seeing that I was very unswerving and refused to give in, they switched to soft tactics. They said deceptively, "Tell us who gave you these materials. If you give us one name, we will give you 3000 Yuan (about a half year's salary of the average worker in cities of China) and we will not arrest you, just let you go right away..."
I quickly realized that the evil had resorted to the most contemptible means. It was not incidental, but a critical test of my attachment to fear. When I thought of how our benevolent Teacher had endured innumerable hardships and sufferings for us, and that practitioners took great risks to bring Teacher's articles and truth to us, and of how the police wanted me to betray Dafa and sell my allegiance to my fellow practitioners for 3000 Yuan, I told them sternly, "I won't be so conscienceless as to do those things, even if you give me 3 million Yuan. It is just your wishful thinking that I would betray my fellow practitioners." Upon seeing that they could not get anything from me using both hard and soft tactics, the police handcuffed me and took me to the police substation.
Upon arrival at the police station, the police dropped their disguises and started beating me madly with their hands and feet while cursing me. I was about their mothers' age, however they just beat and cursed me regardless. While they did so, they interrogated me: "Where did all these materials come from? Who gave them to you? Confess quickly!" I said, "I do not know where they came from. I just found them under my door." Since I refused to tell them, police Chief Niu Zhenkui (his crimes have been exposed in clearwisdom.net previously) started to kick my face with his boots. At once my face was swollen, my teeth became loose, and blood started dripping from my mouth. Niu shouted, "Confess now! Or I will break your old bones! Confess Now!" I replied, "I do not know. What do you want me to say?" After another round of beating and kicking, flustered and exasperated, Niu said, "I am off work now. Tomorrow I will continue." He then departed, after cuffing me to a chair and leaving two guards to watch me.
At that moment I determined I would not be taken away by the evil. I would send out righteous thoughts to eliminate the evil and get away from this dungeon so as to return to the rigors of Fa rectification. I continuously recited Teacher's verse in my heart, "Fa rectifies cosmos, the evil is completely eliminated." After I recited the verse several times, I noticed that the two guards nervously walked back and forth unconsciously. Soon they went away. I moved my hands a little bit, the handcuffs automatically came loose and my hands were free. I realized at once that Teacher was helping me escape so I walked out of the door and disappeared in the streets. Soon I heard the police car chasing after me.
Now I have again merged into the torrent of Fa rectification. It was the teaching of our benevolent Master that helped me escape from the dungeon. It was the mighty power of Dafa that eliminated the evil. Here, I would also admonish those policemen who have committed numerous crimes to wake up and stop persecuting Dafa practitioners.
---
An American Practitioner's Letter to Secretary of State Colin Powell
Dear Mr. Secretary Powell and Ambassador Randt, As an American citizen and practitioner of Falun Gong, I am writing to you so that none of the vile and slanderous communist propaganda concerning this peaceful discipline will affect you. All of the practitioners here in Florida whom I know have experienced many benefits from Falun Gong, because it stresses the importance of maintaining a high moral and ethical standard as well as being a responsible person both at work and at home.
Mainland Chinese followers of Falun Gong do not belong in "labor camps" and should not be subject to brainwashing and torture. Please let your diplomatic counterparts know that we Americans are repulsed by such barbaric treatment and that it is a stain on the long and noble history of China.
Thanks for your fine work!
An American Practitioner in Florida
---
CTV (Canada): Bitter Falun Gong anniversary
Sat. Jul. 21 2001 3:31 PM
The third week of July marks a somber anniversary for Falun Gong practitioners around the world. Two years ago, China began its persecution of the movement's adherents. Ever since, it's been a brutal and relentless campaign against what Beijing's authoritarian regime sees as a threat to its power.
It's ironic timing. The grim anniversary happened just one week after the International Olympic Committee awarded China the right to host the 2008 Olympics. Many interpreted the decision as a message that the IOC, at least, is willing to gloss over China's human rights abuses.
Jillian Ye, a Toronto spokesperson for Falun Gong, wonders how the decision will affect her fellow believers in China. "On the one hand, I think having more eyes watching Beijing is a positive thing," says the Toronto software engineer.
"But the world needs to focus on more than the economic and sport-building and construction process. People should also pay attention to humanity and morality and human rights."
Falun Gong, also called Falun Dafa, started quietly enough in Mainland China in the early 90s, when its founder Li Hongzhi, introduced his unique combination of moralistic teachings and meditation exercises. By 1999, Falun Gong claimed to have 70 million followers in Mainland China, more than the [party' name omitted] Party.
In April, 1999, 10,000 believers surrounded the government compound in Beijing's Forbidden City. They demanded that the state-controlled media stop portraying them as a [Jiang Zemin government's slanderous term omitted]. China's authoritarian leadership interpreted the peaceful demonstrations as a provocation and a threat. Within months, Falun Gong was labeled an "[Jiang Zemin government's slanderous term omitted]." Tens of thousands of followers were detained, arrested, or imprisoned.
Ian Johnson is a Canadian who reports for the Wall Street Journal. He recently won the Pulitzer Prize for breaking stories about the persecution and torture of Falun Gong practitioners in China.
CTVNEWS.com spoke with Johnson at his home in Berlin. He explained that the crackdown was the response of a leadership seriously out of touch with the people.
"They had no idea what was brewing in society, and so they had this very visceral, very angry backlash against Falun Gong," says Johnson.
AN ONGOING CAMPAIGN
Just days after the Olympic announcement, China's vice-premier re-iterated his government's determination to stamp out Falun Gong. [...]
[...]
Falun Gong members reject accusations that they are anything like a cult. Jason Loftus, a third-year engineering student at the University of Toronto, calls it a spiritual belief system. He says it's helped him focus, in his schoolwork and in the rest of his life.
"I find that mentally, spiritually, physically, it's been the most powerful thing I've come across," he says, adding that Falun Gong teaches fundamental principles that he can apply day-to-day: truthfulness, compassion and tolerance.
Journalist Ian Johnson doesn't characterize Falun Gong as a cult, either. "A cult implies something that has a doomsday scenario, mass suicide as its goal or likely outcome. I don't think Falun Gong is that." Johnson also rejects the term "sect," because sects are usually considered splinter groups of an existing religion.
[...]
http://www.ctvnews.com/index.html
---
Perinton - Fairport Post (New York): Falun Gong practitioner finds refuge in Fairport home
July 26, 2001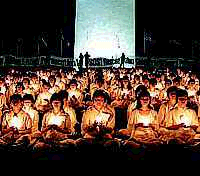 In many ways, the last two years of Louise Huang's life has mirrored the plot lines of George Orwell's novel, "1984."
A totalitarian state tried to erase her spiritual belief system. Her disillusion quickly provoked virulent cruelty. Her purported crime - State subversion.
Huang practices Falun Gong, benevolent spiritual teachings derived from Chinese traditions. On July 20, 1999, the [party' name omitted] Chinese government outlawed its doctrines.
From that point on, China unleashed unbridled and vehement repression; blows of fist and feet, pervasive surveillance, detainment, brainwashing, brisk pressure to renounce subversive beliefs, and for some, death.
China is bent upon squeezing Huang and other Falun Gong practitioners into submissive control.
Huang refuses to relinquish. She endured imprisonment and torture for the decision, but found a way out last summer. In July 2000, she fled China and came to live with her brother and his family in Fairport.
Two years later, countless more remain in her native country and the repression continues.
"Their basic rights of existence are in danger," Huang said of her fellow practitioners in China. (Her brother, Weidong Huang, translated for his sister). "But I have the forum for them. I can stand up to speak for them."
She walked from New York City to Washington, D.C., over the past weeks, sharing her stories with those she passed. Over the weekend in D.C., she joined thousands who protested the two-year anniversary of China's crackdown on Falun Gong and its peaceful practitioners.
They beseeched their representatives to stop the injustice.
Huang's brother, his wife, and Penfield practitioner, Helen Chou, left for the Washington protest Wednesday from Perinton Park. They presided over a brief ceremony, calling attention to the problem.
Amnesty International sponsored the local send-off. The organization has called for the immediate release of all of the jailed practitioners in China.
"This is such an important issue because the persecution of the practitioners of Falun Gong in China is so severe," said Chris Dygert, coordinator for the Rochester Chapter of Amnesty International.
Sally Poole Gonzalez, a local resident, said she first learned of the problem a year ago from a Wall Street Journal article. The article exposed the death of a practitioner while in police custody. She said she was appalled.
"I wanted to see what I could do as an American to help out," she said of her attendance at the event.
More than 250 practitioners have died in police custody, the victims of brutality and deprivation, Huang charges. The Chinese authorities have said the deaths are the result of medical ailments.
A Web site listing recent deaths flashes portraits of mainly young, innocuous looking Chinese citizens.
The situation is urgent, Huang said. Banners reading, "SOS Urgent: Rescue Falun Gong Practitioners Persecuted in China," and pins could be seen throughout the Washington protest.
Locally, about 10 people gathered to call attention to the situation.
"When I heard about the persecution and abridgement of human rights of the practitioners of Falun Gong, I felt it was important to make my voice and our community's voice known," Brighton Town Supervisor Sandy Frankel said at the local event.
A step toward amity
Huang journeyed nearly 200 miles on foot to make her voice known. She left from New York City July 3.
Those she met offered support. Some knew nothing of her situation. Many were incredulous.
A man in his 50s cried after he read a flyer Huang handed him. It described the death of a Chinese women and her 8-month-old child while in police custody. He hugged her.
Another women stopped her car and shook Huang's and her marching companion's hands. Restaurant owners offered free drinks and food to those on the trek.
"Even though I can't understand English, I could obviously see from their hearts they are kind hearted and righteous minded," Huang said.
Many asked what they could do to help. Huang directed them to write to their congressmen, sign petitions and stay informed.
"They all said, 'Don't be afraid in our country, because you have the freedom to practice your belief,'" she said.
Freedom revoked
Huang attempted similar outward protest in her native China. Chinese authorities were not as welcoming. They offered no hugs or handshakes, only imprisonment and brutality.
When the Chinese government first announced its ban on Falun Gong in July 1999, she left her native Guangdong province and traveled to Beijing to protest the decision. She planned to file a formal appeal with the government, a right Huang said is guaranteed under the Chinese constitution.
She arrived in Beijing and booked a hotel room. She never made it to the appeal office.
"The police basically broke into the hotel and arrested me because they thought I was a practitioner," she said.
Authorities shipped her back to the Guangdong province, where local authorities interrogated her for seven hours upon her arrival. She was in a small room surrounded by five policemen. They asked her for names of other practitioners, and how many she knew within the area.
They tried to force her to write a confession, agree not to appeal the state's crackdown and not to practice Falun Gong.
"They told me I can no longer have my belief," she said.
She would not acquiesce. She remained indignant.
"I feel I didn't commit any wrongdoing as a citizen. All the things I did, did not violate the law," she said. "I feel I'm a law-abiding citizen. I refused to answer their questions."
Police threatened to send her to jail. In the interrogation, Huang said she realized police had tapped her phones. She signed a quasi-statement, she said, simply to get out of there.
A work supervisor escorted her home.
She would continue to practice, she would continue to appeal, and she would continue to suffer for it.
Enduring persecution
Huang said she was never left alone again.
Police monitored and harassed her. At work, where she coordinated activities for the [party' name omitted] Youth Party, supervisors asked her to write a statement of thoughts denouncing Falun Gong. She told them she must write the truth, she said.
She asked for vacation days, and a supervisor informed her the police said she was not allowed to leave the area. Thousands of other practitioners endured the same treatment. The government began a caustic propaganda campaign against the practice.
Huang's frustration mounted. By October of that same year, she made another appeal. She would be detained nearly a month this time.
"I decided to go to Beijing again to appeal for the unjustified situation," she said.
She made it to the appeal office, but she never reached an official. Police confronted and arrested her in the building. They sent her to a local detention center.
Authorities detained her for 12 days. Huang and other cell mates staged a hunger strike during the ordeal. Shortly after the detained refused to eat, police came into the cell and pulled out a white-haired older woman from Beijing who was participating in the hunger strike.
Police later returned the women with blood dripping from her nostrils. Huang said authorities had shoved two plastic tubes up her noise and forced a salt water solution into her stomach through the tubes.
"Her face was paper white," Huang recalled.
The woman was their example to stop the hunger strike.
Huang was transferred to another cell. She watched as police beat a male practitioner in that cell, she said.
She was sent home and held in a detention center there for another 15 days.
Enduring faith
Her spirit would not be broken.
"No matter how much trepidation or difficulty I will go through, I firmly believe Falun Gong is good," Huang said.
After her release, she was expelled from the [party' name omitted] Party. She lost her job. The authorities asked her family, with whom she lived, to sign a letter attesting she would not appeal government decisions again. Huang said her family had little choice but to sign.
Police warned her if she appealed again, she would be sent to labor camps.
Yet, she continued to practice Falun Gong.
Two months after her release, she sat in the home of a fellow practitioner. They conversed and prepared a meal. Police broke through the door, Huang said, and charged each person in attendance with disturbing the public order.
Authorities sent her to a labor camp for 15 days. She weaved baskets at the camp, and was forced to walk 15 to 16 hours a day, she said. The prison uniforms were dirty and unwashed, she said. She ate rice and a few vegetables.
"The conditions were cruel," she said.
She was arrested so suddenly, her family didn't know what had happened to her. They went to local authorities to ask of their daughter. The police told them nothing, Huang said.
"This time, I could feel we are losing more and more of our rights to practice Falun Gong," she said.
The crackdown increases
In America, her brother watched and read the reports coming out of China. The crackdown had increased at the beginning of last year, and so too had his worry.
"We knew the persecution was brutal," Weidong Huang said.
He called her at home, but decided it was too risky because of police taps. In China, his sister was about to undergo the harshest of her detainments.
She traveled to Tiananmen Square in June 2000. She ruled out another appeal, and decided to protest by conducting Falun Gong exercises in the square.
She was quickly arrested, and thrown into jail - again.
There, the violence reached its harshest tone. She watched as police forcefully beat a male practitioner in her cell.
The practitioner refused to give his name. A group of four police officers began punching and kicking him, she said. The beating continued for 10 minutes. Police dragged the man to another room and continued beating him, Huang said.
He screamed in pain, calling for help in desperation, she said. Police brought the man back to the room. He was bloody and bruised, hunched over and vomiting, Huang said.
Police transferred her to a basement room. About 30 others were in the room. The males were handcuffed to a water pipe. Police asked Huang her name. She refused to tell it. They told her to face the wall and spread her legs apart.
"He punched my back with his fist," she said of her interrogator.
She wouldn't talk.
"I didn't tell them my name because I refused to bow to the violence," she said.
She was jailed for two days. Police recognized her accent and sent her back to her province.
Escape
Huang had not told her parents she left for Tiananmen Square. When their daughter returned, the family planned a trip out of town. They worried for her safety.
The Public Security Bureau denied Huang's visa. Huang was not allowed to leave the country. She plotted a clandestine escape, but would not provide details because she said she did not want to incriminate those who helped her.
By July, she was free and at her brother's Fairport home.
Her voice has only grown louder in America.
"One voice is small," she said. "One hundred voices is still very small. Ten thousand voices you can maybe just start to hear. One million voices, then everybody around the world will hear."
Falun Gong is an ancient form of qigong, the practice of refining the body and mind through special exercises and meditation.
It consists of self-improvement through studying founder Li Hongzhi's teachings, and performing five gentle exercises, including seated meditation. At the heart of the practices are the supreme principles of the universe; truthfulness, benevolence, and forbearance.
Through a combination of studying the books and performing the exercises, practitioners strive to become better people by embodying these principles in everything they do.
Perinton - Fairport Post 2001
http://www.zwire.com/site/news.cfm?newsid=2140758&BRD=1893&PAG=461&dept_id=122380&rfi=6
---
The Roanoke Times (Virginia): Peaceful exercises can lead to persecution, execution in China
Thursday, July 19, 2001
Roanoke was among the group's stops during their five-day journey to a rally in Washington, D.C.
They are silent, rotating arms and bending wrists in unison. Their movements are precise, but not choppy. Instead, they flow to the sound of gentle Chinese music.
In downtown Roanoke, this exercise, performed either standing or sitting cross-legged, drew only the interest of a few passersby. But if the 11 Falun Gong practitioners who stopped at Lee Plaza Wednesday were in China, they would be arrested, possibly tortured and maybe even killed.
The stop was part of a five-day journey the practitioners are taking from Houston, Texas, to Washington, D.C. They hope to raise awareness of Chinese persecution of Falun Gong, a set of exercises and meditation introduced in 1992 and performed to refine the mind and body. The practice, also called Falun Dafa, is based on an ancient Chinese form of exercise and meditation and has been compared to tai chi. Followers estimate there have been as many as 70 million practitioners in China and about 30 million elsewhere.
This group and six others traveling across the United States will meet today in Washington for a march and rally commemorating the second anniversary of China's ban of the practice, which the government calls a spiritual movement.
Practitioners said Falun Gong is not a religion, but a form of exercise.
"It's similar to American people jogging and running in parks," said Hongyi Pan, a San Antonio practitioner.
But the exercises alarm China, which banned them in 1999 after 10,000 practitioners assembled at government compound in Beijing. The government saw this demonstration as a stand against [party' name omitted] rule; followers say it was a peaceful attempt to gain recognition. Chinese president Jiang Zemin has called the movement [Jiang Zemin government's slanderous terms omitted]..
"He believed there was some force behind the scene, trying to overthrow the country," said Dakun Sun, a Dallas practitioner.
Falun Gong founder Li Hongzhi lives in the United States. On July 5, the U.S. State Department issued a statement saying it was "deeply disturbed" by Falun Gong repression and calling for the end of persecution.
Amy Lee, a former Chinese citizen who is part of the Houston group, has practiced Falun Gong for four years. The exercises she credits with curing her heart condition led to her arrest and beating in Tiananmen Square. She had gone to Beijing at her local government's advice to ask for tolerance.
She said she was beaten unconscious, tortured and brainwashed at several jails and a mental institution. At one point, she was sent to a labor camp and forced to make McDonald's toys 15 hours a day.
"If we refused to work, they would make our cellmates beat us," she said.
The government asked her to choose between Falun Gong and her family.
"I told them, I want both," she said. "I have the right to do both."
But the government forced her to divorce, separating her from her husband and her now 6-year-old daughter, Doudou.
"At the very beginning, I couldn't continue to talk when I gave interviews," Lee said. "I ran to the bathroom and burst into tears. But I knew there were many practitioners who had faced more serious persecution than me and I wanted to help them."
Daniele Wang, a University of Texas student, said she was distraught after her father was arrested in July 1999 for practicing Falun Gong. She last saw him on televised court proceedings in December 1999. Now, she doesn't know where he is.
"When I first heard the news, I just crashed," she said. "Every time I read his letters, I couldn't stop my tears. My father and I are really close friends."
Wang said returning to China after her vocal role in the U.S. Falun Gong movement would endanger her father's life. Instead, she waits for a letter from him. She said the exercises keep her strong.
"I still have the Falun Dafa in my heart," she said. "For 10 years, it has been a part of my life.
http://www.roanoke.com/roatimes/news/story115086.html
---
Knoxville News (Tennessee): End of art form's oppression sought Group travels U.S. in battle against Chinese dominion
Greg Brown had just exited the City County Building in downtown Knoxville Tuesday morning when he happened upon a scene close to his heart.
A 12-year military veteran and recipient of four gunshot wounds while fighting [party' name omitted] insurgencies in Cambodia, Brown had been visiting Sen. Fred Thompson's office to petition for disability compensation when he encountered a group practicing Falun Gong.
The group is traveling from Houston to Washington to promote awareness of the Chinese government's mistreatment of people who practice Falun Gong -- an art that has gained international attention lately as it surged to become one of the most popular pastimes in China.
Not a religion, sect or, as some suggest, a cult, Falun Gong is more like Tai Chi or meditation in motion -- an act meant to cleanse the mind, body and spirit.
Introduced by Li Hongzhi in May 1992, Falun Gong has skyrocketed in popularity to now includes an estimated 100 million practitioners in more than 40 countries.
It has not done so, however, without heavy interference from the Chinese government.
"This challenges the evil nature of the [party' name omitted] government," said Hongyi Pan, a demonstration participant said. "It's a conflict between evil and righteousness."
As the six people performed Falun Gong exercises to traditional Chinese music, Brown scanned over scores of pictures affixed to a makeshift wall.
The pictures depicted devastating bruises, abrasions, lacerations as well as burn and electric shock wounds on dozens of Chinese people detained for practicing Falun Gong.
"This is what I was fighting for," Brown said. "To stop stuff like this from happening. This is atrocious."
Before Brown arrived, [...] Amy Lee spoke to the sparse crowd about her experiences protesting the Chinese government's treatment of Falun Gong practitioners.
The 33-year-old began practicing while her father was recovering from a brain injury. After performing Falun Gong for a few years, Lee went to Beijing in 1999 to protest the government crackdown on the group.
"Instead of meeting government officials, I was arrested, striped naked and beaten until I lost consciousness," she said through a translator.
A few weeks later Lee was sent back to her hometown of Guangzhou and forced to work in a labor camp making decorative lighting fixtures and toys for fast-food restaurants' children's meals.
An extraordinary artist who has recently found work in New York City as a fashion designer, Lee displayed museum-quality pencil sketches oozing with the grim details of life inside a Chinese prison.
Next to the sketches was a picture of her infant daughter who Lee has not seen since she was forced to divorce her husband and flee Guangzhou.
Desperate and evading further arrest, Lee found a Western journalist who helped secure her arrival in America.
"It's like a nightmare," Lee said. "In the blink of an eye, I lost everything."
---
Prague Post: Politicians to form Beijing 'committee'
July 25, 2001
While athletes are already looking ahead to the 2008 Summer Olympics in Beijing, a small group of Czech politicians is determined to boycott the games if China fails to improve its record on human rights.
The International Olympic Committee's (IOC) July 13 decision to award the Games to China for the first time was roundly criticized by international rights groups who consider the country's [party' name omitted] leadership cruel and repressive.
But in the Czech Republic, where memories of communism remain vivid, it was high government officials who opposed the decision most vocally.
"Were the Games to take place in Beijing now, we would consider it a travesty of the Olympic ideal," said Senate Deputy Chairman Jan Ruml at a press conference July 19.
He was joined by Michael Zantovsky, chairman of the Senate foreign relations committee, and Karel Schwarzenberg, a nobleman who was President Havel's first chief of staff, in calling for close monitoring of democratic reform in China over the next five years.
They said that a new organization, the Committee for the 2008 Summer Olympic Games in a Free and Democratic Country, will work closely with other international groups to follow the progress of human-rights issues in China.
Ruml and Zantovsky are both members of the center-right Quad Coalition, among the favorites to show well in next year's crucial parliamentary elections. Schwarzenberg has hinted he may form a political party of his own.
If the human-rights situation in China does not drastically improve, they say, the IOC should stage the games elsewhere. If it fails to do so, the local group will call on respective national Olympic committees to boycott the games.
While officials at the U.S. State Department, the European Parliament and the French National Assembly have issued similar statements, Ruml and the others -- who did not speak on behalf of the government or political parties -- said they were the first to call for a possible boycott.
"Those of us who know firsthand what an undemocratic regime is capable of have a greater responsibility to take action," Schwarzenberg said.
The decision to hold the Games in Beijing is seen by many as an opportunity to pressure China into developing democratic reforms. Rights groups estimate the regime has executed 1,700 of its citizens since April.
China had bid for the 2000 Olympics but lost out to Sydney in the wake of the June 1989 Tiananmen Square massacre in which pro-democracy protesters were fired on by troops. Media accounts put the death toll at more than 500.
"There is hope that because of these Olympics, China will at last open itself to the world," said Daniela Kralova, press spokesperson for Amnesty International's Prague office.
She said her organization welcomes the announcement by Ruml and the others. "If China sees that others are watching," she said, "it could help."
But in Beijing, where the IOC's decision was met with jubilant celebrations, there were indications that at least some Chinese officials viewed receiving the Games as an acceptance of current policies.
On July 17, Chinese Deputy Premier Li Lanqing called winning the Olympics bid "the international community's affirmation of our country's social stability, social progress, economic prosperity and the people's healthy lives."
The current controversy reminded some Olympics officials of the Cold War, when political standoffs twice marred the Games.
In 1980, the United States and 61 other Western nations boycotted the Winter Games in Moscow following the Soviet Union's invasion of Afghanistan. Then in 1984, the Soviets struck back by refusing to attend the Los Angeles Summer Games.
"We are very concerned," said Milan Jirasek, president of the Czech Olympics Committee. "But the decision [to hold the games in Beijing] was made and now we are obliged to push China in the right direction."
[...]
A political prisoner under communism, Ruml is skeptical of China's willingness to reform.
"Only China itself will decide whether the fears, or alternately the hopes, associated with this decision materialize," he said. "For the rest of us, the task will be to follow the developments of the next seven years."
http://www.praguepost.cz/news071101b.html
---