At first dismissive of a practitioner clarifying the truth to him, an embassy official in Europe comes around to understanding the idea of top CCP officials being held accountable for the persecution, and chooses a bright future for himself by withdrawing from the CCP and its organizations.
…
The CCP's cruel persecution continues and spares no one, not even a toddler, as an entire family is held in a black jail.
A prosecutor's rant spins so out of control that he is stopped by a CCP judge, who orders recordings of his actions deleted.
A middle-aged practitioner's family is only summoned when he is deemed to be in critical condition as a result of the persecution.
~ Journeys of Cultivation ~
~ Accounts of Persecution ~
~ Improving Oneself ~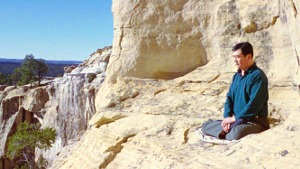 Master Li quietly watching the world from amidst the mountains after leaving New York following July 20th, 1999. (Published January 19, 2000)