A shocking scene unfolded in front of the student union building at Cardiff University and attracted many passersby: A person was lying on a bloody sheet on a surgery table with his organs showing. A few doctors and a nurse spoke to students and faculty who had stopped to see what was happening. They were AI volunteers who had a point to make: Stop organ harvesting atrocities in China!
…
Chinese tourists and Hong Kong Citizens amazed at large scale parade of 900 practitioners
With righteous thoughts, a pure heart and compassion, a practitioner gives sentient beings a good future.
A widowed practitioner overcomes her attachments to persevere and establish her own materials production center.
~ Falun Dafa in the Media ~
~ Accounts of Persecution ~
~ Experience Sharing Conferences ~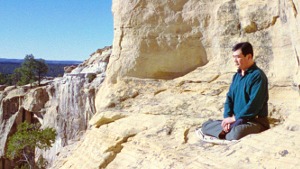 Master Li quietly watching the world from amidst the mountains after leaving New York following July 20th, 1999. (Published January 19, 2000)