(Minghui.org) While Ms. Liu Hongxia is still being hospitalized four months into her hunger strike to protest the arbitrary arrest for practicing Falun Gong, the judge in charge of her case is planning to hold a hearing in her hospital room.
Falun Gong, also known as Falun Dafa, is a spiritual discipline that has been persecuted by the Chinese communist regime since 1999.
Ms. Liu, 47, from Dalian City, Liaoning Province, was arrested on October 28, 2021, when the police officer following her saw her putting up Falun Gong posters in residential buildings. Both Ms. Liu's home and the temporary housing she rented for her child to go to a nearby school were ransacked. Her Falun Gong books, photo of Falun Gong's founder, and several cellphones were confiscated.
When Ms. Liu's lawyer went to the Dalian Detention Center on February 28, 2022, she had already been taken to the hospital after she started a hunger strike on February 14 to protest the persecution.
In the guarded Xinhua Hospital ward set aside for detention center and local prison inmates, Ms. Liu was tied to the bed, force-fed, and injected with unknown drugs. She has been denied all visits, including by her lawyer and family. Hospital employees who work in other departments aren't allowed to ask questions about this special ward.
The Ganjingzi District Court initially scheduled a hearing for March 2, 2022, but canceled it when she ended up in the hospital. The presiding judge, Guo Danhua, later informed her family that the court can't wait until Ms. Liu fully recovers to hear her case. Guo indicated that she was planning to set up video conferencing equipment in her hospital room and that her family wouldn't be allowed to attend.
Guo demanded that Ms. Liu's out-of-town lawyer register the case with the Dalian Justice Bureau in order to represent her. When the lawyer argued that there was no legal basis for such a request, Guo responded that she had always done that.
After the lawyer refused to cooperate with the unlawful request, Ms. Liu's family applied with Guo to be her family defender. Guo first demanded that they obtain a letter from their local Quanshui Police Station to show that they didn't have any criminal records (actually to see if they practiced Falun Gong or not themselves).
After the Quanshui Police Station issued the no-criminal-record letter, Ms. Liu's family called Guo about it. Guo then instructed the police station to nullify the letter.
Guo also ordered the Baiyunjie Police Station, which was in charge of Ms. Liu's case, to interview her family. Having read of instances in which practitioners' families were unknowingly listed as prosecution witnesses and barred from their cases after being interviewed, Ms. Liu's family refused to respond to the request, only to receive a call from Guo, asking why they were not cooperating with the police.
Ms. Liu's family is now very worried about her health and mental state if judge Guo continues to push for the hearing in the hospital.
This isn't the first time that Ms. Liu has been targeted for her faith. A graduate of Dalian Foreign Language College with a major in Russian, Ms. Liu was previously arrested in October 2007 and given one year of forced labor.
Ms. Liu was arrested again, this time with practitioner Ms. Ye Qingli, on August 8, 2014, for taking care of the ailing mother of another practitioner, Ms. Wang Yusi, after Ms. Wang was arrested. The Ganjingzi District Court heard their case on March 19, 2015, and sentenced both of them to three years in prison.
Ms. Liu was taken to Liaoning Women's Prison on August 4, 2015. She was held in solitary confinement, handcuffed behind her back, pinned down and beaten by the inmates, and forced to sit on a small stool without moving for long hours, all because she didn't renounce Falun Gong.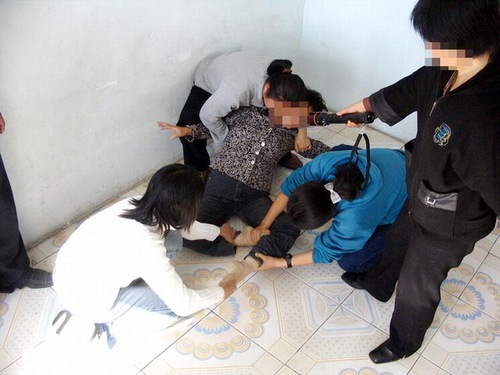 Torture reenactment: Beating
Perpetrators' contact information:
Qu Dong (曲东), head of Baiyunjie Police Station: +86-411-83633211Zeng Yi (曾毅), Baiyunjie Police Station officerDiao Pengfei (刁鹏飞), prosecutor, Ganjingzi District Procuratorate: +86-411-86105029Guo Danhua (郭丹华), judge, Ganjingzi District Court: +86-411-82793996, +86-411-82791756, +86-411-82791741, +86-411-19104113633
(More perpetrators' contact information is available in the original Chinese article.)